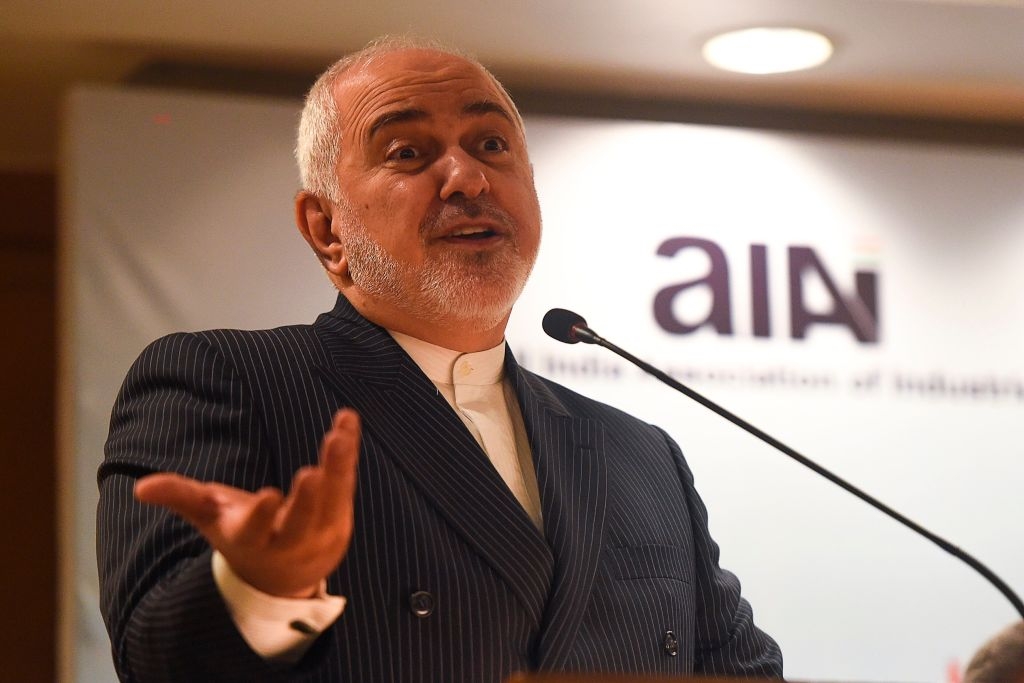 It is mystifying that Twitter, which wantonly censors so much, continues to allow Iranian Foreign Minister Javad Zarif (pictured) and other Iranian leaders to spread Nazi-inspired language and anti-Semitic sentiments on its platform. (Photo by Punit Paranjpe/AFP via Getty Images)
Instead of concentrating on assisting and improving the living standards of its citizens, the ruling mullahs of Iran seem to be prioritizing the advancement of their anti-Semitic agenda.
Iran's Supreme Leader Ayatollah Ali Khamenei recently called Israel a "cancerous tumor to be destroyed," promised "to support any nation or group that fights Israel," and urged the Palestinian militant groups to cooperate more closely with each other and "expand the field of jihad in all Palestinian lands."
The Iranian regime has, since its Islamic revolution of 1979, been among the world's leading sponsors of terrorist organizations that target Israel. Some of the leaders of terrorist groups have surprisingly admitted that Tehran is their military and financial lifeline and that their survival depends on Iran.
Ismail Haniyeh, for instance, the head of Hamas's political bureau, recently praised the Iranian regime for being its foremost financial and military supporter. He pointed out in a video speech on May 20:
"The essence of this strategy is the resistance project. Complete resistance including the armed military resistance at the top. From here, I salute all the components of the nation that embrace and support the choice of resistance on the ground in Palestine".
He emphasized that he was particularly specifying the Islamic Republic of Iran, "which has not faltered in supporting and funding the resistance financially, militarily, and technically. This is an example of the Republic's strategy that was established by Imam Khomeini, may God have mercy on his soul".
Hassan Nasrallah, the leader of Hezbollah, a Lebanese Shiite militant group, also acknowledged previously that Hezbollah's survival depends on Iran: "We are open about the fact that Hezbollah's budget, its income, its expenses, everything it eats and drinks, its weapons and rockets, come from the Islamic Republic of Iran," he said. He also pressed the notion that his group "will not be affected" by any type of sanctions.
In his latest speech, Iran's supreme leader said that "The Zionist regime is a... deadly... detriment to this region. It will undoubtedly be uprooted and destroyed." Iran's state-owned newspapers followed up with similar anti-Israel threats. The front-page headline of Iran's leading newspaper Kayhan read, "Victory over Virus of Zionism Guaranteed: Leader". Khamenei's official website recently featured a poster image with the text "Palestine Will Be Free. The final solution: Resistance until referendum."
Those people in the West who call Iran's Foreign Minister Javad Zarif a moderate, should be aware that he posted on Twitter the same image with the Nazi euphemism, along with these comments:
"Disgusting that those whose civilization found a 'Final Solution' in gas chambers attack those who seek a real solution at the ballot box, through a REFERENDUM. Why are US and West so afraid of democracy? Palestinians should not have to pay for your crimes, or for your guilt."
Israeli Prime Minister Benjamin Netanyahu, reacted by stating:
"Khamenei's threats to realize the 'final solution' against Israel are reminiscent of the Nazi 'final solution' plan for the destruction of the Jewish people. He must know that any regime that threatens Israel with extermination will find itself in similar danger."
Khamenei thoughtfully replied that he did not mean destroying the Jewish people, just Israel.
It is mystifying that Twitter, which wantonly censors so much, continues to allow Iranian Foreign Minister Javad Zarif and other Iranian leaders to spread Nazi-inspired language and anti-Semitic sentiments on its platform. In general, "Big Tech" -- Google, Facebook, YouTube and Twitter -- have long since ceased being "neutral" transmitters of information as if they were "utilities". Instead, they have become America's Thought Police. They urgently need to be regulated the same way media is.
Regarding Iran, U.S. Secretary of State Mike Pompeo accurately accused Khamenei and Zarif of "echoing Hitler's call for genocide" and in a tweet, responded:
"Incredible that @JZarif and Iran's Supreme Leader are echoing Hitler's call for genocide. This depravity should dispel any notion the regime belongs in the community of nations. We stand with Germany and Israel against this oldest & most vile form of hatred, and say #NeverAgain."
The ruling mullahs of Iran need to be held accountable by the international community for threatening to annihilate a fellow- member of the United Nations, the Jewish state. Not only are these threats unacceptable according to Chapter I: Article 2(1)-(5) of the Charter of the United Nations... which states: "All Members shall refrain in their international relations from the threat or use of force against the territorial integrity or political independence of any state...". They are also unacceptable as part of a double-standard in which the United Nations and the international community continue to be silent about Iran's threats against Israeli citizens -- not to mention Iran's malign actions against its own citizens (here, here, here and here).
Imagine if the situation were reversed, and Israel threatened to annihilate Iran: the international community would likely be up in arms to defend the Iranian regime. Perhaps the time has come -- in fact is long overdue -- for the U.S. to cease funding the UN, which seems only to conserve injustice and war. At the very least, the US, instead of automatically handing over roughly a quarter of the UN's budget every year – in 2017, for instance, the listed US payment was more than $10 billion, an amount that has surely not decreased since then – instead, as the former US former ambassador, John. R. Bolton, suggested, the US should start "paying only for what the country wants—and [expect] to get what it pays for. "
Under no circumstances should the US, the UN or any other entity -- read: Europe -- be assisting in any way the malign mullahs of Iran.
Dr. Majid Rafizadeh is a business strategist and advisor, Harvard-educated scholar, political scientist, board member of Harvard International Review, and president of the International American Council on the Middle East. He has authored several books on Islam and US foreign policy. He can be reached at Dr.Rafizadeh@Post.Harvard.Edu