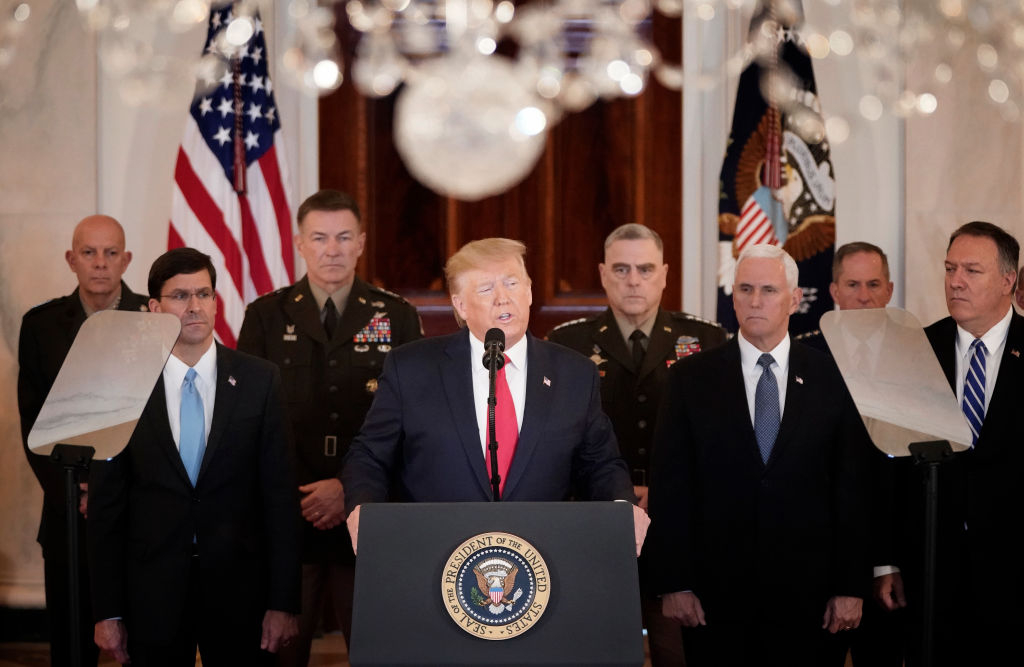 The Trump administration's (almost) "maximum pressure" policy against the Iranian regime is apparently forcing Tehran to rein in some of its forces in the region as well as cut funding to its allies. Pictured: President Donald Trump addresses the media from the White House on January 8, 2020, following Iranian missile attacks that targeted American soldiers in Iraq the night before. (Photo by Win McNamee/Getty Images)
Thanks to the re-imposition of sanctions against Tehran by the Trump administration, the Iranian regime seems to have suffered a significant loss of revenue.
The Trump administration's (almost) "maximum pressure" policy against the Iranian regime is apparently forcing Tehran to rein in some of its forces in the region as well as cut funding to its allies.
According to the latest report, Iran's Islamic Revolutionary Guard Corps (IRGC) has withdrawn some of its forces from Syria, and reduced its financial assistance to Syria's regime.
The US special envoy for Syria policy and the fight against the Islamic State, James Jeffrey, recently pointed out:
"We have seen the Iranians pulling in some of their outlying activities and such in Syria because of, frankly, financial problems... the Trump administration's sanctions policies against Iran [are] having a real effect in Syria."
He added, "We do see some withdrawal of Iranian-commanded forces. Some of that is tactical because they are not fighting right now, but it also is a lack of money".
Iran's oil revenues and exports have been steadily declining since the US President Donald J. Trump pulled out of the Joint Comprehensive Plan of Action (JCPOA) -- also known as the Iran nuclear deal, and incidentally, never signed by Iran -- and adopted a policy of (almost) "maximum pressure."
During the Obama-Biden administration, by comparison, when the White House was pursuing appeasement policies towards Iran, the regime increased it oil exports to a record high: more than 2.5 million barrels per day. Since Trump was elected, and the US administration took a tougher stance towards the mullahs, Iran's oil exports dropped to approximately 200,000 barrels per day -- a number that represents a decline of more than 90%. Iran has the world's second-largest natural gas reserves and the fourth-largest proven crude oil reserves; the sale of these resources account for more than 80% percent of its export revenues.
Consequently, he flow of funds to the Iranian regime has been cut off, thereby thwarting the Iranian leaders' efforts to fund and sponsor both Bashar Assad's regime in Syria and various terror groups. Even a Syrian-state controlled newspaper admitted that Tehran had scaled back its financial assistance to Damascus. Al-Watan also reported that Iran had halted its credit line to the Syrian government and that, as a result, the Iranian leaders have been having difficulty shipping oil to Syria, thereby creating a fuel shortage there.
For years, many Iranians have been frustrated with the regime's regional policy as well as its hemorrhaging billions of dollars and national resources on militias and terror groups in the region. In recent years, chants such as "Leave Syria alone, think about us instead", "Death to Hezbollah", "Never mind Palestine, think about us", and "Forget about Gaza and Lebanon; I'll sacrifice my life for Iran" became popular during protests.
Iran's Lebanese proxy, the terror group Hezbollah, also seems to be feeling the pressure of the Trump administration's tougher stance towards the mullahs. A senior Hezbollah official who spoke on the condition of anonymity reportedly told the Washington Post that the US sanctions against Iran has forced the group to cut expenses. "There is no doubt these sanctions have had a negative impact," he pointed out, and added, "But ultimately, sanctions are a component of war, and we are going to confront them in this context."
In addition, Hassan Nasrallah, the leader of Hezbollah, has urged his group's fundraising arm "to provide the opportunity for jihad with money and also to help with this ongoing battle."
Even Iran's leaders are admitting that the Trump Administration's (almost)
"maximum pressure" policy has hit Tehran quite hard. Iranian President Hassan Rouhani, for instance, surprisingly admitted that his government is encountering the worst economic crisis since 1979. Iran's national currency, the rial, has dropped to historic lows -- one US dollar, which could buy you approximately 35,000 rials in November of 2017, now will buy you nearly 170,000 rials.
Cash-strapped Iran also appears to be having difficulty paying the salaries some of the militants. As a member of an Iranian-backed militia in Syria told the New York Times, "The golden days are gone and will never return. Iran," he added "doesn't have enough money to give us."
Now it is incumbent on other governments -- specifically the European Union -- to join the US in pursuing its (almost) "maximum pressure" policy against the ruling mullahs.
The policy may not be really "maximum" -- everyone has carefully been tip-toeing around the words "regime change" -- which, bluntly, would be a boon to (almost) everyone -- but at least until then, sanctions are helping more than nothing, and definitely more than US pallets of cash.
Dr. Majid Rafizadeh is a business strategist and advisor, Harvard-educated scholar, political scientist, board member of Harvard International Review, and president of the International American Council on the Middle East. He has authored several books on Islam and US foreign policy. He can be reached at Dr.Rafizadeh@Post.Harvard.Edu