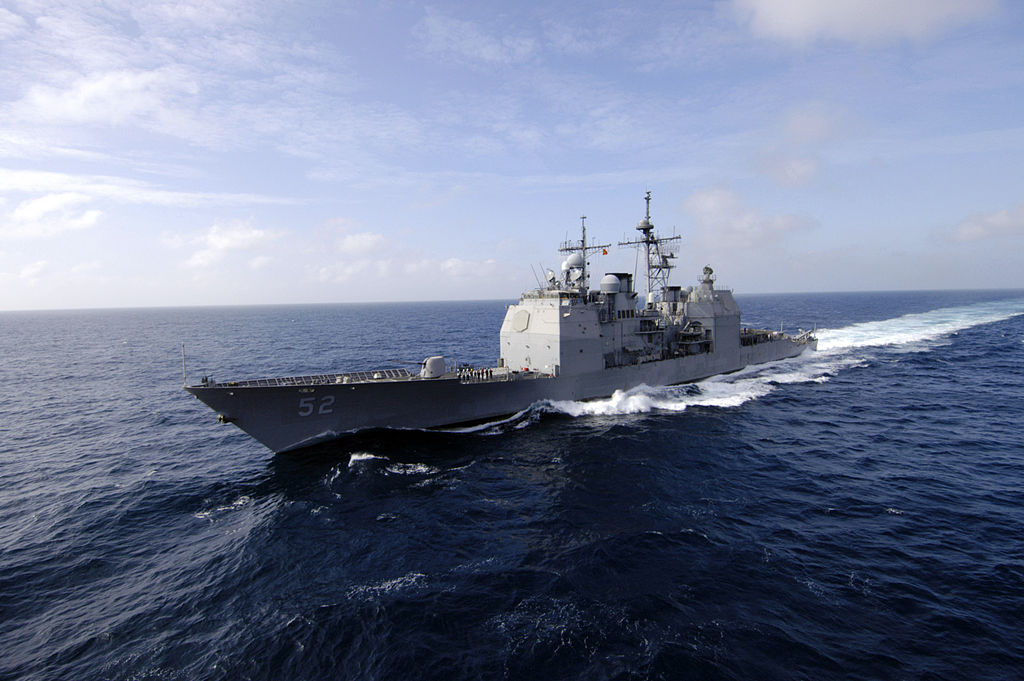 In response to China's threatening posture toward both Vietnam and Malaysia, the U.S. Navy reacted by dispatching several attack submarines to Pacific waters. The U.S. Navy also sent an aircraft carrier and the USS Bunker Hill, a missile-equipped destroyer, to the South China Sea. Pictured: The USS Bunker Hill. (Image source: U.S. Navy/Mass Communication Specialist Seaman Clarence McCloud)
While Western media is almost exclusively focusing on supposed "race riots" and the messy wake of the Covid-19 virus, China has quietly been going about consolidating recent gains in the South China Sea. It has, as dangerously, still been attempting to expand its influence throughout the entire Indo-Pacific Region and everywhere else the world will let it.
Beijing's latest provocative stances -- in addition to sparking recent incidents with mainland and archipelago states in Southeast Asia such as Vietnam and Malaysia -- include generating a rock-throwing brawl with India's mountain troops at a disputed border post in Northern Sikkim, raising tensions with Taiwan, and threatening the liberty of Hong Kong.
On May 9, Chinese soldiers initiated a squabble with Indian border troops in a disputed section of China's boundary with India, possibly by attempting to cut off the crucial Galwan River area there. Indian soldiers resisted the repeated attempts of Chinese soldiers to cross the existing line of control at Naku La (Pass) in Northern Sikkim until the incident finally degenerated into fisticuffs and stone throwing.
Several military personnel were injured before commanding officers from both militaries arrived to negotiate a cessation to the struggle. China claims that India still occupies tens of thousands of square miles of Chinese territory, seized by the British when the United Kingdom colonized the Indian Sub-Continent. The two nuclear powers had fought a brief war in 1962 when China's Peoples' Liberation Army (PLA) troops invaded India along three sectors of the 2,167-mile bilateral border.
Beijing's hostility is likely a message to New Delhi that China will aggressively target any attempt by an increasingly pro-Western India to establish a military alliance with the U.S and its allies and obstruct China's far-reaching claims of sovereignty in the Western Pacific Ocean.
In addition, during the months that the coronavirus was peaking in the U.S and Europe, China moved assertively to solidify its existing occupation of disputed islands in the South China Sea. Beijing was evidently sending a clear message to its neighboring states that China will employ its military superiority to settle disputed claims in China's favor, as well as demonstrate its hegemony over waters adjacent to some of its neighboring states in Southeast Asia. On May 1, for instance, while claiming that constant harvesting of marine life in waters off Vietnam was depleting fish species, China unilaterally declared a moratorium on fishing in waters above the 12th parallel. This area encompasses Vietnamese coastal seas including the Gulf of Tonkin, the Paracel Islands (Xisha), and the Scarborough Shoal. Alleging that these fishing zones are decimated, China then extended the fishing moratorium to August 16. On April 3, A full month before the moratorium was scheduled to take effect, a Chinese marine surveillance vessel sank a Vietnamese fishing boat near the Paracel Islands, an archipelago claimed by both China and Vietnam.
China, in April, also bullied the archipelago Asian country of Malaysia. The Chinese vessel "Haiyang Dizhi 8," while on a surveillance mission, menaced an oil exploration boat contracted by the Malaysian state-owned petroleum company Petronas. In response, the U.S. Navy dispatched three warships to the region near the China-Malaysian standoff to strengthen Malaysia's ability to explore these waters for oil and natural gas. Subsequently, Malaysian Foreign Minister Saifuddin Abdullah denounced China's rationale for its claim of sovereignty, in the disputed zone as "ridiculous". Chinese Communist Party bureaucrats, however, such as foreign ministry official Lin Songtian, try to claim that islands in the South China Sea "have been within Chinese territory since ancient times." This claim, if made legitimate by force or by law, would give China over 85% of the South China Sea.
In recent weeks, Chinese expansionist plans can also be seen elsewhere. Taiwan, apparently in an effort to head-off a future threatening naval exercise scheduled by China for this August, alerted the U.S. Pacific Fleet of China's planned exercise. China evidently plans to deploy air, sea, and ground forces in an amphibious assault exercise on the Pratas Islands, an island chain also claimed by Taiwan. China in recent weeks flew an early-warning aircraft over several other disputed islands in the South China Sea while continuing to introduce new weapons systems -- such as the deployment of an AEW&C (airborne early warning and control) system and its Y-8 anti-submarine aircraft on Yongshu Reef -- on islands in the South China Sea where ownership still remains in dispute.
On May 22, at the opening session of the Chinese Communist Party's National Peoples' Congress, China's Premier Li Keqiang proposed the passage of a new security law to become Article 23 in Hong Kong's City Charter. This new legislation would strengthen Beijing's role inside Hong Kong, allegedly to suppress any behavior by the citizens of Hong Kong that China might regard as injurious to its national security or to Communist Party control, as well as to root out anti-Chinese foreign-based intelligence meddling. According to the BBC, the new law suggests that China "would set up its own institutions in Hong Kong responsible for security," and "make criminal any act of
secession - breaking away from the country
subversion - undermining the power or authority of the central government
terrorism - using violence or intimidation against people
activities by foreign forces that interfere in Hong Kong."
These new laws for Hong Kong are vague enough to mean anything China might want them to mean, and would presumably include being able, on any pretext, to extradite people to the mainland.

The response of Hong Kong's citizens was immediate. On May 24, crowds, demanding independence, crammed downtown Hong Kong.
In response to China's threatening posture toward both Vietnam and Malaysia, the U.S. Navy reacted by dispatching several attack submarines to Pacific waters. The U.S. Navy also sent an aircraft carrier and the USS Bunker Hill, a missile-equipped destroyer, to the South China Sea. These deployments were amplified when Admiral John Aquilino, Commander of the U.S. Pacific Fleet, declared that China "must end its pattern of bullying Southeast Asians out of offshore oil, gas, and fisheries."
As if to underscore American resolve to keep open the air above and the sea below in the entire Indo-Pacific region, on May 27, the U.S. Air Force dispatched two B-1B bombers to conduct a flyby of the South China Sea near the Chinese border.
Fortunately, on June 3, in a move that should certainly go down as a highlight for British Prime Minister Boris Johnson's place in history, he vowed to offer asylum to "350,000 Hong Kong residents who hold British national overseas passports, as well as some 2.5 million people who meet the requirements to apply for them."
The U.S. Navy, presumably in an effort to bolster its firepower in the South China Sea, has sent more ships on patrol in the area and also announced plans to increase the number of Tomahawk anti-ship missiles on its Virginia Class Attack Submarines from 12 to 40 and deploy newer longer range missiles to the region for use, if necessary, by both the Navy and U.S. Marines.
While China is likely to continue to insist that the world accept the legitimacy of its exaggerated claims of sovereignty, Beijing's Communist leaders might pause before testing the ever-increasing lethality of weapons systems aboard U.S. submarines and surface ships.
The U.S. needs urgently to develop a policy committed to countering China's escalating aggression. The policy should ideally include no commerce with China whatsoever. Beijing clearly has no intention of honoring any deal to which it agrees and has already been caught trying to steal remedies for the virus it unleashed.
Just as the U.S. would not have tried to enrich the Third Reich or the former Soviet Union, the U.S. -- and all countries hurt by China -- should have no place enriching a China that has shown itself to have killed more than 100,000 Americans, more than 400,000 people worldwide, has thrown more than 40 million Americans out of work, cost the world trillions in crippled economies and is openly bent on dominating the planet.
Dr. Lawrence A. Franklin was the Iran Desk Officer for Secretary of Defense Rumsfeld. He also served on active duty with the U.S. Army and as a Colonel in the Air Force Reserve.