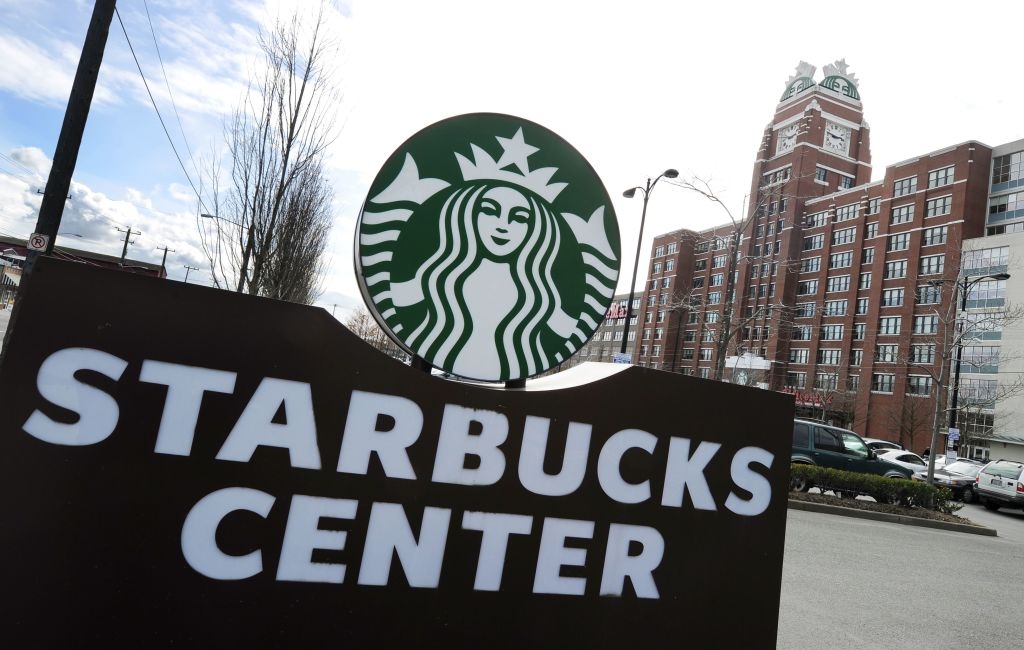 Corporate giants might be more successful at convincing the public that they truly care about social justice and inequality if this "care" did not only manifest itself in statements filled with virtue-signaling but in business practices as well. In March, a media report revealed that children as young as eight were "working 40-hour weeks in gruelling conditions" on Guatemalan coffee bean farms that supply Starbucks. Pictured: Starbucks corporate headquarters in Seattle, Washington. (Photo by Mark Ralston/AFP via Getty Images)
Since the killing of George Floyd, corporate virtue signaling has reached unprecedented heights.
Apple pledged $100 million reportedly to "combat racism."
"The unfinished work of racial justice and equality call us all to account," Apple Chief Executive Tim Cook said in a Twitter video. "Things must change, and Apple's committed to being a force for that change. Today, I'm proud to announce Apple's Racial Equity and Justice Initiative, with a $100 million commitment".
Starbucks pledged $1 million in "Neighborhood Grants to promote racial equity and create more inclusive and just communities".
Microsoft announced that it would invest $150 million more into diversity and inclusion efforts in the company. "We are committed to take action to help address racial injustice and inequity, and unequivocally believe that Black lives matter", CEO Satya Nadella said.
Nike pledged to donate $40 million over the course of four years to "organizations that put social justice, education and addressing racial inequality in America at the center of their work". According to John Donahoe, President and CEO of Nike, Inc.:
"Systemic racism and the events that have unfolded across America... serve as an urgent reminder of the continued change needed in our society...We will continue our focus on being more representative of our consumers while doing our part in the communities we serve."
It is difficult to find any corporate insistence on "social justice" persuasive, coming as it does from businesses that have chosen to move large parts of their manufacturing processes to countries such as China, which is led by a regime that persecutes ethnic and religious minorities. It withholds from its own citizens the most basic human rights, such as freedom of expression, freedom of religion and freedom of assembly, as reported by Gatestone Institute here, and here. China is also, according to Amnesty International, the world's leading executioner. China, moreover, continues to occupy Tibet, which it invaded in 1950, and where it has moved millions of ethnic Chinese to "Sinicize" the area.
The incongruence of companies that profess to be committed to justice and equality at home in the US, but that have no twinges of conscience about doing business abroad under a regime that commits some of the worst human rights abuses in the world, is a bit up-ending.
Nike, Apple, Microsoft and Samsung, among 83 multinational companies, were found in March to be linked to Uyghur forced labor in Chinese factories, according to a report, "Uyghurs for Sale," by the Australian Strategic Policy Institute (ASPI).
"The Chinese government has facilitated the mass transfer of Uyghur and other ethnic minority citizens from the far west region of Xinjiang to factories across the country", stated the report.
"Under conditions that strongly suggest forced labour, Uyghurs are working in factories that are in the supply chains of at least 83 well-known global brands in the technology, clothing and automotive sectors, including Apple, BMW, Gap, Huawei, Nike, Samsung, Sony and Volkswagen.

"This report estimates that more than 80,000 Uyghurs were transferred out of Xinjiang to work in factories across China between 2017 and 2019, and some of them were sent directly from detention camps. The estimated figure is conservative and the actual figure is likely to be far higher. In factories far away from home, they typically live in segregated dormitories, undergo organised Mandarin and ideological training outside working hours, are subject to constant surveillance, and are forbidden from participating in religious observances".
This was not entirely breaking news. Already in December of 2018, The New York Times ran an article about incarcerated Uyghurs forced to work in factories. The use of all kinds of prisoners in factories that supply Western companies is not new, either: In recent years, stories of messages from prisoners found in Chinese manufactured goods have gone viral. In 2014, a woman in Northern Ireland found a note in a pair of trousers she had bought that said:
"SOS! SOS! SOS! We are prisoners in the Xiang Nan Prison of the Hubei Province in China. Our job inside the prison is to produce fashion clothes for export. We work 15 hours per day and the food we eat wouldn't even be given to dogs or pigs. We work as hard as oxen in the field. We call on the international community to condemn the Chinese government for the violation of our human rights!"
Several other examples have been found; whether they are anecdotal or not, given China's record, they should have led to more than superficial investigations that apparently were never followed up.
One would think that companies that claim to be concerned with justice and equality would be boycotting and divesting from a regime that not only enables, but actively engages in forced labor – a nicer word for slavery. In theory, they would not be seen anywhere near forced labor. Uyghur lives, apparently, do not matter.
Starbucks ran into a similar scandal, also in March, that showed the grim realities beneath the coffee chain's carefully designed "woke" image. A media report revealed that children as young as eight were working on Guatemalan coffee bean farms that supply the chain.
"Channel 4's Dispatches filmed the children working 40-hour weeks in gruelling conditions, picking coffee for a daily wage little more than the price of a latte," the Guardian noted. "The beans are also supplied to Nespresso, owned by Nestlé..."
"The Dispatches team said some of the children, who worked around eight hours a day, six days a week, looked as young as eight. They were paid depending on the weight of beans they picked, with sacks weighing up to 45kg. Typically, a child would earn less than £5 [less than US $6.40] a day, although sometimes it could be as low as 31p an hour. Over the course of the investigation, Dispatches visited seven farms linked to Nespresso and five linked to Starbucks. Child labour was found on all the farms".
Starbucks -- and Nespresso -- immediately professed "zero tolerance" for the practice and Starbucks claimed that it had not sourced beans from the most recent harvest of the farms, although it did source them in 2019. However, to persist in proclaiming "wokeness," while apparently not caring enough to show the due diligence required to ensure that the people working in the supply chain are treated according to the most minimal work regulations -- such as not employing children in slave-like conditions, must be the definition of hypocrisy. Guatemalan lives evidently do not matter, either -- at least until the media takes a look. Starbucks, after the scandal, went into full defense mode. It announced that it would "recommit to an Emergency Relief Fund to be paid in 2020 to farmers in Guatemala who sell coffee to Starbucks" and "commit to support farmers and their communities through piloting regional community and childcare centers".
Corporate giants might be more successful at convincing the public that they truly care about social justice, inequality and the communities they claim to "serve" if this "care" did not only manifest itself in statements filled with virtue-signaling, but in business practices as well -- such as not using forced labor and children in the supply chain.
Finally, pledging funds to Black Lives Matter, a self-described Marxist organization whose stated goal is "alternatives to capitalism", fails to convince one of much else than a corporate desire to ride the latest wave of wokeness to score easy points and profits.
John Richardson is a researcher based in the United States.