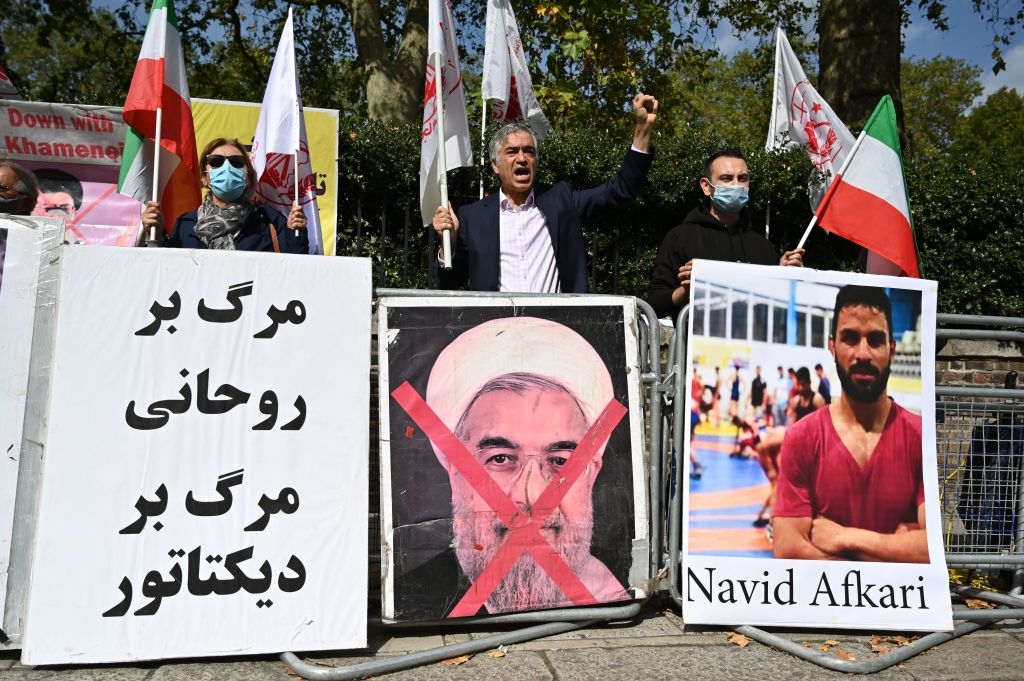 Despite an international outcry, Iran's theocratic establishment on September 12 defiantly executed wrestling champion Navid Afkari, an innocent protester who was apparently tortured into a false confession. His execution was clearly carried out in a hurried manner and he was even denied a last visit from his family. Pictured: Protesters in London, England denounce Afkari's execution, on September 12, 2020. (Photo by Justin Tallis/AFP via Getty Images)
The European Union is openly siding with the ruling mullahs of Iran and attempting to scuttle US efforts to pressure the rogue regime to stop. Britain, France and Germany, on September 18, told the UN Security Council that the EU is strongly committed to ensuring the continued lifting of sanctions against the Iranian government. The three European powers added that, as far as they were concerned, even if the United States reimposes all sanctions, their UN sanctions relief for Iran would continue beyond September 20.
The EU has also been helping Iranian leaders to evade US sanctions through a payment mechanism labeled as INSTEX (Instrument in Support of Trade Exchanges), which is designed to permit European firms and corporations to continue doing business with the Iranian government in spite of US economic sanctions against Tehran.
The EU is, despite all its sanctimonious lecturing about human rights, unapologetically assisting a regime that is publicly committing some of the worst human rights abuses ever. Did the European leaders hear about the latest executions of innocent protesters such as Navid Afkari, who was apparently tortured into a false confession? Did they hear about the four teenagers who will have their fingers amputated as a punishment for stealing, also, according to them, after being tortured until they "confessed"?
Despite an international outcry, the theocratic establishment defiantly went ahead and executed wrestling champion Navid Afkari by hanging him in the southern city of Shiraz, according to Iranian state media. His execution was clearly carried out in a hurried manner and he was even denied a last visit from his family.
After he was given two death sentences by the Sharia court, Afkari declared:
"People! I will fight for my life because it is the logical and right thing to do. There are plenty of documents and evidence that prove my innocence. All the evidence and documents that we have collected and all the things that I am telling you right now, is to let you know that if I get executed, you should know that, in the 21st century, with all these human right organizations and expenses, with the United Nations, with the UN Security Council etc., an innocent human being, who tried his best and fought will all the power he had for his voice to be heard, was hanged."
The EU must know that Afkari, like many other political prisoners and those who participated in previous peaceful protests, was brutally tortured. The Iranian regime denies that it tortures prisoners, but an eyewitness, Shaahin Naaseri, recounted some of the torture that the wrestler endured while in detention:
"One day, I heard screams, shouting, and pleas for help in the police department. The sergeant accompanying me asked me to wait in the corridor. He went and opened up a door. I followed him to see what was happening out of curiosity. I witnessed two officers who were dressed in unofficial uniforms cursing and hitting Navid with batons and metal pipes without mercy. They would tell him: 'the truth is whatever we say, will you write what we are saying or not?' Navid was also begging: 'please, stop, please don't hit me, I didn't do anything.' He was covering his head with his arms. And one of the officers, whose name I later learned was Abbasi, hit Navid with such strength that Navid let out a gut-wrenching scream and fell unconscious."
Iran's leaders most likely wanted to make an example of the highly respected wrestler, to impose fear in society, and send a strong message to the people that anyone who dares to protest can face severe consequences.
Amnesty International has documented some of the torture techniques that the Iranian regime is employing:
"The organization's research found that victims were frequently hooded or blindfolded; punched, kicked and flogged; beaten with sticks, rubber hosepipes, knives, batons and cables; suspended or forced into holding painful stress positions for prolonged periods; deprived of sufficient food and potable water; placed in prolonged solitary confinement, sometimes for weeks or even months; and denied medical care for injuries sustained during the protests or as a result of torture."
Navid Afkari's case is not an isolated one. Last month, the Iranian regime also secretly hanged another protester, Mostafa Salhi. Amnesty International condemned his execution, stating that it "was carried out... despite serious unfair trial concerns incl torture & other ill-treatment & the denial of access to a lawyer during the investigation phase of his case."
Another high-profile figure that the regime arrested and tortured is 20-year-old Ali Younesi, a student who in 2018 won a gold medal as a member of Iran's national team during the 12th International Olympiad on Astronomy and Astrophysics. He and his friend Amirhossein Moradi have been held without charge since April, accused by the authorities of having connections to the opposition.
The European Union, in empowering a regime that is torturing and executing protesters and political prisoners, is making itself complicit in these crimes against humanity. Instead, the EU needs immediately to join the US in putting pressure on the mullahs and holding them accountable.
Dr. Majid Rafizadeh is a business strategist and advisor, Harvard-educated scholar, political scientist, board member of Harvard International Review, and president of the International American Council on the Middle East. He has authored several books on Islam and US foreign policy. He can be reached at Dr.Rafizadeh@Post.Harvard.Edu