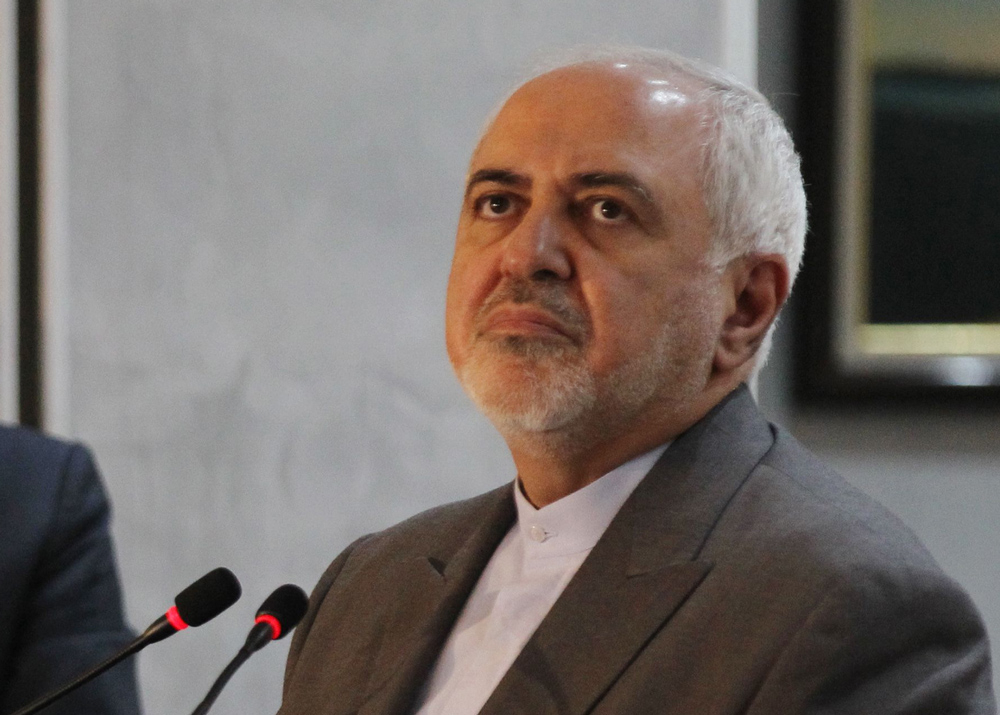 Speaking at a meeting of New York-based Council on Foreign Relations, Iran's Foreign Minister Mohammed Javad Zarif repeated the same claims, not to say lies, that he has been dishing out to the illustrious audience for years. And it seems that they gobbled it up with the same appetite as before. (Photo by Ahmad al-Rubaye/AFP via Getty Images)
For the past few years, hosting the Islamic Republic's Foreign Minister, Mohammed Javad Zarif, has developed into an annual ritual of the New York-based Council on Foreign Relations (CFR). This year, however, CFR's invitation to Zarif raised a storm of protest beyond the bubble in which American foreign policy junkies play games, indulge in fantasies, and address their principal task, which is fund-raising.
What triggered the storm was the alleged murder in a Tehran prison of Navid Afkari, a popular wrestling champion and a pro-democracy protester. The killing sent shock waves throughout Iran, including even among some elements of the Khomeinist establishment.
The CFR received many emails and telephone calls demanding that, as a show of sympathy with Iranians, Zarif be disinvited.
The CFR, however, refused to do so. Its director Richard Haas, a former State Department official, published this tweet:
"Like many others I condemn the execution of Navid Afkari. I also hold the view that human rights constitute an important dimension of US foreign policy. Nevertheless, I believe that CFR is correct to meet with Iran's foreign minister."
The tweet contains interesting indicators to how Haas tries to dodge the issue. He presents Afkari's killing as a judicial "execution", enabling Zarif to say "well, you have executions in some states of the US as well." Yet, Tehran authorities themselves speak of "qissas" (retribution) while Afkari's lawyers insist that neither he nor they were informed that there would be an execution. Next, Haas tries to soften Zarif's image by presenting him as Foreign Minister of "Iran" rather than of the Islamic Republic.
But the most interesting part of Haas's tweet is "nevertheless" because it puts Afkari's tragic end and CFR's supposed regard for human rights on the same level as the importance of offering a platform to a Khomeinist propagandist. The excuse is "nevertheless, we have to hear the other side".
To be sure, the CFR didn't invent the "nevertheless" club whose members are morally incapable, in Aristotle's term "akates", of understanding that it is wrong to assume equivalence between an ethically sound position and its sophistic negation.
Haas's "nevertheless" reminds one of other "neverthelesses" in literature and history.
There is Achilles saying to Priam at the end of the Trojan War: "Nevertheless, old man! You, too, were once happy."
In November 1938, a few days after Kristallnacht, the French ambassador to Berlin Robert Coulondre reported the event to Paris, describing the savagery in the heart of Europe, concluding that "nevertheless [néanmoins in French] one should understand German grievances against the Jews."
Western intellectuals who visited the Soviet Union under Stalin tacitly admitted that thousands were killed by the regime and millions starved to death but, using the "nevertheless" talisman, they also concluded that all was for the best in that best of all worlds.
British parliamentarian Konni Zilliacus used "nevertheless" first to justify his adulation for Stalin and then, after Nikita Khrushchev denounced the tyrant's cult of personality, against him. Edgar Snow was not myopic enough not to notice the savagery of the gangs unleashed by his idol Mao Zedong. But, again using "nevertheless", he justified playing the role of propagandist for Chinese Communism in the United States.
French journalist Jean Lacouture used "nevertheless" to justify his support of the Khmer Rouge in Cambodia. Yes, the Khmer Rouge were killing millions. Nevertheless, we could not condemn them because they were fighting American imperialism, always a noble cause.
Years ago, we asked the then German Foreign Minister, Hans-Dietrich Genscher, why he pretended that the Islamic Republic in Tehran was just like any other regime, albeit a bit more naughty. He claimed that, although there was a mountain of evidence, there was, nevertheless, not enough information to make a judgement.
Some members of the "nevertheless" club use the quest for "more information" as an excuse for a "critical dialogue" with the Khomeinist regime and other weird actors on the international scene. They remind one of Jacob Bernhardt's mocking of those seeking "unwanted facts and useless information" (Quisquilienforschung in German).
Haas, too, talks of how listening to Zarif would help us better understand the power structure in the Khomeinist regime. And that reminds one of Montaigne's quip: "They are wonderfully acquainted with Galen but know nothing of the disease of the sick man."
Members of the "nevertheless" club also talk of the need for nuances to lubricate diplomacy, always a rough machinery. But, nuances may make sense only if a melody has been established. In this case one needs an overarching view of the Khomeinist regime to guide a long-term policy. Since the "nevertheless" club cannot develop such a policy its talk of nuances is an excuse for serving as an echo chamber for the Tehran mullahs.
Anyway, in his expose at the CFR meeting, Zarif repeated the same claims, not to say lies, that he has been dishing out to the illustrious audience for years. And it seems that they gobbled it up with the same appetite as before. To hoodwink his audience, Zarif never used the term "Islamic Republic" and pretended that "Supreme Guide" Ali Khamenei doesn't exist. Nor did he talk of Islam and Tehran's strategy to "export the Islamic Revolution" to the whole world, including New York where the CFR is located.
Portrayed by Zarif, the Khomeinist regime is a peace-and-love enterprise where the judiciary is independent, all freedoms are respected, and the strategic aim is to establish peace and harmony across the globe. There are no political prisoners in Iran. Tehran's support for Hezbollah and Hamas is cultural and the Iranian presence in Syria is only advisory, at the invitation of the Syrian government. There are, of course, no American and other foreign hostages in Iran. If there is trouble in the Middle East, it is the fault of the United States. OK, not of good Americans like John Kerry and Barack Obama but of people like Donald Trump and Mike Pompeo.
In the CFR echo chamber, the airing of opinions without an ethical barometer is, at best, a trivial pursuit, and, at worst, a betrayal of scholarship.
(Full disclosure: I have been invited to address the CFR twice, both times on Iraq, never on Iran!)
Amir Taheri was the executive editor-in-chief of the daily Kayhan in Iran from 1972 to 1979. He has worked at or written for innumerable publications, published eleven books, and has been a columnist for Asharq Al-Awsat since 1987. He is the Chairman of Gatestone Europe.

This article was originally published by Asharq al-Awsat and is reprinted by kind permission of the author.