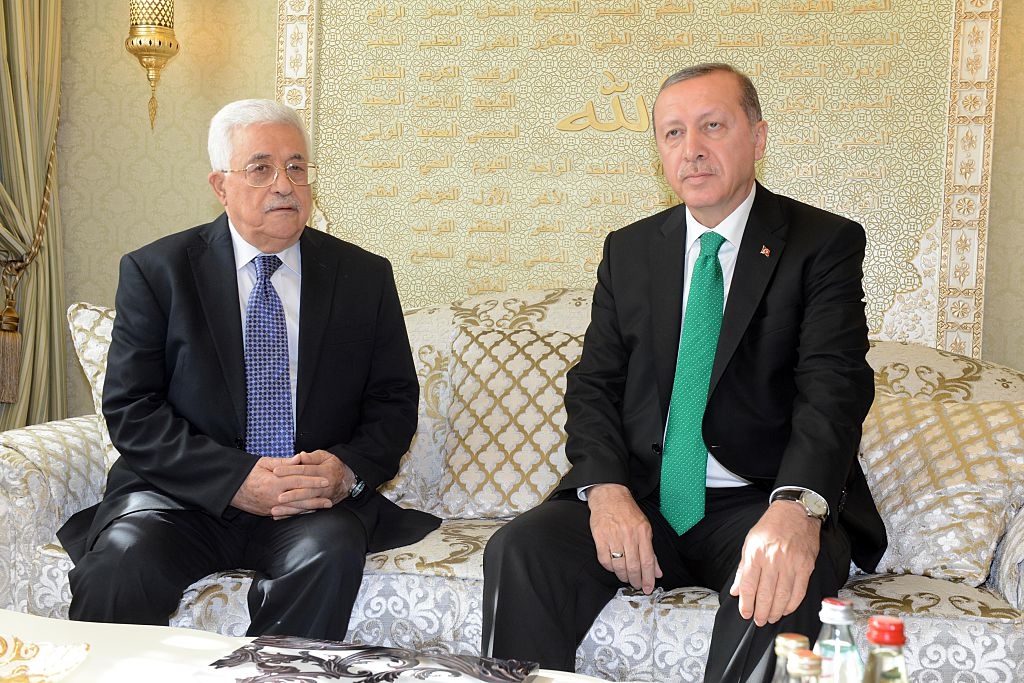 What we are witnessing is an Arab autocrat (Mahmoud Abbas) seeking the help of a Muslim autocrat (Recep Tayyip Erdogan) in holding "free and fair" elections. Abbas, it seems, is confident that Erdogan's observers would rubber-stamp the results of any Palestinian election to ensure that the Palestinian Authority president emerges victorious. Pictured: Abbas (left) and Erdogan in 2015. (Photo by Thaer Ghanaim/PPO via Getty Images)
On September 21, Palestinian Authority President Mahmoud Abbas phoned Turkish President Recep Tayyip Erdogan and requested that Turkey send Turkish observers to monitor Palestinian elections, if and when they are held.
The phone call came as Turkey hosted a meeting between Abbas's ruling Fatah faction and the Iran-backed Hamas movement. At the meeting, the Fatah and Hamas reportedly agreed to hold long overdue elections for the PA presidency and parliament, the Palestine Legislative Council (PLC).
Abbas's request surprised many Palestinians and Arabs, especially in the wake of charges that Erdogan had forged the 2018 presidential and parliamentary elections in Turkey. Shortly after the voting ended, thousands of Twitter users launched a hashtag called #Erdogan_forged_election, accusing him of rigging the elections.
This was not the first time that Erdogan has been accused of election fraud. In 2014, Turkey's opposition accused Erdogan's party of rigging the country's local elections.
What we are witnessing is an Arab autocrat (Abbas) seeking the help of a Muslim autocrat (Erdogan) in holding "free and fair" elections. Abbas, it seems, is confident that Erdogan's observers would rubber-stamp the results of any Palestinian election to ensure that the PA president emerges victorious.
The 85-year-old Abbas, currently in the 15th year of his four-year-term in office, appears to be an admirer of Erdogan's authoritarian rule. While Erdogan is seeking to resurrect the Ottoman Empire and assume the role of Sultan (ruler of a Muslim realm), Abbas is searching for ways to hold onto power until his last day.
Erdogan apparently wants to expand his influence in the Middle East by meddling in the affairs of the Palestinians after already involving himself in conflicts in Libya and Syria. Now he has a chance to use the Palestinian elections to try to bring his Hamas friends to power after getting rid of Abbas.
Abbas, who has no intention of competing with Erdogan for the title of Sultan, wants to maintain his status as president-for-life of the Palestinians. Abbas is hoping that Erdogan will assist him in achieving his goal.
In January 2005, Abbas was elected president of the Palestinian Authority. The next presidential election was supposed to take place in January 2009, but a dispute that erupted between Fatah and Hamas has so far prevented the Palestinians from holding presidential and parliamentary elections. The last Palestinian parliamentary election was held in January 2006, when Hamas won most of the Palestine Legislative Council seats.
A year later, Hamas staged a violent coup in the Gaza Strip, overthrowing Abbas's PA and seizing full control of the coastal enclave, home to nearly two million Palestinians. Since then, the Palestinians have been left without a parliament due to the split between the PA-controlled West Bank and the Hamas-ruled Gaza Strip.
Several attempts by Egypt and other Arab countries to resolve the Fatah-Hamas rift over the past 12 years have failed, leaving the Palestinians with two separate mini-states: one in the West Bank, the other in the Gaza Strip.
Abbas, in the past 11 years, has more than once expressed his desire to end the conflict with Hamas and pave the way for holding the long overdue elections. Such statements have often been ridiculed by his critics.
"Palestinian elections are merely a lie we've been hearing for years and never see happening on the ground," noted several social media users on Twitter. One posted a video that included various statements by Abbas in which he talks about holding new elections.
In 2009, Abbas announced: "I have issued a decree for holding presidential and parliamentary elections on January 24, 2010."
In 2016, Abbas stated:
"We are continuing our sincere efforts to achieve Palestinian reconciliation [with Hamas] by forming a national unity government on the basis of the PLO program and holding presidential and parliamentary elections."
In 2017, Abbas, in a speech at the United Nations General Assembly, called on Hamas to allow the Palestinian Authority to assume its responsibilities in the Gaza Strip and hold general elections.
Last year, in another speech at the UN General Assembly, Abbas again announced his intention to hold presidential and parliamentary elections. "Upon my return to the homeland," he said, "I will call general elections in the West Bank, Gaza Strip and Jerusalem."
In September 2020, during a videoconference meeting of leaders of Palestinian factions, Abbas said:
"Despite all the obstacles you are aware of, we are preparing to hold the parliamentary election, and then the presidential election, with the participation of all the Palestinian factions."
Abbas has long managed to avoid fulfilling his election promise, once by blaming Hamas and another time by blaming Israel. As far as Abbas is concerned, everyone is to blame for the absence of free and fair elections except himself.
Now Palestinians and some Arabs are saying that they no longer believe Abbas. A hashtag trending on Twitter under the name "The Election Play" shows that many Palestinians and Arabs are skeptical of Abbas's real intentions.
"We have become used to the talk about elections," remarked Hesham Abo Al-Hosom, a Palestinian political activist from the Gaza Strip. "The elections Abbas is talking about are a play steeped in lies and delusions."
Palestinian social media user Rawan Armana commented: "We are fed up with speeches, lies and deceit. We have lost confidence [in our leaders]."
Tareq Al-Farra, a member of Fatah, derided Abbas's repeated promise to hold elections: "When will this play end? We are tired of statements about holding general elections and achieving national unity. Stop your lies."
Yara Lolo, who describes herself as a supporter of Abbas's arch-rival, Mohammed Dahlan, wrote: "The people who elect corrupt opportunists and swindlers are not considered victims, but rather partners in crime."
Commenting on Abbas's request that Turkey monitor the Palestinian elections, Egyptian social media user Ahmed Maka wrote:
"Did you know that the Palestinian Authority president called on Turkey to monitor the Palestinian elections, despite the fact that Turkey itself rigged the local elections [in Turkey], according to the testimony of international observers?"
Lebanese political analyst Nidal Al-Sabeh also expressed concern over Abbas's demand that Turkey monitor the Palestinian elections. The PA president's request to Erdogan, Al-Sabeh said, "exposes to Abbas's stance against Egypt, Saudi Arabia, the United Arab Emirates and Syria, and his involvement with the Qatari-Turkish project."
Khairallah Khairallah, a Lebanese journalist and political commentator, wondered whether the proposed elections would lead to real change on the ground and put an end to Hamas's "Taliban-style Islamic emirate" in the Gaza Strip:
"With the exception of Turkey, which hosted the Fatah-Hamas meeting to assert its regional role, it is not known how the elections will lead to a profound change that the Palestinians need more than ever... The elections can be the gateway to a major change. Most of all, the elections can be a bridge to a transformation that leads to the birth of a different Palestinian leadership. It is terrifying that Abbas speaks as if he lives in another world. Is there a Palestinian interest in attacking the US administration, even if this administration takes unfair positions against the Palestinians? Is there a Palestinian interest in referring negatively to the peace accords between Israel and the United Arab Emirates and Bahrain? There is a Palestinian need to return to reality. There is a Palestinian need to come to terms with the truth."
Khairallah called on the Palestinian factions to explain what they mean when they talk about achieving national unity and holding new elections. "There is a need to stop selling illusions," he added.
"There is a need to adapt to international and regional developments. There is a need to acknowledge that national unity cannot be restored by appeasing Turkey or Iran, or by acknowledging the legitimacy of what Hamas is doing in Gaza. Palestinian elections cannot be held without a clear vision that is based above all on preserving an independent Palestinian decision, away from the interference of Turkey and Iran."
Palestinian political analyst Hani al-Masri said it was "useless" to talk about holding elections while the Palestinians are divided.
"Without a unity government that provides an atmosphere of confidence and respect for human rights and freedoms, combats corruption, and unifies institutions, especially the judiciary, there can be no elections... What is required is a new and strategic vision, a single leadership, and a true partnership."
Erdogan's renewed interest in the Palestinian issue might be seen in the context of his embrace of the Muslim Brotherhood and its affiliates, including Hamas. If Erdogan is going to send Turkish observers to monitor the Palestinian elections, it is because he would like to help his friends in Hamas win the vote.
A report by the Century Foundation on the Turkish government's ties to the Muslim Brotherhood estimated that 20,000 Egyptian Muslim Brotherhood members live on Turkish soil. Recently, another report revealed that Turkey has given passports to a dozen members of Hamas in Istanbul.
Erdogan evidently cares about Hamas more than Abbas does. The Turkish leader would certainly like to see Palestinians hold new elections -- and he is prepared to provide all the help needed. By inviting Turkey to monitor the elections, Abbas is playing into the hands of Erdogan and Hamas. Abbas is advancing Turkey's mission of replacing his regime with a Muslim Brotherhood-led government.
Khaled Abu Toameh, an award-winning journalist based in Jerusalem, is a Shillman Journalism Fellow at Gatestone Institute.