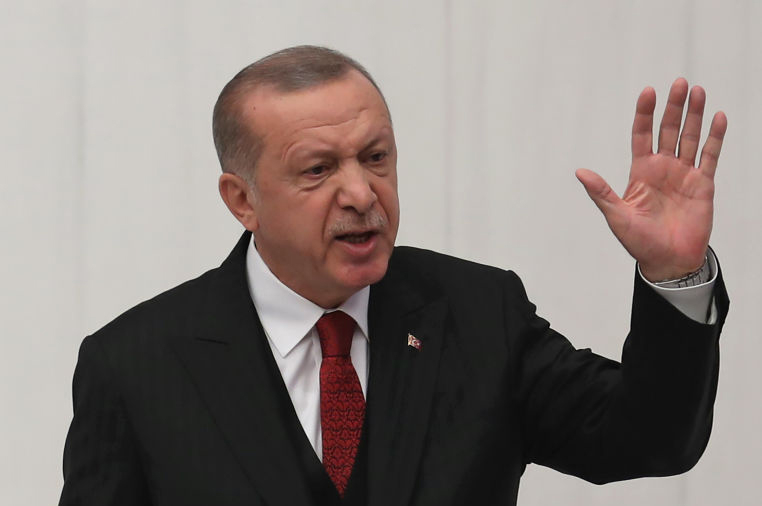 Many Arabs are concerned about Turkish President Recep Tayyip Erdogan's threats against their countries and his ongoing meddling in their internal affairs. "Some countries in our region did not exist yesterday, and they may not exist in the future," Erdogan remarked on October 1. (Photo by Adem Altan/AFP via Getty Images)
Turkish President Recep Tayyip Erdogan is continuing to insult and threaten Arabs, specifically those living in the Gulf.
Many Arabs are concerned about Erdogan's threats against their countries and his ongoing meddling in their internal affairs. Some Arabs are saying that the time has come to stand up to Erdogan and end his "malicious" schemes against Arab countries.
In the past few days, many Arabs took to social media and other platforms to condemn Erdogan's latest offensive remarks and veiled threats against their countries.
They were responding to statements by Erdogan, who on October 1 told Turkish lawmakers, "Some countries in our region did not exist yesterday, and they may not exist in the future, but God willing, we will continue to raise our flag in this region forever." He was apparently referring to Saudi Arabia, the United Arab Emirates, Oman, and other Gulf countries.
The Turkish president was speaking at the opening of the 27th legislative session of his country's parliament. Commenting on the death of the Emir of Kuwait, Sheikh Sabah Al-Ahmad Al-Sabah, Erdogan said, "He [The Emir of Kuwait] was "a different, rational and wise leader, unlike the rulers of some countries in the region, whose rulings do not correspond to reason, logic and fairness."
Erdogan's statements sparked a wave of protests and condemnations in the Gulf states, which considered his remarks as "hostile to Arabs" and a "declaration of war on Arabs."
Some Arabs wondered whether Erdogan was preparing to topple Arab regimes.
Noting that Erdogan posted a video clip of his statements on his Arabic Twitter account in an explicit attempt to send a warning to Arabs, Saudi political analyst Abdel Hameed Yahya wrote: "He [Erdogan] posted it on his Arabic account with an Arabic translation. This is a declaration of war, to say the least."
Yayha and several Arab political analysts and commentators said that Erdogan "has a project of hegemony and influence that resembles Iran's project in its end, although they differ in the tools and method of implementation."
"While Iran uses sectarianism through its militias and proxies, Turkey has used other tools, the most important of which is political Islam, represented by the Muslim Brotherhood organization," according to the London-based pan-Arab newspaper Al-Arab.
"For years, Turkey continued to implement its agenda in secret, but its true face has begun to appear in public. In light of the internal economic crisis, and Turkey's external setbacks, there was no room left for Erdogan but to flee forward."
Saudi political activist Munther Al Sheikh Mubarak remarked:
"Perhaps October will be a turning point in dealing with Erdogan. His clear threats require the Gulf states to take clear measures against Turkey by ending every relationship with it. Shut up, Erdogan!"
Adheya Ahmed Al-Sayed, Chairwoman of the Bahrain Journalists Association, commented that Erdogan's threats against the Gulf states should be seen as a "message to all those who are deceived by Erdogan. His threat against our country is clear and not hidden."
Two popular hashtags trending on Twitter reflect the growing concern among Arabs toward Erdogan's intentions and threats: "Arabs are a red line that should not be crossed" and "Erdogan threatens Arabs."
Several Gulf social media users accused Erdogan of seeking to increase his popularity "by insulting the Gulf countries and showing contempt for Arabs."
Egyptian political thinker Magdi Khalil, president of the Middle East Freedom Forum, wrote that Erdogan "is following in Iran's footsteps by recruiting extremists in favor of his dangerous expansion project." Erdogan, he added, "is a dangerous man for the world."
Abdullah Al-Otaibi, a Saudi writer and political analyst, wrote that Erdogan has been sending "mercenaries" to fight in Syria, Iraq and Libya to prove that he is the next Ottoman Caliph. "In Syria, Turkey presented itself as a supporter and savior for the Syrian people from its army and its political leadership," Al-Otaibi said.
"Then it became clear that the Turkish goal was to control northern Syria and turn the Syrian youth into an army of mercenary militias that Turkey would use to achieve its expansionist ambitions in the Arab countries. Turkey interfered with its armed forces in northern Iraq under the pretext of pursuing the Kurdistan Workers' Party members. Iraqi and Libyan sovereignty were violated by Turkey in full view of the world. Iran and Turkey spread chaos in the countries in which these two countries interfered, and they support terrorism, deploy militias and transport mercenaries."
Egyptian writer Emil Amin described Erdogan as a "delusional man" and the "bad man of the region." Erdogan, Amin wrote, was "busy to the maximum extent with foreign invasions and dreams of restoring the Ottoman Empire."
Emirati writer Abdel Rahman Al-Naqbi wrote about Erdogan's "filthy trick" to distract attention from his problems at home. "Hardly a week goes by without Erdogan coming out with fiery statements that contain a direct or implicit threat to the Gulf states and Egypt," Al-Naqbi said.
"These continuous statements indicate the extent of the turmoil and the challenges facing him inside Turkey, especially in the economic field. This old political trick of distracting the Turkish people from the failure of the ruling regime to solve its internal problems is still used in a ridiculous way. Such nonsense is not appropriate for an ordinary politician, let alone a president of an Islamic state who insults and threatens Muslim countries."
Saudi political analyst Abdullah Farraj Al-Sharif said that Turkey and Iran have become the two most hostile countries to Saudi Arabia. "Confronting them is obligatory," he said. "These two countries are hostile to Saudi Arabia for no understandable reasons."
Another Saudi writer, Mohammed Al-Saaed, compared Erdogan to former Libyan dictator Moammar Gaddafi. "Erdogan thinks that he is the ruler of the region," Al-Saaed said, dubbing the Turkish president delusional and ignorant.
"The notorious messages that he sends to the countries and peoples of the region confirm beyond any reasonable doubt that we are facing a new Gaddafi. What Erdogan is doing today is breaking the foundations of the modern Turkish state, stone by stone, and destroying its values."
Abdel Aziz Razan, a Saudi adviser at the Center for Arab-Russia Studies, called on the international media to expose Erdogan's "crimes" against the Arabs.
"His crimes against the Arab peoples must be exposed, such as his massacres against the Syrian people, against the Kurds in the Kurdistan region of Iraq, and in Libya through the violation of Libyan sovereignty and the sending of Syrian mercenaries to that country."
Such powerful responses made by Saudis and other Arabs to Erdogan's contemptuous statements show that the Arabs now understand it is Erdogan and his friends in Iran whom they should fear. In the eyes of these Arabs, Erdogan and his Iranian connections represent the real threat to their security and stability.
In light of such reactions, perhaps more Arab countries will follow the United Arab Emirates and Bahrain in signing diplomatic agreements with Israel. The State of Israel, as it turns out, is a strategic and strong ally that can help Arab countries stop Turkey and Iran from spreading their contagion of terror in the Middle East.
Khaled Abu Toameh, an award-winning journalist based in Jerusalem, is a Shillman Journalism Fellow at Gatestone Institute.