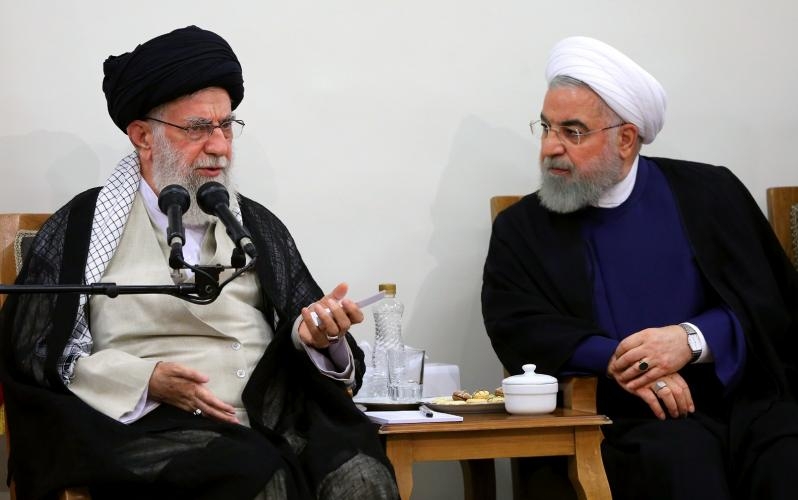 The EU needs to stop its appeasement policies with Iran's mullahs. It needs to join the US in holding the Iranian leaders accountable. Pictured: Iranian "Supreme Guide" Ayatollah Ali Khamenei (left) and President Hassan Rouhani on August 21, 2019. (Image source: khamenei.ir)
The only Western government taking concrete steps to hold the Iranian regime accountable for its human rights violations, destabilizing behavior and aggressive policies in the Middle East is the Trump administration. On September 24, the United States blacklisted and slapped sanctions on several Iranian officials and entities over gross violations of human rights. Sanctions were also imposed on the judge who was involved in issuing the death sentence for the Iranian wrestling champion, Navid Afkari.
The EU, the UN and human rights organization have not taken any tangible action, even after Amnesty International released its report on Iran's shocking human rights violations. Amnesty International warned that the Iranian regime has committed unacceptable atrocities, including victims being frequently "hooded or blindfolded; punched, kicked and flogged; beaten with sticks, rubber hosepipes, knives, batons and cables; suspended or forced into holding painful stress positions for prolonged periods; deprived of sufficient food and potable water; placed in prolonged solitary confinement, sometimes for weeks or even months; and denied medical care for injuries sustained during the protests or as a result of torture."
The United States also imposed sanctions on Judge Seyyed Mahmoud Sadati, Judge Mohammad Soltani, Branch 1 of the Revolutionary Court of Shiraz, and Adel Abad, Orumiyeh for being responsible for gross human rights violations, including torture, arbitrary detentions and unjustified executions. Elliott Abrams, the U.S. Special Representative for Iran and Venezuela, pointed out during a hearing at the Senate Foreign Relations Committee:
"The U.S. is committed to holding accountable those who deny freedom and justice to people of Iran and later today the United States will announce sanctions on several Iranian officials and entities including the judge who sentenced Navid Afkari to death."
Afkari, like many other people who participated in protests against the regime, was brutally tortured. He explained in a letter:
"For around 50 days I had to endure the most horrendous physical and psychological tortures. They would beat me with sticks and batons, hitting my arms, legs, abdomen, and back. They would place a plastic bag on my head and torture me until I suffocated to the very brink of death. They also poured alcohol into my nose."
Holding the Iranian leaders accountable only for human rights violation is not enough. Pressure must be imposed on the regime's military adventurism. Unlike the EU, the US is taking concrete steps in countering this rogue regime in other arenas as well. On September 21, U.S. President Donald Trump issued a new executive order targeting Iran-related conventional arms transfers, aimed at targeting those who seek to make arms deals with the Iranian regime and skirt the UN arms embargo. Although the US recently drafted a resolution at the UN to extend the arms embargo on Iran, Russia and China exercised their security council vetoes. The other 11 members abstained.
Russia's leaders appear more than willing to help Iran. Vladimir Zhirinovsky, leader of Russia's Liberal Democratic Party, said in January 2020 that Russia needs to "offer Iran an agreement on military cooperation and urgently sell the most modern weapons so that no one dares throw anything in the direction of Iran." In the end, the UN Security Council voted on August 14 to permit the 13-year arms embargo on the Iranian regime to expire. This means that the Iranian regime will be permitted freely to buy, sell, import and export weapons.
To prevent Iran from making arms deals, sanctions have been effectively imposed on several significant organizations and individuals including Iran's Ministry of Defense and Armed Forces Logistics; Iran's Defense Industries Organization and its director, Mohammad Ghannadi Maragheh; the Atomic Energy Organization of Iran's (AEOI) Deputy Head of Nuclear Planning and Strategic Supervision, Mohammad Qannadi as well as Javad Karimi Sabet, AEOI's Deputy Head and the head of its Nuclear Science and Technology Research Institute; and Mammut Industrial Group and its subsidiary, Mammut Diesel, for being "key producers and suppliers of military-grade, dual-use goods for Iran's missile programs".
The sanctions are evidently intended to make companies and governments think twice about dealing with the mullahs and thereby risk doing business with the US. Iranian President Hassan Rouhani, apparently feeling the pressure of the sanctions, lashed out at the US; in televised remarks, he angrily accused the US of "savagery".
Aside from risking doing business with the US, the European countries need to stop doing business with Iran because they are empowering a regime that is setting up terror cells on the European soil. Iran has also, since the beginning of the JCPOA, brought terror and assassination plots to the EU. If the mullahs acquire nuclear weapons and missiles to deliver them, they will not even need to use them; just the threat to European cities should be enough to produce instantaneous acquiescence. German intelligence has acknowledged that more than 1,000 members of Hezbollah, Iran's proxy, use the country to recruit, raise money and buy arms.
In October last year, the Albanian General Police Director Ardi Veliu revealed that an active cell of the foreign operations unit linked to the Iranian Quds Force had been detected by Albania's security services. In recent years, a series of assassination and terrorist plots took place across Europe -- some successful, others not, but all were committed in the EU by Iran's agents, and traced back to Tehran. In July 2018, a foiled a terrorist attack in Paris targeted a large convention which included not only this author, but also many high-level speakers such as former Canadian Foreign Minister John Baird, former US House of Representatives Speaker Newt Gingrich, and former New York Mayor Rudy Giuliani.
A few months later, in October, an Iranian diplomat and several other individuals of Iranian origin were arrested in France, Belgium and Germany for what French intelligence officials concluded was a foiled bomb plot, behind which was the Iranian regime. Iran's regime has also been murdering dissidents on European soil. Ahmad Mola Nissi, a Dutch citizen of Iranian origin and a critic of the Iranian regime, was gunned down at his front door in November 2017. The Dutch authorities publicly acknowledged that it had "strong indications" that the Iranian government had commissioned the murder.
The EU needs to stop its appeasement policies with Iran's mullahs. It needs to join the US in holding the Iranian leaders accountable.
Dr. Majid Rafizadeh is a business strategist and advisor, Harvard-educated scholar, political scientist, board member of Harvard International Review, and president of the International American Council on the Middle East. He has authored several books on Islam and US foreign policy. He can be reached at Dr.Rafizadeh@Post.Harvard.Edu