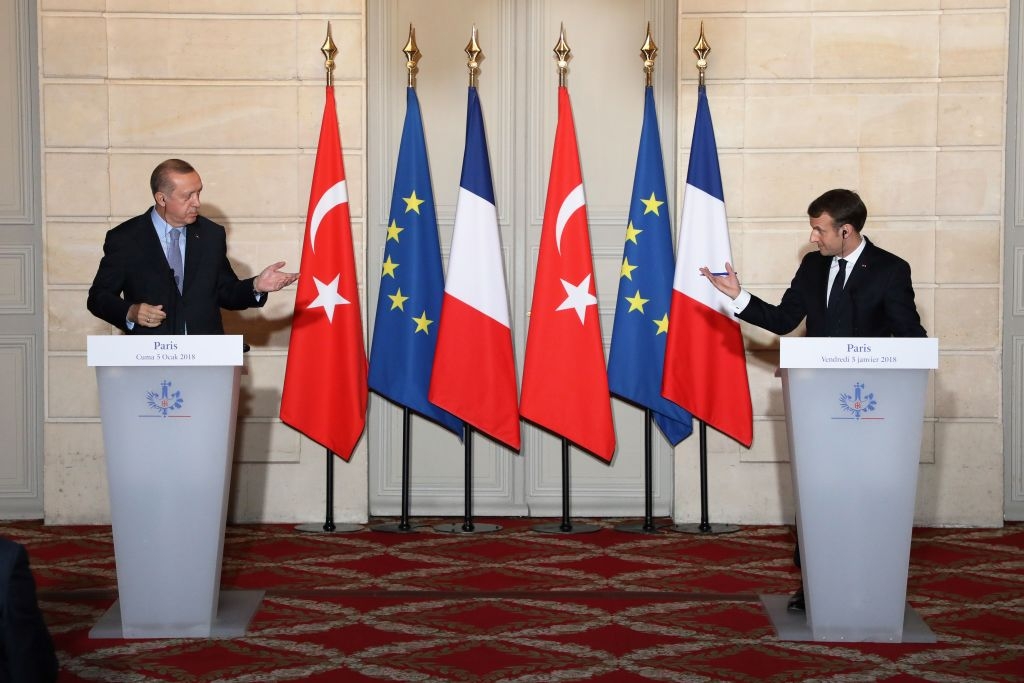 Last week, France condemned Turkish President Recep Tayyip Erdogan for comments he made about French President Emmanuel Macron's mental health and treatment of Muslims. Erdogan had suggested that the French president needed "some kind of mental treatment" because of Macron's attitude toward Muslims in France. Pictured: Macron (right) and Erdogan at a press conference on January 5, 2018 in Paris, France. (Photo by Ludovic Marin/AFP via Getty Images)
Turkish President Recep Tayyip Erdogan is not authorized to speak on behalf of the Muslims, especially regarding the current controversy surrounding France's attitude toward Islam and Muslim terrorist attacks. That is what many Muslims are saying these days in the aftermath of Erdogan's attempt to present himself as the grand defender of Islam in a conflict that recently erupted between Muslims and France.
According to several Muslim political analysts and writers, Erdogan is trying to take advantage of the anti-France campaign in the Muslim world for his own political gain. The message the Muslims are sending to France and the rest of the world is that Erdogan is a hypocrite and opportunist, who is acting from personal interest and not out of concern for Muslims or Islam.
Last week, France condemned Erdogan for comments he made about French President Emmanuel Macron's mental health and treatment of Muslims. Erdogan had suggested that the French president needed "some kind of mental treatment" because of Macron's attitude toward Muslims in France. "What else is there to say about a head of state who doesn't believe in the freedom of religion and behaves this way against the millions of people of different faiths living in his own country?" Erdogan said in a speech at a meeting of his Justice and Development Party. He also called on Muslims to boycott French goods.
Erdogan's remarks came in response to Macron's pledge to crack down on radical Islamism in France after a Muslim terrorist beheaded history teacher Samuel Paty on October 16. Paty had taught a class on freedom of expression during which he used cartoons of the Islamic Prophet Mohammed from the satirical newspaper Charlie Hebdo. Even before Paty was murdered, Macron defended the right to caricature the Prophet Mohammed. In September, he described Islam as a religion "in crisis" and announced that he would present a bill to strengthen a law that separates church and state in France.
Some Muslims see Erdogan's attacks on France as an attempt to divert attention from the growing criticism in the Arab world toward Turkey's meddling in the internal affairs of a number of Arab countries. Saudi Arabian activists have called for a boycott of Turkish products to protest Erdogan's repeated attacks on Arab leaders and countries.
Other Muslims see Erdogan's attempt to position himself as the defender of Islam in the context of the Turkish president's effort to market himself as a new Sultan of the Ottoman Empire and leader of the Muslim world.
"In an attempt to divert attention from the Arab boycott of Turkish products, Erdogan tried to employ the campaign against France to the benefit of his political calculations," Arab experts told the Gulf newspaper Al-Ain.
"Erdogan's statements and his defense of Islam do not bear in their essence any religious dimensions, but rather an attempt to win the friendship of the angry street and also to save his country's economy, which is suffering badly after the success of the Arab boycott of Turkish goods."
Noting that Arab business executives and others have called for a boycott of Turkish products to protest the "hostile policies of the Erdogan regime," the newspaper quoted Egyptian political analyst Tareq Fahmi as saying:
"Erdogan's talk about adopting the defense of Islam has become unacceptable after everyone realized that the matter is purely political and has nothing to do with the religious dimension. The issue is also related to addressing Arab and Islamic public opinion so that Erdogan appears in the image of the great Arab and Islamic leader. Erdogan aims to ride the current wave and try to employ and invest it politically in his battles against Europe and France."
Lebanese journalist Joseph Abu Fadel scoffed at Erdogan's call for the protection of Muslims in France:
"Erdogan calls for the protection of Muslims in France! We ask the Ottoman dreamer Erdogan about the Muslims who were slaughtered by his Muslim Brotherhood group and the jihadists in Syria, Iraq, Libya and Turkey."
Egyptian political analyst Walid Abbas questioned Erdogan's motives in defending Islam and leading the attacks on France. "It does not seem that the motives of the Turkish president to launch his campaign against France and its president, Emmanuel Macron, is to defend Islam or Muslims," Abbas remarked.
"A simple example of this emerged about four years ago, when Erdogan stopped defending the Uighur Muslims in China and even arrested one of the movement's leaders, who was a refugee In Turkey. He also deported hundreds of Uighur refugees in his country to China in 2019."
Abbas pointed out that Erdogan was also motivated by his concern over the decline of his popularity in Turkey:
"The Turkish president, since the emergence of his internal difficulties and their impact on his popularity, changed his political strategy and turned to igniting battles on the international scene, in an attempt to assert his regional influence. Paris has been the main party that has consistently opposed these attempts and has always stood against it."
Erdogan's main goal, he added, "is to inflame an internal national and religious conflict that allows him to force the Turkish people to rally behind the leader who wages fierce battles with the world under the slogan of defending Islam."
Tunisian writer Al-Habib al-Aswad, reacting to the crisis between France and Turkey, said "political Islam seeks by all available means to drag Islam into its wars and conflicts, the latest of which is its war on France." Al-Aswad added that Erdogan was simply trying to demonstrate his power and influence in the Islamic and Arab countries.
"The beheading of the French history teacher proves that political Islam has become a real threat to world peace in light of its expansionist tendency, which is currently embodied by Erdogan's project, which not only targets the societies of Muslim countries, but also other societies that incubate important Islamic communities... When the Turkish president incited against France and President Macron, his primary concern was not religion or the Prophet Mohammed, but rather his geopolitical struggle with the French in the eastern Mediterranean, Libya, and generally North Africa and the Sahara region. Erdogan is convinced that Macron is a declared ally of countries that Ankara considers its enemies."
Egyptian media personality Mustafa Bakri said that Erdogan was taking advantage of various crises and cannot be sincere in his defense of Islam. Erdogan, he added, "is not an honest man."
"He took advantage of the situation against France and claimed to be defending Islam. He wants to represent himself as a defender of Islam. Which Islam does he speak for? Erdogan has committed crimes in Libya, Syria and all Arab countries. He is the one who is offending Islam."
Emirati writer Mohammed Khalfan al-Sawafi said he agreed with many Arabs and Muslims who consider Erdogan an opportunist exploiting Islam to serve his own political agenda:
"Some populist politicians think only about achieving their personal victories by using powerful and extremist rhetoric... What Erdogan came out with cannot be considered an endeavor to defend the interests of Muslims and the Prophet Mohammed, and he knows more than others what the consequences could be for the Muslim communities living in Western societies."
Al-Sawafi is apparently worried that Muslims in France and other European countries may face various restrictions, including the closure of Islamic charities and a ban on political activities in response to Erdogan's remarks.
Syrian journalist Baha al-Awwam said that Erdogan was trying to lead a "renaissance" or "revolution" in Islam as part of his effort to control the Arabs and Muslims. "The Arab region does not need an Islamic 'renaissance ' or 'revolution,'" al-Awwam argued. Erdogan, he said, is currently seeking to control Libya, Qatar, Syria and Iraq.
"The Sultan [Erdogan] attracts supporters by supporting the peoples persecuted by their rulers... But you do not know that the extremists and blood merchants are the greatest beneficiaries of Erdogan's support. Not to mention that the 'Sultan' persecutes the Turks themselves whenever he is able to do so, and the evidence for this is his imprisonment of tens of thousands of his opponents. Opportunism is the name of the game that Erdogan is playing. He wishes to start a world war against the backdrop of the crisis of the French teacher. Wars represent his only salvation from facing his accumulated failures. Unfortunately for him, this will not happen, and Erdogan will fail in his endeavors."
The reactions of many Arabs and Muslims show that they view Erdogan as a more serious threat to Islam than Macron or others in the West. The voices of Erdogan's critics, however, rarely find their way to the mainstream media.
Ironically, Erdogan, who is currently calling for a boycott of French products, is himself being boycotted by a growing number of Arabs and Muslims. It is Erdogan, bemoaning the "insults" to Islam made by Westerners, who is himself being accused by Muslims of killing Muslims and occupying their lands.
Khaled Abu Toameh, an award-winning journalist based in Jerusalem, is a Shillman Journalism Fellow at Gatestone Institute.