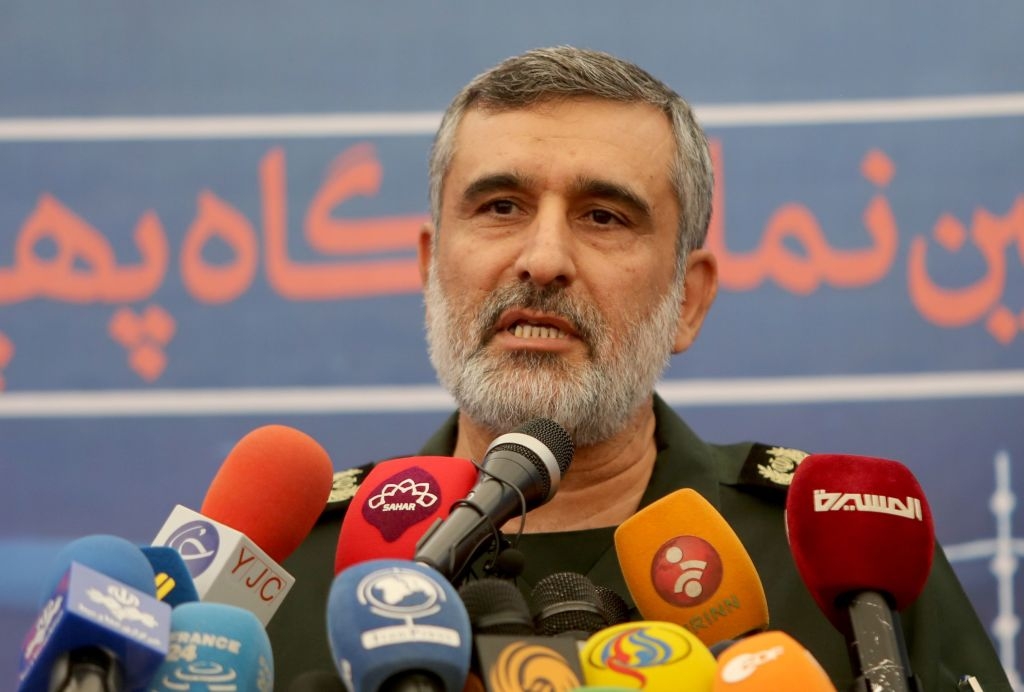 A recent announcement by the chief of Iran's Islamic Revolutionary Guard Corps, Brigadier General Amir-Ali Hajizadeh (pictured), that Iran intends to use Lebanon as a "forefront" for waging war on Israel, has enraged many Lebanese, who say that the time has come to end the Iranian occupation of their country. (Photo by Atta Kenare/AFP via Getty Images)
Iran's recent announcement that it intends to use Lebanon as a "forefront" for waging war on Israel has enraged many Lebanese, who say that the time has come to end the Iranian occupation of their country.
The Lebanese are worried that their country will meet the fate endured by Iraq, Syria and Yemen, where the Iranians and their militia proxies are playing a major role in the civil wars currently plaguing these countries.
The Lebanese were reacting to statements by the chief of Iran's Islamic Revolutionary Guard Corps (IRGC), Brigadier General Amir-Ali Hajizadeh, who was quoted as saying that Lebanon is at the forefront of Iran's battle against Israel.
Referring to the missiles Iran has supplied to Hezbollah and Palestinian terrorist groups in the Gaza Strip, Hajizadeh said: "Whatever you see in Gaza and Lebanon is with our support; these days they use missiles instead of simple rockets.
"Making Lebanon an extension of Iran violates the country's sovereignty and independence," wrote Lebanese commentator Souad Lazkani.
"Iran can and will use its rockets to fire from Lebanon to Israel if need be and whenever it wants, even if Lebanon does not agree to it. It will fall on the Lebanese people to pay the price of the heavy consequences as its territory becomes an arena for Iran's battle with Israel."
Hussein Wajeh, media adviser to Lebanese Prime Minister, Saad Hariri, warned against turning Lebanon into an Iranian province:
"Some Iranian officials are trying to involve the Lebanese people in the Iranian regime's open wars with the international community.

"Lebanon has not – and will not – be the front line on behalf of Iran in any confrontation. The Lebanese will not pay the price for the Iranian regime. Lebanon is an independent, free and sovereign country."
To express their rejection and fear of Iran's malign intentions, many Lebanese have taken to social media to warn that they will not allow the mullahs of Tehran and their Lebanon-based Hezbollah terrorist organization to drag their country into another war with Israel.
A hashtag currently trending on Twitter under the slogan "Beirut is Free, Iran Out," shows how eager the Lebanese are to end the Iranian occupation of their country. The criticism, of course, is also directed toward Hezbollah, which has long been using Lebanon as a launching pad for carrying out terrorist attacks against Israel with Iranian-supplied weapons.
One of the posts on Twitter reads: "The defendant: The Iranian Hezbollah. The charge: Participation in the wars in our region."
"No to terrorism, no to Hezbollah, no to Iran," wrote Aline Hatem, a Lebanese woman. "Lebanon is always going to be independent."
George CK Wardini, a Lebanese citizen who describes himself as "center-left, progressive and secular," remarked: "Lebanon is under Iranian occupation and it needs to be freed from this oppressive dictatorship!"
Addressing Hezbollah and all Lebanese who support Iran, a Lebanese social media user called Cactus Jack commented: "if you love Iran so bad, why don't you go there and leave us the f*** alone? Lebanon is not for Iran or any rapist terrorist or warlords. Lebanon is for us, always life will win over death."
Sara Abou Rjeily, a Lebanese artist and photographer, wrote that any Lebanese politician who ignores the threat Hezbollah poses to Lebanon is acting against the interests of his or her own country: "Every Lebanese politician who does not publicly acknowledge that Hezbollah is an occupier and a terrorist and criminal [organization] and an existential threat is the one who denies Lebanon's rights, its identity and its independence."
Adding insult to injury, last week, Iran's allies in Lebanon unveiled in Beirut a statue of Iranian General Qassem Soleimani, who was assassinated in a US drone attack in Iraq a year ago. In the past few weeks, several images of Soleimani have appeared on boards in the Hezbollah-controlled districts of Beirut and southern Lebanon, sparking a wave of online criticism from many Lebanese.
"Hezbollah seems pretty damn desperate to make late Iranian General Qassem Soleimani a local hero, despite knowing that for a majority of the people in Lebanon he simply represents a foreign power," said Lebanese researcher Nizar Hassan.
The Lebanese Social Democratic Party, Kataeb, urged the Lebanese government to summon the Iranian ambassador to Beirut for clarification regarding Tehran's ongoing military support for Hezbollah. The party accused Iran of holding Lebanon hostage and violating its sovereignty. "Hezbollah's illegal weapons did not protect Lebanon in the past and will not protect it today," according to a statement by Kataeb. "Instead, these weapons subject Lebanon to all forms of isolation, boycotts and sanctions."
The Lebanese, like a growing number of Arabs in the Gulf states, are saying that they prefer peace, stability and prosperity over weapons, statues and wars with Israel. The Lebanese are making it clear that they have suffered more than enough from Iran's endless meddling in their internal affairs. The Lebanese are demanding an end to Iranian occupation of their country; they are clearly hoping that the international community will intervene to assist them in freeing Lebanon from Iran's control.
The message the Lebanese people are sending to the international community is encouraging: Lebanon does not want war with Israel; Lebanon wants to get rid of Hezbollah and Iran. We Lebanese ask you to support this goal by applying unyielding pressure on the mullahs in Tehran. A policy of appeasement or engagement with the mullahs will yield only one thing: blood running even more freely in the streets of Lebanon, Yemen, Syria and Iraq -- as well as nuclear weapons.
Khaled Abu Toameh, an award-winning journalist based in Jerusalem, is a Shillman Journalism Fellow at Gatestone Institute.