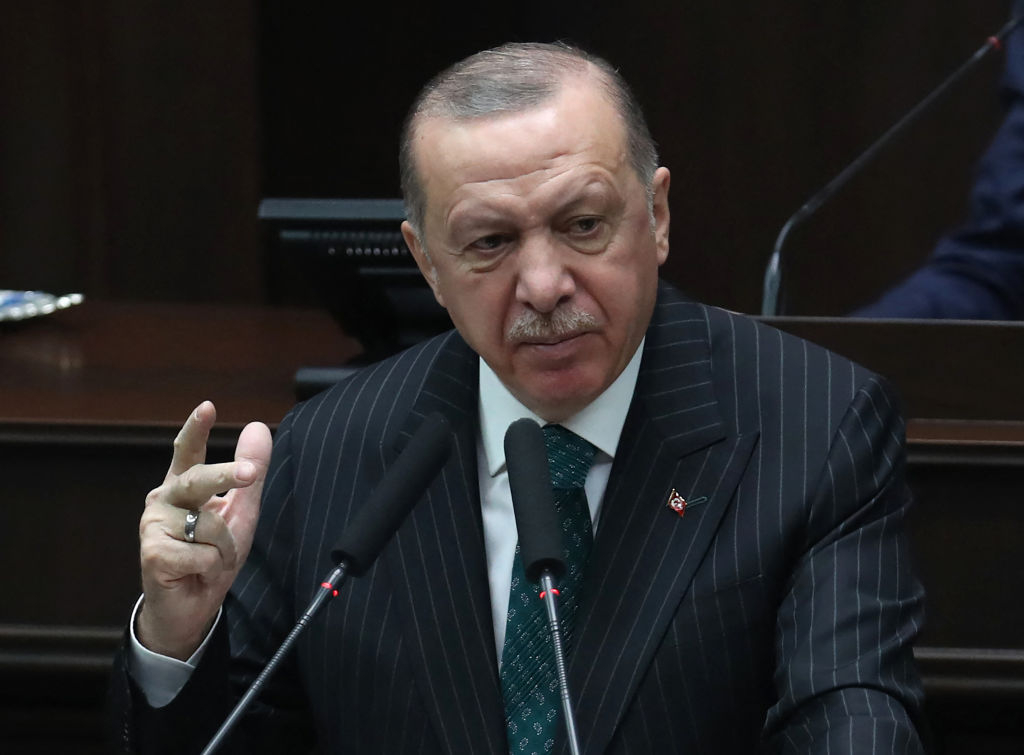 There are signs that more and more Kurds in Turkey feel disenchanted by the hawkish policy of Islamist President Recep Tayyip Erdoğan. A poll in February found that a quarter of Kurds who had previously voted for Erdoğan said they would not vote for him again. Erdoğan's war on peace may prove self-defeating. Pictured: Erdoğan on March 10, 2021. (Photo by Adem Altan/AFP via Getty Images)
The race for the Istanbul election on March 31, 2019 went full steam ahead. Islamist parties had controlled Turkey's biggest city since 1994 – a full 25 years. Istanbul was not just another city to win for any party. Turkey's Islamist president, Recep Tayyip Erdoğan, had put it: "Who wins Istanbul, wins Turkey."
In the run-up to the 2019 election, Erdoğan realized that his Justice and Development Party (AKP) might lose if Istanbul's two million or so Kurds voted for the opposition candidate, Ekrem İmamoglu. What to do? State broadcaster TRT read a statement from Abdullah Öcalan, the jailed leader of Kurdistan Workers' Party (PKK), a terrorist organization. Öcalan's letter called on Kurds to remain neutral between the government and opposition candidates. That would result in de facto support for the AKP candidate, former Prime Minister Binali Yıldırım.
The vote count on March 31, however, proved to be a political fiasco. İmamoglu had won by a narrow margin of 13,000 votes (in a city of 18 million) but the AKP-controlled Supreme Election Board ruled for a rerun on June 23. This time İmamoglu won by a margin of 800,000 votes. The margin of victory shocked Erdoğan and his party establishment. That night marked an unforgettable defeat for the invincible Erdoğan. It also marked a new, advanced phase in Islamists' war on Kurds. Apparently the Kurds, ignoring Ocalan's letter, voted for İmamoglu.
Erdoğan's staunch ultranationalist ally, Devlet Bahçeli, has been persistently calling for a permanent ban by a Constitutional Court of the pro-Kurdish Peoples' Democratic Party (HDP), the third-largest party in the Turkish parliament. Erdoğan advocates more subtle ways to intimidate the opposition. He has been jailing HDP's democratically elected leaders, MPs and mayors, and appointing trustees in their place.
Erdoğan does not have to shut down the HDP when he has de facto crippled it. The party's two co-chairmen, Selahattin Demirtaş and Figen Yüksekdağ, have been in jail since 2016.
Demirtaş and Yüksekdağ were arrested on "terrorism" charges but theirs remain a curious and bitter legal story. In 2014, HDP called on its supporters to peacefully protest the capture by Islamic State of a northern Syrian Kurdish town, Kobane. What initially began as peaceful protests turned into violence between protesters and security forces, as well as between protesters of rival ideologies.
After a week of violence swept Turkey's predominantly Kurdish cities in the country's southeast, 46 people had been killed and 682 injured. More than 300 people were detained for the violence. Turkish prosecutors drafted indictments against Demirtaş and Yüksekdağ (along with nine other HDP MPs) for provoking violence -- 6½ years after the incidents. "This is an attempt to ban politics," wrote Turkish columnist Mehmet Yılmaz.
In order to bypass the more radical option of closing down a political party, Erdoğan may also be considering additional measures to deal a further blow to the HDP. These include stripping the party of state funding, as party closure looks as if it would not work as a deterrent. HDP is Turkey's eighth pro-Kurdish party: seven others have been banned. Kurds formed their first one in 1990. Between 1994 and 2015, however, the Kurdish vote in Turkey rose from 4.1% to 13.1% of the total vote, or from 1.1 million votes to more than six million.
The HDP claims it is facing an unprecedented legal crackdown. 16,000 of its members have been detained and dozens of deputies ousted from parliament and jailed under Turkey's anti-terror legislation. The government currently is working on lifting the parliamentary immunity of all HDP deputies who are subject to summary proceedings -- expedited rulings -- on charges of "terrorism." So far, 56 deputies from HDP have 914 summary proceedings against them.
"Seriously," asked columnist Akif Beki, "would the crackdown [on Kurdish politicians] take place if Istanbul's Kurdish voters had remained neutral and the AKP won Istanbul?"
With a new court ruling on another prominent Kurdish politician in February, the crackdown took a new ugly turn. Ömer Faruk Gergerlioğlu, a former Islamist, human rights activist and HDP MP, retweeted a post in 2016, advocating peace in the Kurdish dispute. A Turkish court sentenced him to 2½ years in jail for the retweet -- although, ironically, the original tweet source had not been indicted. In February, the Supreme Court of Appeals upheld Gergerlioglu's sentence for "spreading terrorist propaganda" -- five years after the retweet.
Erdogan's Kurdish problem, however, has the potential to cost him more than just Istanbul. Research has found that the fertility rate in the Kurdish-speaking, eastern part of Turkey was 3.41, as opposed to an average of 2.09 in the Turkish-speaking, non-eastern areas. Kurdish votes in the presidential election year 2023 may reach seven million: Kurds could be the kingmakers.
There are signs that more and more Kurds feel disenchanted by Erdoğan's hawkish policy. Rawest Araştırma, a pollster, found in February that one quarter of Kurds who had previously voted for Erdoğan said they would not vote for him again.
Erdoğan's war on peace may prove self-defeating.
Burak Bekdil, one of Turkey's leading journalists, was recently fired from the country's most noted newspaper after 29 years, for writing in Gatestone what is taking place in Turkey. He is a Fellow at the Middle East Forum.