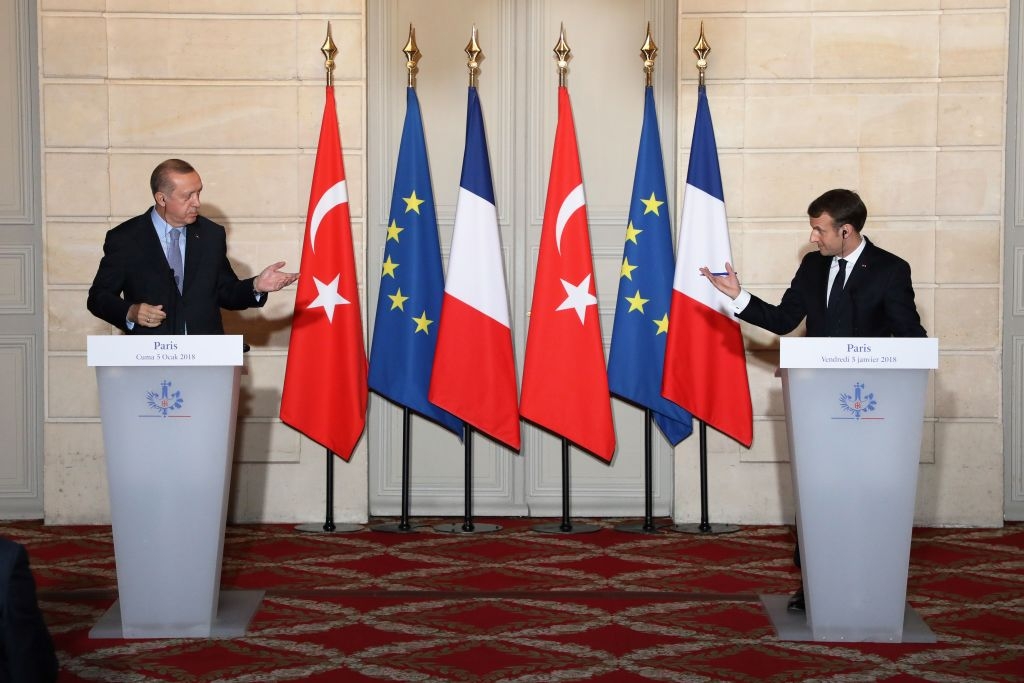 In October, Turkish President Recep Tayyip Erdoğan drew his sword against French President Emanuel Macron, targeting, in fact, the entire European civilization as against radical Islam. "What is Macron's problem with Islam?," Erdoğan said. "What is his problem with Muslims? Macron needs some sort of mental treatment." Pictured: Macron (right) and Erdogan at a press conference on January 5, 2018 in Paris, France. (Photo by Ludovic Marin/AFP via Getty Images)
A comparative analysis of where Turkish President Recep Tayyip Erdoğan's aggressive war-mongering and assertive foreign policy -- based on an imaginary Superpower Turkey -- stood a year ago, and today's relative Turkish composure at all problematic fronts should give us invaluable lessons on dealing with the wannabe sultan. The events during the past year offer precious experimental confrontations that reveal an answer to a question that concerns a rich menu of nations: What makes Erdoğan tick?
Erdoğan has threatened Europe several times with "sending millions of refugees your way." On February 27, 2020, the Turkish government finally pressed the button to execute the threat: Millions of (mostly Syrian) migrants on Turkish soil were now free to travel to Europe; Turkish border gates were now open. Tens of thousands of these migrants (not only Syrians) were given free bus rides from Istanbul to Turkey's land borders with Bulgaria and Greece, about 150 miles west of the Istanbul. In a declaration that looked more like propaganda talk than reality, Turkish Interior Minister Süleyman Soylu chimed in on March 1, 2020 that, in a span of three days, 100,000 refugees had already crossed the borders into Europe.
By the next day, Greece was not only operating 52 Navy ships to guard its islands close to Turkey; it had also mobilized additional troops on land. Its security forces were able to block 10,000 migrants from entering Greece by way of the Turkish land border. Some migrants were stuck in the no-man's-land between the two countries and eventually had to return to the Turkish side. Greek officials reported only 76 illegal entries, whom they detained and prosecuted.
At the end of March, Turkish authorities had to withdraw the remaining migrants who were amassed at the border. The blackmail that had long kept the EU hostage had finally failed. Erdoğan has not resorted to that blackmail ever since. But Greece had not disappeared from his hostile radar.
On July 9, Erdoğan signed a decree for the conversion into a mosque of the monumental, 6th century Hagia Sophia cathedral -- on UNESCO's World Heritage List -- a move his Islamist fans praised as the "second conquest of Istanbul." Mustafa Kemal Atatürk, founder of modern Turkey, had designated Hagia Sophia as a museum in 1934. Erdoğan's was the first step of a plan to escalate tensions with traditional Aegean rival Greece.
The entire summer of 2020 saw a perpetual cycle of escalation, de-escalation and escalation again in the Aegean and Mediterranean seas. Turkey suspended and resumed, several times, its provocative hydrocarbon exploration activity in disputed maritime zones. While the standoff was deepening, Turkish and Greek militaries switched to operational readiness, a step before firing at each other.
In one dangerous incident on August 14, two warships, the Greek Navy's Limnos frigate and Turkey's TCG Kemalreis, collided in the Eastern Mediterranean. The tensions bolstered a century-long Turkish nostalgia to take back some of the Greek islands, with Islamist media suggesting that the Turkish military should invade 16 Greek islands. Turkey and Greece had not come this close to fighting their fifth war in history since 1996, when their armies challenged each other over sovereignty rights on a small Aegean islet.
Meanwhile, starting from June 2020, Turkey became more and more heavily engaged in the Libyan civil war, sending troops, trainers, equipment and proxy Syrian fighters to the hot war theater, challenging a consortium of rival nations, including Russia, France, Egypt, Saudi Arabia and the United Arab Emirates (UAE). Ankara threatened that its role in the Libyan war may evolve from proxy to actual warring party.
In October, Erdoğan drew his sword against French President Emanuel Macron, targeting, in fact, the entire European civilization as against radical Islam. "What is Macron's problem with Islam?," Erdoğan said. "What is his problem with Muslims? Macron needs some sort of mental treatment." Because the French president vowed to crack down on radical Islamism in France, after the country was shaken by the beheading of French history teacher Samuel Paty on October 16, Erdoğan apparently thought that Macron had gone clinically insane. Erdoğan also accused the West, in the military conflict between Azerbaijan and Armenia, of supplying arms to one of the warring parties only, Armenia. Nevertheless, a bit hypocritically, as happens, Erdoğan was also proud that Turkey had been equipping the Azeri military with drones, various other weapons systems and training.
The summer of 2020 also saw increasing Turkish condemnation of Egypt, Saudi Arabia and the UAE due to hostile ideological differences. Erdoğan's ideological love affair with the Muslim Brotherhood had sparked mutual hostilities between Ankara and Arab capitals, with Egypt and Saudi Arabia finally deciding to boycott Turkish products. The UAE's diplomatic normalization with Israel also sparked even more self-defeating anger in Ankara, which has had diplomatic relations with Israel since 1949. Ever since a Turkish flotilla, led by the Mavi Marmara, was caught by Israelis in 2010 trying to break the legal maritime blockade of the Gaza Strip, however, the relationship between the two countries has been particularly awful. In addition, Erdoğan seems to believe that Israel's capital, Jerusalem, should actually belong to Turkey, as it belonged to the Ottoman Empire more than 100 years ago.
At the end of the year, there was a Turkey in deep stages of cold-to-colder-war with the EU (in particular, with EU members Greece, Cyprus and France), Israel, Egypt, Saudi Arabia, the UAE, General Khalifa Haftar of Libya and the United States (over the S-400 dispute).
Not one of these state actors stepped back and appeased Erdoğan or changed policy in the face of Turkish hostilities. Arab states escalated when necessary, or humiliatingly ignored Turkish provocations. Israel augmented its hydrocarbon alliance with the Mediterranean nations and the EU. And Greece proportionately responded when Turkey escalated; it toned down when Turkey de-escalated.
At a summit in December, the EU leaders agreed to impose sanctions on an unspecified number of Turkish officials and entities involved in gas drilling in Cypriot-claimed waters -- but they deferred the bigger decisions such as trade tariffs until they would consult with the upcoming U.S. administration. EU member states will discuss tougher sanctions at their summit at the end of March.
Also in December, the Trump administration announced that the U.S. would sanction Turkey for its purchase of the Russian-made S-400 surface-to-air missile system -- despite delays that so frustrated Congress that lawmakers made the sanctions mandatory. This decision made Turkey the only country in the world that was sanctioned by all of Russia, the EU and U.S. within a span of five years.
All that must have made Erdoğan tick. Apparently cornered, Erdoğan launched a new charm offensive in November. He said Turkey's future was in Europe -- quite a radical departure from his usual histrionics that Europe is Islamophobic, fascist, racist and Europeans are "remnants of Nazis."
In December, Mesut Caşin, foreign policy adviser to Erdoğan, told Voice of America:
"If Israel comes one step, Turkey maybe can come two steps ... If we see a green light, Turkey will open the embassy again and return our ambassador. Maybe in March, we can restore full diplomatic relations again. Why not ... Establishing peace and security is very important to Israel and Turkey."
On March 12, Israeli Prime Minister Benjamin Netanyahu said his government is in contact with several countries, including Turkey, about natural gas in the eastern Mediterranean Sea. A few days earlier, on March 9, Israel's Energy Minister Yuval Steinitz said that Jerusalem was ready to cooperate with Turkey on natural gas in the Eastern Mediterranean.
In January, Turkey and Greece resumed their exploratory (peace) talks after a five-year pause. In March, they will hold a new round of negotiations.
On March 3, acknowledging Cairo's respect of Ankara's maritime borders, Turkey's Foreign Minister Mevlüt Çavuşoğlu focused on the "shared interests between the two countries" and signalled Turkey's readiness to negotiate and sign a maritime jurisdiction agreement with Egypt. On March 12, Çavuşoğlu announced high-level intelligence and diplomatic talks with Egypt. The bilateral talks are the first since the 2013 ousting of the Egyptian President Mohamed Morsi, a Muslim Brotherhood member and staunch ally of Erdoğan.
As a major gesture to Cairo, Turkish authorities have asked three Istanbul-based Egyptian opposition TV channels to soften their critical political coverage of Egypt's government. According to The Associated Press, Ayman Nour, an exiled Egyptian opposition figure and head of the Muslim Brotherhood-linked al-Sharq television station, confirmed in televised comments that Turkish officials demanded that the channels tone down their rhetoric. He said they were not ordered to shut down or to stop airing programs. "A dialogue has started between us and Turks in the framework of changing the rhetoric (of these channels),"Nour said.
An editor at al-Sharq told The Associated Press that Turkish officials made the request during a meeting in Istanbul on March 18 with managers from al-Sharq and two other channels, Mekamleen and Watan. The officials told the broadcast managers they could continue to make programs about Egypt but not against the Egyptian government, citing Turkey's negotiations with Egypt, according to the editor.
Erdoğan's tough guy manners have finally been decrypted by state and non-state actors in the former Ottoman lands. His hate-filled, assertive, irredentist policies are no longer a deterrent -- even at a time when tougher U.S. sanctions that may further squeeze Erdoğan's position have not yet hurt.
In an interview with Al-Monitor in December, former U.S. special envoy for Syria (and former ambassador to Ankara) James Jeffrey explained what makes Erdoğan tick:
"Erdoğan will not back down until you show him teeth. That's what we did when we negotiated the [Syrian] ceasefire in October of 2019. We were ready to crush the economy."
Burak Bekdil, one of Turkey's leading journalists, was recently fired from the country's most noted newspaper after 29 years, for writing in Gatestone what is taking place in Turkey. He is a Fellow at the Middle East Forum.