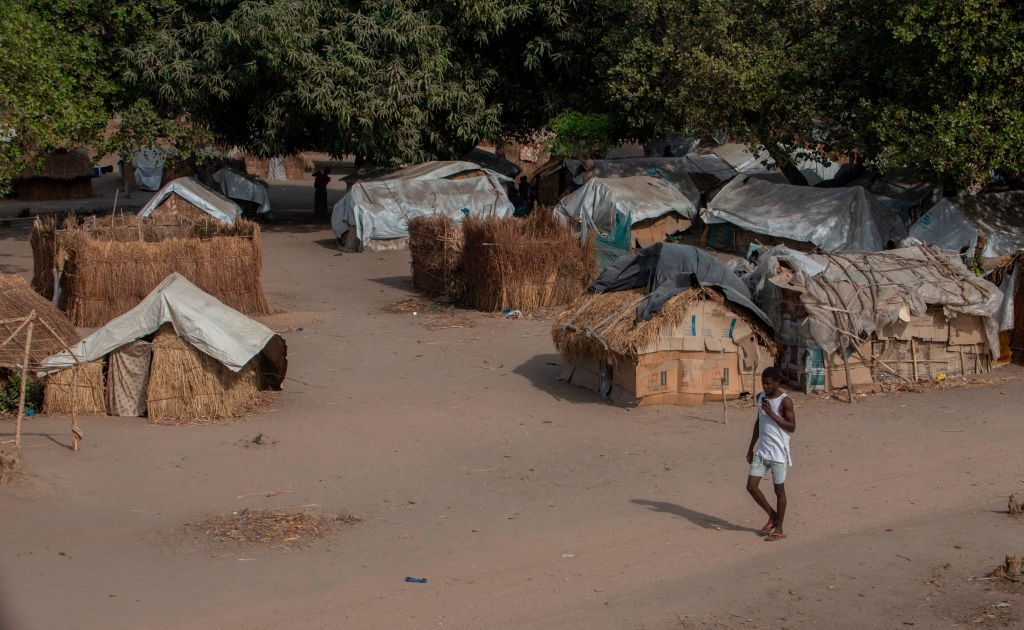 Al-Shabaab jihadists leading an insurgency in Cabo Delgado, the northernmost province of Mozambique, are now beheading children as young as 11. The terrorist group has killed more than 1,300 civilians and displaced nearly 670,000 people since it began its attacks in the country in October 2017, according to the US State Department. Pictured: The 25 de Junio Camp for displaced people in Metuge, where over 16,000 people from Cabo Delgado are now sheltered, on December 9, 2020. (Photo by Alfredo Zuniga/AFP via Getty Images)
Al-Shabaab jihadists leading an insurgency in Cabo Delgado, the northernmost province of Mozambique, are now beheading children as young as 11. Military and humanitarian personnel working in the area reportedly say that they have never seen anything like the brutality that the terrorists have unleashed on the region with people "often hacked to death and mutilated with machetes" as well as "mass Islamic State-style beheadings".
"That night our village was attacked and houses were burned. When it all started, I was at home with my four children," one mother told Save the Children. "We tried to escape to the woods, but they took my eldest son and beheaded him. We couldn't do anything because we would be killed too."
"After my 11-year-old son was killed, we understood that it was no longer safe to stay in my village," said another mother, who was forced to flee with her remaining three children. "We fled to my father's house in another village, but a few days later the attacks started there too."
"I saw my daughter trying to run to the boat with two other children. The people from al-Shabab chased them. They took my daughter and many others. Then they set fire to our village," said Fatima Abdul, a 43-year-old woman who fled and is now homeless, living on a beach.
Beheadings have now become a common atrocity in Cabo Delgado, but the practice is not new. In November, jihadists beheaded 20 boys and men in a local village. The jihadists are known as al-Shabaab in the area, but unlike the al-Shabaab that operates in Somalia, which is affiliated with Al Qaeda, the Mozambique group, also known as Ansar al-Sunna, is affiliated with Islamic State (ISIS). It is responsible for killing more than 1,300 civilians and for the displacement of nearly 670,000 people since it began its attacks in the country in October 2017, according to the US State Department. The United States recently designated the group as a global terrorist entity and imposed sanctions on its leader, Abu Yasir Hassan. While Mozambique is a majority Christian country, Cabo Delgado is predominantly Muslim.
In addition to the extreme violence, "cholera in Cabo Delgado and COVID-19 across the country continue to challenge the weak health system, amid extremely limited access to water, sanitation and hygiene services," according to the UN Office for the Coordination of Humanitarian Affairs. "More than 2.7 million people faced severe acute food insecurity in Mozambique in the last quarter of 2020, at least 840,000 of them in Cabo Delgado, Niassa and Nampula alone." The UN has estimated that Mozambique needs $254 million to alleviate the humanitarian crisis.
Throughout the insurgency, the Mozambique government has not been able to deal with the attacks on its own and has hired private military contractors (PMCs) to help its efforts. These include the Wagner Group, a Kremlin-linked PMC, reportedly owned by Yevgeny Prigozhin, a businessman with close links to Russian President Vladimir Putin, and the South African Dyck Advisory Group. The Wagner group reportedly left Mozambique after suffering heavy defeats.
In a report released on March 2, Amnesty International said that all involved groups were committing war crimes. "The people of Cabo Delgado are caught between the Mozambican security forces, the private militia fighting alongside the government and the armed opposition group locally known as 'Al-Shabaab' -- none of which respect their right to life, or the rules of war," said Deprose Muchena, Amnesty International's Regional Director for East and Southern Africa. "All three have committed war crimes, causing the deaths of hundreds of civilians. The international community has failed to address this crisis as it has escalated into full-blown armed conflict over the last three years".
The terrorist insurgency threatens not only Mozambique and its people, in addition to neighboring Tanzania, which is fighting jihadists on the border; some analysts estimate that "the insurgency in Mozambique has the potential to destabilise Southern Africa and embolden Islamists throughout the region".
Al-Shabaab has captured a number of towns in Cabo Delgado, but made a far more significant breakthrough in August 2020, when the group seized a key port in the province, Mocimboa da Praia, near the country's burgeoning natural gas field developments. Mozambique now reportedly has the third-largest proven natural gas reserves in Africa after Nigeria and Algeria.
The gas field developments, which have brought major foreign investments to the country, among them France's Total, are worth an estimated $60 billion, and al-Shabaab's insurgency has brought major disruption to them. Total is heading a $20 billion construction project there, but the company reportedly evacuated some of its 3,000 staff members in January after terrorists raided a number of locations just kilometers away from its project in December.
At the same time, al-Shabaab's activities potentially threaten global shipping passing through the Mozambique Channel, which reportedly sees around 30% of global tanker traffic.
Mozambique is seeking the assistance of Western countries to help it fight the escalating terrorism. In September 2020, the government wrote to the EU asking for help in training its armed forces to gain control over the insurgency, and the EU granted help with "logistics for training and technical training in several and specific areas, as well as assistance in addressing humanitarian challenges, including medical services", but did not send a military training mission.
Portugal, the former colonial power in Mozambique, is sending a staff of approximately 60 trainers to Mozambique, to train marines and commandos, according to Politico. Portugal, which currently holds the rotating presidency of the EU, is also seeking to persuade the EU to send a military training mission to the area to assist the Mozambique government. On March 15, the United States, with Mozambique's government, launched a two-month joint training program, in which U.S. special operations forces will train Mozambican marines for two months.
Judith Bergman, a columnist, lawyer and political analyst, is a Distinguished Senior Fellow at Gatestone Institute.