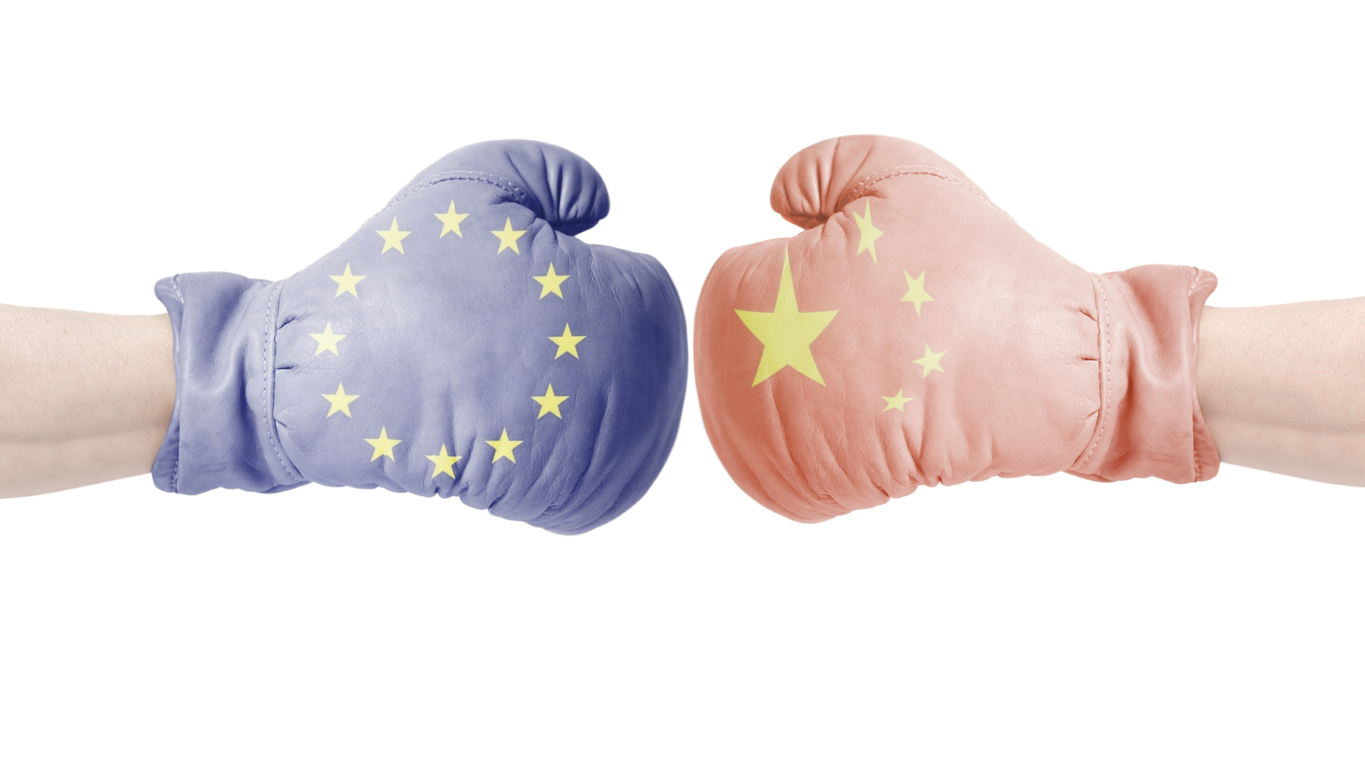 (Image source: iStock)
China has imposed sanctions on more than two dozen European and British lawmakers, academics and think tanks. The move comes after the European Union and the United Kingdom imposed sanctions on Chinese officials for human rights abuses in China's Xinjiang region.
China contends that its sanctions are tit for tat — morally equivalent retaliation — in response to those imposed by Western countries. This is false. The European sanctions are for crimes against humanity, whereas the Chinese sanctions seek to silence European critics of the Chinese Communist Party.
The current standoff is, in essence, about the future of free speech in Europe. If notoriously feckless European officials fail to stand firm in the face of mounting Chinese pressure, Europeans who dare publicly to criticize the CCP in the future can expect to pay an increasingly high personal cost for doing so.
On March 22, the European Union and the United Kingdom announced (here and here) that they had imposed sanctions on four Chinese officials accused of responsibility for abuses against Uyghur Muslims in Xinjiang, a remote autonomous region in northwestern China.
Human rights experts say at least one million Muslims are being detained in up to 380 internment camps, where they are subject to torture, mass rapes, forced labor and sterilizations. After first denying the existence of the camps, China now says that they provide vocational education and training.
Among those targeted by the EU are Chen Mingguo, director of the Xinjiang Public Security Bureau (XPSB). In its Official Journal, the EU stated:
"As Director of the XPSB, Chen Mingguo holds a key position in Xinjiang's security apparatus and is directly involved in implementing a large-scale surveillance, detention and indoctrination program targeting Uyghurs and people from other Muslim ethnic minorities. In particular, the XPSB has deployed the 'Integrated Joint Operations Platform' (IJOP), a big data program used to track millions of Uyghurs in the Xinjiang region and flag those deemed 'potentially threatening' to be sent to detention camps. Chen Mingguo is therefore responsible for serious human rights violations in China, in particular arbitrary detentions and degrading treatment inflicted upon Uyghurs and people from other Muslim ethnic minorities, as well as systematic violations of their freedom of religion or belief."
The EU sanctions, which involve travel bans and asset freezes, conspicuously exclude the top official in Xinjiang, Chen Quanguo, who has been targeted by U.S. sanctions since July 2020. The EU apparently was attempting to show restraint in an effort to forestall an escalation by China.
The Chinese government responded to the EU sanctions within minutes by announcing its own sanctions on 14 European individuals and entities. The individuals and their families are prohibited from entering mainland China, Hong Kong and Macao. They and companies and institutions associated with them are also restricted from doing business with China.
Those prohibited from entering China or doing business with it are German politician Reinhard Bütikofer, who chairs the European Parliament's delegation to China, Michael Gahler, Raphaël Glucksmann, Ilhan Kyuchyuk and Miriam Lexmann, all Members of the European Parliament, Sjoerd Wiemer Sjoerdsma of the Dutch Parliament, Samuel Cogolati of the Belgian Parliament, Dovilė Šakalienė of the Seimas of Lithuania, German scholar Adrian Zenz, and Swedish scholar Björn Jerdén.
The ten individuals have publicly criticized the Chinese government for human rights abuses. Sjoerdsma, for instance, recently called for a boycott of the Winter Olympics in Beijing in 2022. Cogolati and Šakalienė have drafted genocide legislation, while Zenz has written extensively on the detention camps in Xinjiang.
China also sanctioned the EU's main foreign policy decision-making body, known as the Political and Security Committee, as well as the European Parliament's Subcommittee on Human Rights, the Berlin-based Mercator Institute for China Studies, and the Alliance of Democracies Foundation, a Danish think tank founded by former NATO secretary-general Anders Fogh Rasmussen.
In a March 22 statement, China's Ministry of Foreign Affairs said:
"The Chinese side urges the EU side to reflect on itself, face squarely the severity of its mistake and redress it. It must stop lecturing others on human rights and interfering in their internal affairs. It must end the hypocritical practice of double standards and stop going further down the wrong path. Otherwise, China will resolutely make further reactions."
A few days later, on March 26, China announced sanctions on nine British individuals and four entities. The individuals include Tom Tugendhat, Iain Duncan Smith, Neil O'Brien, David Alton, Tim Loughton, Nusrat Ghani, Helena Kennedy, Geoffrey Nice, Joanne Nicola Smith Finley. The entities include China Research Group, Conservative Party Human Rights Commission, Uyghur Tribunal and the Essex Court Chambers.
On March 27, China announced additional sanctions on Americans and Canadian individuals and entities. China's Ministry of Foreign Affairs warned Canada and the United States to "stop political manipulation" or "they will get their fingers burnt."
EU-China Investment Deal
The EU sanctions, the first such punitive measure against China since an EU arms embargo was imposed in 1989 after the Tiananmen Square pro-democracy crackdown, appear to indicate that both the EU and the UK plan to follow the United States and pursue a harder line against human rights abuses by the Chinese government.
The bedrock of EU-China relations has always been economic, and European leaders have long been accused of downplaying human rights abuses in China to protect European business interests there.
German Chancellor Angela Merkel, French President Emmanuel Macron, the President of the European Commission, Ursula von der Leyen and European Council President Charles Michel recently negotiated a controversial trade deal with China.
The so-called Comprehensive Agreement on Investment (CAI), concluded on December 30, was negotiated in great haste. Merkel, facing pressure from both China and German industry, reportedly wanted an agreement at any cost before Germany's six-month EU presidency ended on December 31, 2020.
The lopsided agreement, which ostensibly aims to level the economic and financial playing field by providing European companies with improved access to the Chinese market, actually allows China to continue to restrict investment opportunities for European companies in many strategic sectors.
One week after the deal was signed, China launched a massive crackdown on democracy activists in Hong Kong.
Now that China has imposed sanctions on European lawmakers, the investment agreement may never see the light of day. "It seems unthinkable that our Parliament would even entertain the idea of ratifying an agreement while its members and one of its committees are under sanctions," said MEP Marie-Pierre Vedrenne, a parliamentary point-person for the EU-China deal.
European Responses
The President of the European Commission, Ursula von der Leyen, has been strangely silent regarding the Chinese sanctions. Others have been outspoken in their criticism:
"We sanction people who violate human rights, not parliamentarians, as has now been done by the Chinese side," said German Foreign Minister Heiko Maas. "This is neither comprehensible nor acceptable for us."
After being put on China's sanctions list, Dutch lawmaker Sjoerd Sjoerdsma tweeted:
"As long as human rights are being violated, I cannot stay silent. These sanctions prove that China is sensitive to pressure. Let this be an encouragement to all my European colleagues: Speak out!"
British Prime Minister Boris Johnson invited several of the MPs hit by Chinese sanctions to Downing Street. He tweeted:
"This morning I spoke with some of those who have been shining a light on the gross human rights violations being perpetrated against Uyghur Muslims. I stand firmly with them and the other British citizens sanctioned by China."
Johnson referred to the parliamentarians as "warriors in the fight for free speech" who have his "full-throated support" and expressed bafflement at Beijing's "ridiculous" actions.
British Foreign Secretary Dominic Raab added:
"It speaks volumes that, while the UK joins the international community in sanctioning those responsible for human rights abuses, the Chinese government sanctions its critics. If Beijing wants to credibly rebut claims of human rights abuses in Xinjiang, it should allow the UN high commissioner for human rights full access to verify the truth."
Former Tory leader Iain Duncan Smith tweeted:
"It is our duty to call out the Chinese government's human rights abuses in Hong Kong and their genocide of the Uighur people. Those of us who live free lives under the rule of law must speak for those who have no voice. If that brings the anger of China down upon me the I shall wear that as a badge of honor."
Labour MP Lisa Nandy, in an interview with the BBC, said:
"This is incredibly serious. It's a direct attempt to silence and intimidate those who criticize the actions of the Chinese government. If China thinks that this will silence critics, they are completely mistaken....

"This will only strengthen our resolve to be more vocal and more resolute in calling out and challenging the grotesque human rights abuses that we've seen coming out of Xinjiang and the clampdown on democracy in Hong Kong. We are British Parliamentarians who will not be divided on this. Whatever political tradition we come from, we are first and foremost democrats and we will stand up for those values, especially when they are under attack."
MP Tom Tugendhat, Chairman of the Foreign Affairs Committee, in an interview with the BBC, said:
"What we are seeing at the moment is a vulnerable and weak China that has failed in its democratic outreach to states around the region, it has failed to undermine the coalition of countries that are standing up for human rights and it has failed to undermine the connection between the UK, the US and indeed Europe, so what they are doing is lashing out.

"Sadly, this is a sign of weakness and not a sign of strength and a demonstration that President Xi is failing the Chinese people, the Chinese Community Party and, indeed, failing the whole world."
British academic Jo Smith Finley tweeted:
"It seems I am to be sanctioned by the PRC (Chinese) government for speaking the truth about the #Uyghur tragedy in #Xinjiang, and for having a conscience. Well, so be it. I have no regrets for speaking out, and I will not be silenced."
Adrian Zenz, a German scholar subject to Chinese sanctions, tweeted:
"Beijing's strategy on Xinjiang is fundamentally shifting. Their goal is not mainly to erase the evidence, although they do that. It is now also less about denying said evidence, although they still do it. Rather, they now feel untouchable about it all.

"Beijing's strategy is to simply crush and silence any global opposition to its atrocity by inflicting crushingly punitive measures on anyone who speaks out. A very concerning development."
The China Research Group, which was established by a group of Conservative MPs in the UK to promote debate and fresh thinking about how Britain should respond to the rise of China, concluded:
"It is tempting to laugh off this measure as a diplomatic tantrum. But in reality it is profoundly sinister and just serves as a clear demonstration of many of the concerns we have been raising about the direction of China under Xi Jinping. Other mainstream European think tanks have also been sanctioned this week and it is telling that China now responds to even moderate criticism with sanctions, rather than attempting to defend its actions in Hong Kong and Xinjiang."
The founder of the Alliance of Democracies Foundation, Anders Fogh Rasmussen, said:
"We will never give in to bullying by authoritarian states. Our work to promote freedom, democracy and human rights around the world will continue. China has once again highlighted the urgent need for democracies to unite in stemming the tide of autocracy in our world."
Select Commentary
In an editorial, the Financial Times wrote that the EU's sanctions on China are a sign of Western resolve on China.
"China retaliated against EU sanctions by punishing several parliamentarians, analysts, and Merics, a think-tank on China based in Berlin known for its judicious analysis. It also targeted the committee of 27 member-state ambassadors to the EU who oversee foreign and security policy. Beijing has in recent years used a divide-and-conquer approach with national capitals to undermine a common EU front. With its Xinjiang abuses and overreaction on sanctions, Beijing has managed the rare feat of uniting the EU on a foreign policy issue.

"By targeting critics of its actions and analysts who refuse to toe its line, Beijing has demonstrated its totalitarian mindset. By punishing European Parliament members, it has made it all but impossible for that legislature to ratify the investment agreement. MEPs were already clamoring for more concessions from Beijing, namely the adoption of international standards outlawing forced labor. China will need to make a double retreat to put the deal back on track, which seems unlikely. Having used the investment deal to drive a monetary wedge between Washington and Brussels, Beijing may feel it can dispense with it."
The Guardian, in an editorial, wrote:
"The sanctions have drastically lowered the odds of the European parliament approving the investment deal which China and the EU agreed in December, to US annoyance. Beijing may think the agreement less useful to China than it is to the EU (though many in Europe disagree). But the measures have done more to push Europe towards alignment with the US than anything Joe Biden could have offered, at a time when China is also alienating other players, notably Australia....

"Beijing's delayed response to the UK sanctions suggests it did not anticipate them, perhaps unsurprising when the integrated review suggested we should somehow court trade and investment while also taking a tougher line. But the prime minister and foreign secretary have, rightly, made their support for sanctioned individuals and their concerns about gross human rights violations in Xinjiang clear. Academics and politicians, universities and other institutions, should follow their lead in backing targeted colleagues and bodies. China has made its position plain. So should democratic societies."
Lea Deuber, China correspondent for Süddeutsche Zeitung, wrote:
"In response to European sanctions against those responsible for human rights crimes in Xinjiang, Beijing is sanctioning European politicians, academics and research institutes. The sanctions must not be understood as a threat against individuals. They are an attack on the entire European Union, on its fundamental values ​​and freedom.

"Beijing accuses the EU of questioning China's sovereignty. In reality, the regime is trying to force the European Union to take sides in the dispute between the U.S. and China through violence and manipulation. The escalation must be a wake-up call.

"For far too long the EU has believed in the illusion of a middle ground. With a view to the cruel conduct in Xinjiang, Brussels waited for years, only appealing again and again. Even with the sanctions, Brussels had sought a softened solution, disregarding important Chinese players in the region.

"That must come to an end. Berlin must draw conclusions. At the end of last year, contrary to all warnings, the German government pushed through the investment agreement with China. This still has to be ratified by the EU Parliament. That is now unthinkable."
The Frankfurter Allgemeine, in an article titled, "Anyone Who Does Not Sing Beijing's Song Will be Punished," wrote: "In plain language: Beijing wants to decide who in Europe can talk or write about China."
UK MP Nusrat Ghani, writing for the Spectator, noted:
"There is a positive side to all this. The reaction from the Chinese Communist Party shows that some of the work going on in Parliament is having an effect — and is reaching the ears of those who matter in Beijing. Twelve months ago, the abuse of the Uyghurs in Xinjiang was only whispered about in Parliament. There was no sense that the UK's supply chains might be affected, or that we could bring about real change. Now the Business, Energy and Industrial Strategy Committee, of which I am a member, has held an inquiry into forced labor in UK value chains, and we have found 'compelling evidence' of Chinese slave labor links to major brands.

"The Chinese authorities should realize that their actions today have laid down a challenge for Parliament. They have essentially told MPs to stop asking questions and to mind their own business. Throughout its history, our Parliament has never much liked that attitude. I can assure the Chinese Communist Party that I and my fellow MPs will continue to shine a light on their activities, and that Parliament — more than ever — stands behind us."
Robin Brandt, Shanghai correspondent for the BBC, wrote:
"China has gone for the people exerting the most pressure on Boris Johnson to be tough on China. It's gone for the people who say 'genocide' has happened in Xinjiang.

"The measures are essentially tokenistic — it's unlikely these people or entities did any business with Chinese firms or people anyway.

"Targeting Neil O'Brien is personal for the UK prime minister. The MP is in charge of leading policy in Downing Street.

"Going after Essex Court Chambers — a group of self-employed barristers — for a legal opinion it reached also shows you how China views an independent judicial system. It doesn't believe in them."
Sophia Yan, China correspondent for the Telegraph, in an analysis, wrote:
"Beijing's sanctions against the UK and EU — targeting MPs, academics, even legal groups — show the regime of Xi Jinping will not tolerate dissent from anyone, anywhere....

"China is flexing its muscles to challenge a rules-based world order set by the West in a campaign to be treated as an equal. It plays well at home.

"But there are genuine questions over whether the show of force is wise. Beijing's behavior is certainly not winning hearts and minds, and instead appears to be doing damage to its international standing.

"Beijing has long bet that most countries would be wooed by lucrative opportunities with the world's second-largest economy.

"How long that will continue to be the case remains to be seen. Britain, for its part, is unlikely to step back from its criticism of human rights abuses in Xinjiang, and it's hard to see how China could cool tensions if it wanted to....

"A key test of whether Beijing can get away with throwing its weight around like this will be whether the EU moves to ratify an investment agreement with China. It has been in the works for seven years, but EU officials were expressing doubts even before they were hit with sanctions.

"Whether the deal is approved, renegotiated, or scrapped entirely will send a message to Beijing — either that it can indeed do what it wants, or that it's crossed a line."
Writing for the Wall Street Journal, Matt Pottinger, former deputy White House national security adviser, concluded:
"Beijing's message is unmistakable: You must choose. If you want to do business in China, it must be at the expense of American values. You will meticulously ignore the genocide of ethnic and religious minorities inside China's borders; you must disregard that Beijing has reneged on its major promises—including the international treaty guaranteeing a 'high degree of autonomy' for Hong Kong; and you must stop engaging with security-minded officials in your own capital unless it's to lobby them on Beijing's behalf.

"Another notable element of Beijing's approach is its explicit goal of making the world permanently dependent on China, and exploiting that dependency for political ends. Mr. Xi has issued guidance, institutionalized this month by his rubber-stamp parliament, that he's pursuing a grand strategy of making China independent of high-end imports from industrialized nations while making those nations heavily reliant on China for high-tech supplies and as a market for raw materials. In other words, decoupling is precisely Beijing's strategy—so long as it's on Beijing's terms.

"Even more remarkable, the Communist Party is no longer hiding its reasons for pursuing such a strategy. In a speech Mr. Xi delivered early last year...he said China 'must tighten international production chains' dependence on China' with the aim of 'forming powerful countermeasures and deterrent capabilities.'

"This phrase — 'powerful countermeasures and deterrent capabilities' — is party jargon for offensive leverage. Beijing's grand strategy is to accumulate and exert economic leverage to achieve its political objectives around the world.

"CEOs will find it increasingly difficult to please both Washington and Beijing.... Chinese leaders, as mentioned, are issuing high-decibel warnings that multinationals must abandon such values as the price of doing business in China. Like sailors straddling two boats, American companies are likely to get wet.

"Beijing is trying to engineer victory from the mind of a single leader; free societies like ours harness the human spirit. Therein lies our ultimate advantage. The Communist Party's leaders are right about one thing: American CEOs, their boards and their investors have to decide which side they want to help win."
Soeren Kern is a Senior Fellow at the New York-based Gatestone Institute.