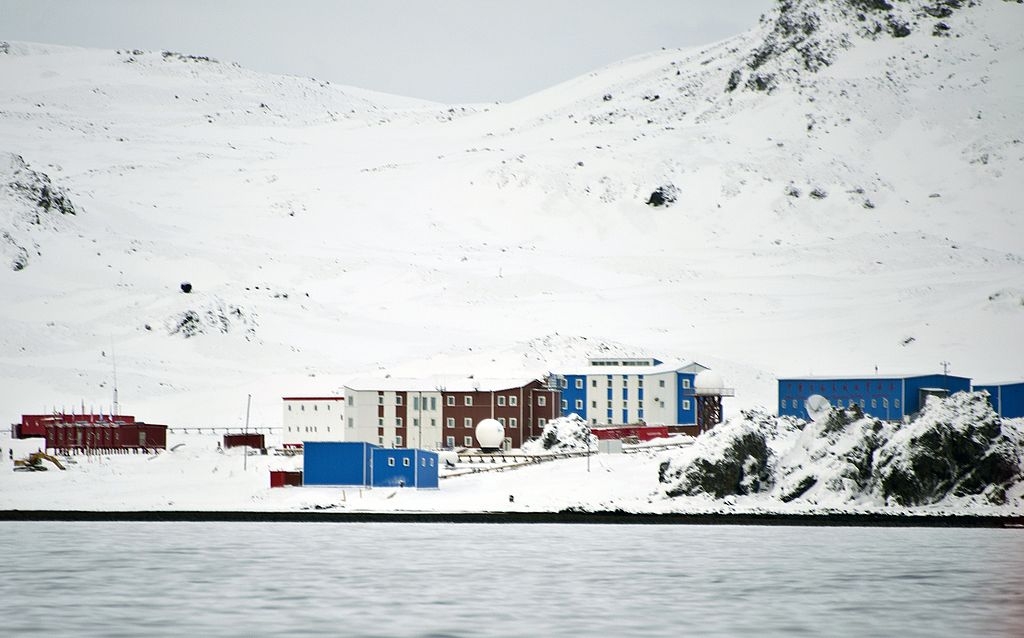 China's commercial and military goals in Antarctica have received only minimal international attention. It is probably not too far-fetched to assume that what lies behind the Chinese Communist Party's concern for "environmental protection in Antarctica" will turn out to be a desire for environmental exploitation. Pictured: China's Great Wall Station on King George island in Antarctica, on March 13, 2014. (Photo by Vanderlei Almeida/AFP via Getty Images)
Hardly a spot remains on the planet -- and off -- that China does not consider up for grabs, and that includes the North and South poles.
China's ambitions in the Arctic include: In 2018, China issued its first Arctic policy paper, "China's Arctic policy" and with a straight face declared itself, a "near-Arctic state", wanting a "Polar Silk Road." In fact, China is some 3,000 kilometers from the Arctic Circle[1]. Its "Polar Silk Road" would create new shipping routes linking Asia and Europe via the Arctic, as part of the Belt and Road Initiative, a gigantic development, infrastructure and investment initiative that seeks dramatically to enhance China's global influence by making countries worldwide increasingly dependent on China.
The Polar Silk Road also seems highly driven by China's desire for more access to oil, gas and other natural resources in the Arctic region. Greenland, for instance, plays a key role in China's plans for the Polar Silk Road, because the autonomous territory, a part of Denmark, is estimated to have the world's largest undeveloped deposits of rare earth materials in addition to uranium and substantial oil and gas reserves believed to lie off its shores. Rare earth materials are necessary components in the building of such various equipment as combat aircraft, weapons systems, wind turbines and electric vehicles, among other things. They are available in different geographic locations, but are difficult to process. Last year, China produced 90% of the world's rare earth materials.
In its new five-year plan for 2021-2025, China reaffirmed that it would continue work on its "Polar Silk Road" and "participate in pragmatic cooperation in the North Pole". It also stated that it would "raise its ability to participate in the protection and utilization of the South Pole" (Antarctica).
China's commercial and military goals in Antarctica have received only minimal international attention. Alexander B. Gray, Senior Fellow in National Security Affairs at the American Foreign Policy Council, wrote in March:
"[W]hile China's designs over the Arctic have drawn growing alarm from the international community, its machinations in another global region—Antarctica—remain comparatively little-known. That is a mistake because China's Antarctic ambitions are every bit as dangerous as its pretensions at the North Pole. Moreover, they are exacerbated by the fact that the United States and its closest allies near Antarctica, New Zealand and Australia, still have little idea what Beijing is doing on the ground".
International law -- the 1959 Antarctic Treaty and the 1991 Madrid Protocol about environmental protection of the Antarctic -- protects the Antarctic. The treaty proclaims that the continent must be used exclusively for peaceful purposes and prohibits any measures of a military nature. Furthermore, the Antarctic is "protected as a wilderness for its aesthetic and scientific value" with a ban on mining.
China, however, is not known for its strict adherence to international law. It has repeatedly broken not only international law but its own commitments, in seizing, building and then militarizing both artificial and real islands, such as in the Spratly archipelago, in the South China Sea, and in its lawless crackdown on Hong Kong, which it was obligated to leave alone until 2047, to mention just two recent examples.
China has a wide range of commercial and military interests in Antarctica. "Antarctica—rich in resources... — is extremely important to the Chinese Government," wrote professor Anne Marie Brady in a 2017 report for the Australian Strategic Policy Institute (ASPI).
"In 1984, during China's first Antarctic expedition, armed PLA Navy (PLAN) personnel helped set up China's first Antarctic station—a fact that was not properly acknowledged in China's report to the Scientific Committee on Antarctic Research at the time. In recent years, PLA personnel have repeatedly participated in China's Antarctic program without their presence being noted in China's annual report under the Antarctic Treaty...

China's polar research stations play a crucial role in helping the PLA enhance its command, control, communications, computers, intelligence, surveillance and reconnaissance (C4ISR) system capabilities, missile timing, and missile positioning via the BeiDou satellite system [a dual civil-military technology, China's equivalent of GPS]...

A further aspect of China's military-related Antarctic scientific interests is upper atmosphere physics and satellite remote sensing...used for mineral and oil exploration, marine surveys, military reconnaissance and mapping...

"Researchers from the Polar Research Institute of China (PRIC) estimate that there are 500 billion tons of oil and 300–500 billion tons of natural gas on the Antarctic continent, plus a potential 135 billion tons of oil in the Southern Ocean. In 2009, PRIC staff... [stated] that 'when all the world's resources have been depleted, Antarctica will be a global treasure house of resources.'"
China is reportedly deceiving international audiences about its intentions in Antarctica. "China adopts one message on Antarctic issues for foreign audiences and another for domestic audiences," according to Brady.
"In November 2014, the Chinese media deliberately mistranslated Xi's words. He had just given a speech... on China's polar agenda, with then Australian Prime Minister Tony Abbott standing beside him... Xi said, 'The Chinese side stands ready to continuously work with Australia and the international community to better understand, protect and exploit the Antarctic' [emphasis added]. But the Chinese Communist Party's official English-language newspaper, China Daily, reported that Xi had expressed China's continued interest in cooperating with Australia and other nations to 'know, protect and explore Antarctica' (emphasis added)".
Both Russia and China are fighting to have prohibitions on resource extraction in the Antarctic relaxed. "A significant number of Chinese experts believe, contrary to international law, that the Madrid Protocol expires in 2048, along with the accompanying ban on mining in the Antarctic," wrote Alexander B. Gray.
"This has prompted Chinese officials openly to speculate about the Southern Continent as a potential source for rare earth elements, oil and gas, and more. Fishing, tightly regulated in the Southern Ocean under the Protocol, and for which China has a well-deserved global reputation for illegal and unsavory behavior, would become a free-for-all. The behavior the world has watched in Africa and Southeast Asia for years may be coming to the South Pole in the years ahead".
Although the Madrid Protocol does not expire, a conference can be requested by one of the parties to review its operation and possibly change it:
"If, after the expiration of 50 years any of the Antarctic Treaty Consultative Parties so requests, a conference shall be held as soon as practicable to review the operation of this Protocol".
"In 30 years," according to Professor Klaus Dodds at the Royal Holloway University of London, "the Antarctic Treaty becomes modifiable, and the fate of a continent could hang in the balance."
On March 8, Xinhua news agency, the official news agency of the Chinese Communist party (CCP), released a short news item, which merely stated that "China's top legislature will formulate a law on activities and environmental protection in Antarctica in 2021" without any further details. It is probably not too far-fetched to assume that what lies behind the CCP's concern for "environmental protection in Antarctica" will turn out to be a desire for environmental exploitation.
---
[1] The Arctic encompasses the Arctic Ocean and the northernmost parts of Canada, Greenland (Denmark), Iceland, Norway, Sweden, Finland, Russia, and the United States. Those eight states make up the Arctic Council, an intergovernmental forum established in 1996, where China has observer status.
John Richardson is a researcher based in the United States.