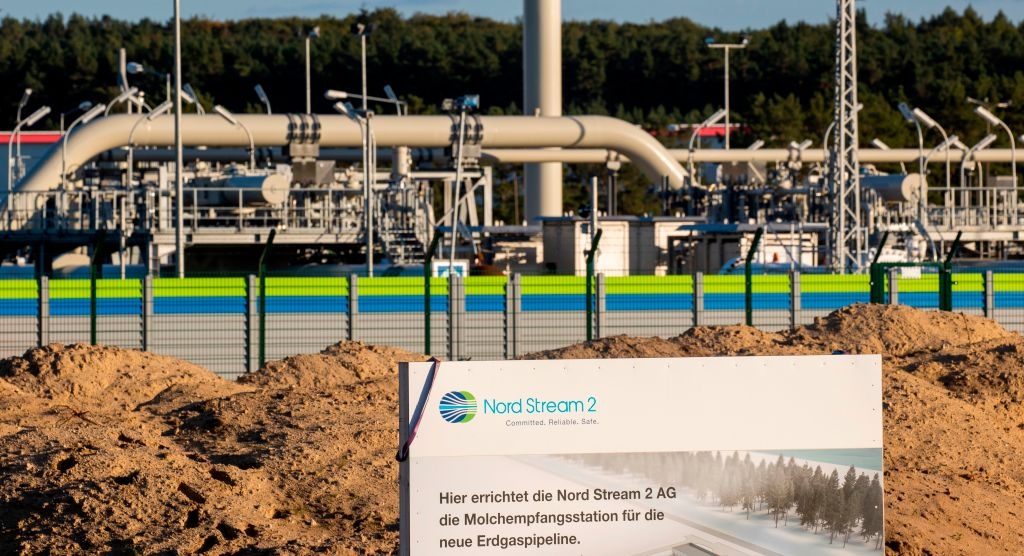 The Russian threat... was very clear -- that Russia would then be able to shut off its gas to Europe in the middle of winter [by means of the Nord Stream 2 pipeline], if it chose to, as a form of blackmail, at which point the US might then be expected to save Europe from its own deal.... Pictured: The Nord Stream 2 landfall facility in Lubmin, Germany, on September 7, 2020. (Photo by Odd Andersen/AFP via Getty Images)
This week, Dutch Prime Minister Mark Rutte and Foreign Minister Wobke Hoekstra (no relation) met with Ukrainian leaders in Kiev. The visit was intended to signal Dutch support to the government of Ukraine in the face of Russian build-up provocations on its border. As with other European national security moves, the meeting may be too little too late.
It was a positive step, strongly supported by the Biden Administration as a sign of NATO unity. The visit, however, recalled efforts -- such as the one below -- by U.S. and European ambassadors to stop Nord Stream 2, the pipeline from Russia to Germany that then connects to much of the rest of Europe. The Russian threat outlined by the Trump administration was very clear -- that Russia would then be able to shut off its gas to Europe in the middle of winter, if it chose to, as a form of blackmail, at which point the US might then be expected to save Europe from its own deal -- and the long-term policy and security consequences of completing the pipeline were communicated. Put very simply, building closer economic ties with Russia and Putin is an extremely bad and dangerous idea.
The warnings to Europe went unheeded. The Biden administration came in and gave a green light to the final phase of construction on the pipeline. Germany, with help from NATO allies, now has completed the project that only awaits the final paperwork to be signed before going operational.
The lessons learned were clear. NATO already was dysfunctional in 2018. The defense organization had been unable to develop and agree on an alliance strategy for how to deal economically with Russia. NATO's dysfunction also is evident in that most European allies, particularly the Germans who have the strongest economy in Europe, have been unwilling to invest 2% of their GDP in defense spending, to which they had committed as their part of military support for NATO.
The U.S. tried to persuade the Europeans to take caution in integrating their economies too closely with Russia and to invest in NATO military might. As is their prerogative, the Europeans headed in a different direction.
With Russia now at the doorstep of Ukraine, which is not a member of NATO, the U.S., as predicted, is expected to bail out the Europeans from a potential Russian invasion by sending more American troops to Europe. Why? Because of the Europeans' failure to invest in NATO, their militaries are hollowed-out shells. Not only are most nations below the 2% of GDP defense spending requirement agreed to by the alliance, they also lack needed manpower, equipment, and logistics capabilities.
How should the U.S. respond? The U.S. needs to continue to speak clearly and firmly. NATO is the most important military alliance that the U.S. has. We need it to be strong and effective. The only path forward is for all of the members to recommit themselves to investing in NATO's future. Combined with a commitment to our shared political and economic values, NATO will remain a force for the good: to protect the Free World from predators. It is still not too late for the U.S. to reverse its catastrophic decision and stop the opening of Nord Stream 2.
Anything less jeopardizes everything that NATO has accomplished in the last 50 years. It would open the doors to growing isolationism both in the U.S. and abroad. Wishing to avoid the hardships of preserving the Free World is, understandably, always tempting.
My wife would voice her opinion when these issues would come up during our time of service in the Netherlands. Her answer: "We helped you defeat the terror of Nazism and fascism in WWII. We appreciate how you remember those brave young Americans who sacrificed everything to liberate your country. But if you think I'm going to support sending my kids or grandkids to fight for Europe again, while you are unwilling to invest your dollars, or enlist your young people into the armed forces, think again." NATO is called an alliance for a reason.
That is the message our NATO allies should hear and heed. It is also a message President Biden should consider as he once again sends troops to a continent unwilling to defend itself. The U.S. can no longer commit to defending those that will not defend themselves.
Peter Hoekstra was US Ambassador to the Netherlands during the Trump administration. He served 18 years in the U.S. House of Representatives representing the second district of Michigan and served as Chairman and Ranking member of the House Intelligence Committee. He is currently Chairman of the Center for Security Policy Board of Advisors, and a Distinguished Senior Fellow at the Gatestone Institute.
* * *
Don't Give Russia Control Over Your Gas
Written in December 2018 by Ambassador Pete Hoekstra in The Telegraph
Last week the United States Congress passed a bipartisan resolution asking our European allies to take a very important action: reject the Nord Stream 2 project and support the imposition of sanctions against those building it. Additionally, 45 experts, foreign policy officials again in a bipartisan manner, signed a letter urging President Trump to prepare new and immediate sanctions on Nord Stream 2.
The rationale is clear. Russian actions against the West continue to escalate. Now is not the time to provide Russia with a powerful new capability to control, influence, and potentially undermine the West.
Russia's recent behavior reminds us why we must remain vigilant. Efforts to gather all the facts surrounding the tragedy and attempts to get them to take responsibility for what happened to MH-17 have been blocked. Russian agents recently attempted to hack into the OPCW. And that's just in the Netherlands.
Other Russian activities just strengthen the case against building Nord Stream. Russian hostile actions against Ukraine continue to dangerously escalate. It wages a disinformation campaign against Europe. The Netherlands and EU have become so concerned by these activities that they are implementing expensive programs to combat these actions.
This project poses a direct threat to the security and stability of Ukraine. It removes any motivation for Russia to engage good faith negotiations in regards to Ukraine - negotiations which would contribute to political stability in Ukraine and in the region. This is just the tip of the iceberg. Russia continues to threaten its neighbors and attempts to destabilize Western governments in multiple additional ways.
Nord Stream 2 would give Putin a new tool to continue these nefarious actions. Russia has already used energy as a lever to achieve its foreign policy objectives. In 2009, Russia cut off energy supplies to Europe. With Nord Stream 2 in place it would have an even more powerful "economic tool" to threaten European economies, and even their national security. Nord Stream is a commercial project with major geo-political overtones.
In turbulent times in Washington, Democrats and Republicans are uniting to oppose Nord Stream 2. The U.S. message is clear. We oppose Nord Stream 2 because it represents a geostrategic threat to our closest friends and allies. We are also clear in that we believe a collective response to Russian provocations comprised of strong countermeasures will be most effective. Russia must reconsider its current aggressive and unacceptable behavior against the West. The United States calls on our European friends to take decisive actions against Russia. An effective next step would be to take meaningful action to stop Nord Stream 2. From MH-17 to Ukraine, Russia must be held accountable for its actions.