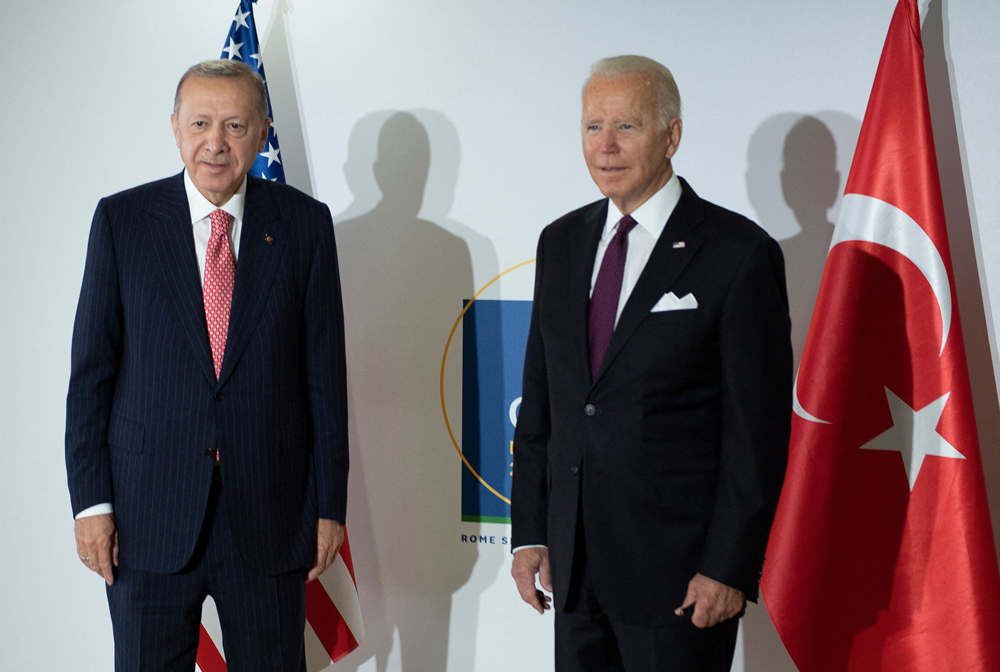 In just over one year in office, U.S. President Joe Biden has swung from a pledge to oust Turkey's Islamist autocrat, President Recep Tayyip Erdoğan, to occasionally appease him, first behind doors, and now publicly. Pictured: Biden meets with Erdoğan during the G20 Summit on October 31, 2021, in Rome, Italy. (Photo by Brendan Smialowski/AFP via Getty Images)
In just over one year in office, U.S. President Joe Biden has swung from a pledge to oust Turkey's Islamist autocrat, President Recep Tayyip Erdoğan, to occasionally appease him, first behind doors, and now publicly.
Appearing to detest Erdoğan's suffocating regime, increasingly Islamist governance and pro-Russian aspirations, Biden, a year before he became president, had described Erdoğan as an autocrat and promised to empower Turkey's opposition parties through democratic processes.
Biden, the fourth U.S. president to work with Erdoğan, avoided any contact with the Turkish leader until April 23, 2021. Then, when Biden did address Turkey, he had bad news: Biden would be the first U.S. president officially to recognize the 1915-1919 mass-murders of Christian Armenians under the Ottoman Empire as a genocide.
Then, however, Biden abandoned Afghanistan to the Taliban, adding to the list of his appeasement to bad fellows. Afghans are facing possibly the world's most brutal army of radical Muslims now installed in Kabul, and armed with what Biden said were "all the tools... and equipment of any modern military," which the Taliban had captured from the disintegrated Afghan National Army.
In an unrelated move, but immensely helpful to Erdoğan, the U.S. prosecution of a Turkish state-run bank, Halkbank, for allegedly helping Iran evade U.S. sanctions, was delayed until a legal appeal at the U.S. Supreme Court was concluded, the bank announced on January 17. That was music to Turkish ears.
U.S. prosecutors have charged Halkbank with fraud, money laundering, and sanctions offenses, and accused the bank of helping Tehran transfer $20 billion worth of restricted funds, including at least $1 billion laundered through the U.S. financial system.
Aykan Erdemir, a senior program director for Turkey at the Foundation for Defense of Democracies (FDD) and a former Turkish opposition member of parliament, thinks that shelving the prosecution of Halkbank could mean that any trial could be delayed until after Turkey's presidential and parliamentary elections in June 2023.
"A lengthy court process would save the Turkish president and his inner circle from potentially embarrassing revelations by delaying the jury trial until after Turkey's presidential and parliamentary elections," Erdemir wrote on January 19.
The court could impose multibillion-dollar in fines and sanctions on Halkbank, an outcome that would embarrass Erdoğan especially at a time of economic crisis. So it is possible that any U.S. prosecution of Halkbank could be shelved until after the presidential elections in Turkey in 2023 as a generous favor to Erdoğan. Halkbank should have been fined and sanctioned already.
Now what happens? Two pro-Hamas, pro-Muslim Brotherhood allies, Turkey and Qatar, have reached an agreement on ensuring security at Kabul's main airport, should they be awarded the mission amid ongoing talks with the Taliban government. Apparently, although Turkey and its closest Gulf ally, Qatar, had indeed agreed on a security framework for the airport mission, added talks needed to continue on other aspects , such as financing.
In early January, however, in a bolder, less expected and potentially damaging geostrategic move that angered all four of Turkey's Mediterranean rivals (Greece, Cyprus, Israel and Egypt), the Biden administration silently abandoned an eastern Mediterranean pipeline project (EastMed) that would carry Israeli gas through Cyprus to Europe.
In a non-paper (an unofficial diplomatic correspondence) submitted to Athens explaining its reasons, the Biden administration described the project as a "primary source of tension" and something "destabilizing" the region by putting Turkey and regional countries at loggerheads. Greek public broadcaster ERT claimed that the non-paper also listed three reasons to explain why the US no longer supports the project: environmental concerns, lack of economic and commercial viability, and creating tensions in the region.
U.S. House Representatives Gus Bilirakis and Nicole Malliotakis sent a "stern letter" to Secretary of State Antony Blinken, objecting to the decision to withdraw support for the EastMed pipeline. According to a press release published on Bilirakis' congressional website:
"By undermining the project, the administration is undercutting three of our strongest allies in the region: Israel, Greece, and Cyprus, as well as the European Union's hopes for energy independence and economic prosperity."
"The Biden administration's actions in this matter are particularly objectionable and hypocritical in light of its tacit approval of Russia's Nord Stream pipeline, which will only deepen Europe's energy dependence on a volatile adversary," said Bilirakis. "The administration must realize the significant economic, environmental, and national security implications that are at stake in this matter and reconsider its decision to withdraw support for this critical project."
Malliotakis said:
"President Biden's decision to shut down America's Keystone XL Pipeline, greenlight Putin's NordStream 2 pipeline, and now disavow the Greek-Cypriot-Israeli EastMed Pipeline is a microcosm of this Administration's failed energy and foreign policy agendas This President is asleep at the wheel, and his decision-making could cause severe economic and national security consequences for America and our allies."
Ironically, Biden's EastMed move confirmed a recent, assertive statement from the Turkish Foreign Ministry: "No initiative (in eastern Mediterranean) without Turkish partnership can succeed."
Biden's eastern Mediterranean policy calculus is encouraging Erdoğan to revive his more aggressive neo-Ottoman policies, which had peaked in 2020 in the Aegean and Mediterranean Seas, bringing traditional rivals Greece and Turkey to the brink of conflict.
A nosediving, cash-strapped economy, international isolation and plummeting popularity have put Erdoğan back on the defensive. Is Biden actually trying to destabilize this part of the world by provoking Erdoğan's assertive aspirations just when they had been -- possibly temporarily -- buried?
Burak Bekdil, one of Turkey's leading journalists, was recently fired from the country's most noted newspaper after 29 years, for writing in Gatestone what is taking place in Turkey. He is a Fellow at the Middle East Forum.