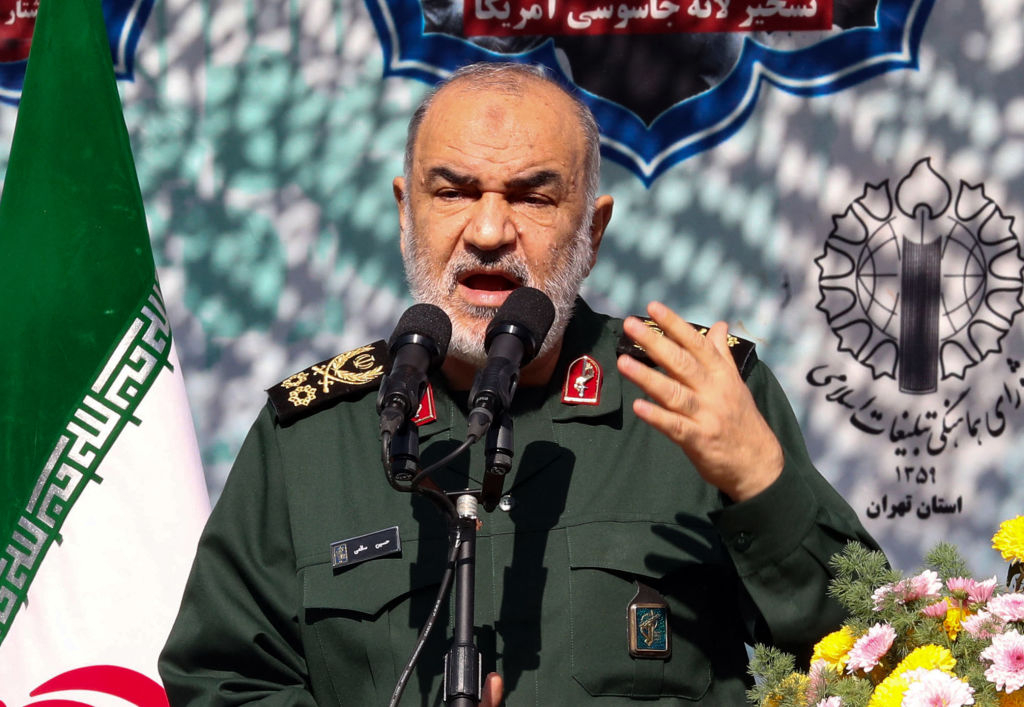 At least two men from Iran's Quds Force are reportedly planning to assassinate former US National Security Advisor John R. Bolton. However, Biden administration officials do not want to indict the Iranian assassins, for fear of disrupting the "progress" in Vienna, Austria, of a globally catastrophic "nuclear deal." Pictured: Major-General Hossein Salami, chief of Iran's Islamic Revolutionary Guard Corps (IRGC), of which the Quds Force is a branch. (Photo by AFP via Getty Images)
The ruling mullahs are carrying out assassination plots abroad with impunity. All the while, not only is the Biden administration suppressing the information and refusing to indict the assassins, but it also keeps appeasing the mullahs by lifting sanctions.
Yesterday Tom Rogan reported in the Washington Examiner that at least two men from Iran's Quds Force, one of the five branches of Iran's notorious Islamic Revolutionary Guard Corps (IRGC), are planning to assassinate former US National Security Advisor John R. Bolton. The plot is "believed to be rooted in Iran's desire to avenge" the take-down of General Qasem Soleimani, commander of the Quds Force, who was killed in a 2020 US drone strike.
However, Biden administration officials do not want to indict the Iranian assassins, for fear of disrupting the "progress" in Vienna, Austria, of a globally catastrophic "nuclear deal," during which the interests of the United States are being negotiated by – Russia! Similar assassination plots, according to the report, also exist against former Secretary of State Mike Pompeo and other officials serving the United States now or who have served.
The new deal -- which, like the original 2015 "JCPOA" deal, would presumably not be presented for approval by the Congress -- would, according to the journalist Caroline Glick (citing Gabriel Noronha, a former Iran specialist at the State Department) delist Iran's IRGC from the list of Foreign Terrorist Organizations. In addition:
"... Noronha's colleagues said Malley has agreed to sanctions relief that will provide Iran with an immediate cash infusion of $90 billion, as well as an additional $50-55 billion annually in oil and gas profits.

"On the nuclear front, beyond a few formalities, Biden's deal will enable Iran to move full-speed ahead with its development of advanced centrifuges and continue its race to the nuclear finish line. All limitations—which are largely unenforceable—will be removed in two and a half years. And Iran's nuclear program, which constitutes a material breach of the Nuclear Non-Proliferation Treaty of which Iran is a signatory, will be legitimated by the UN and the U.S. government."
Also recently, Israel's intelligence services foiled an assassination attempt against Israeli businessman Yair Geller in Turkey. The Iranian cell, consisting of nine individuals, was reportedly run by Yassin Tahermkandi, age 53, an Iranian-based intelligence officer, and Saleh Mushtag Bhighus, his Turkish counterpart.
While the Iranian regime attempted to murder a citizen of Israel, an American ally, not a word of condemnation was issued by the Biden administration. Moreover, this was not the first time that the Iranian regime has attempted to carry out assassinations in Turkey, an ally of Iran's ruling mullahs. Turkey, in fact, appears to have has become an important hub for the Iranian regime from which to target foreign citizens or dissidents.
Last year, for instance, the Turkish authorities detained Mohammed Reza Naderzadeh, an employee at the Iranian Consulate in Istanbul, for his role in murdering a critic of Iran, Massoud Molavi Vardanjani, in November 2019. Naderzadeh allegedly forged travel documents for Ali Esfandiari, who orchestrated the assassination. The Iranian regime then targeted Vardanjani due to his social media campaign, which was aimed at exposing corruption in the Islamic Revolutionary Guard Corps, its Quds Force branch, Iran's theocratic establishment. He defected after serving as an intelligence officer for the Iranian government and he wrote on social media: "I will root out the corrupt mafia commanders... Pray that they don't kill me before I do this."
Additionally, a British television executive, Saeed Karimian, who was the founder of Gem TV, which runs 17 Persian-language TV channels, was shot dead in Istanbul in 2017. Before his murder, he had been convicted in absentia in Iran allegedly for spreading propaganda against the regime.
These kinds of assassination orders likely come from the very top of the theocratic establishment in Iran. As a "senior administration official" pointed out:
"Given Iran's history of targeted assassinations of Iranian dissidents and the methods used in Turkey, the United States government believes that Iran's Ministry of Intelligence and Security was directly involved in Vardanjani's killing."
Turkey's close relationship with Iran has emboldened and empowered the Iranian regime reportedly to plot assassinations on the Turkish soil.
Iran's theocratic regime also targets foreign political leaders and diplomats whom the regime opposes. The Iranian regime is known to have "target packages" which most likely include foreign citizens or residents who are human rights defenders, critics of the Iranian leaders, political activists, and dissidents. Some of the regime's targets are also politicians or diplomats from those countries that Iran views as rivals, such as the US and Saudi Arabia. For instance, in a well-known case, two Iranian nationals were convicted of plotting to assassinate Adel Al-Jubeir, now Saudi Arabia's Minister of State for Foreign Affairs, at a restaurant in Washington, DC in 2011, when he was the Saudi ambassador to the United States.
The Iranian regime's assassination and terror plots can also be found in Europe. Iranian diplomat Assadollah Assadi was sentenced to 20 years in jail in Belgium over his role in a 2018 terrorist plot. Assadi had delivered 500 grams of the powerful explosive triacetone triperoxide (TATP) to his accomplices, with the aim of bombing an Iranian opposition rally in Paris. Had the plot not been discovered at the last minute, the bombing could have left hundreds dead, including international dignitaries and many European parliamentarians. Another Iranian agent, Mohammed Davoudzadeh Loloei, was sentenced to prison by a Danish court for being an accessory to the attempted murder of one or more opponents of the Iranian regime.
The Biden administration and the EU, instead of rewarding Iran's terrorist regime with billions of dollars, international legitimacy and a full-blown nuclear weapons program to unleash on the world, should hold the regime accountable for its countless terror activities and nuclear and missile programs, by resuming "maximum pressure" sanctions until Iran changes the way it treats its own people as well as its neighbors. As has been asked: Why should a country that does not treat its own people well treat another country any better?
Western governments need to adopt a firm policy and even legislation to expel Iranian "diplomats" and intelligence agents, some of whom who might even be plotting further terrorist attacks and assassinations. Most importantly, the EU needs to officially designate Iran's Revolutionary Guard Corps and its proxies as terrorist organizations.
The more the Biden administration appeases Iran's regime, lifts sanctions against it, and funds and empowers its brutal expansionism, the more the ruling mullahs will be empowered to carry out savagery at home (eg: here, here and here) and assassinations, terrorism and marauding abroad.
Dr. Majid Rafizadeh is a business strategist and advisor, Harvard-educated scholar, political scientist, board member of Harvard International Review, and president of the International American Council on the Middle East. He has authored several books on Islam and US foreign policy. He can be reached at Dr.Rafizadeh@Post.Harvard.Edu