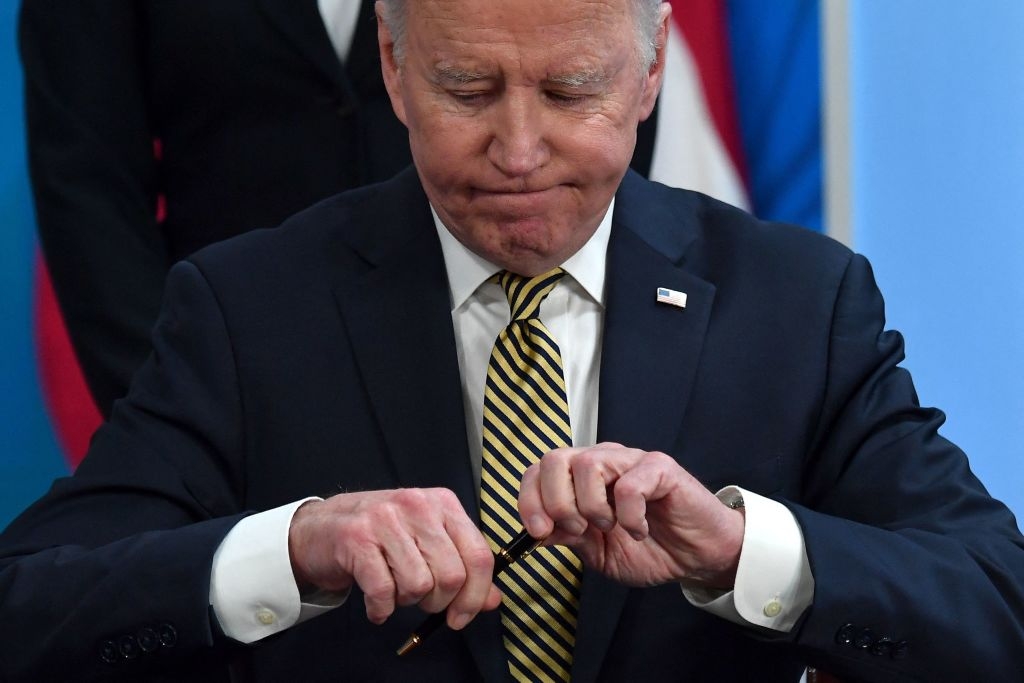 The complacency with which the Biden administration has come to view military threats, such as Russia's invasion of Ukraine, as a thing of the past has led to a misguided prioritization of issues such as climate change as the biggest threat facing the US. (Photo by Nicholas Kamm/AFP via Getty Images)
Russia's invasion of Ukraine has proven, sadly, that US deterrence lies in tatters.
While Russia's invasion represents an absolute low point thus far, US deterrence has been eroding for years. The cause is failed policies and ill-defined national interests, which bad actors such as Russia, China and Iran have clearly been noting.
They saw, in 2013, President Barack Obama demonstrating that a "red line" by the US in Syria meant nothing, and that Syrian President Bashar al-Assad could get away with killing 1,400 civilians with chemical weapons. They saw that Russia could invade Georgia and annex Crimea, while China could seize Hong Kong -- and the US let them, with no negative consequences, not even a side effect.
They also saw, in August 2021, that US President Joe Biden was willing to surrender Afghanistan to terrorists in sandals, abandon a US ally and give its citizens and people, who had loyally worked with the US for 20 years, over to murderous chaos.
It is this constant erosion of US deterrence -- the impression that the US is all talk and no action and can no longer be trusted as a global force -- which arguably led Russian President Vladimir Putin to calculate that he would be able to invade Ukraine without paying much of a price.
The task ahead for the US is how to prevent the Putins, Xi Jinpings and Khameneis of the world to become even further emboldened to try their hand at advancing their territorial ambitions on the Baltics, the countries of Northern Europe, Eastern Europe, Taiwan, the South China Sea and the Middle East. The US needs to reestablish the necessary deterrence in the face of military threats that the US -- and the West in general -- has come complacently to believe to be outdated and irrelevant, mere relics from the Cold War.
There are two things, primarily, that the US needs to do to deter bad actors and reassure allies that it is a force with which one can and must reckon: Focus on vital US national interests and massively recommit to the national security of the US and its allies. At the moment, as the historian Bernard Lewis often said, "America is harmless as an enemy but treacherous as a friend."
Vital national interests
The complacency with which the Biden administration has come to view military threats, such as Russia's invasion of Ukraine, as a thing of the past has led to a misguided prioritization of issues such as climate change as the biggest threat facing the US. This misguided focus has come at the expense of a realistic definition of what the US's vital national interests are and should be in the face of actual national security threats.
More than two decades ago, in July 2000, the Commission on America's National Interests, with Harvard's Belfer Center for Science and International Affairs, the Nixon Center, and RAND, produced a report, "What are America's National Interests?" (also known as the Belfer Report), which listed US national interests as "conditions that are strictly necessary to safeguard and enhance Americans' survival and well-being in a free and secure nation".
The Belfer Report listed five areas, primary among them the prevention, deterrence and reduction of the threat of attacks on the US or its military forces abroad, and ensuring the survival of US allies and their active cooperation with the US in shaping an international system in which we can thrive. More than 20 years later, as China and Russia seek to extend their spheres of influence, these two paramount interests are not being properly upheld by the US, which has been retreating from vital regions and deterrent military expenditures.
Focusing all US efforts in the Indo-Pacific to safeguard against China's territorial designs on the South China Sea ignores the fact that China's growing influence and power is global. In the Middle East, for instance, in the growing absence of the US, which, under Biden, has deprioritized the region while increasingly accommodating Iran, China is now the ascending power, investing heavily in and making agreements with practically all Middle Eastern countries, including close US allies such as Israel and the United Arab Emirates. The Chinese Communist Party has been filling in the growing vacuum that the US is leaving behind and propping up Iran, with a 25-year strategic agreement.
The Belfer report concluded:
"Instrumentally, these vital interests will be enhanced and protected by promoting singular US leadership, military and intelligence capabilities, credibility (including a reputation for adherence to clear US commitments and even-handedness in dealing with other states), and strengthening critical international institutions-- particularly the US alliance system around the world."
Meanwhile, the exact opposite has occurred: Over the past two decades, US leadership has waned, especially as it has retreated from the Middle East and Europe -- where its military presence has been reduced from 400,000 troops in the 1950s to just around 60,000 troops today. US credibility has been compromised, as its reputation for adhering to US commitments -- failing to prevent the crossing of red lines in Syria and the Afghanistan debacle, to mention just two examples -- has been wrecked.
A massive recommitment to international security and US allies
Rebuilding deterrence will require a massive political and military recommitment to vital national interests. Those will require a policy reorientation that acknowledges that the US is the primary Western force in a world with global military threats from a variety of bad actors -- China, Russia, Iran and North Korea primary among them. Safeguarding a world with an international system in which the US can thrive, therefore, requires that the US reengage globally, instead of pursuing a policy according to which threats can be isolated, as with China, to the Indo-Pacific, and entire regions such as Africa and South America, be ignored as irrelevant to US national security.
The Biden administration, or whatever administration follows it, would do well to acknowledge that China threatens the entire planet and that it cannot be contained by simply concentrating efforts in the Far East. Russia's threat to Ukraine is also not isolated, but could extend to Moldova, the Baltic states, Finland, Sweden and beyond. Iran's threat to the Middle East -- nuclear and through its terrorist proxies -- and its quest for hegemony cannot be solved through Biden's habitual accommodation and restraint, but on the contrary, requires robust deterrence.
There are a multitude of security challenges in the world that impinge on the national security of the US and its allies. The US, if it is to remain a global force, will have to recommit its efforts to confronting those challenges. These new threats means doubling down on strengthening US military and intelligence capabilities -- especially in the face of a technologically ascendant China that is extremely focused on its military modernization and in unseating the US as the primary global power. America will also have to prioritize regions that the US, under Biden, mistakenly assumes that it can leave behind, such as the Middle East.
"The argument that because we are pressed by China, which I have described as the existential threat to the West in the 21st century, we have to give up focus elsewhere, is simply wrong," Former National Security Advisor, Ambassador John R. Bolton, recently said at the Reagan Institute.
"And it's not to say that at any given moment in time your resources are fixed... because that is a view that ignores history. On December 7, 1941 at the end of the day our resources were fixed and a lot lower... How many times do you have to make this point that if you don't have more resources, you get political leadership that makes the case to the American people that we face threats on multiple fronts and if we want to defend our way of life as we know it and our interests around the world, protect our allies, not as acts of charity but because it benefits us, then you do it. And if you can't do it, you can't be a world power anymore... If you're going to play on the world stage, play on the world stage."
John Richardson is a researcher based in the United States.