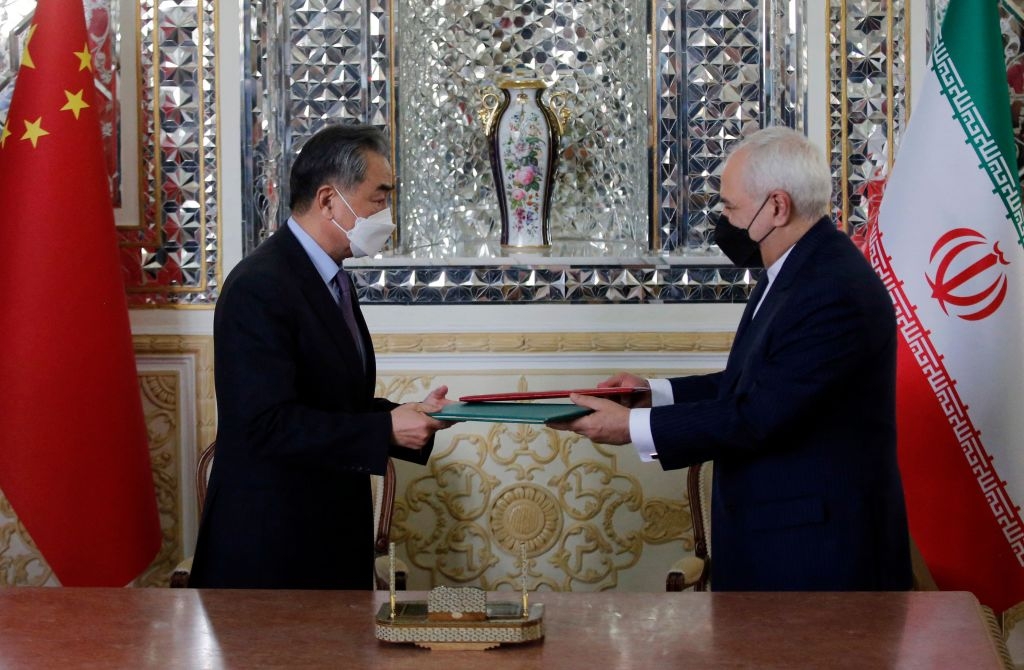 As China vies for more international influence to become the world's greatest power by 2049 -- militarily, economically, technologically and politically -- the Middle East is likely to become crucial, whether the US prioritizes it or not. Pictured: Chinese Foreign Minister Wang Yi (left) and Iranian Foreign Minister Mohammad Javad Zarif at the signing ceremony for Iran and China's "25-year strategic cooperation pact," on March 27, 2021 in Tehran. (Photo by AFP via Getty Images)
After Chinese Foreign Minister Wang Yi's almost week-long recent tour of the Middle East, there can be little doubt that China is actively seeking to expand its influence in the region, not only economically but also militarily, diplomatically and politically, actively challenging the long-standing role of the United States as a dominant power in the region.
China's influence in the Middle East has been growing for years, especially through the Belt and Road Initiative (BRI), a gigantic global infrastructure and economic development project that Chinese President Xi Jinping launched in 2013. Its aim is, it appears, to build an economic and infrastructure network connecting Asia with Europe, Africa and beyond. This mega development and investment initiative seeks dramatically to enhance China's global influence from East Asia to Europe by making countries worldwide increasingly dependent on China.
"Strategically, the BRI is how China is seeking to collapse Western-American dominance in the [Middle East] region peacefully" according to Dr. Mordechai Chaziz, author of the book China's Middle East Diplomacy: The Belt and Road Strategic Partnership.
"The connection between the BRI and the strategic partnerships it creates in the region... allows it to gradually take over the region without creating tensions with the U.S. or the West. In other words, the BRI is a sophisticated Chinese plan to transfer hegemony from the West and the U.S. to China without war or conflict".
"China has signed documents on Belt and Road cooperation with 19 Middle East countries," Wang told Al Arabiya during his visit to Saudi Arabia, one of the six countries he visited on his tour, "and carried out distinctive collaboration with each of them."
"As it fosters a new development paradigm, China is ready to share with Middle East countries its market opportunities, work with Arab countries to actively prepare for the China-Arab states summit, promote high-quality Belt and Road cooperation, and expand new areas of growth such as high and new technologies."
The other countries Wang visited were Turkey, Iran, the United Arab Emirates (UAE), Oman and Bahrain.
China is already the largest trading partner for most countries in the region, including some of its principal partners: Saudi Arabia, Iran, and the United Arab Emirates. Saudi Arabia was China's top crude oil supplier in 2020, beating Russia. China has made "comprehensive strategic partnerships" with both Saudi Arabia and UAE, as well as now Iran, through signing a 25-year comprehensive strategic agreement on economic and security cooperation with Tehran. The agreement also reportedly includes an expansion of military assistance, training and intelligence-sharing.
Through the Belt and Road Initiative, China is also the biggest foreign investor in the region, building infrastructure to the tune of billions of dollars. Although Egypt was not part of Wang's travel itinerary, it, too, forms an important part of the BRI for China. According to Jon B. Alterman of the Center for Strategic and International Studies:
"In the last five years, as China has grown increasingly concerned with transit through the Suez Canal, China has invested billions of dollars in Egypt. Chinese firms are helping construct Egypt's new administrative capital in the desert outside of Cairo, and they are developing a Red Sea port and industrial zone in Ain Sukhna. President Sisi has made at least six trips to Beijing since taking office in 2014, compared to just two trips to Washington."
At first glance, some leaders in the Middle East might regard China as well-suited to dominate their region, which, apart from Israel, consists of more-or-less authoritarian states that share China's views on state sovereignty, non-interference and human rights, and that seem to reject an international order based on democratic values, as led by the US.
"China and the countries agreed that the sovereign independence and national dignity of all countries should be respected, and independent and diverse ways of development should be promoted," Foreign Minister Wang Yi said in summing up his trip. According to China's state-run Xinhua News Agency:
"They agreed to oppose interfering in other countries' internal affairs and slandering other countries under the guise of human rights, safeguard the international system with the United Nations as the core and the international order based on international law, multilateralism, and international equity and justice, Wang said."
Meanwhile Wang overlooked the fact that China had originally offered the world similar assurances in 1984 regarding the retention of Hong Kong's political and economic system for 50 years after the 1997 return of the territory to Mainland China's sovereignty, only to renege on this commitment 27 years ahead of the scheduled end of the "one country, two systems" arrangement in 2047.
Wang also managed to overlook that China broke its 2015 commitment not to "militarize" artificial islands that Beijing had been building in the Spratly Islands chain in the South China Sea and which it is now surrounding with "fishing boats", threatening the nearby Philippines. The foreign minister also apparently forgot that China has never honored at least nine of the commitments it made when it joined the World Trade Organization, its nuclear testing commitments and its commitment to the Vatican in appointing bishops.
"China's communist leaders have repeatedly promised major reforms or policy shifts to gain entrance into international agreements only to roll back those reforms as soon as they get what they want," noted business columnist Chris Tomlinson presciently in 2016.
China's deepening ties with Middle Eastern countries beyond trade should concern the US, especially as the Biden administration has recently taken steps to deprioritize the region, thereby opening the door to Chinese domination. "If you are going to list the regions Biden sees as a priority, the Middle East is not in the top three," said a former senior national security official and close Biden adviser to Politico.
"It's Asia-Pacific, then Europe, and then the Western Hemisphere. And that reflects a bipartisan consensus that the issues demanding our attention have changed as great power competition [with China and Russia] is resurgent."
Apparently not satisfied with strategic and economic cooperation, China also suggested taking on a greater role in mediating between Israel and the Palestinians. "Nothing represents equity and justice in the Middle East more than a sound solution to the question of Palestine and earnest implementation of the two-state solution," said Wang in an interview with the Saudi newspaper Al Arabiya.
"We support active mediation by the international community toward this objective and holding an authoritative international meeting on this matter when conditions are ripe. In its presidency of the UN Security Council this May, China will encourage the Security Council to fully deliberate on the question of Palestine to reaffirm the two-state solution. We will continue to invite peace advocates from Palestine and Israel to China for dialogue. We also welcome Palestinian and Israeli representatives to China for direct negotiations".
As China vies for more international influence to become the world's greatest power by 2049 -- militarily, economically, technologically and politically -- the Middle East is likely to become crucial, whether the US prioritizes it or not.
Judith Bergman, a columnist, lawyer and political analyst, is a Distinguished Senior Fellow at Gatestone Institute.