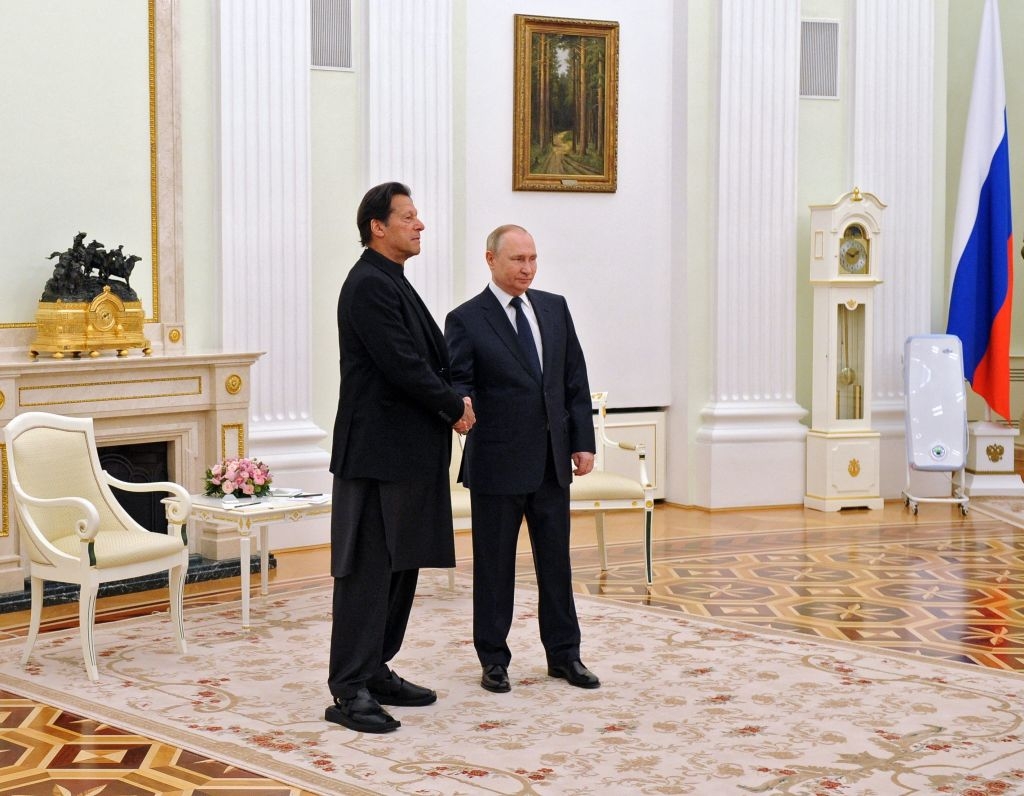 Pictured: Russian President Vladimir Putin meets with then Pakistani Prime Minister Imran Khan at the Kremlin in Moscow on February 24, 2022. (Photo by Mikhail Klimentyev/Sputnik/AFP via Getty Images)
Four years ago when Imran Khan emerged as prime minister of Pakistan many saw him as a breath of fresh air in a political system marked by the stink of corruption and ineptitude.
In many ways Khan was an outsider. First, unlike his predecessors, he was neither a Sindhi nor a Punjabi but a Pathan by descent. He did not hail from either a feudal clan or a family of urban compradors.
Having made a career as brilliant cricketer, nor was he a professional politician and was thus unsullied by the scandals that formed a good part of Pakistani political life.
Khan's marriage to a glamour society girl, daughter of a Jewish English billionaire, also gave him a certain cachet.
Khan was also exceptional because he rose to the top of the greasy pole of Pakistani politics without a proper political party and thanks to a support base created through his personal charisma rather than ideology.
So, earlier this week when Khan's premiership ended, it was no surprise that he became the only Pakistani prime minister to be ousted by the parliament in what looked like a palace coup.
The past four years, however, depict Khan's premiership as a tale of faux-pas and broken promises. He tried to use Pakistan's powerful military elite as a support base against real or imagined political rivals, not realizing that embracing a gorilla may include the risk of being crushed by it.
He also picked fights with the religious establishment while adopting a conciliatory posture towards the Pakistani Taliban, who regard him as no better than an "infidel".
To complicate matters further, Khan cast himself as the godfather of the Afghan Taliban, thus sabotaging the Pakistani army's strategy of keeping the Afghans on a tight leash. With the return of the Taliban last August as the force that controls Kabul, Khan became their self-appointed public relations officer and played a crucial role in persuading China to unroll the red carpet for Taliban envoys and loosen the purse strings for them.
That was in contrast with the Pakistani military's insistence that the Afghan Taliban, before receiving the support they need to consolidate their hold on Kabul, must first recognize the Durand Line, the frontier traced by the British between Afghanistan and what was then the Indian Raj.
It is possible that Khan interpreted the military's growing coldness towards him as part of a broader plot hatched by political rivals and endorsed by the Biden administration with a nod and a wink.
That interpretation led Khan on a surprising trajectory on search of a new big power ally, and he thought he had found it in Vladimir Putin's Russia. Thus he became one of only two foreign heads of government, the other being Azerbaijan's President Ilham Aliev, to visit Moscow in the wake of Putin's invasion of Ukraine, a trip that Russian propaganda highlighted as full support for the war.
Khan's musings about "Russia's legitimate security concerns" and implicit endorsement of Putin's claim that Ukraine is, in fact, part of Russia detached by "neo-Nazis" and "imperialists" rang alarm bells in Islamabad and beyond.
Putin's narrative about Ukraine sounds very much like the narrative that pan-Indian nationalists have marketed about Pakistan for years.
According to that narrative, Pakistan and Bangladesh, the former East Pakistan, were chunks of the Indian "motherland" chopped off by British colonialists. The excuse that Muslims formed a majority of population in both Pakistan and Bangladesh is unjustified if only because even today there are more Muslims in India itself than in either of those two countries.
Putin's argument about "Russian security concerns" also echoes that of pan-Indian nationalists with regard to the portion of the disputed Kashmir attached to Pakistan.
Having crossed several of the red lines set by the Pakistani military, Khan further underlined his diplomatic naiveté by claiming that he had reached a deal with Putin under which Russia would supply Pakistan's energy needs with oil and gas trunk-lines while offering "friendly prices."
The Russian project would bury the 40-year old accord with Iran to supply gas to Pakistan.
The fact that the Russian project would require 4,000 kilometer-long pipelines passing through Kazakhstan, Uzbekistan, Turkmenistan and Afghanistan, plus massive investments beyond Pakistan's ability, should have told Khan that what Putin offered him was a googlie, a cricket term for "cheating". What Khan took for energy pipelines could exist only in a pipe dream.
To be fair, when Khan went to Moscow, the prospect of Russia emerging from the war in Ukraine, if not with laurels, at least without losing its feathers, didn't seem as remote as it does today.
Even then, Khan's Moscow trip looked like a strategic move designed to revise Pakistan's alliances if not reverse them. The US, which has been pumping in billions of dollars a year into the Pakistani army's coffers, if not the pockets of its chiefs, was understandably concerned.
Beijing, too, was upset because for decades it had assumed that Pakistan would make no major move without consulting its Chinese allies and benefactors.
Khan should have known that in politics, as in cricket, timing is of crucial importance. Yet in his grand plan for changing alliances, he may have chosen the worst time to make his move.
After almost four years of economic growth, partly thanks to reforms introduced by Khan's government, Pakistan has entered what looks like a phase of severe recession, which most hurts the urban middle and lower classes, Khan's main sources of support.
Khan's recent ill-advised moves gave the traditional ruling elites of Pakistan, a coalition of feudal landlords, big merchants, religious "ulema", and military and security officers the chance to close the parenthesis of reform and re-organization he had opened and dash the hopes he had aroused. And that is a loss not only for him as a politician but also for Pakistan as a nation.
Khan's supporters tell us that he does not intend to drop the wicket and simply walk off the field into a footnote in history. The demonstrations launched in his support may lend some credibility to that claim. However, the "comeback kid" scenario that Khan and his coterie close to him are peddling seems unlikely. The question worth considering now is which part of the traditional ruling elite is best able to attract at least part of Khan's support base.
Amir Taheri was the executive editor-in-chief of the daily Kayhan in Iran from 1972 to 1979. He has worked at or written for innumerable publications, published eleven books, and has been a columnist for Asharq Al-Awsat since 1987.

This article was originally published by Asharq al-Awsat and is reprinted by kind permission of the author.