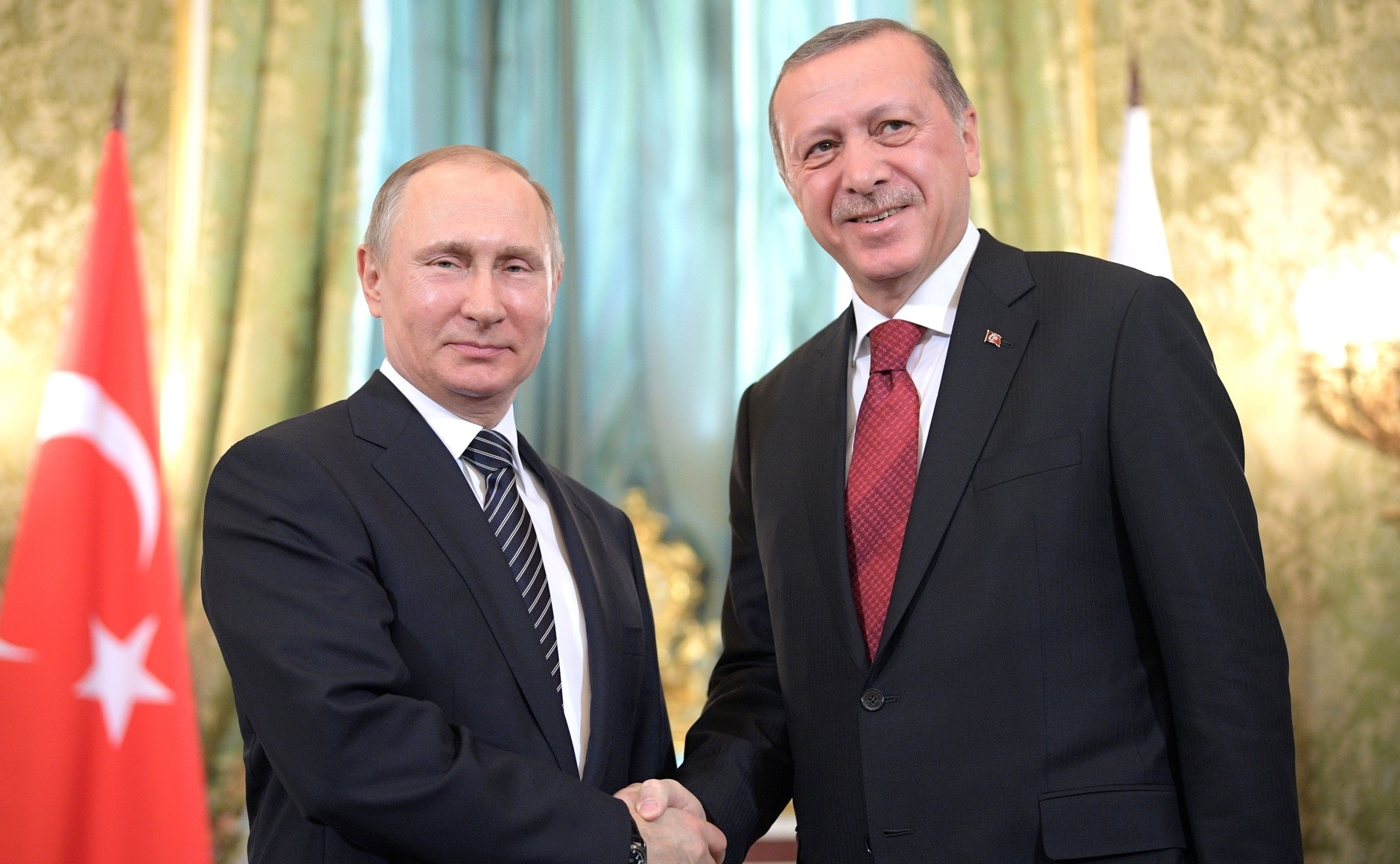 Turkish President Recep Tayyip Erdoğan's popularity, since he came to power in 2002, has worked as a self-poisoning instrument in the Turkish society, increasingly fuelling anti-Western sentiment, particularly anti-Americanism. Turkey needs to start acting like an ally; not a deceitful, pro-Putin ally. Pictured: Erdoğan meets with Russian President Vladimir Putin in Moscow, on March 10, 2017. (Image source: kremlin.ru)
Turkey's "balancing act" during the Russian invasion of Ukraine is the result of the country's Islamist leader's two-decade long indoctrination of a generation of Turks to make them "pious." President Recep Tayyip Erdoğan may or may not have raised pious generations, as he declared was his political mission, but he has definitely raised an anti-Western generation. That anti-Western sentiment once again makes Turkey the odd-man-out in NATO.
Western leaders shrugged it off when, in 2016, Erdoğan said in plain language that Turkey did not need to join the European Union "at all costs" and could instead become part of a security bloc dominated by China, Russia and Central Asian nations. Earlier, in 2013, Turkey had signed up as a "dialogue partner" saying it shared "the same destiny" as members of the Shanghai Cooperation Organisation -- China, Russia, Kazakhstan, Kyrgyzstan, Tajikistan and Uzbekistan) -- which was formed in 2001 as a regional security bloc.
The same Western leaders looked silly when they were "shocked" at a 2019 Turkish decision to buy the Russian-made S-400 surface-to-air missile system. They simply missed that Turkey had long been only a part-time NATO ally.
Erdoğan's popularity, since he came to power in 2002, has worked as a self-poisoning instrument in the Turkish society, increasingly fuelling anti-Western sentiment, particularly anti-Americanism. The Turkish public's views of the Russian invasion of Ukraine today is an inevitable consequence. A poll by the German Marshall Fund of the U.S. (GMFUS) found that nearly 84% of Turks want their country either to mediate or stay neutral -- 10 times more than those who want Turkey to back only Ukraine. Put in other words, 84% of Turks do not support Ukraine in the conflict.
Turkish pollster MetroPoll found in March that fewer than half (49.3%) of those surveyed think Turkey should be a member of the EU, down from 80% in the early 2000s. The same poll also indicated that 48% of the Turkish public think that the U.S. and NATO are responsible for the situation in Ukraine. Turks also think that Russia is their country's third most important partner.
Nearly six out of 10 Turks (58.3%), according to the GMFUS poll, see the U.S. as the country's biggest threat, while 31% said Russia and 29% said Israel. The percentage of Turks who say the U.S. should help solve global problems stands at just 6%.
While sending smiley messages of reconciliation to the West and the West's partners in the Middle East, including Israel, Erdoğan keeps fuelling anti-Western sentiments in Turkey. Speaking at the inauguration of a madrassa (Islamic seat of learning) on April 15, Erdoğan spoke of "these days when the Western culture and life-style has invaded the whole world."
Echoing his boss' ideological obsession, Interior Minister Süleyman Soylu said in a March 14 interview that the Ukraine war shows that the "UN, NATO, and global institutions are going bankrupt" and "the EU is no longer meaningful as a community." Soylu claimed that the Kremlin merely reacted against U.S. efforts to contain Russia "at a time when the vulnerability of the U.S. and the EU reached a peak under the pandemic." The war, in Soylu's thinking, symbolizes the end of globalization as nation-states rise to power.
When they are not reading pro-Erdoğan newspapers, Turks are watching pro-Erdoğan television channels featuring commentators who blame the war on Washington and NATO's eastward expansion. One well-known admiral saluted the Russian invasion of Ukraine as "a step to end the imperialist Atlanticist age", and another claimed that Moscow was tricked into the conflict so that it can be weakened for years to come. Others said that Moscow was not massacring people and was in fact opening an opportunity for peace by not seizing Kyiv.
Since the beginning of the Russian aggression, some of the confused Turkish action reflecting the country's confused directions included:
This is how NATO ally Turkey is "fighting" the Western battle against Russian aggression. In return, the Biden administration seems to be rewarding Erdoğan.
The Biden administration, evidently, at the behest of Turkey, has tried to kill the EastMed gas pipeline project, which could supply gas from Cyprus and Israel, via Greece, to Europe.
According to Gatestone Senior Fellow Soeren Kern:
"The EastMed pipeline has been in the works for more than a decade. The Israel-Greece-Cyprus project — joined by Bulgaria, Hungary, North Macedonia, Romania and Serbia — has long been seen as a way to diversify natural gas supplies to Europe."
Worse, the US State Department, in a March 17 letter to Congress, said that a potential sale of F-16 fighter jets to Turkey would be "in line with U.S. national security interests" and would also "serve NATO's long-term unity."
Greece, which recently has experienced countless illegal Turkish overflights, not to mention the last few years, must be thrilled.
Turkey needs to start acting like an ally; not a deceitful, pro-Putin ally.
Burak Bekdil, one of Turkey's leading journalists, was recently fired from the country's most noted newspaper after 29 years, for writing in Gatestone what is taking place in Turkey. He is a Fellow at the Middle East Forum.