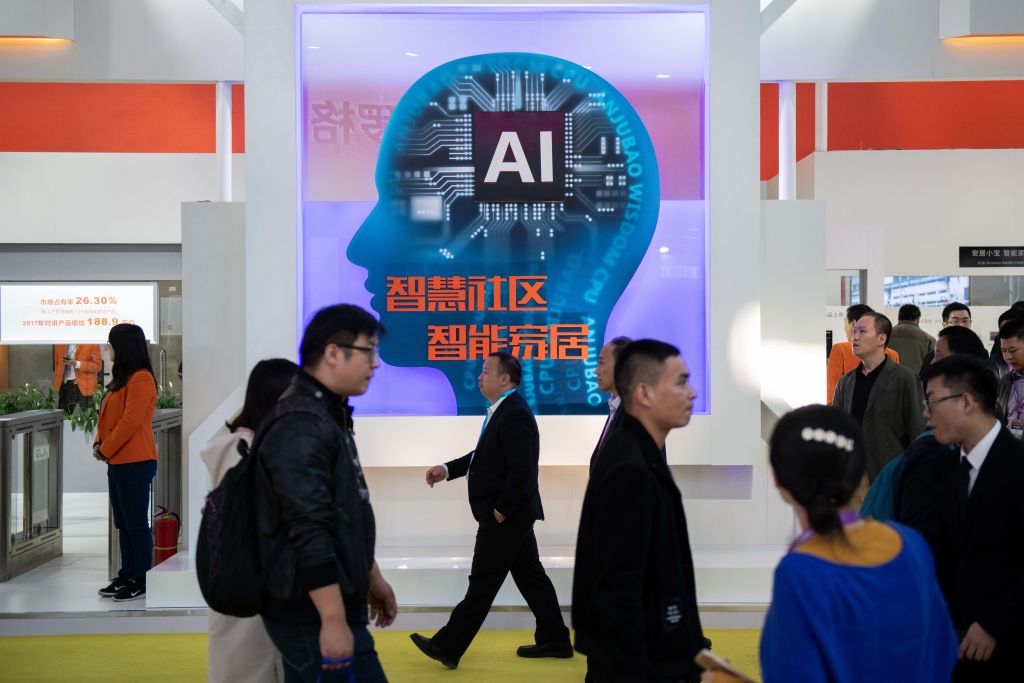 The US Defense Department's current outdated and slow approach to technological innovation could eventually lead China to overtake the US in areas such as artificial intelligence, cybersecurity, and space. Pictured: A showcase of artificial intelligence usages at the 14th China International Exhibition on Public Safety and Security at the China International Exhibition Center in Beijing, China on October 24, 2018. (Photo by Nicolas Asfouri/AFP via Getty Images)
Last July, the director of the Central Intelligence Agency, William J. Burns, said that China is "the single biggest geopolitical challenge that the United States faces far out into the 21st century" and that "the main arena for competition and rivalry with China" is technology.
The Pentagon has been facing massive criticism for being unable properly, if at all, to meet that very technological challenge. "The U.S. government is not prepared to defend the United States in the coming artificial intelligence (AI) era," the National Security Commission on Artificial Intelligence warned in March 2021, while also saying that China was on its way to become the world's top AI superpower.
In October 2021, a senior cybersecurity official at the Pentagon, Nicolas Chaillan, who was the first Chief Software Officer for the Air Force, resigned in protest over the Pentagon's slow pace of technological development. "We have no competing fighting chance against China in 15 to 20 years. Right now, it's already a done deal; it is already over in my opinion" Chaillan said, citing China's fast advancements in artificial intelligence, machine learning, and general capabilities in cybersecurity. "Whether it takes a war or not is kind of anecdotal."
"I realized pretty quickly, we're very behind in cyber, to a point that it was very scary when it comes to critical infrastructure and the lack of security," Chaillan said in August 2021. "And we see it every day, more and more, and I still don't believe we have any kind of handle on what's going on."
In April, another senior official, Preston Dunlap, the Pentagon's first Chief Architect Officer, responsible for promoting technological innovation at the Pentagon, also resigned. In a nine-page resignation statement, Dunlap made it clear that the Pentagon, which Dunlap labeled "the world's largest bureaucracy", was far behind the American domestic commercial sector in data, distributed computer processing, software, AI and cybersecurity and that it badly needed "structural change."
"By the time the Government manages to produce something, it's too often obsolete," he wrote. "Much more must be done if DoD is going to regrow its thinning technological edge." Additionally, Dunlap pointed out that the Pentagon would have to stop focusing on internal turf wars and "reinventing the wheel" and work together with the private sector.
In this, he echoed Nicolas Chaillan, who also pointed out that the Pentagon suffers from "silo thinking" where different agencies work on the same tasks and do not share information. "We have silos within silos," Chaillan said.
"We have people reinventing the wheel, whether for good reasons or bad reasons, whether it's ego-driven or for little kingdom-building exercises... we need to start having a cohesive cybersecurity and IT capability stack."
Also in April, another outgoing official, David Spirk, the Pentagon's Chief Data Officer, said that the organization would have to accelerate efforts to counter adversaries developing military tools based on modern technologies.
The concerns do not only come from resigning DoD officials but also from high-ranking current officials.
"In an era where the PRC has stolen plans for our exquisite weapons platforms and carefully studied our way of fighting, advances in commercial technology offer a unique opportunity to achieve surprise rapidly," Director of the Defense Innovation Unit at the Pentagon, Michael Brown, said in testimony before the Senate Armed Services Committee on April 6.
"Despite its importance, the Pentagon does not currently have a systematic or effective approach to rapidly access and leverage commercial technologies at scale."
Brown went on to say that 11 of the 14 critical technologies for national security are commercial and that the absence of an effective approach for the military to rapidly adopt commercial technology, such as advanced communications, AI software, small drones, synthetic aperture radar (SAR) satellite imagery and many others, represents a "glaring weakness". There is little difference in those commercial technologies from strictly defense technologies, and the Department of Defense (DoD) needs to "move much faster in assessing and fielding these technologies". The Pentagon, in other words, does not adopt the immense advances made in the commercial sector for the benefit of the military broadly or fast enough and that puts the US at a serious disadvantage compared to adversaries such as China.
"Since DoD does not control the global diffusion of these technologies, our lack of adopting these quickly creates an asymmetric disadvantage if our adversaries adopt them more rapidly," Brown said.
"These differences are extremely relevant for conflicts we may face in the next decade where our adversaries effectively employ commercial technologies. For example, when U.S. troops were stationed in Iraq, ISIS sent small drones, which can be purchased on e-commerce platforms like Amazon, with grenades to kill American soldiers in Mosul... The DoD must add new capabilities like these in 1-2 years rather than 1-2 decades."
Brown delivered more damning testimony, when he detailed how much the DoD lags behind:
"The current sequential process lags commercial product cycles and delivers technology several generations behind which would be the equivalent of supplying flip-phones and fax machines to our warfighters today... While the Pentagon prides itself on following voluminous and well-specified DoD processes, the result is that in commercially advanced technologies such as advanced communications, artificial intelligence and machine learning, cyber and autonomous systems, we will be placing outdated, overpriced technology in the hands of our warfighters... DoD has not yet established a complementary process to the one Secretary McNamara put in place in the 1960s for defense technologies... At DoD, we continue in a 'business as usual' fashion at our peril."
By comparison, Brown made it clear that:
"The PRC and Russia compel their private companies to work together closely with their militaries to gain experience with new technologies and concepts. From drone swarming to anti-satellite weapons programs, Russia and the PRC have studied our capabilities carefully and are rapidly modernizing its own military capabilities with a priority both on asymmetry designed to neutralize U.S. overmatch and accessing innovations in its commercial sector...

"Imagine how well our forces will defend against PLA swarms of drones if we have not experimented with this concept... Imagine if we do not support more non-traditional suppliers of satellites or quantum sensors such that these technologies do not remain competitive in the U.S. and go the way of solar panels or small drones—controlled by the PRC."
There are also concerns about a widespread sense of risk-aversion in the Pentagon. Deputy Secretary of Defense Kathleen Hicks, also in April, warned that risk-aversion is standing in the way of technological innovation.
"Innovation is slowed down by resistance to technological risk, especially for hypersonic weapon programs, Hicks told Defense Writers Group reporters in Washington, D.C. The United States used to be first class in its approach to innovation, which necessitated a willingness to fail during tests, she said."
China tested its first hypersonic missile last summer. In March, Russia said that it had used a hypersonic missile, known as the Kinzhal, in Ukraine for the first time.
According to Hicks:
"What we see in general is a real resistance to that approach and concern over whether the U.S. investments are making a difference up on Capitol Hill, and so you get curtailment of programs, you get concerns over concurrency""
The current outdated and slow approach to technological innovation could eventually lead China to overtake the US in space, among other areas. NASA, for instance, has spent more than $23 billion to build the single-use Space Launch System (SLS), as a replacement for its Space Shuttle program. Announced back in 2010, the project has been delayed by more than five years so far and is already obsolete, in addition to being, at $4.1 billion per launch, almost prohibitively expensive to deploy. By comparison, China has been advancing in space by copying the commercial space sector, specifically the American one. The Long March 2C rocket that China launched in the summer of 2019 for the first time had parts -- the grid fins -- that were "virtually identical" to those that are used to steer the SpaceX Falcon 9 rocket. A year after that test, according to Eric Berger, senior space editor at Ars Technica, "China's main space contractor revealed plans to develop the ability to reuse its Long March 8 booster, which is powered by kerosene fuel, the same type of power that fuels SpaceX rockets. By 2025, Chinese officials said, this rocket would be capable of landing on a sea platform, like SpaceX's Falcon 9 booster does.
Judith Bergman, a columnist, lawyer and political analyst, is a Distinguished Senior Fellow at Gatestone Institute.