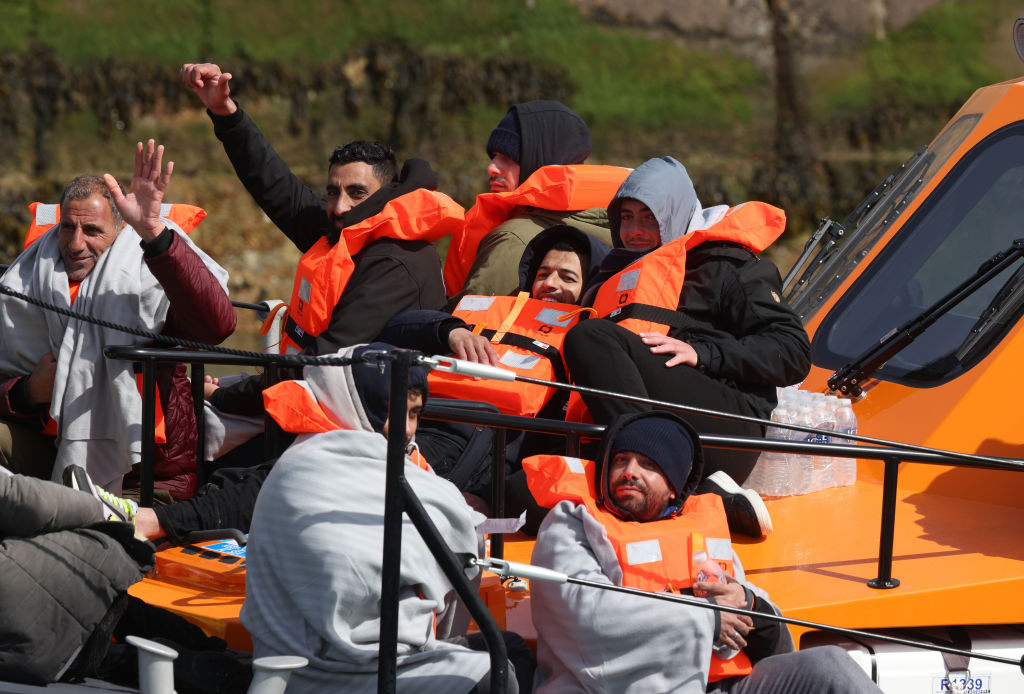 The British government has announced a new plan to fight illegal immigration by giving some migrants seeking asylum in the United Kingdom a one-way ticket to Rwanda to have their applications processed in the East African country. Pictured: Illegal migrants arrive at Dover port after being picked up in the English Channel by the UK Border Force on April 14, 2022. (Photo by Dan Kitwood/Getty Images)
The British government has announced a new plan to fight illegal immigration by giving some migrants seeking asylum in the United Kingdom a one-way ticket to Rwanda to have their applications processed in the East African country.
The five-year pilot project, aimed at deterring migrants from crossing the English Channel, will initially focus on single males arriving illegally to the UK on boats or trucks.
The plan to outsource the processing of asylum applications overseas — if it survives legal challenges that are certain to come from human rights groups and the European Court of Human Rights — could become a model for other European countries seeking to crack down on illegal immigration.
Denmark, frustrated by the European Union's dysfunctional migration and asylum system, recently announced that it, too, is seeking to send asylum-seekers to Rwanda.
On April 14, the United Kingdom and Rwanda announced the so-called Asylum Partnership Arrangement in which Rwanda commits to receive asylum seekers from the United Kingdom and to process their claims for asylum through the Rwanda domestic asylum system.
If, at the end of that process, Rwanda decides to grant asylum, migrants would have long-term accommodation in Rwanda, where they would be entitled to full protection under Rwandan law, equal access to employment and enrollment in healthcare and social welfare. Those who are not granted asylum in Rwanda would be deported back to their country of origin.
The legal basis for the plan is enshrined in a new Nationality and Borders Act 2022 approved by Parliament on April 28. The new law, which integrates changes to British immigration law, includes offshoring asylum — processing claims at overseas facilities — and making it a criminal offense to knowingly arrive in the UK illegally.
The British government's "New Plan for Immigration," published on March 29, states that the overall objective is to deter illegal entry into the UK by quickly deporting those who have no right to be there:
"Access to the UK's asylum system should be based on need, not on the ability to pay people smugglers.

"If you illegally enter the UK via a safe country in which you could have claimed asylum, you are not seeking refuge from imminent peril — as is the intended purpose of the asylum system — but are picking the UK as a preferred destination over others."
British Prime Minister Boris Johnson, in an April 14 speech, said that the £120 million (€140 million; $150 million) project would "save countless lives" from human trafficking:
"Since 2015 we have offered a place to over 185,000 men, women and children seeking refuge, more than the entire population of Sunderland and more than any other similar resettlement schemes in Europe.

"This includes almost 100,000 British Nationals Overseas threatened by draconian security laws in Hong Kong, 20,000 through our Syrian scheme, 13,000 from Afghanistan and to whom we owe debts of honor, and around 50,000 Ukrainians....

"It is controlled immigration, through safe and legal routes, which enables us to make generous offers of sanctuary while managing the inevitable pressures on our public services such that we can give all those who come here the support they need to rebuild their lives, to integrate and to thrive.

"But the quid pro quo for this generosity is that we cannot sustain a parallel illegal system.

"Our compassion may be infinite, but our capacity to help people is not.

"We can't ask the British taxpayer to write a blank cheque to cover the costs of anyone who might want to come and live here.

"Uncontrolled immigration creates unmanageable demands on our NHS and our welfare state, it overstretches our local schools, our housing and public transport, and creates unsustainable pressure to build on precious green spaces.

"Nor is it fair on those who are seeking to come here legally, if others can just bypass the system.

"It's a striking fact that around seven out of ten of those arriving in small boats last year were men under 40, paying people smugglers to queue jump and taking up our capacity to help genuine women and child refugees.

"This is particularly perverse as those attempting crossings, are not directly fleeing imminent peril as is the intended purpose of our asylum system.

"They have passed through manifestly safe countries, including many in Europe, where they could — and should — have claimed asylum.

"It is this rank unfairness of a system that can be exploited by gangs, which risks eroding public support for the whole concept of asylum.

"The British people voted several times to control our borders, not to close them, but to control them....

"So from today, our new Migration and Economic Development Partnership will mean that anyone entering the UK illegally — as well as those who have arrived illegally since January 1st — may now be relocated to Rwanda.

"This innovative approach — driven by our shared humanitarian impulse and made possible by Brexit freedoms — will provide safe and legal routes for asylum, while disrupting the business model of the gangs, because it means that economic migrants taking advantage of the asylum system will not get to stay in the UK, while those in genuine need will be properly protected, including with access to legal services on arrival in Rwanda, and given the opportunity to build a new life in that dynamic country, supported by the funding we are providing.

"The deal we have done is uncapped and Rwanda will have the capacity to resettle tens of thousands of people in the years ahead.

"And let's be clear, Rwanda is one of the safest countries in the world, globally recognized for its record on welcoming and integrating migrants....

"There are currently 80 million displaced people in the world, many in failed states where governments can't meet their aspirations....

"The answer cannot be for the UK to become the haven for all of them.

"That is a call for open borders by the back door, a political argument masquerading as a humanitarian policy....

"We simply cannot have a policy of saying anyone who wants to live here can do so.

"We've got to be able to control who comes into this country and the terms on which they remain."
Home Secretary Priti Patel added:
"We have agreed that people who enter the UK illegally will be considered for relocation to Rwanda to have their asylum claim decided.

"And those who are resettled will be given support, including up to five years of training to help with integration, accommodation, and healthcare, so that they can resettle and thrive.

"This agreement fully complies with all international and national law, and as part of this ground-breaking agreement, the UK is making a substantial investment in the economic development of Rwanda....

"This agreement illustrates that we can no longer accept the status quo. People are dying and the global migration crisis requires new ways to find new partnerships and to find new solutions."
The move comes amid a surge in illegal immigration to the UK. In 2021, 28,526 migrants were known to have arrived in the UK via small boats, according to Home Office statistics. This was up from 8,466 in 2020, 1,843 in 2019 and 299 in 2018.
More than 7,000 migrants have arrived in the UK on small boats during the first four months of 2022. With warmer spring and summer temperatures, British authorities are expecting the arrival of more than 1,000 migrants a day in coming weeks and months.
Human rights groups have criticized the agreement with Rwanda. British Red Cross executive director Zoe Abrams said she was "profoundly concerned" about the scheme and cautioned that "the financial and human cost will be considerable." Enver Solomon, chief executive of the Refugee Council, described the government's plan as "cruel and nasty" and said it would "do little" to deter people from coming to the UK.
Johnson said his government was expecting legal challenges to the plan:
"We are confident that our new Migration Partnership is fully compliant with our international legal obligations, but nevertheless we expect this will be challenged in the courts, and if this country is seen as a soft touch for illegal migration by some of our partners, it is precisely because we have such a formidable army of politically motivated lawyers who for years who have made it their business to thwart removals and frustrate the government."
Meanwhile, the Danish government is also in talks to transfer asylum seekers to Rwanda. In an April 20 interview with Reuters, Danish Immigration Minister Mattias Tesfaye said a deal would aim to "ensure a more dignified approach than the criminal network of human traffickers that characterizes migration across the Mediterranean today."
A deal with Rwanda would make Denmark the first European Union member state to outsource asylum processing to third countries. European officials have said that relocating migrants outside Europe is "not possible" under EU law, but Denmark, due to an opt-out, is exempt from some EU rules, including asylum standards.
In June 2021, the Danish Parliament passed a new law that would allow the government to deport asylum seekers to countries outside of the European Union to have their cases considered abroad. The legislation was widely seen as a first step toward moving the country's asylum screening process beyond Danish borders.
In April 2021, Tesfaye, a Social Democrat and the son of an Ethiopian immigrant, signed a "Memorandum of Understanding" with Rwanda regarding cooperation on asylum and migration issues. The document raised speculation that Denmark wants to transfer migrants to the East African country, which has a tradition of hosting refugees. The memorandum spelled out the Danish government's long-term objective:
"Denmark is committed to finding new and sustainable solutions to the present migration and refugee challenges that affect countries of origin, transit and destination. The current asylum system is unfair and unethical by incentivizing children, women and men to embark on dangerous journeys along the migratory routes, while human traffickers earn fortunes.

"There is a need to finding new ways of addressing the migration challenges by promoting a fairer and more humane asylum system based on a comprehensive approach. This includes addressing the root causes of irregular migration, providing more and better protection of refugees in the regions of conflict and increasing assistance to host nations, countries of origin and transit — along the migratory routes — in order to improve border management, strengthen asylum systems and fight human smuggling.

"It is also the vision of the Danish Government that the processing of asylum applications should take place outside of the EU in order to break the negative incentive structure of the present asylum system."
Prime Minister Mette Frederiksen has said that she is determined to reduce the number of asylum approvals:
"Our goal is zero asylum seekers. We cannot promise zero asylum seekers, but we can establish the vision for a new asylum system, and then do what we can to implement it. We must be careful that not too many people come to our country, otherwise our social cohesion cannot exist. It is already being challenged."
Soeren Kern is a Senior Fellow at the New York-based Gatestone Institute.