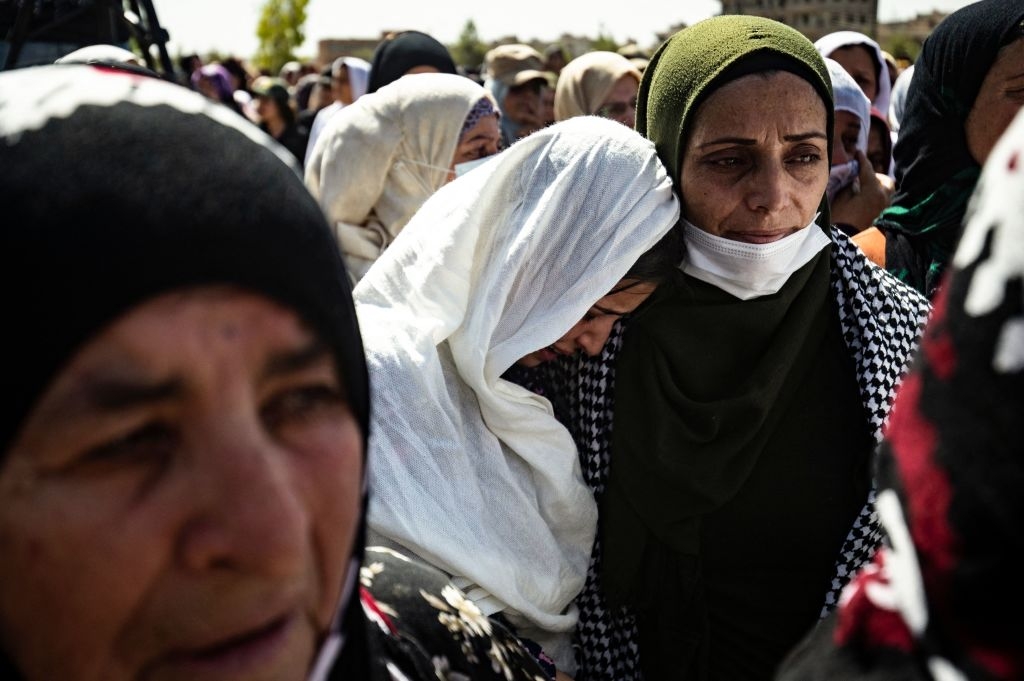 Turkey's new military incursion into northern Syria, announced in late May by President Recep Tayyip Erdogan, means that Turkey will once again attack Kurds in Syria, in an attempt to push them out of the region and claim their lands. These Kurdish groups that Erdogan labels "terrorists," however, just so happen to be US allies who fought ISIS. Pictured: Kurds attend the funerals of a civilian and a fighter from the mostly Kurdish Women's Protection Units, who were killed in a Turkish drone strike in Qamishli, northeastern Syria, on June 5, 2022. (Photo by Delil Souleiman/AFP via Getty Images)
Turkey's President Recep Tayyip Erdogan is at it, disrupting the region again. This time, he is threatening aggression not only against Greek islands, but also actually attacking the Kurds in northern Syria and Iraq as well as the Yazidis in their homeland of Sinjar, Iraq.
Turkey's neo-Ottoman expansionist goals in the region appear to be the major motive behind its aggressive policies. The Republic of Turkey will celebrate its 100th anniversary in 2023. Erdogan has publicly claimed parts of northern Syria, and Sinjar and Kirkuk in Iraq as part of Turkey in his dream for a new Ottoman Empire. In 2016, for instance, he referred to Misak-ı Milli ("the National Pact"), which contains six decisions about the borders of the Ottoman Empire made by the last term of the Ottoman Parliament in 1920. The National Pact includes claims to parts of Iraq and Syria. "We have responsibilities in accordance with Misak-ı Milli," Erdogan said.
"Concerning ourselves with Iraq, Syria, Libya, Crimea, Karabakh, Bosnia and other brother regions is both a duty and a right of Turkey. Turkey is not just Turkey... Our physical borders are different from the borders of our hearts."
In line with this expansionist ideology, Erdogan announced a new military incursion into northern Syria in late May, to create a 30 km "safe zone" in Syria along Turkey's southern border. "We will be clearing Tell Rifaat and Manbij in Syria from terrorists," Erdogan said. This means that Turkey will once again attack Kurds in Syria, in an attempt to push them out of the region and claim their lands. These Kurdish groups that Erdogan labels "terrorists," however, just so happen to be US allies who fought ISIS.
On June 5, Syria condemned Turkey's recent attacks in the north of the country, calling them a "violation of international law" and of its sovereignty. Syria's Ministry of Foreign Affairs released a statement saying they were following the "hostile" actions by Turkey, and its constant violations of Syrian sovereignty, which have "claimed the lives of a number of innocent people."
Meanwhile, Erdogan's expansionist policies keep targeting Iraq, Greek islands in the Aegean Sea and the Turkish-occupied northern part of the Republic of Cyprus, among other places.
Yazidis in Iraq, for instance, have been the victims of air raids carried out by Turkey, which uses the presence of the Yazidi Sinjar Resistance Units (YBS) as a pretext to bomb the Yazidi homeland of Sinjar under the pretense that it is fighting the Kurdistan Workers' Party (PKK). Ankara says it is targeting the PKK, an armed Kurdish group fighting for an autonomy for the majority-Kurdish southeast region in Turkey long regarded by Turkey as a terrorist organization. Meanwhile, there is mounting evidence that the same Turkish government supported and enabled a real terrorist organization, the Islamic State (ISIS), for years.
These attacks by Turkey continue to traumatize the Yazidis, an indigenous, non-Muslim people of Iraq. This peaceful community is facing existential threats from major military forces in the region. These include attacks by Iraqi army; the ongoing consequences of the 2014 genocide by ISIS, and ongoing Turkish military airstrikes. Between May 1 and 5, thousands of Yazidis were forced to flee as fighting raged between the Yazidi Sinjar Resistance Units (YBS), and the Iraqi military in Sinjar.
The YBS was created there in 2014 to fight ISIS, which tried to wipe them out in an apparent genocide. The YBS has never been on any terrorist list and has received their salaries from the Iraqi Ministry of Defense since 2016.
The Yazidi human rights organization, Yazda, reported in 2021:
"Genocide against the Yazidi people in Iraq began on the 3rd of August, 2014, with organized military and community extermination efforts by Da'esh, resulting in acts of war and genocide including mass crimes, massacres, systematic abductions, enslavement of women and children, forced conversion, and forced displacement of thousands of our people. Seven years later, the genocide continues with more than 2,900 Yazidis still missing in captivity, over 200,000 IDPs and refugees unable to return to their homes in Sinjar and the Nineveh Plains, and a destroyed homeland that continues to face political, security, economic, and social uncertainties."
The results of the 2014 genocide by ISIS included 10,000 dead or kidnapped Yazidis; around 2,900 Yazidi girls and women still missing, at least 82 Yazidi mass graves and more than 200,000 displaced Yazidis living in camps for internally displaced persons (IDPs) within the Kurdistan Region of Iraq.
On May 2, the official website of Free Yezidi Foundation posted on Twitter:
"The fighting today in #Sinjar #Shingal is TOTALLY UNACCEPTABLE. Regardless of political / military affiliation, there should be no attacks against #Yezidi #Yazidi from Sinjar by anyone at any time. This violates basic responsibility to protect. Yezidis flee Sinjar today - again."
On October 9, 2020, the Iraq central government and the Kurdistan regional government reached an agreement about the Yazidi homeland of Sinjar.
"Yazidis were excluded from the Sinjar Agreement, were not consulted about the appointment of a mayor, and have not had local elections since 2003," Nadine Maenza, former Chair of the United States Commission on International Religious Freedom (USCIRF), told Gatestone.
Human rights activist Dr Amy L. Beam, author of the book The Last Yezidi Genocide, told Gatestone:
"One condition of the agreement was that PKK (the Kurdistan Workers' Party) forces would be removed from the Sinjar region. Another point was that a new mayor of Sinjar would be appointed." Beam, who moved to Kurdistan, Iraq, in 2014, obtained Iraqi IDs and passports for nearly 1,000 Yazidis to help them leave.
This agreement was rejected by Yazidis, who were not included in the negotiations. Since the end of 2015, when ISIS was removed from Sinjar city, Yazidis installed their own council and mayor. However, both the Iraqi and Turkish militaries have since targeted Sinjar. It is important to note that there are many Iraqi militias across the country, but the Iraqi army chose to fight the Yazidi YBS group and not any other militia.
The recent clashes, Beam continued, began "when the Iraqi army deployed soldiers to establish a checkpoint on the north side of the Sinjar Mountain."
"The YBS militia resisted this effort. Tension mounted and a YBS soldier picked up his gun and shot an army soldier. This resulted in a full onslaught against the Yazidis by Iraqi army tanks."
Maenza notes that the Yazidi right to self-defense is crucial for their survival:
"The last time Yazidis put down their weapons and trusted the Iraqi government to defend them in 2014, Iraqi military forces fled, leading to the genocide of Yazidis. It is reasonable that the Yazidis be allowed to protect their own people. Any narrative that the YBS are outlaws is ridiculous -- their salaries have been paid by the Iraqi Government.

"Turkey, however, has started an aggressive military campaign against the PKK and they are also using that excuse to attack civilians in northeast Syria, the Kurdistan Region of Iraq, and Sinjar, no doubt with the goal of acquiring more land. Perhaps Iraq believes that Turkey will invade Sinjar if they don't remove the YBS first? Why else would they go after these Yazidis when they could be removing dangerous PMFs [armed factions of the Iran-backed Iraqi Popular Mobilization Forces] preparing to launch more rockets who are a real threat to security and stability?

"The Iraqi and Turkish governments will likely not give Yazidis the respect they deserve unless the U.S. and the international community demand it."
The attacks against YBS were finally over by May 6. Iraqi Army General Jabbar Kamar and the YBS leadership reached an agreement that de-escalated the confrontation. However, Yazidis remain in a vulnerable situation. According to Beam:
"This conflict and massive movement of military tanks with gun turrets deployed throughout Sinjar terrorized Yazidis. Several thousand fled to safety in Kurdistan. Memories of the genocide against them on August 3, 2014, are still fresh in their minds. They want asylum in safe countries."
Murad Ismael, the president of Sinjar Academy, told Gatestone:
"I believe the Sinjar Agreement led to the current confrontation as it didn't include a mechanism to address local militants who carried arms in 2014. The agreement said Iraq will remove the Kurdish PKK group and its affiliates, it seems that the current Iraqi government increasingly sees YBS [Yazidis] as a PKK [Kurdish] affiliate and hence, in recent months attempts to disarm them."
Meanwhile, Turkey's latest military offensive, named "Operation Claw Lock," against northern Iraq (including the majority Kurdish-populated regions) is still ongoing. It began on April 17, when Ankara launched an air and ground offensive. These attacks by Turkey have become a regular occurrence since the 1990s, destabilizing the lives of Iraqi communities, including Yazidis, Kurds and Assyrians.
When the fighting between the Iraqi army and the YBS erupted, Beam said, "Turkey took this opportunity to conduct airstrikes in the region."
"Two Yazidi YBS fighters were killed. Since Iraq will not take action to stop Turkey's illegal cross-border airstrikes in Sinjar, only the United Nations or NATO can stop Turkey's aggression."
Observers agree that due to many factors, Sinjar remains an unsafe place for Yazidis. According to Ismael:
"The overall security situation in Sinjar, including presence of various security actors, latest clashes between Iraqi forces and YBS which occurred in populated locations, and the Turkish airstrikes, all have led to instability and prevent return of normalcy to Sinjar."
Pari Ibrahim, the Executive Director of Free Yezidi Foundation, told Gatestone:
"It appears that the airstrikes against the YBS from Turkey and the ground assault by the Iraqi Army have been planned and coordinated. This is extremely problematic. YBS fighters are Iraqi citizens who have suffered immensely from the onslaught of ISIS. Whether or not one agrees with their political party, they do not deserve to be targeted by the armed forces of their own country. We believe this is contrary to basic humanitarian principles. These YBS fighters want to defend the Yezidi homeland - they are not the aggressors."
Meanwhile, Turkey continues threatening Greek islands in the Aegean Sea -- islands that belong to Greece according to several international treaties. On June 7, Turkish Foreign Minister Mevlut Cavusoglu once again called on Greece to withdraw any military forces stationed on the Greek islands. Cavusoglu warned that Turkey will challenge the status of the islands if Greece fails to demilitarize them.
In addition, Turkey has turned the Tymbou ("Ercan") Airport, located in the Turkish-occupied northern part of the Republic of Cyprus, into a Turkish domestic airport. Erdogan's regime has also made a new financial assistance deal with the illegal regime occupying northern part of Cyprus. 36% of the Republic of Cyprus -- a European Union member state -- has been illegally occupied by Turkey since it invaded the island in 1974. These recent moves by Turkey appear to be further steps toward annexing the occupied north. The Republic of Cyprus announced they will lodge a complaint with the United Nations.
Erdogan's regime has not only systematically violated the rights of millions of its own citizens inside his country, but he has also escalated aggression against Turkey's neighbors in an apparent attempt to acquire more territory in violation of international law. Turkey, under Erdogan, has become an increasingly destabilizing force in the region, and will presumably keep on destabilizing it until it is stopped.
Uzay Bulut, a Turkish journalist, is a Distinguished Senior Fellow at the Gatestone Institute.