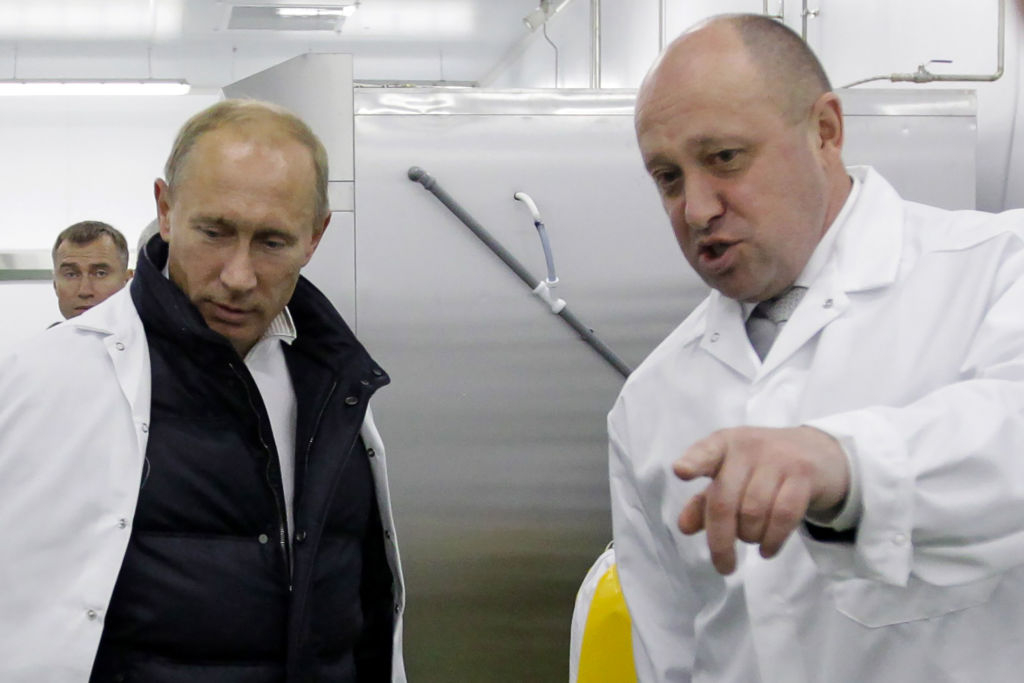 The Wagner Group is a Russian mercenary militia that offers its services "for delicate missions abroad," in exchange for access to the natural resource riches of the host nation. Wagner Group is under investigation for committing war crimes and murdering civilians, especially in Africa. Pictured: Russian President Vladimir Putin with Yevgeny Prigozhin, current leader of the Wagner Group, at a factory outside Saint Petersburg, on September 20, 2010. (Photo by Alexey Druzhinin/Sputnik/AFP via Getty Images)
Russian President Vladimir Putin's private army, the Wagner Group, is being condemned by the United Nations experts from the Human Rights Council, and independent investigators, for committing war crimes and murdering civilians. The Wagner Group is a Russian mercenary militia that offers its services "for delicate missions abroad," in exchange for access to the natural resource riches of the host nation.
While the Wagner Group has played a role in Syria and Ukraine, it is on the African continent where its domestic interference and human rights abuses have been most evident. In Mali, only a few months after the Wagner Group's arrival, they were reportedly responsible for the slaughter of 300 civilians in the town of Moura. Wagner fighters, along with Malian armed forces, are said to have gone from house to house seizing males and executing them. "They weren't trying to figure out who was a rebel and who was a civilian. They wanted to kill people," according to The Sun.
The Wagner Group was founded by Lt Col Dmitry Utkin who is a retired officer, "adorned with Nazi tattoos," from a Russian Special Operations Group. The Wagner Group's current leader, Yevgeny Prigozhin is apparently a wealthy confidant of Putin. Wagner's mercenaries are guilty of atrocities on three continents: in Syria, several countries in Africa and most recently in Ukraine. Wagner's paramilitary recruits have a record of lending assistance to mostly dictatorial regimes, which are themselves guilty of crimes against humanity. Wagner units also have an extensive "rap sheet" of common criminal activities like robberies, rapes and kidnappings. Wagner gunmen are routinely stationed at host country sovereign wealth locations like oil wells, natural gas fields, and mining enterprises. Consequently, Wagner operatives often are in a position to illegally profit from their paramilitary activities.
Hundreds of Wagner Group troops were deployed to Syria in autumn 2015 in support of Syrian dictator Bashar al-Assad's regime. UN investigators are in possession of videos showing Wagner mercenaries murdering an alleged Syrian Army deserter who was suspected by the Russian organization of being an Islamic State (ISIS) terrorist.
In Libya, Wagner fighters, acting in the role of "guns for hire," hooked up in the spring of 2019 with Tobruk-based warlord General Khalifa Haftar, who hired the Wagner Group to aid his effort to overthrow the UN-recognized Libyan government in Tripoli. The government accused Wagner operatives of war crimes, claiming that members routinely targeted civilian neighborhoods by laying landmines.
Wagner gunmen are currently helping to sustain several regimes in sub-Saharan Africa. Wagner was hired by Sudan's longtime former dictator Omar al-Bashir to suppress anti-regime protestors. Wagner's minions in Sudan were in comfortable surroundings as al-Bashir himself was guilty of crimes against humanity and genocide of his own citizens. Al-Bashir is responsible for the murder of hundreds of thousands of Sudanese from the country's Darfur region. Following the 2019 overthrow of al-Bashir by a civilian opposition coalition and a subsequent military coup in October 2021, the Wagner Group was contracted by the new junta to keep an infuriated populace in line. Wagner hirelings are being compensated for their ongoing thuggery by regime-granted concessionary access to Sudan's gold reserves.
Wagner Group criminality in Africa is facilitated by its ability to organize networks of shell companies that mask their substantial penetration of the host nations' domestic affairs.
The Wagner Group moved quickly to fill the security vacuum created by France's autumn 2021 withdrawal of its counterterrorist contingents from Mali, following the souring relationship between Bamako and Paris. Wagner paramilitaries began arriving in Mali between September and December in 2021. Shortly after the deployment of Wagner Group fighters in Mali, the number of civilian killings and human rights abuses rose markedly. A former Wagner Group veteran who fought for three years in Syria claimed on US National Public Radio in late May that Wagner had disinformation specialists who helped mask their own atrocities in Mali, blaming France for civilian murders by staging phony post-mass-casualty events.
Wagner operatives now are attempting to eliminate terrorist networks affiliated with al-Qaeda, such as the "Group of Support for Islam and Muslims."
The jury is still out on whether the Wagner Group is any more or less effective as a counterterrorist force than were French advisors in Africa in general and in Mali specifically. While in Mali, Wagner mercenaries quickly revealed their proclivity for cruelty by allegedly committing several atrocities against Malian non-combatants, including the killing of hundreds of civilians. United Nations investigators and "Human Rights Watch" claim to have precise evidence of war crimes by Wagner Group members. Another infamous incident occurred in Niono, in east central Mali, where about 30 charred bodies were discovered, bearing signs of pre-death torture.
The Wagner Group's presence in the Central African Republic (CAR) is marshalled around President Faustin Touadera's effort to maintain himself in power. Touadera emerged as CAR's leader following his group's victory in a religious civil war between Christians and Muslims. Wagner's Nazi-friendly roots were revealed once again in CAR as their members slaughtered more than ten attendees at the Al-Taqwa Mosque in Bambari.
Wagner mercenaries fared poorly in Mozambique when deployed against Islamic State-affiliated jihadists in the country's oil- and natural gas-rich region of Cabo Delgado. In two clashes with the ISIS affiliate al-Shabab, Wagner suffered seven killed in action. Reportedly, the Wagner Group, having no stomach for this fight, withdrew in failure from Mozambique. The Russians may have been surprised by the effective tactics, experience and modern weaponry of the Islamist rebels. Apparently, the Wagner Group did not remain in Mozambique long enough to commit atrocities against civilians.
Putin's private gang of killers, which was on the ground in Crimea in 2014, has been deployed in Ukraine's Donetsk and Luhansk regions for the past eight years, and now has a concentrated presence in eastern Ukraine. There is little likelihood that this mob of mercenaries will have much positive impact upon Russia's fortunes in Ukraine, as Ukrainian troops are more than a match for Wagner Group fighters. In late May, Ukrainian forces destroyed a large concentration of Wagner Group fighters, which had a demoralizing impact upon regular Russian troops in these areas.
Like everywhere else that Wagner Group mercenaries were deployed, they have much better luck murdering unarmed civilians. Two Wagner Group members from Belarus have been accused of murdering civilians near Kyiv by Ukrainian prosecutors, who have published their photos, which might aid in any eventual war-crime trials. The mass murder of hundreds of unarmed civilians in the Ukrainian town of Bucha also has been laid at the doorstep of the Wagner Group. Its members reportedly ran a prison camp in Motyzhin, near Kyiv, where hardly anyone survived the sadistic torture.
Dr. Lawrence A. Franklin was the Iran Desk Officer for Secretary of Defense Rumsfeld. He also served on active duty with the U.S. Army and as a Colonel in the Air Force Reserve.