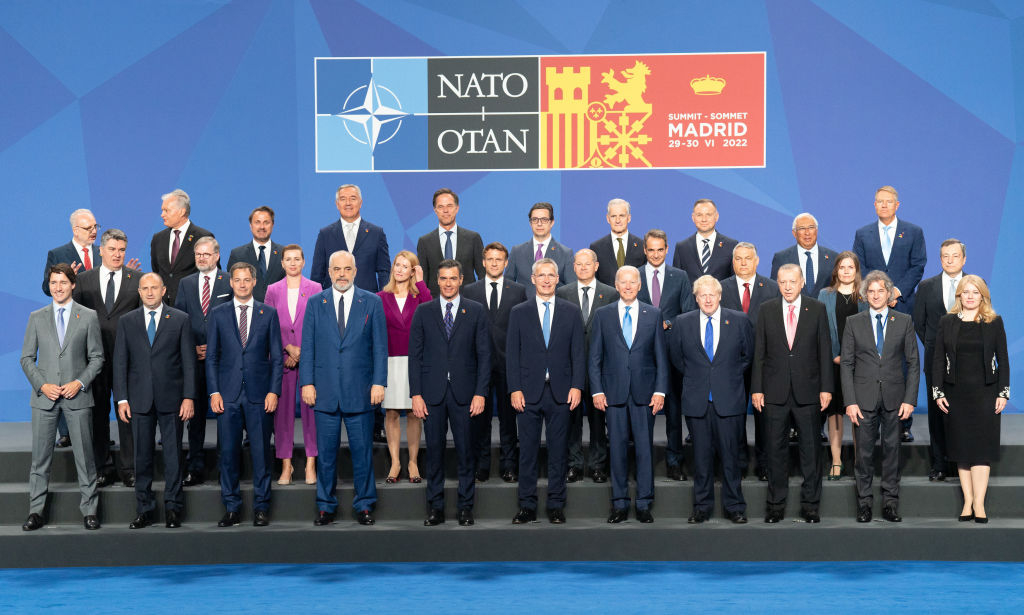 Pictured: Leaders of NATO member states pose for the "family photo" during the NATO Summit on June 29, 2022 in Madrid, Spain. (Photo by Stefan Rousseau - WPA Pool/Getty Images)
It was another happy time in Madrid, of half-baked, Kodak-moment pleasantries when the leaders of 30 NATO member states posed for the cameras with broad family smiles. They were on display for Turkey's Islamist president, Recep Tayyip Erdoğan, for having removed his veto against the accession of Sweden and Finland to NATO. How did that happen? The stick.
On June 23, Turkey's top defense procurement official, Ismail Demir, said that Turkey must be cautious when it comes to delivering more weapons to Ukraine amid the war with Russia. The statement was a clear sign that Ankara did not want to annoy Moscow with the sale to Ukraine of the Turkish-made TB-2 armed drones which, in the early days of the war, were instrumental, but later became easy targets for Russian air defenses.
Here, however, is the choreography:
On May 17, Erdoğan said that Turkey would veto Sweden and Finland's bids for NATO membership, and accused them of hosting Kurdish separatists.
On May 24, Erdoğan's ultra-nationalist coalition partner, Devlet Bahçeli, leader of the Nationalist Movement Party, announced that Turkey might consider leaving NATO if the conditions on the issue of Finland and Sweden's NATO bid do not meet Ankara's security concerns.
Then Turkey was accused of buying grain from Russia that it had stolen from Ukraine. Turkish officials said it was hard to determine the grain's origin.
Fast forward to June 25, a few days before the NATO Summit in Madrid. Erdoğan told NATO Secretary-General Jens Stoltenberg in a telephone call that Finland and Sweden had to take sincere and tangible steps over harboring Kurdish militants within their borders. Erdoğan also asked for the removal of any arms embargo by the Nordic states on Turkey.
Meanwhile, in Washington, D.C.: Lawmakers in both parties were signaling that Erdoğan should not expect them to sweeten the pot as he seeks concessions in return for dropping his objections to Sweden and Finland joining NATO, including the sale of F-16 Block 70 fighter jets to Turkey. According to Senate Foreign Relations Committee Chairman Bob Menendez (D-NJ), speaking at a June 22 hearing on NATO enlargement:
"I don't know what Turkey's trying to extract from them, but at the end of the day that's what this is about. And maybe if we get in the game, they'll want to extract from us too, which I will be vehemently opposed to. We don't need for any extraction to take place or any concessions to take place to have two great democracies join NATO."
That made sense.
Talking to Erdoğan in the language he understands best, in early June, the U.S. State Department and the European Commission expressed their support to Greece and its sovereignty over its islands of the eastern Aegean Sea, and called on Turkey to stop airspace violations and overflights, threats and provocative rhetoric.
"The [European] Commission will continue to urge Turkey to put an end to all threats and actions that undermine good neighborly relations and to respect the sovereignty of all EU Member States over their territorial waters and national airspace," the Commission concluded.
That means, in Erdoğan's language, further economic sanctions on Turkey. And further sanctions will mean Erdoğan's chances for re-election will get even slimmer amid a punishing economic crisis. How to make masses who starve forget their misery? First question to ask: Who are the masses? In Turkey, average schooling is 6½ years. This is a militaristic nation with strong conservative, Muslim, nationalistic sentiments. The nativist-populist base is the largest at the ballot box.
Erdoğan controls 90% of the media in Turkey. That is a big asset in politics. What mattered for Erdoğan from the beginning of the Nordic-NATO drama was to get an opportunity to present his carpet trading as a huge Turkish/Islamist victory over the "Western infidels." His plan worked well. And the praise he wanted came in flying colors.
U.S. President Joe Biden thanked Erdoğan for dropping opposition to the entry of Finland and Sweden into NATO, with his administration also signalling support for Turkey's plan to buy F-16 Block 70 warplanes. "I want to particularly thank you for what you did putting together the situation with regard to Finland and Sweden," Biden told Erdoğan at a meeting on the sidelines of the NATO summit in Madrid.
A senior U.S. official expressed strong backing for Turkey's wish to upgrade its air force with new F-16 fighter planes and improvements to its existing older fleet. "The US Department of Defense fully supports Turkey's modernization plans," Celeste Wallander, assistant secretary of defense for international security affairs, told reporters.
Erdoğan's domestic audience has always been his priority. His plan worked there as well. Pro-government Turkish media lauded the deal as a triumph for Erdoğan; they said he had wrested concrete gains from the West in the country's fight against terrorism. "Turkey got what it wanted," was the headline of mass-circulation daily Hürriyet.
"President Erdoğan's Madrid Victory," said a Sabah newspaper headline, above a photo of him standing next to NATO Secretary-General Jens Stoltenberg at the center of a group photograph after the accord was signed. "Erdoğan's decisiveness and leadership vision won acceptance for all of Turkey's arguments in the fight against terrorism," the paper said.
"Two strongholds of terrorism fall in Europe," said the Yeni Akit newspaper. "Sweden and Finland accepted Turkey's demands". "Turkey got what it wanted at the table," said the newspaper Milliyet, adding that Kurdish militant suspects would be extradited to Turkey.
So, the whole choreography, from the beginning, was aimed at a domestic audience who would feel triumphant from Erdoğan's victory over the infidels. Kemal Kirişçi, a nonresident fellow at the Brookings Institution, wrote:
"Erdoğan's [initial] intransigence is widely attributed to domestic political considerations, including a desperate need to divert attention from the dire state of Turkey's economy as well as boosting his sagging poll ratings by playing to rampant nationalist and anti-Western feelings. As plausible as these explanations are, underlying them is also Erdoğan's own discomfort with Turkey's longstanding Western vocation [political journey into Western civilisation], symbolized by its membership in NATO as well as in the Council of Europe. He is instrumentalizing the issue of Sweden and Finland's membership to weaken this vocation, if not break it, to eliminate remaining institutional checks on his one-man rule."
The "Nordics in NATO" issue is not entirely over. Full accession will require approval from all 30 NATO parliaments. This, and other future issues, will always give Erdoğan new leverage to blackmail the West's strongest institution.
Burak Bekdil, one of Turkey's leading journalists, was recently fired from the country's most noted newspaper after 29 years, for writing in Gatestone what is taking place in Turkey. He is a Fellow at the Middle East Forum.