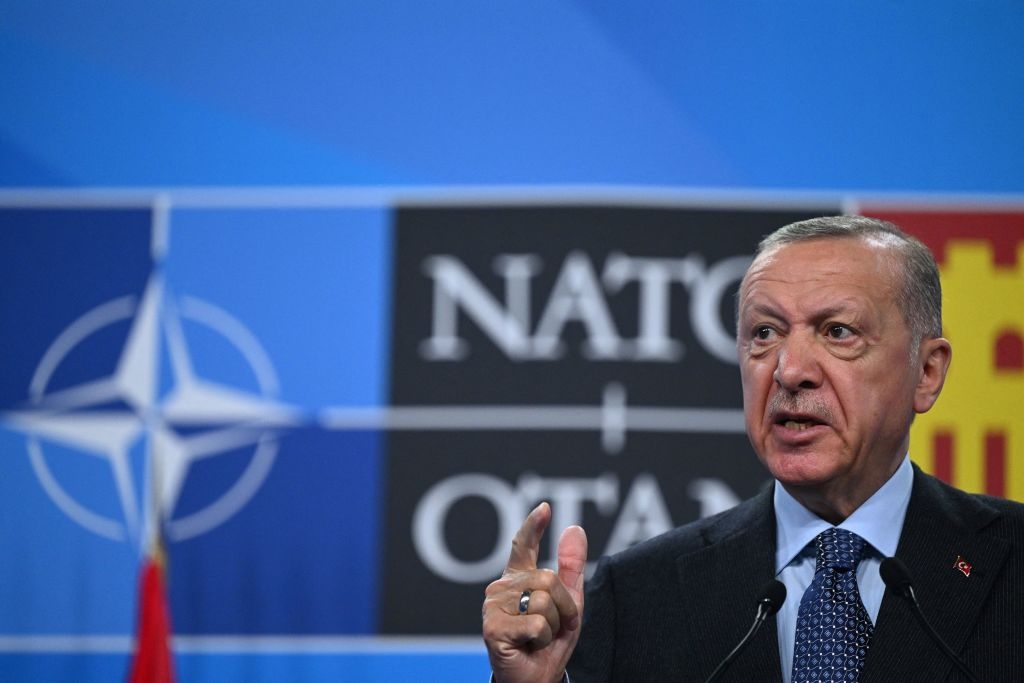 Even as Turkey's government accuses Sweden and Finland of "supporting terrorists," and objects to the countries' NATO membership applications, convicted Hizbullah terrorists have been released from Turkish prisons. President Recep Tayyip Erdoğan releases the terrorists from prison and in return Hizbullah supporters vote for him. The Erdoğan regime enables Hizbullah just as it enables ISIS and other Islamist groups in Syria. Pictured: Erdoğan addresses the media at the NATO summit in Madrid, on June 30, 2022. (Photo by Gabriel Bouys/AFP via Getty Images)
Turkey's President Recep Tayyip Erdoğan has once again objected to the demands for NATO membership of Sweden and Finland, saying that Turkey "will not take a positive stance" unless the two countries respect their promises regarding the "fight against terrorism."
"We maintain a firm position on Finland and Sweden. NATO membership of these two countries will not be approved until the promises made to our country are fulfilled," Erdoğan said on August 8, according to the Bianet News Agency.
Sweden and Finland formally applied to join NATO in June; it was a decision spurred by Russia's invasion of Ukraine. The Turkish government, however, has objected to the membership requests. Turkey has accused the two countries of "tolerating and providing shelter to terrorists."
The "terrorists" the Turkish government is referring to are the anti-ISIS, secular Kurdish forces in Syria, as well as the actual or supposed supporters of Fethullah Gülen, a Pennsylvania-based Muslim cleric who was for decades Erdoğan's ally but whom Turkey now claims organized a 2016 coup attempt. The Turkish government now calls the Gülen community, its own former ally, the "Fetullahist Terrorist Organization" (FETÖ).
A trilateral agreement signed between Turkey, Sweden and Finland in June stipulates that Finland and Sweden will not "provide support" for any of these groups.
Erdoğan also alluded at a cross-border military incursion against the Kurdish-controlled areas in northern Syria.
"We will continue our fight against terrorism. Our decision to establish a 30-kilometer secure line along our southern border is permanent," Erdoğan said. "I hope we will soon complete this security zone by clearing the last areas where the terrorist organization is still in Syria." The "terrorist organization" Erdoğan targets is the Kurdish People's Defense Units (YPG) that fought against ISIS in Syria and that is a US ally.
Since 2016, Turkey has carried out four major military campaigns in Syria, two of them — the 2018 "Operation Olive Branch" and the 2019 "Operation Peace Spring" — being against Kurdish-controlled areas. The military invasions have forcibly changed the demographic balance of the regions, driving out Kurds, Yazidis and Christians from their lands.
For more than two months, Erdoğan has been saying that a new military offensive is imminent. If he does invade Syria, the group that will benefit is ISIS.
Meanwhile, as Turkey's government accuses Sweden and Finland of "supporting terrorists," convicted Hizbullah terrorists have been released from Turkish prisons. Erdoğan releases the terrorists from prison and in return Hizbullah supporters vote for him. The Erdoğan regime enables Hizbullah just as it enables ISIS and other Islamist groups in Syria.
Since April, the Turkish newspaper Sozcu has been reporting on Hizbullah terrorists who had been imprisoned but then released from prison by Turkish courts.
Turkish Hizbullah is a terrorist organization established in 1978. It has engaged in murder and torture, particularly targeting secular Kurds in southeastern Turkey in the 1990s. Many of Hizbullah's members in Turkey are Kurdish Islamists. Erdoğan is not targeting those Kurds. He like, ISIS, would like an Islamic state; ethnicity is not a factor, just as it is not a factor for anyone who converts to Islam. The Erdoğan regime is targeting secular Kurds who oppose its tyranny and request equal national rights.
Hizbullah's leaders were heavily influenced by Iran's 1979 Islamic revolution and reportedly received training in Iran. Turkish Hizbullah's main effort is to establish an independent Islamic state under strict sharia law in southeastern Turkey.
According to a 2000 report in the Turkish Daily News:
"... the Hizbullah terrorists recently apprehended by the police admitted in their testimonies that they have received military training and all required support in Iran and detailed the names and the descriptions of the Iranian guards who acted on behalf of the Iranian government."
On April 16, Sozcu reported that Hizbullah terrorists Cihan Yıldız and Mehmet Ali Geçer were released from prison before local elections in 2019. They had been given aggravated life sentences for the murder of nine people, including a Kurdish member of parliament, Mehmet Sincar.
On May 6, Sozcu once again reported that 19 more Hizbullah terrorists were released in 2019. They had been sentenced to aggravated life imprisonment for the murder of 91 people in 129 attacks on behalf of Hizbullah.
On May 16, Sozcu reported that "not a single prisoner remains in jail in the main Hizbullah case!"
"Eighteen Hizbullah terrorists had been convicted for the murder of 165 citizens and the wounding of 85 and sentenced to aggravated life imprisonment. But some were released in 2011 after Article 102 of the CMK [Code of Criminal Procedure], which restricts long detention periods, came into effect. The rest of Hizbullah convicts were released before the local elections of March 1, 2019."
Cemal Tutar, the head of the military wing of Turkish Hizbullah, who killed 109 people by pulling the trigger himself, was among those released.
"I took part in every level of Hizbullah," he said in his last defense at court.
"Allah has given us the task to make Islam dominant on earth. I don't regret anything. We have become a bomb ready to explode in prison. Our patience has run out. We can turn the [prison] into a bloodbath."
Kemal Gülşen, one of the released terrorists, told the court:
"I did all these actions for Allah, for Islam. If I go out right now, I'll do it again without blinking an eye. In fact, I have done other actions that were not stated in the indictment and that the prosecutor could not solve. Our war is for salat [the five daily Islamic prayers]. I do not expect justice from you. The decision of this court is political."
Mahmut Demir, who was released after four dead bodies were found under his house, said in the courtroom:
"I took it as my duty to pledge allegiance to Hizbullah. I joined the organization with great love. I took an oath of allegiance to the community for the dominance of the Qur'an in the whole world. Death is martyrdom for us. We pray five times a day for martyrdom to be granted to us. With Allah's help, Hizbullah will be victorious. Hizbullah is a school of love."
Deutsche Welle reported in 2019 that more than a hundred Turkish Hizbullah convicts sentenced to life in prison had already been released. In January, 2011, for instance, Hizbullah's top executives Edip Gümüş, Cemal Tutar and Hacı Inan, were freed. Gümüş escaped to Iran and assumed the leadership of Turkish Hizbullah worldwide.
A legal Islamist party, Hüda-Par, with ties with Turkish Hizbullah, has been in strategic cooperation with Turkey's AKP government since the November 1, 2015 elections, according to Dr Mehmet Kurt, author of the book Hizbullah in Turkey: Religion, Violence and Belonging.
According to Kurt, the Hizbullah base, who openly supported the government after the July 15, 2016 attempted coup, took to the streets in the southeastern provinces during protests that the government named the "democracy rallies" [after the coup attempt], Hüda-Par, Kurt reported, and encouraged its supporters to vote for the AKP, thereby turning Hizbullah "into a strategic partner of the government through Hüda-Par in the 2010s."
Hizbullah-linked media outlets, Kurt noted, gave conditional support to the AKP's constitutional amendment referendum in 2017: "Those conditions included the release of Hizbullah members from prisons."
The Turkish government -- not exactly known for its support of freedom, human rights or individuals and organizations that advocate equal rights for minorities in the region -- is a political ally of the Hizbullah terrorist organization. The Turkish regime should be asked why it is accusing Sweden and Finland of "supporting terrorism" when it, itself, supports it.
Uzay Bulut, a Turkish journalist, is a Distinguished Senior Fellow at the Gatestone Institute.