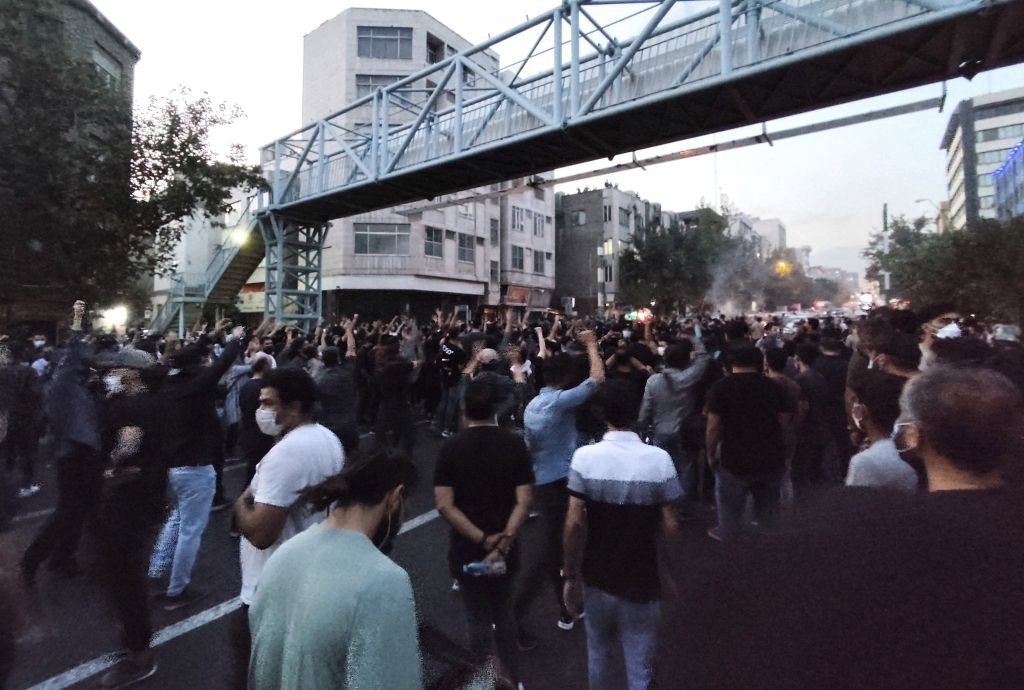 If US President Joe Biden really is "gravely concerned" about the plight of Iranian schoolgirls being attacked and killed by Iran's authoritarian regime, then the best way to help them would be to abandon his ill-considered attempt to broker a new nuclear deal with Tehran.
In a rare public comment on the latest wave of anti-government protests against Iran's despotic rulers, Biden conceded:
"I remain gravely concerned about reports of the intensifying violent crackdown on peaceful protesters in Iran, including students and women, who are demanding their equal rights and basic human dignity."
The comments are meant to demonstrate that Mr Biden is taking the protests seriously, in contrast to the Obama administration's indifference to the Green Movement in 2009, when Washington kept its distance as the Iranian regime crushed the most serious challenge to its authority since the 1979 Islamic revolution.
The White House has even said it is prepared to impose sanctions against Iranian officials responsible for crushing the protests, which began more than three weeks ago following the death of a young Kurdish woman who had been detained by the country's morality police for not wearing her hijab properly.
Since then, nationwide protests have broken out against the country's ruling conservative establishment, with schoolgirls burning their hijabs in a rare act of defiance. Hackers even managed to interrupt a bulletin on Iranian state television to display a picture of the country's Supreme Leader Ayatollah Ali Khamenei with the message "the blood of our youths is on your hands."
The death toll is now said to have passed the 200 mark, with many of the fatalities reported to be children as young as 11 years old.
Consequently, Mr Biden's response is being seen as little more than a token gesture, an approach that has not been lost on the brave young men and women confronting Iran's brutal security forces on an almost daily basis.
As Hadi Ghaemi, the executive director of the New York-based Center for Human Rights in Iran, recently remarked, "The entire [Biden] administration's Iran policy has been just about the nuclear negotiations, and I think now they're caught a little bit flat-footed."
That is putting it politely. The Biden administration's wanton appeasement of Tehran is turning into a global embarrassment for Washington as the ayatollahs, buoyed by the knowledge that Washington has no interest in confronting their malign activities, are intensifying their efforts to consolidate their power and expand their influence.
Rather than holding the Iranian regime to account for its atrocious conduct, Mr Biden's priority remains to secure another flawed nuclear deal with Tehran, one that would result in enabling Iran to have nuclear weapons with no prohibition on the missiles to deliver them, as well as the lifting of punitive economic sanctions and up to a trillion dollars in additional revenues for them to "export the revolution."
If, as now seems increasingly likely, the White House commits to a new nuclear deal once next month's midterm elections are out of the way, the US Congress will be in Christmas recess and therefore unable to block it.
Iran's Islamic Revolutionary Guard Corps (IRGC), designated by the US as a Foreign Terrorist Organization, together with all the other instruments of state-sponsored oppression in Iran, would receive extra funding dollars once the sanctions are lifted that will enable them to further develop their hostile activities.
Iran has already destroyed four Arab countries in addition to its own: Lebanon, Yemen, Syria and Iraq.
Washington's reluctance to involve itself in the latest wave of Iran's anti-government protests, moreover, has meant the Iranian security forces have shown little restraint in tackling the protests, which erupted after the death of Mahsa Amini, a 22-year-old woman who died after being detained by Iran's morality police for wearing her hijab incorrectly. Her offence was to display too much hair. While the authorities insist she died of a heart attack, eyewitnesses detained at the same time as Amini said she died after being severely beaten.
At least 23 children have been killed in the crackdown and, in one of the more gruesome incidents, the Iranian authorities have been accused of stealing the body of a dead teenager and burying her about 30 miles away from the family home.
Nor is it just within Iran that Mr Biden's dangerous policy of prevarication is encouraging Tehran to adopt a more aggressive stance.
Iranian-made Shahed-136 drones have featured prominently in the latest Russian assault on major Ukrainian cities. This follows a recent arms deal between Moscow and Tehran that resulted in Russia acquiring 2,400 Iranian drones to aid its war effort in Ukraine, a move France claims is a clear violation of the original nuclear deal Iran signed with the world's major powers in 2015.
The Biden administration's intransigence on the Iran issue also helps to explain the recent decision by Saudi Arabia to reach an agreement to reduce oil production in an attempt to maintain high oil prices, thereby adding to the inflationary pressures currently being experienced by the world's major economies. The Saudi move is deeply embarrassing for Mr Biden, who flew to the kingdom in the summer to lobby Saudi Arabia's all-powerful Crown Prince Mohammed bin Salman to increase oil production.
The Saudis remain frustrated by Mr Biden's obsession with trying to revive the Iran nuclear deal, which to the kingdom is a mortal threat, with the result that they are now pursuing an oil policy that is completely contrary to Washington's economic interests. How could Biden have expected them to help him?
Biden seems to be threatening "consequences" for the Saudis because they are trying to prevent Iran from annihilating them?
Iran is also supplying Russia with hundreds of "kamikaze" drones and lethal missiles which Russia is using to target civilians and destroy Ukraine -- all while Biden has been relying on Russia to negotiate the Iran nuclear deal on America's behalf: US negotiators are not even allowed in the room.
Consequently, rather than making the world a safer place, Mr Biden's pro-Iran stance is merely fanning the flames of even greater global instability.
Con Coughlin is the Telegraph's Defence and Foreign Affairs Editor and a Shillman Journalism Fellow at Gatestone Institute.