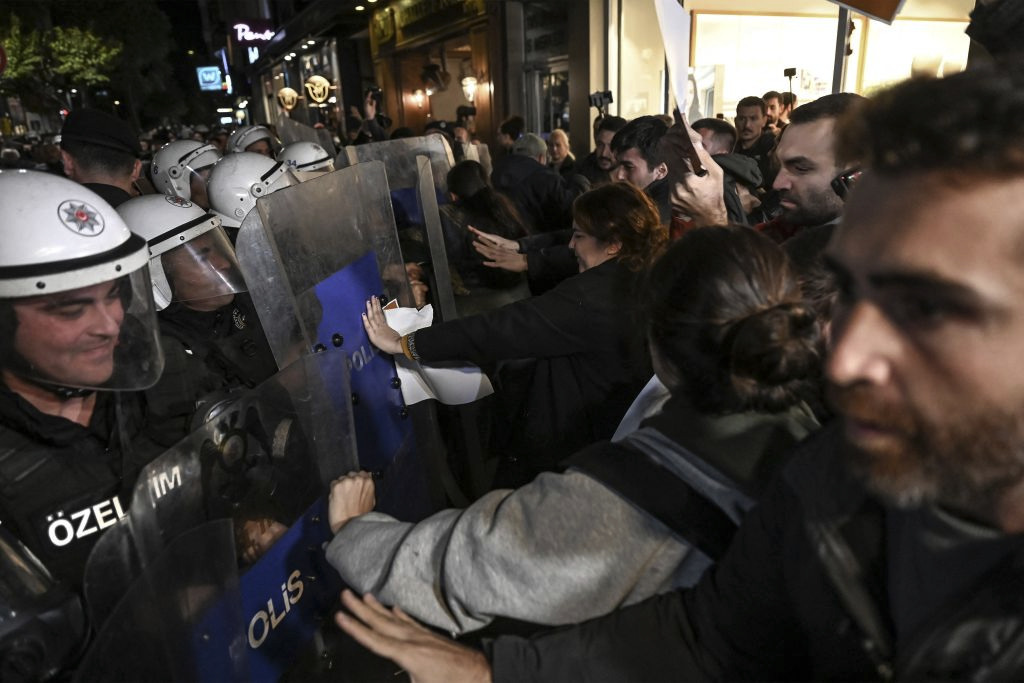 While the government of Turkey continues to crush the basic human rights and freedoms of its citizens, its officials are making statements completely detached from facts. On October 17, for instance, the head of Parliament's Foreign Affairs Committee Çağatay Kılıç said that "racism and discrimination against religious identities in Europe have reached a peak."
"A human being is an entity with thoughts, feelings, beliefs and social networks," he added. "If a person is not allowed to live with these characteristics, this person's fundamental rights and freedoms are taken away from them."
It is actually Turkey that is silencing and even the destroying "thoughts, feelings, beliefs and social networks'" of those who disagree with the government, or who belong to a religion or ethnic group not considered sufficiently "Turkish." Torture and abuse of citizens is also systematic and commonplace. Dr. Sebnem Korur Fincanci, the head of the Human Rights Foundation of Turkey (HRFT), was arrested for her statements about the country's alleged use of chemical weapons. The foundation issues daily reports about the human rights violations in the country, such as torture and ill-treatment. The reports are based on media disclosures as well as testimonies of individuals who seek help from the organization after being exposed to torture, mistreatment, or other human rights violations.
One community that is often targeted by the government is the Alevis, a historically oppressed religious minority. Turkey's Alevi population is estimated to be in the tens of millions. Although Alevism is an authentic faith with its own traditions and philosophy, the Turkish government counts them as Muslim, in order to forcibly assimilate them and erase the Alevi culture.
Since the founding of Turkey in 1923, the Alevi faith and its places of worship, "cem houses," have been officially unrecognized, which makes the Alevi community a victim of discrimination and aggression. On July 30, for instance, two Alevi places of worship and an Alevi foundation were physically attacked in Ankara.
Alevis top the list of victims of hate crimes in the 2021 report of "Hate Crimes in Turkey Based on Religion, Belief or Unbelief" by the Freedom of Belief Initiative of the Norwegian Helsinki Committee. The report cites a number of incidents of hate crimes, such as:
An Alevi family living in Istanbul said that their neighbors attacked and beat them, shouting hateful slogans such as "May Allah burn those who are disturbed by the sound of the adhan [Islamic call to prayer]".
A Muslim teacher in Ankara insulted Alevis, including his own Alevi students and their parents, because of their religious identity.
An Alevi sought help from the police after experiencing insults by an imam in the city of Amasya.
An Alevi family living in Izmir said that they were exposed to insults, verbal abuse, and threats from their neighbors.
A middle school teacher in the city of Hatay was subjected to systematic pressure, harassment, and coercion at the hands of the school principal for being an Alevi.
The harassment against Alevis has reached such levels Federation of Alevi Unions in Germany is suing President Recep Tayyip Erdogan in court, announcing that they were filing suit against him in Ankara for "discriminating against and humiliating" them.
The case concerns a speech Erdogan made in the city of Siirt on December 5, 2021, where he said:
"A new religion is almost being put forward as Alevism without Ali, especially in Germany. And they [Germany] give them serious financial support. There was 30 million Euros of annual financial support for them two years ago."
On October 19, the court in Ankara ruled that the case be dismissed.
Discrimination against Alevis also occurs in prisons. Ergin Doğru, former provincial co-chairman of the Dersim branch of the pro-Kurdish DBP party and co-founder of the Dersim newspaper, has been incarcerated since 2016 for allegedly "making propaganda for a terrorist organization." He has repeatedly requested for the past two years to meet with an Alevi faith leader, also called a Dede or Pir, but his requests were rejected by the prison authorities.
Kurds in Turkey are not only exposed to racism and discrimination; they are murdered simply for being Kurdish. On June 17, 2021, Deniz Poyraz, a 38-year-old member of the Peoples' Democratic Party (HDP), was killed in the party's provincial office in the city of Izmir. The office was under police surveillance. The murderer, who was arrested by police, was identified as Onur Gencer. He is a supporter of Turkey's fascist "Grey Wolf" movement. His trial is still in process.
Garibe Gezer, a female Kurdish political prisoner who was imprisoned in solitary confinement in Turkey, was killed in December 2021 after months of rape and torture. Turkish prosecutors recently dismissed the case about Gezer's torture and death because of a claimed "lack of evidence". But the Jin News Agency accessed footage showing the torture Gezer was subjected to.
At the same time, those who call for an investigation on Turkey's alleged use of chemical weapons against members of the Kurdistan Worker's Party (PKK) in Iraqi Kurdistan — journalists, lawyers, medical doctors, and members of parliament — have been detained by police and criminally investigated. On November 4, lawyer Aryen Turan was detained and released on condition of judicial control, with a ban on leaving the country, after she called for an investigation about Turkey's alleged use of chemical weapons.
On November 6, Kurds and other activists in Istanbul attempted to protest against the Turkish army's alleged use of chemical weapons. Police attacked the crowd, detaining 121 people.
On November 7, prosecutors prepared a summary of proceedings against a member of parliament from the main opposition Republican People's Party (CHP), Sezgin Tanrıkulu, after his statements concerning Turkey's alleged use of chemical weapons. The MP had said he would file a parliamentary question about the allegations that Turkey had used chemical weapons against the PKK.
Erdogan's government is also violently targeting the actual and supposed supporters of Fethullah Gülen, a Turkish Muslim preacher who fled to the US in 1999, and who the government claims was behind a 2016 coup attempt. For alleged connections with the Gülen movement, tens of thousands of people have been dismissed from their jobs, imprisoned, and tortured in prison or while in police custody.
The number of those seeking help from the Human Rights Foundation of Turkey has reached a 30-year peak. According to the "2021 Treatment and Rehabilitation Centers Report" published by the HRFT, 984 people went to the foundation because they or one of their relatives were tortured or ill-treated. Of them, 616 said that they were tortured in 2021, and 211 stated that they were tortured between 2016 and 2020. According to the report, they were tortured either during police detention, in the streets, during public demonstrations, or in police headquarters.
For Turkish government officials to accuse Europe of racism, discrimination or Islamophobia, while Turkish authorities victimize hundreds of thousands of their own citizens, is beyond hypocritical. It is not in Europe that Turks, Kurds and other Muslims are exposed to torture, rights abuses and other illegal acts. It is the government of Turkey that is violating and abusing their own citizens for either thinking differently or belonging to an ethnic or religious group of which the government is not fond.
Uzay Bulut, a Turkish journalist, is a Distinguished Senior Fellow at the Gatestone Institute.