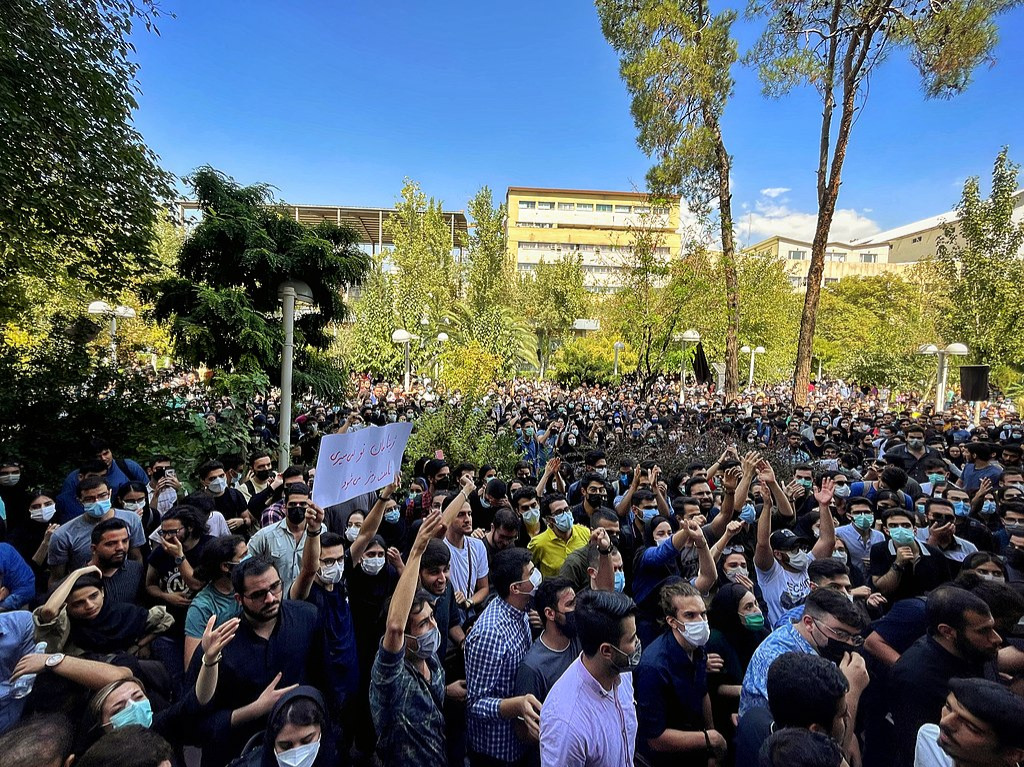 When millions of citizens poured into the streets of Iran in June 2009 to protest against the country's regime, the Obama administration was silent as many people in Iran cried out, "Are you with us, or are you with them [the ruling mullahs]?" Now, the Biden administration appears to be repeating Obama administration's policy of choosing to be silent in the face of the Iranian regime's bloodshed, human rights violations, and crackdowns that kill and wound peaceful protesters -- and has the same policy regarding brave Chinese protestors as well.
More than 2,000 academics from universities across the United States, including 10 Nobel laureates, signed a letter to President Joe Biden calling for "urgent attention to a dire situation in Iranian universities," and taking "further tangible actions." These include ending diplomacy, ending nuclear talks, and continuing punitive sanctions "until all violators of human rights in Iran are held accountable."
Among the human rights violations committed by the Iranian authorities is targeting children and unarmed university students who voice their opposition to the theocratic establishment.
Many Iranians have started calling the government the "child-killing regime" and calling Supreme Leader Ayatollah Ali Khamenei the "Child-Killing Khamenei". So far, 35 children killed by the regime's security forces, have been identified. They include a two-year-old boy in Zahedan, Kian Pirfalak, a 10-year-old boy, and two teenage girls, Nika Shakamari and Sarina Esmailzadeh, who were reportedly beaten to death for protesting.
Human Rights Activists in Iran (HRA) have reported that 46 boys and 12 girls under 18 have so far been killed. Amnesty International posted in tweet:
"As the world's attention is turned to the #ENGIRN; game, let's remember the faces of children killed by Iran's security forces during the popular uprising Since September. Let's use #WorldCup2022 to amplify the voices from Iran calling for a better future."
Iran's security forces are resorting to rape and sexual assaults to quell protesters, particularly women. As the slogan "Women, Life, Freedom" continues to reverberate across the nation, female detainees have reported rape and sexual assaults while in the custody of the security forces. Several healthcare workers have leaked information about this abuse. One hospital staff member wrote in a message to CNN about a female detainee:
"When she first came in, (the officers) said she was hemorrhaging from her rectum... due to repeated rape. The plainclothes men insisted that the doctor write it as rape prior to arrest... After the truth became obvious to all, they changed the whole script... To make it short, they screwed up... They screwed up and they don't know how to put it together again."
The regime is increasing arrests, as nearly 14,000 people, including children, have so far been detained. It is worth noting that 227 lawmakers from Iran's 290-seat parliament voted to impose the death penalty against the protesters. "We ask the judiciary to deal decisively with the perpetrators of these crimes," the lawmakers wrote in a statement, "and with all those who assisted in the crimes and provoked rioters". The regime has already handed down death sentences to protesters.
The Biden administration is undoubtedly aware that this is a regime known for committing the 1988 massacre, in which it secretly carried out the mass execution of thousands of imprisoned dissidents and opposition activists, dumping the victims' bodies in unmarked mass graves. Ultimately, an estimated 30,000 people were killed in that slaughter. The human rights group Amnesty International released a comprehensive 200-page report on it. The victims, according to the report, "were mostly young men and women, some just teenagers, unjustly imprisoned because of their political opinions and non-violent political activities."
Will the Biden administration ever stop appeasing the regime of Iran, called by the US Department of State "the world's worst state sponsor of terrorism"?
Will the Biden administration ever start standing with Iranian -- and Chinese, Brazilian and Venezuelan -- men and women asking only for what we purport to care about -- liberty and freedom -- but who suffer brutality and suppression from their own governments?
Dr. Majid Rafizadeh is a business strategist and advisor, Harvard-educated scholar, political scientist, board member of Harvard International Review, and president of the International American Council on the Middle East. He has authored several books on Islam and US Foreign Policy. He can be reached at Dr.Rafizadeh@Post.Harvard.Edu