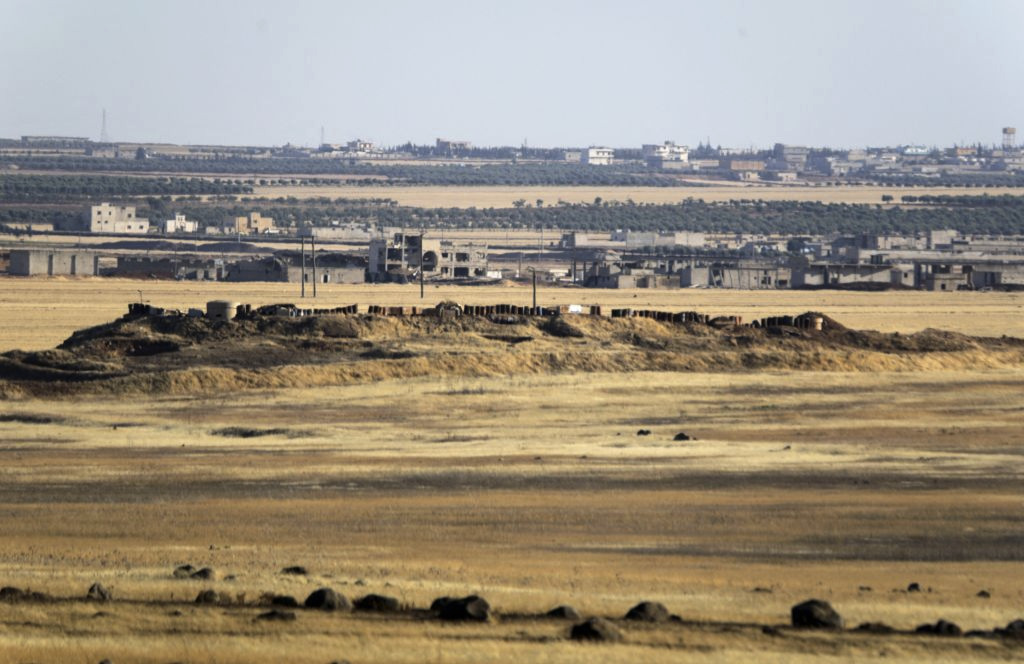 The northernmost region of Syria, which has a 910-kilometer border with Turkey, offers one of the world's most complex war theaters. That is so not only because of the countless number of state and non-state actors operating in this third-world land with limited hydrocarbons, but also because of shifting alliances, conflicts with conventional and asymmetrical warfare tactics, and the surreal bedfellows that these factors often create.
The actors include countless radical jihadist groups and their 3.5 million civilian supporters; not-as-radical jihadist groups supported by Turkey, as well as Turkish, American, Russian and Syrian forces, and of course Iran's Islamic Revolutionary Guards Corps.
Peace in this area often means just a short interval between outbreaks of war. Recently, violence was more or less in the background until a bomb exploded -- not in northern Syria, but some 1,300 km away.
On November 14, a blast near Istanbul's busy Taksim Square killed six people and wounded 81. Turkish police quickly arrested Ahlam Albashir, who had allegedly placed a bomb there. The investigation later led to the arrest of 47 more suspects.
Albashir is a young Syrian woman with links to the Kurdistan Workers' Party (PKK), a Kurdish separatist group designated as terrorists by Turkey, the U.S. and the European Union. According to the indictment, Albashir is an Arab who had been recruited by a Syrian Kurd. No organization claimed responsibility, and the PKK denied any involvement in the attack.
To further complicate matters, Turkey's security services claim that Albashir is a member of the People's Protection Units (YPG), the PKK's Syrian affiliate, which is a U.S. ally and happens to be fighting in Syria against the jihadists of the Islamic State. In short, the PKK is on the U.S. list of terror groups, while its Syrian branch is an American ally.
Once again, the attack heightened Turks' nationalistic feelings and united them behind Turkey's Islamist strongman, President Recep Tayyip Erdogan, shortly before he launches his campaign for the June 2023 presidential elections.
Six days after the Istanbul bombing, Turkey sent F-16 jets to hit PKK/YPG/Kurdish targets in northern Syria and Iraq.
Turkey warned Washington of the operation two days before it took place: Ankara did not want to harm any U.S. military assets in the area. According to the Syrian Observatory for Human Rights, the air strikes killed 31 people.
In retaliation, Kurdish groups fired rockets into a Turkish border town, killing three people, including a child and a teacher, after one of the five rockets hit a school building. Rockets fired from Syria also wounded six policemen and two soldiers at a border crossing.
Since the violence resumed, Erdogan has threatened to launch a full-scale military incursion into Syria's Kurdish areas — which would be the fourth such major Turkish incursion since 2016.
Erdogan most likely calculates that fresh epic tales of military heroism would further consolidate his nationalistic voting base, especially at a time when most Turks are struggling to survive after their incomes have severely eroded under a year-on-year inflation rate of 84%.
A Turkish military incursion would be a fight in a land that already looks like hell.
In a speech on December 12, UN Secretary-General Antonio Guterres said that an estimated 15.3 million Syrians (out of a population of 22.1 million) will require humanitarian assistance in 2023, compared to 14.6 million people in 2022. That number represents the highest number of people in need since the start of the conflict in Syria in 2011.
Data on humanitarian needs in Syria, collected by the UN and its partners from over 34,000 Syrian households in July and August, found that 85% of households were completely unable, or insufficiently able, to meet their basic needs -- an increase of 75% since 2021, according to the report.
The report also cited a 48% increase for 2022 in severe acute malnutrition among children aged 6 months to 5 years, compared to 2021. At least 25% of children under the age of five in some districts are stunted and at risk of irreversible damage to their physical and cognitive development as well as "repeated infection, developmental delay, disabilities and death."
In the predominantly Kurdish northeast Syria, the number of malnourished children has surged by over 150% just in the past six months.
What to do? In a December 7 speech, Russian Foreign Minister Sergei Lavrov unsurprisingly put the blame on the U.S.:
"Turkey is worried that the Americans are cultivating Kurdish separatism there. This also concerns other countries with Kurdish minorities, because it is an extremely explosive issue."
Lavrov did not mention that the PKK, on the U.S. list of terror groups, is a legal entity in Russia. So, Moscow is no help.
Washington also does not have a silver-bullet cure. James Jeffrey, Chair of the Middle East program at the Wilson Center and former U.S. ambassador to Ankara, wrote:
"Washington fears that a new Turkish incursion into Syria—especially one in the northeast, near where U.S. forces and the SDF are operating against the Islamic State—could undercut the fight against that terrorist group and, in particular, the critical role the SDF plays in guarding thousands of Islamic State prisoners and family members and thus is urging Turkey in ever stronger terms not to launch an operation. The Turks do not appear to be heeding Washington's call, in part because they heard the same tune before their 2018 incursion against the SDF in Afrin, Syria, and didn't suffer any long-term consequences for ignoring it that time."
Jeffrey apparently thinks that Washington owes Ankara and U.S. citizens an answer to the question: "How does this all end?" No one knows, but further violence will not make an already miserable life better for any Syrian.
The only advantage of a Turkish military incursion might be for Erdogan, who may well be using a war in Syria to distract potential voters from the wretched economy he gave them.
Burak Bekdil, one of Turkey's leading journalists, was recently fired from the country's most noted newspaper after 29 years, for writing in Gatestone what is taking place in Turkey. He is a Fellow at the Middle East Forum.