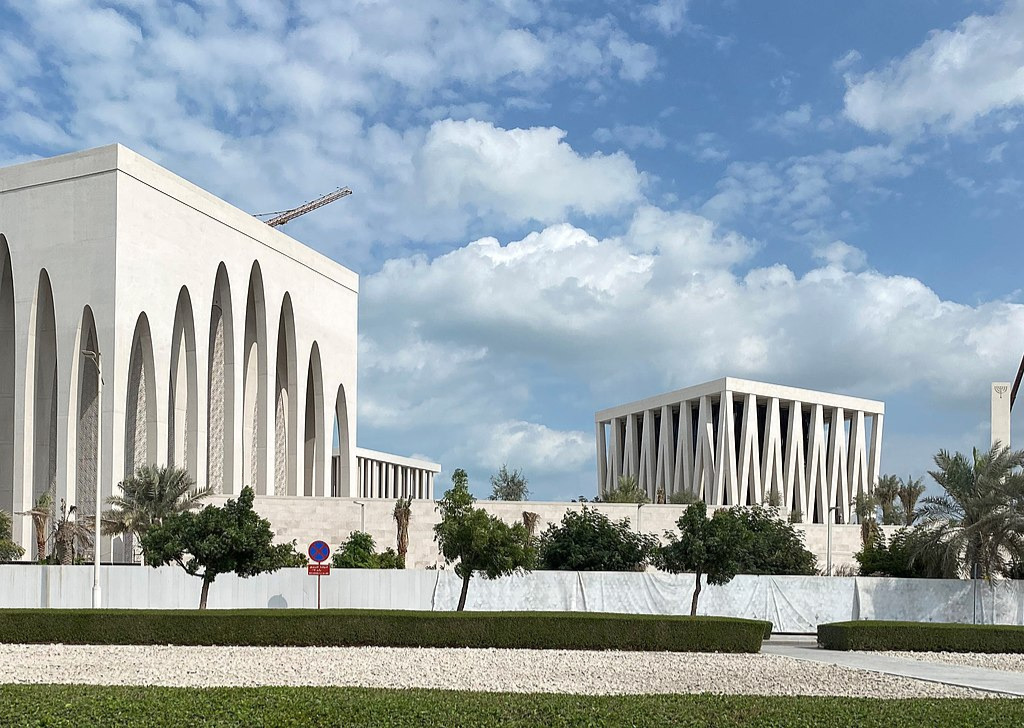 The United Arab Emirates (UAE) are inaugurating a new, unique multicultural center to promote peace.
The UAE are known for their commitment to advancing peace in the world. It was in this spirit that the country signed the Abraham Accords with Israel in 2020, under the auspices of the United States. These agreements were also signed with the Jewish state by Bahrain and Morocco as well as, recently, Sudan.
As a tool for peace, these agreements would have generated "$2.85 billion in trade in 2022 while making a significant contribution to regional security and stability." This was stated by Israeli Foreign Minister Eli Cohen, in one of his first appearances since being appointed top diplomat in Benjamin Netanyahu's government.
Beyond the economic gains, UAE President Mohammed bin Zayed Al Nahyan has multiplied these achievements to consolidate the constructive spirit of peace, of which his country is one of the world's leading promoters.
It is in this same spirit that the Abrahamic Family House was officially inaugurated in Abu Dhabi on February 16, as an exemplary place to promote the culture of mutual understanding, living together and fraternal coexistence among religions.
It is a center for learning, dialogue and practicing one's faith. It includes a mosque, named for Eminence Ahmed El-Tayeb, a church bearing the name of His Holiness Pope Francis, and a synagogue carrying the name of Moses Ben Maimon (Maimonides). These three places of worship are cubic in shape (30 meters deep, 90 feet wide and 90 feet high) and share the same stature and exterior dimensions. They were designed by the prominent Ghanaian-British architect, Sir David Adjaye, in strict accordance with the architectural codes and particularities of each religion.
Adjacent communal spaces were built to provide a place for meetings and dialogue in the service of mutual understanding.
Located in the Saadiyat cultural district of Abu Dhabi, the Abrahamic Family House opened to the public on March 1. The official inauguration ceremony was attended by Lieutenant General Sheikh Saif bin Zayed Al Nahyan, who serves as Deputy Prime Minister and Minister of Interior; and Sheikh Nahyan bin Mubarak Al Nahyan, Minister of Tolerance and Coexistence.
Designed on the site of the signing of "Document on Human Fraternity for World Peace and Living Together" by Pope Francis and Grand Imam Dr. Ahmed El-Tayyeb in Abu Dhabi in 2019, this new and unique achievement is in keeping with the spirit of interfaith brotherhood promoted by President Al-Nahyan. It is also a tribute to the multicultural nature of the UAE, which is home to some 200 different and cultures and faiths.
Mohamed Khalifa Al Mubarak, president of the Abrahamic Family House, describes it as "symbolic of the UAE's longstanding values of mutual respect and peaceful coexistence -- values embodied by our founding father, the late Sheikh Zayed." He added: "We hope that this House will inspire young people around the world, highlighting our common humanity and working to create a more peaceful world for generations to come.
Mohammed Al Mahrasawi, co-chair of the Higher Committee for Human Fraternity and former President of Egypt's Al-Azhar University, said:
"The Abrahamic Family House is a true reflection of the provisions of Document on Human Fraternity, which calls for ensuring peaceful coexistence. It is a testament to the vision of UAE and its leaders toward promoting interfaith dialogue and peace among all. The Abrahamic Family House is a model of coexistence, reconciliation, and mutual respect for the sake of mankind."
Cardinal Miguel Ángel Ayuso Guixot, President of the Pontifical Council for Interreligious Dialogue of the Holy See, said:
"The Abrahamic Family House is a concrete example for people of different religions, cultures, traditions, and beliefs to return to the essential: love neighbor. This will be a place that fosters dialogue and mutual respect, and acts in the service of human fraternity as we walk the paths of peace together."
Sir Ephraim Mirvis, Chief Rabbi of the United Hebrew Congregations of the Commonwealth, said:
"From today onwards, let us use this extraordinary sacred site to promote harmony and peace. In a world in which differences can separate us, let us say here that our shared values must exist for the sake of our universal aspirations."
Peter Hoekstra was US Ambassador to the Netherlands during the Trump administration. He served 18 years in the U.S. House of Representatives representing the second district of Michigan and served as Chairman and Ranking member of the House Intelligence Committee.