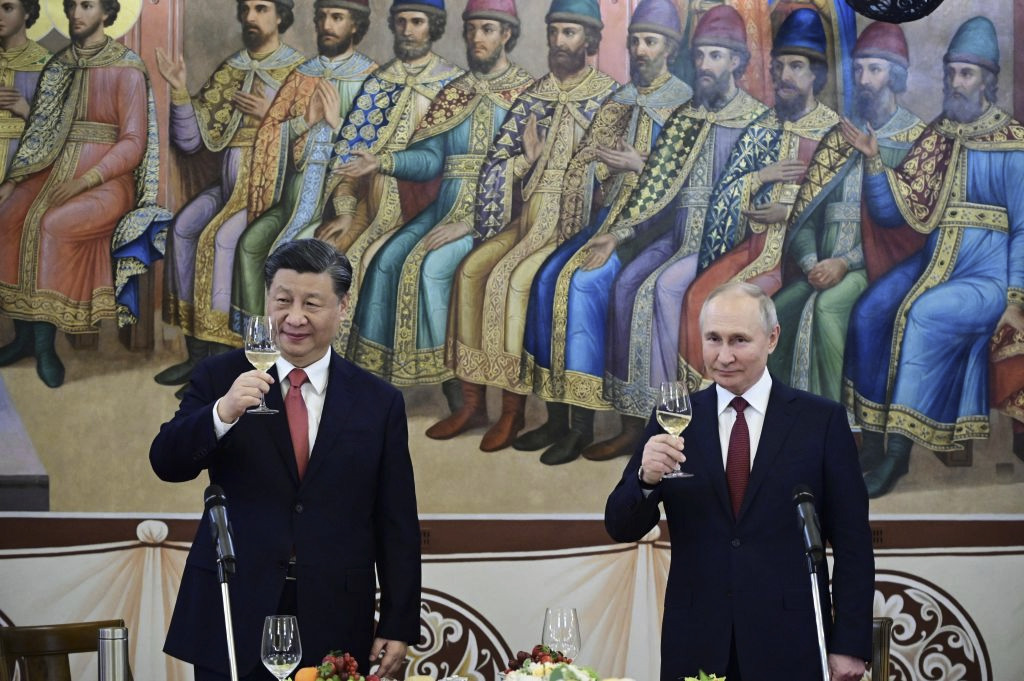 World War II was already a year old when Germany, Japan and Italy formally signed the Tripartite Pact in 1940, creating a military alliance among three nations intent on world domination. History would subsequently call them the Axis powers. It would be another year before America entered the conflict, but this Axis alliance of power sent a sharp and chilling message to Washington. There was no mistaking now that our nation, and our very civilization, was now in serious jeopardy.
In its wake, America accelerated its defense planning and just prior to the Axis pact being signed, the United States reintroduced the draft in recognition that, pact or no pact, democracy was at risk.
Today's "Axis" alliance membership is different -- China and Russia, along with North Korea and Iran -- but the goals are the same. For Chinese and Russian leadership to meet over the bodies of Ukrainian freedom fighters sends a message to free nations around the world. This 21st Century Axis has the same goals of its historic predecessor: global domination. While China is clearly the more powerful of those two nations, its intent to achieve global dominance is obvious to even the most casual observer.
Consider the data that is available as public information. Analysts report China spends $300 billion a year on its military, up from $22 billion some 23 years ago. The Chinese Communist Party intends to own the Pacific. Their navy is now larger than ours and they have created artificial islands upon which they have built military bases capable of firing missiles at American aircraft carriers patrolling international waters. Analysts also report they are gaining on nuclear warheads and with more land based missiles than the U.S.
While these statistics do not include the strategic forces its Axis partner can bring to the table, one should not conclude that Russia's inept showing in Ukraine means it cannot project a menacing military presence along NATO's borders.
During World War II, the arrival of the Axis alliance was confronted by a president who understood the threat, moved resolutely to defend this nation, and the future of democracy, and surrounded himself with military and civilian advisors who were smart, focused, and offered strategic advice.
Today's Axis challenge finds a profoundly different White House, one that often seems confused or surprised, incapable of articulating a strategy that will provide comfort to our allies or demand caution from our enemies. In their summit meeting, Chinese and Russian leadership have done democracy a service of sorts. They have made their intentions clear and unmistakable. We need to have the strength, wisdom, insight, and courage to confront an alliance whose intent is to reduce America to a historic afterthought.
Who in Washington is capable of saving our nation's future?
Lawrence Kadish serves on the Board of Governors of Gatestone Institute.