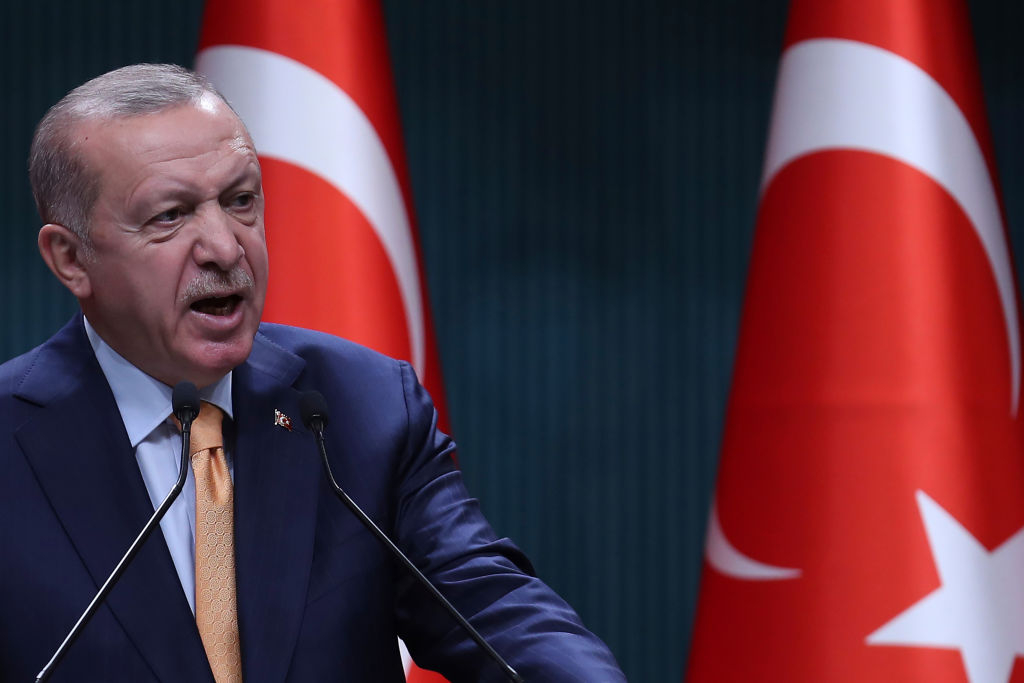 In Turkey, criticizing President Recep Tayyip Erdogan or his family, requesting equal rights or autonomy for Kurds, or posting on social media your criticism of almost any government policy can land you in jail. Even if you may be committed to non-violence and have nothing to do with any terrorist activity, you might, for these so-called charges, spend years in prison. It is common in Turkey for citizens to be labelled "terrorists" and jailed on charges of "terrorism".
Currently, the two groups that are most targeted for being or supporting "terrorists" are the Kurds, and those allegedly close to the movement of the Turkish Muslim cleric Fethullah Gülen, now in self-exile in the United States.
While Kurds are accused of supporting the Kurdistan Workers' Party (PKK), the real or perceived supporters of Gülen are accused of participating in the 2016 failed military coup attempt to unseat Erdogan. Those who remain imprisoned in Turkey for allegedly being "terrorists" include journalists, human rights activists, elected politicians, musicians, teachers, medical doctors, lawyers, intellectuals, and many other civilians.
As Human Rights Watch (HRW) reported in 2021:
"Terrorism charges continue to be widely misused to restrict the rights to free expression and association in the fourth year after the coup attempt. As of July 2020, Ministry of Justice and Interior figures stated that 58,409 were on trial and 132,954 still under criminal investigation on terrorism in cases linked to the Gülen movement. Of those 25,912 were held in prison on remand.

"There are no published official numbers of prisoners held on remand or convicted for alleged links with the PKK, although on the basis of the previous years' figures the number is at least 8,500 and includes elected politicians and journalists."
The HRW also reported in 2022:
"While most news outlets are owned by companies with close government links, independent media in Turkey... are subject to regular removal of content or prosecution for news coverage critical of senior government figures and members of President Erdoğan's family or deemed to constitute an offense under Turkey's highly restrictive Anti-Terror Law. At time of writing, 58 journalists and media workers were in prison or serving sentences for terrorism offenses because of their journalistic work or association with media.

"Thousands of people every year already face arrest and prosecution for their social media posts, typically charged with defamation, insulting the president, or spreading terrorist propaganda.

"Scores of former HDP politicians including mayors are held as remand prisoners or are serving sentences after being convicted of terrorism offenses on the basis of their legitimate non-violent political activities, speeches, and social media postings."
Examples include:
A Kurdish musician received an effective life sentence at the age of 14 despite evidence of his innocence. Mazlum İçli was arrested in 2018 for allegedly being involved in killing four people during protests in the city of Diyarbakir in 2014. He was sentenced to the absurd prison term of 124 years and 8 months.
According to news reports and Historical Traffic Search (HTS) records, images and testimonies showed that he was not at the scene of the crime. An expert examination later determined that İçli was at a wedding during the protests. This accords with the wedding videos and the testimonies of witnesses. Yet, İçli is still in jail. He is now 23 years old.
Prior to his imprisonment, İçli played drums. All the members of his family are musicians. They formed a band called "Koma Sidar."
Another Kurdish musician, Nûdem Durak, has been sentenced to 19 years in jail for "terrorism." She suffers from severe illnesses that threaten her voice.
Durak, 35, is a Kurdish singer and folk musician. In 2015 she was arrested for charges related to" terrorism." She was sentenced to 19 years for "being a member of a terrorist organization" and for "terrorist propaganda." These charges are based on "political songs": she sang in Kurdish. Durak has complained of torture, of isolation, and of having her guitar broken by prison authorities.
According to a report by the Mesopotamia Agency, Durak contracted Grave's Disease (also known as toxic diffuse goiter) and her bones have thinned in prison. She is especially worried about Grave's Disease, which could irrevocably harm her vocal cords so that she will no longer be able to sing. Every month, she is taken from a prison in the city of Bayburt to a hospital in Erzurum province for medical treatment.
"She did nothing other than sing," said her mother, Hatice Durak. "She was arrested for singing in Kurdish... I haven't seen my daughter for two years. People from my family went to visit her but were not allowed to see her."
A Kurdish political prisoner, Mehmet Savur, who has spent 31 years in prison and was to have been released in 2021, is still behind bars.
Savur lived in a village in southeast Turkey, where he worked as a farmer before his incarceration. He has been imprisoned for 31 years for allegedly being a member of the PKK.
According to a news report that includes an interview with his lawyer, Savur went to the city to buy some materials for the field where he was working on July 3, 1991. He was kidnapped, then sentenced to 30 years based on "witness statements." His imprisonment has now entered its thirty-second year. Savur, who was to have been released on July 3, 2021, is still in prison. His lawyer, Şükran Öztürk, maintains that Savur has spent 31 years in prison with no evidence against him.
A major problem in Turkey's judicial system is that statements from "anonymous witnesses" (or "protected witnesses", called in Turkish "secret witnesses") are enough to be sentenced to years in jail on alleged charges of terrorism.
Mehmet Emin Özkan, 84, for instance, suffers from severe illnesses and is still kept in prison despite the lack of any credible evidence – based on claims against him by two "secret witnesses".
Özkan says that he was arrested, tortured, and received a life sentence 27 years ago for allegedly assassinating a military commander, and burning down Lice, his own village in Diyarbakir. However, Turkish soldiers are known to have burned down villages in southeast Turkey, including Lice in the 1990s, to make the Kurds, Assyrians and other minorities leave. It was also reportedly Turkey's Gendarmerie Intelligence Organization (JİTEM) that was responsible for certain political murders in southeast Turkey.
Özkan's lawyer says that there is no evidence that proves Özkan's involvement in the burning of his village or the assassination. Özkan is severely ill, yet has been incarcerated since 1996.
On January 21, the prisons commission of the Istanbul branch of the Human Rights Association (IHD) organized a protest in which Gülseren Yoleri, the head of IHD's Istanbul branch, read a statement to the press and demanded that Özkan be released.
Yoleri stated that Özkan has advanced heart disease, hypertension, thyroid and kidney diseases, Alzheimer's disease, and a cyst has been detected in his brain. Özkan has survived in prison only with the help of his son, who is imprisoned in the same ward. During his stay in prison, Ozkan has had five heart attacks. However, he has not been released as the Forensic Medicine Institute said he is fit to stay in prison. Hospitals, however, have provided reports saying that he should not be incarcerated and needs to be discharged to obtain medical treatment.
"It has become almost impossible for Ozkan to regain his health," Yoleri added. "If he is released and his treatment and care are continued in good conditions, it might be possible for him to live longer and spend his last days with his family."
A major reason these people are imprisoned is the extremely broad definition in Turkish law of "terrorism". The extremely sweeping and vague terrorism-related articles in the Turkish Anti-Terror Law and the Turkish Penal Code have long been criticized by international human rights organizations.
An overpowering problem is that Turkey fails to recognize its own crimes and atrocities. The Turkish military, for instance, evacuated and destroyed villages in southeast Turkey in the 1990s. But the government of Turkey blames others for committing these crimes and calls them terrorists. Until the Kurdish issue is resolved democratically and peacefully – in a way that recognizes the Kurdish right to self-determination – innocent people will continue to be incarcerated on trumped-up charges.
In addition to Kurdish political prisoners who are imprisoned under terrorism related charges, there are also those who are accused of facilitating the 2016 failed coup against Erdogan.
The Turkish government has claimed, and still does, that the movement of Gülen organized the coup attempt. Turkey further labels the Gülenist movement -- ironically, a former ally of the government -- a "terrorist organization." Thus, thousands of people in Turkey – both actual and supposed supporters of Gülen – have been dismissed from their jobs for being "terrorists" and even imprisoned, and are now suffering from severe illnesses. Examples include:
Yusuf Özmen, a political prisoner and stage-4 cancer patient, remains incarcerated despite a medical report saying he is almost totally disabled. Özmen, a food engineer, suffers from testicular cancer, which quickly metastasized to his lungs. He was arrested in 2018, when he had stage-3 cancer, and has been in prison ever since. During this time, he underwent major surgery and was returned to prison six days later.
A teacher, Veysel Tıkaç, who needs another stent for his heart, cannot get medical treatment. A religious culture teacher, Tıkaç was arrested in 2017 regarding the failed coup attempt. He already had stents implanted in his heart nine times and cannot undergo an angiography due to an embolism and kidney failure. In addition to kidney disease, Tıkaç suffers from diabetes, gout, and other ailments affecting his heart, stomach, intestines, and heart. His health has deteriorated further in prison and his treatment has been delayed. "A tenth stent needs to be placed in his heart, but [doctors of the state hospital] cannot do so because the vein is worn out, and because of his kidney failure," a relative said. The family's request to admit him to a private hospital has been rejected by prison authorities.
The Turkish Twitter account "Hasta Tutuklular" ("Sick Prisoners") monitors and posts the violations against sick political prisoners in the country. According to the Twitter page, patients who have been left to die in prison just in the town of Menemen include:
Bekir Bayram, 73 years old, has severe heart disease and is no longer able to walk. He used to work as a tradesman in the city of Isparta but has become bedridden. He was arrested in 2017. A year after his arrest, a stent was inserted in his heart due to heart failure. He now needs to use diapers and cannot even leave his bed. According to a 2021 news report, since his imprisonment four years earlier, he lost 40 kilograms.
Halil Karakoç, 83 years old, cannot get out of bed and takes 14 medicines a day.
Şerife Sulukan is paralyzed and 89% disabled.
All are accused of being "terrorists" and of participating in the failed 2016 coup attempt.
Kamil Acar, a teacher suffering from kidney bleeding, has been imprisoned for six years. "My father's kidney bleeding continues," his son said. "The prison does not take his illness seriously; they do not take him to a doctor in Izmir. They have not granted him his right to probation for the past four-and-a-half months."
The Turkish government claims that it purges these people in the name of "democracy." A parliamentary motion, however, submitted in 2017 by the opposition HDP party, calling for an investigation into "the political wing of the July 15, 2016 coup attempt," was rejected by MPs belonging to Erdogan's ruling Justice and Development Party (AKP). It is the government itself that has not allowed an independent committee to investigate the 2016 failed coup attempt.
By labelling these prisoners "terrorists," Erdogan's regime aims to silence dissent and terrorize those who do not support his government.
While Erdogan's regime itself has well-documented ties with the Islamic State (ISIS) and al-Qaeda-affiliated groups in Syria, it accuses its own peaceful citizens of "terrorism," locks them up with no solid evidence against them, sends them to prison where they contract severe illnesses, then leaves them there to die.
The West should insist that all future economic cooperation with Turkey be linked to Turkey's improvement of human rights and respect for international law. Future economic cooperation between Turkey and the West needs to be conditional to induce positive change. Such economic cooperation would be carried out only on the condition that the required changes are made and maintained.
No human rights for the people in Turkey, and no respect for international law in the region? Then no economic cooperation, no commercial agreements.
The Turkish government will not change its behavior in any way unless it sees that violations bring serious consequences. Otherwise, this slow-motion mass murder of political prisoners will continue in Turkey, as well as its many reversals of civilized norms, including the targeting of others, including Greece, Syria, Iraq, Cyprus, Armenians, Assyrians, Yazidis and Kurds.
Uzay Bulut, a Turkish journalist, is a Distinguished Senior Fellow at the Gatestone Institute. She is also a research fellow for the Philos Project.