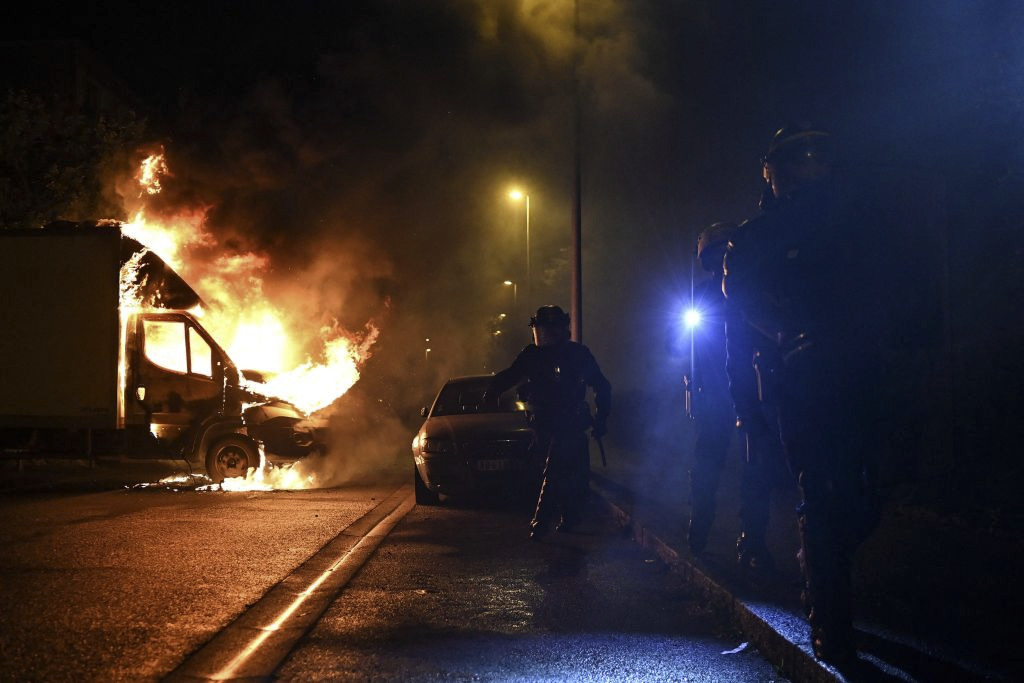 June 27, 2023. Nanterre, in the western suburbs of Paris, shortly before 8 a.m. Two policemen on a motorcycle try to stop a car. The driver, 17-year-old Nahel Merzouk, is obviously dangerous, driving erratically, barely avoiding people crossing the street. A 15-second video circulating on social networks shows the car stopped, with the two policemen aiming their weapons at Merzouk. One policeman, gun drawn, leans his elbow on the windshield. He tells Merzouk to turn off the engine and place his hands above his head. The car drives off. The policeman shoots at the car. Merzouk is shot and dies shortly after.
The police have witnesses, video surveillance, and data showing that the driver has been implicated five times for refusing to comply with police officers. He had been arrested a few weeks earlier for disorderly conduct against police and consumption and sale of narcotics, and was shortly to appear before a judge. He was only 17, too young even to have a French driver's license.
That day, he was driving a rented $90,000 Mercedes with fake Polish license plates. All of this information, apart from his age, was glossed over by the media and political leaders. The single video, filmed by a passerby on an iPhone and sent to the media, failed to show the entire incident.
Before any investigation, and without any respect for the presumption of innocence, French President Emmanuel Macron immediately said that the policeman's act had been "unexplainable" and "inexcusable". Prime Minister Elisabeth Borne said that "the law was not respected" by the policeman, and Yael Braun Pivet, the president of the National Assembly asked the deputies for a minute of silence in memory of the young driver.
Merzouk's mother told journalists that he had been a wonderful and kind person. Several lawyers rushed onto television to say they were representing his family, and that the police had committed a "racist murder." The politician Jean-Luc Mélenchon stated that "no police officer has the right to kill," and that any investigation into Merzouk's past must immediately stop.
The police officer who shot Merzouk has been indicted by a judge for intentional homicide and jailed. His name and home address were leaked on social media, and his wife and children had to go into hiding.
Matthieu Valet, president of the Independent Union of Police Commissioners, spoke on television of the extreme difficulty of police work in dangerous French suburbs. In some neighborhoods, he said, the police were constantly threatened, and many officers felt betrayed by the president and the government. Macron, he continued, by arbitrarily accusing a policeman, no doubt hoped to avoid riots, but riots would take place nevertheless. He was right.
The evening of June 27, riots broke out in all the major cities of France. Hundreds of cars, including police cars, were burned and police stations attacked. Some were robbed by criminals who stole whatever weapons they could find there. The town halls of Val Fourré and Villeneuve-le-Roi were set on fire. Hundreds of stores were looted and burned. Delivery trucks were stopped, looted, set on fire, and their drivers were pushed to the ground and beaten.
The riots grew bigger. Schools and theaters were destroyed. The buses in the Seine-Saint-Denis bus depot were torched; churches were burned to the ground; graffiti in red paint on a church in Marseilles declared: "Mohammed was the last prophet". Bank branches were ransacked and ATMs opened with chainsaws. Slogans were shouted: "death to the police", "death to France", "death to the Jews!"
The Secretary General of the Alliance Police Union, Julien Schénardi, remarked on June 28 that the riots were even more serious than those of 2005. This time, he said, many small towns experienced violence. In 2005, he pointed out, 10,000 police officers had been deployed; in June 2023 the number was 45,000, including units specialized in organized crime. In 2005, he recalled, no store had been looted and burned down in Paris; this time many were destroyed.
A march to pay tribute to Merzouk was organized for the afternoon of June 28, in the town of Nanterre where he had been shot, at the request of his mother and the town's communist mayor, Patrick Jarry. A journalist from RMC radio station, Nicolas Poincaré, described what he saw, "six thousand people, mainly veiled women and men of African and North African origin, some leftists". Slogans shouted included "death to the police" and "Allahu Akbar" ["Allah is the greatest"].
"We are Muslims," one angry protester shouted, "if the police kill us we have the right to kill; it is written in the Koran!" Hundreds of police were injured, many seriously.
As soon as the march ended, Poincaré noted, demonstrators began to destroy street furniture. Several broke into a bank on the ground floor of an apartment building, then the entire building was set on fire. The fire engine that came to try to put out the fire, he said, was attacked, adding:
" In 2005, no apartment building had been set on fire, and no monument had been attacked... [Now,] the memorial to Holocaust victims and members of the French resistance was vandalized and defaced with graffiti".
"This is an absolute outrage and a disgrace," wrote the lawyer Ariel Goldmann on Twitter, posting a video of the vandalized memorial. "Nothing is respected".
"The riots," wrote the journalist Frederic Lassez, "come from a clannish France that thrives in so-called 'sensitive' areas where Islamism and narco-banditry are rampant". It appears, in fact, as if all the rioters with whom journalists were able to speak, do, in fact, live in the those "sensitive" areas. Most seemed to be Arabs or Africans; most seemed to be Muslim.
The situation in which France finds itself is the result of several decades of willful blindness and inaction by the French political authorities, who appeared to hope that by spending billions of euros on immigrants, that these problems would melt away.
Since the 1970s, France has welcomed an ever-increasing number of immigrants from the Muslim world, said Sorbonne University Professor Bernard Rougier, author of the book Les territoires conquis de l'islamisme ("The Conquered Territories of Islamism"), in 2020. Most newcomers are housed in low-cost buildings in the poor suburbs of big cities. Some work, others live on welfare. Only a tiny minority have assimilated into French society. The others live as they lived in their countries of origin.
Radical imams came from the Muslim world and allege that France is guilty of having colonized their countries, that Muslims should continue to live according to the law of Islam and that, in the imams' view, France should pay for its crimes. Many politicians have told the newcomers that France is racist and had exploited them.
Criminal gangs formed and began ruling these neighborhoods. Radical imams justified the gangs' criminal activities by claiming that the French must pay for what they did in the Muslim world. French political leaders closed their eyes. Meanwhile, these Muslim neighborhoods have grown and crime from them increased.
During the summer of 1983, violent clashes took place between the police and a criminal group in a Muslim quarter of Vénissieux, near Lyon. The French government at the time responded by granting massive financial aid to the Muslim quarter and its inhabitants. Sympathetic organizations later organized a "March for Equality and Against Racism" and demanded that all Muslim neighborhoods receive massive financial aid. Successive French governments spent hundreds of millions of euros to comply. In 1984, a group called SOS Racism was created and accused French police of constant racism against young Muslims. The police were ordered by the government to avoid any incidents that could lead to accusations of racism.
In 2005, police wanted to arrest two young Muslim criminals, Zyed Benna and Bouna Traoré. The two teenagers had entered an electricity substation to hide and unfortunately were electrocuted. The police were sanctioned and indicted for "not assisting persons in danger". Riots broke out, lasted three weeks and only subsided because then President Jacques Chirac asked imams to restore calm and promised to give even more money to Muslim neighborhoods. The police were ordered not to intervene in them at all; they fell entirely under the control of gangs and imams. It was then that these neighborhoods effectively became lawless "no-go zones" (zones urbaines sensibles), of which there are 750.
President Nicolas Sarkozy, elected in 2007, promised to put an end to no-go zones. Sarkozy, however, did nothing. President François Hollande, his successor, also did nothing.
Macron suggested that creating a "French Islam," supposedly quite different from Islam in the rest of the world, would be the solution, but he quickly gave up on that plan. He then said he wanted to fight against what he called "Islamic separatism" (the no-go zones, neighborhoods where Muslims live separately from the rest of the population). He, too, has done nothing.
In the past, riots have broken out following violent incidents in which young criminals from no-go zones resisted arrest. Each time, those who were punished were the police. The riots affected one or two towns, not the whole country, and after two or three days of destruction and looting, calm was restored.
This time, however, the riots took on a scale that was unprecedented. The government appeared helpless and the country seemed on the verge of chaos. The police, according to investigative reporter Laurent Valdiguié, were ordered to avoid any action that could lead to the injury or death of a rioter. The government believed that the result would just intensify the violence. "The government prefers that the conflagration calm down gradually," Valdiguié said, adding that the government did not want to declare a state of emergency for fear that such an announcement would not restore calm.
Macron seems to imagine that he has found explanations for these problems: Parents of rioters, he said, do not exercise their parental authority, and video games poison the minds of young people. His comments seemed completely disconnected from reality; social media was quick to mock them.
Political leaders say that calm must return, but none of them offers a solution. The only exception is former journalist Éric Zemmour, now leader of the right-wing Reconquest party. On June 30, in a lengthy interview, Zemmour described the situation as the "precursor symptom of a civil war", stressed that "civil war is almost here" and that it may well destroy the country. What is happening, he said, is "an ethnic uprising" resulting from "crazy immigration.... Macron has abandoned the police and chosen submission". At present, Zemmour concluded, it would take "ferocious, firm and ruthless repression" to restore calm, but "there is no one among those in power ready to act in a determined way and make the necessary decisions."
"The seeds of a civil war," columnist Ivan Rioufol wrote on June 29, "are just waiting to explode.... Emmanuel Macron's inconsistency puts France in mortal danger."
A June 30 press release from the two main French police unions, titled "Now that's enough," stated:
"Today the police are in combat because we are at war. Tomorrow we will enter resistance and the government should be aware of this."
It is not certain that the government is even slightly "aware of this".
In 2021, twenty retired French army generals published an open letter addressed to the French government and Macron: "The situation is critical. France is in danger. Several mortal dangers threaten it". The letter spoke of "suburban hordes" and of the "detachment of multiple parcels of the nation to transform them into territories subject to dogmas contrary to the French constitution... The violence is increasing day by day... those who run our country must imperatively find the courage necessary to eradicate the dangers".
At the time, the letter was treated with contempt. Today, it looks as if its signatories got it absolutely right.
Dr. Guy Millière, a professor at the University of Paris, is the author of 27 books on France and Europe.