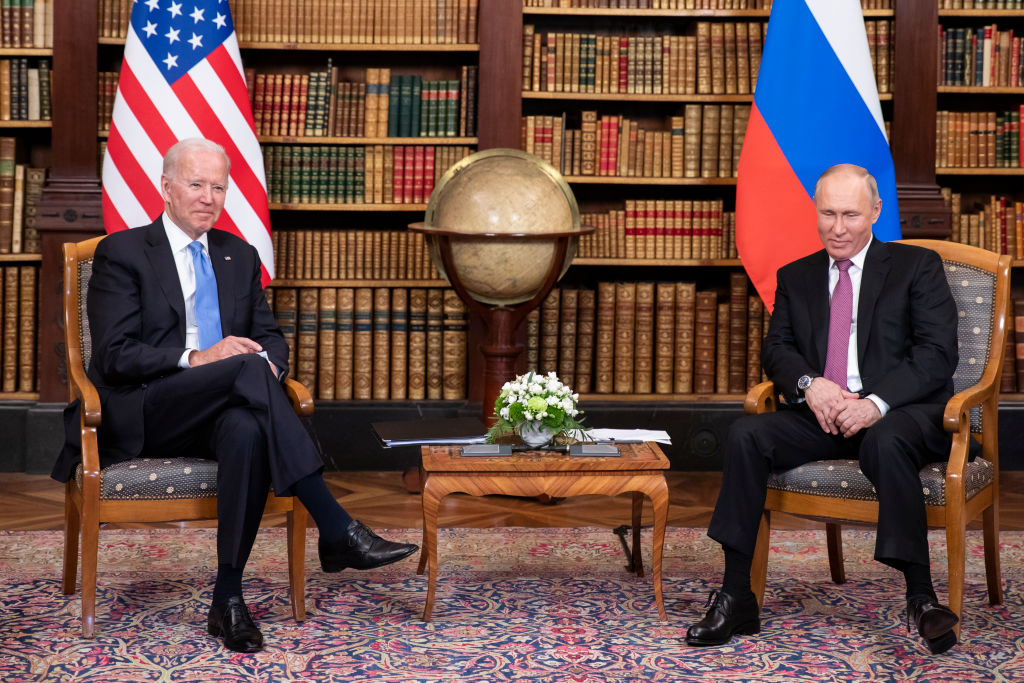 Here is a segment from Russian President Vladimir Putin's TV address to his people:
"Dear compatriots!

"In its long and glorious history, the Great Russian nation has faced many existential threats, threats that it has crushed thanks to its exceptional bravery and the determination of its leaders. The upstart Bonaparte invaded our sacred land at the head of his so-called Great Army, burned our capital Moscow and slaughtered our women and children only to be forced to flee in winter like a thief at night. The Austrian corporal, the Nazi Adolf Hitler, sent an army of over one million people led by his highest ranking Field Marshal, to set our country on fire and force our Christian people to kneel to his Aryan God. We wiped out his army and captured his Field Marshal like a wounded dog and went on to turn his capital into a heap of debris.

"In 2022 the Nazis returned with a new scheme: to turn the Ukraine, Russia's border-land, as its name indicates, into a launching pad for another existential assault against us. This time the Nazis in Kiev were backed by the biggest military machine in history known as NATO, an instrument of global domination by power-hungry globalists jealous of Russia's resistance against their schemes. Well, this time, too, we removed the existential threat, defeated the Nazis and restored Russia's status as a great global power and not, as former American President Obama, a puppet of globalists, mocked "just a regional player." This is why they had no choice but to come to us, begging to enter into negotiations for a ceasefire to be followed by a search for a settlement. We agreed because we couldn't let the poorest nations in the world starve because they didn't receive enough wheat and grain from Russia and the Ukraine. We agreed because we didn't want the Ukraine's towns and cities turned into piles of smoking rubble. We did not go beyond Crimea, Luhansk and Donetsk not because we couldn't but because we didn't want to wipe out the very land where the Russian nation was first formed. We have achieved a great victory at a high price. Now we have to preserve it through diplomacy...."
Well, as you have guessed, Putin didn't make that speech. I wrote it on his behalf because he could have made it and, I believe, he is going to make it or something like it, perhaps sooner than you might think.
A number of events, under-reported by global media, point in that direction. First, there were leaked reports about the opening of a track-2 diplomatic channel by the US to Russia. Track-2 designates "probing talks" with an adversary conducted through unofficial or semi-official figures. In World War II, US President Franklin Roosevelt used the method through his dentist who held talks with a representative of the SS chief Heinrich Himmler in neutral Stockholm.
The French used the method by holding track-2 talks with the leaders of the Algerian Front for National Liberation (FLN) as prelude to formal talks for an end to the rebellion. The US employed the method through an Iranian diplomat and his French leftist friends to establish preliminary contact in Paris with the Vietcong to end the war in Indochina. Track-2 talks, led by the National Committee on American Foreign Policy also helped open the way for talks between London and the Irish Republican Army (IRA) over power-sharing in Northern Ireland.
In every case, Track-2 talks were urged and supported by advocates of Realpolitik who believe that even if one is dealing with a deceitful adversary, one should not rule out diplomatic contacts. The best-known advocate of that school of thought is Richard Haas, former official in the US State Department, who tried Track-2 contacts with Iran for over a decade. Commentators called him "Mr. Nevertheless" because he prefaced his recommendation for "contacts" with the Khomeinist mullahs with a long soliloquy about their crimes and misdemeanors but ended up saying "Nevertheless, we: must talk to them!"
In the initial contact with Russia's Permanent Representative to the United Nations, Vasily Nebenzaya, Haas was accompanied by Nancy Soderberg, a former Assistant Secretary of State, and at least one other former official. State Department sources have confirmed that the contact had the green-light from President Joe Biden.
That both sides were keen on the contact was quickly shown with a "lengthy and constructive" telephone conversation between CIA chief William Burns and his Russian counterpart Sergey Naryshkin.
Because Burns is fluent in Russian, it is possible that the two talked without interpreters, thus covering a wider ground. Naryshkin's account was positive. "In every war a time comes for peace talks," he said. This is all the more interesting because at the start of the war, Naryshkin had been publicly rebuked by Putin on TV for doubting the wisdom of invading Ukraine.
The plot thickened when Ukraine's National Security chief Mykhaylo Podolyak commented on the Burns-Naryshkin talk without ruling out negotiations. "When the time comes for peace talks it won't be with characters like Naryshkin," he said. In other words peace talks aren't ruled out, although they may start through mediators.
Then came the NATO summit, which refused Ukraine's demand to be granted the status of an aspirant for membership. That would have been nothing but a symbolic gesture to boost President Volodymyr Zelensky's position. Under NATO rules, as a country involved in a territorial dispute, Ukraine cannot be admitted as a member.
Russia cannot win this war and NATO cannot lose it. The way out is a compromise.
In eight months, Putin faces re-election with his popularity ratings having dropped by 20 percent and his myth punctured by the Wagner rebellion. Four months after that, Biden, if he manages to get his party's nomination, will also face re-election. Both men need to show something for the immense resources they have used, or wasted, on a needless war.
What remains to be seen is when Putin will make his "victory speech" on the lines we wrote for him, making a ceasefire possible.
The outline of an "intermediary accord" is already taking shape: A ceasefire monitored by UN members chosen by both sides; the creation of a demilitarized zone (DMZ) monitored by UN peacekeepers from neutral countries, reduction of sanctions on Russia and unfreezing some oligarchs' assets.
If war is the continuation of politics by other means, maybe diplomacy could be used as the continuation of war by other means.
Amir Taheri was the executive editor-in-chief of the daily Kayhan in Iran from 1972 to 1979. He has worked at or written for innumerable publications, published eleven books, and has been a columnist for Asharq Al-Awsat since 1987. He is the Chairman of Gatestone Europe.

This article originally appeared in Asharq Al-Awsat and is reprinted by kind permission of the author.