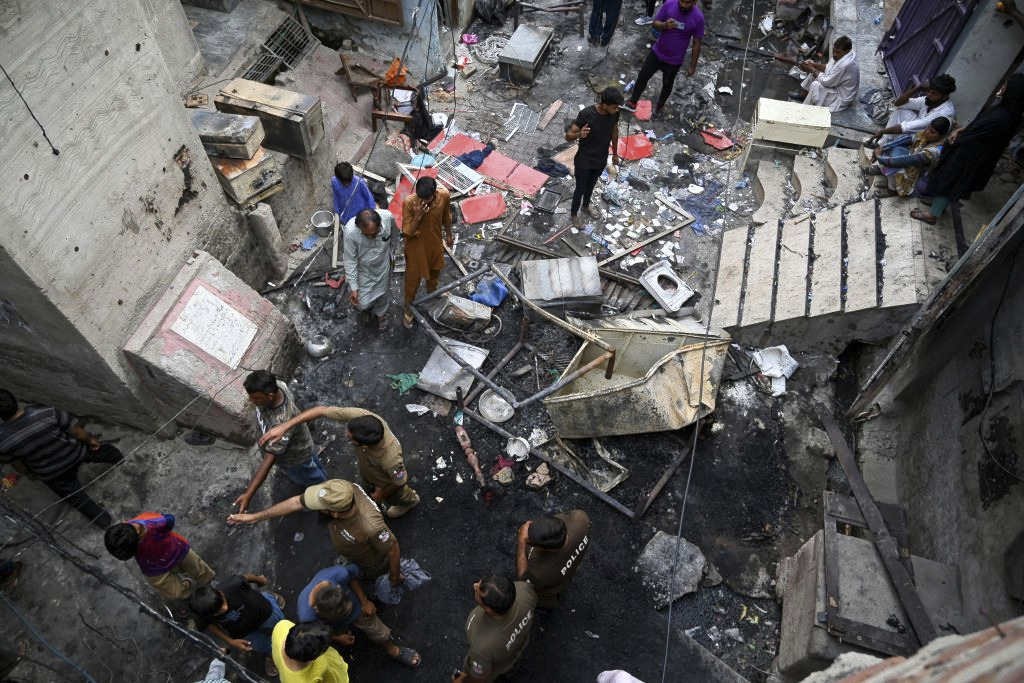 Hundreds of Christians fled their homes on August 16 when, in the eastern Pakistani district capital of Jaranwala, Muslim mobs started an anti-Christian riot, vandalizing churches and setting churches and Christians' homes on fire -- all based just on an accusation that a Quran had been desecrated.
At least 20 churches throughout the city were set on fire and more than 400 homes belonging to Christians damaged. The rioters attacked and vandalized a Christian cemetery and burned the office of the Christian assistant commissioner of Jaranwala.
The violence began after word spread from calls on mosque minarets that desecrated pages of the Quran had been discovered outside the home of a Christian family. Several thousand enraged Muslims assembled in the city center and began throwing stones at the churches, while others set them on fire. Videos and photos of the violence were shared on social media.
At least 19 churches were fully burned, 89 Christian homes destroyed -- including those of pastors and priests -- and 15 homes partially destroyed, according to a report from Human Rights Focus Pakistan (HRFP).
Faraz Pervaiz, a Christian Pakistani asylum-seeker who fled to Thailand after being accused in Pakistan of blasphemy for criticizing political Islam, has been reporting on the riots through his sources on the ground.
In an interview with Gatestone, Pervaiz related:
"Two Christian individuals are accused of desecrating the Quran. People are demanding life imprisonment, but the accusation is false. They have done nothing. The accusation was fabricated by an Islamist group, Tehreek-e-Labbaik.

"On August 16, 2023 a woman carrying these documents with torn pages of Quran knocked the door of Raja and Rocky, later be accused of blasphemy. When they opened the door, the woman started shouting at the family and accusing them that you have desecrated the Quran. The family was shocked. Meanwhile this woman started making loud noises to wake the people up. 'Raja and Rocky has committed blasphemy,' she was shouting, 'and you Muslims are sleeping!'

"The accused family rushed out. They knew that Islamists are not going to inquire fairly but if they were captured, would sever their heads. The escaping family started informing their friends that they had done nothing but still they were being exposed to these allegations. The news spread like fire and every single Christian left their house to save themselves from injury or death.

"A few hours later the radical Islamic group started announcements through the mosques that 'Raja and Rocky has blasphemed against the Quran and Muhammad so it is time to send them to hell.'"
The Muslim mobs then started attacking Christian homes and churches; the Christians fled and slept outside to avoid being burned alive, Pervaiz said.
"Christians are sleeping under open sky now. They are helpless. They get no support from any organization or the Government. They get no food support, and no new shelter is provided. They are starving. They are too scared to go back to their homes. They fear being killed.

" The police were helping the perpetrators and the vigilantes. There was no military intervention to stop the attacks.

"The newly elected Prime Minister of Pakistan has condemned the incidents, but Christians need help, which he could have provided. But he did not because he knew that entire Muslim community would stand against him."
Since then, the government of caretaker Prime Minister Anwaar-ul-Haq Kakar promised to hand out two million rupees ($6,800) to 100 families on August 25. Raja and Rocky, however, based on the accusations against them, have been placed under arrest.
Pervaiz himself has been a target of Pakistan's Islamists since he began speaking out in defense of Christians after a 2013 Muslim mob attack on a Christian neighborhood in Lahore, capital of Punjab province. He led protests demanding action from the police and began a blog that challenged the politics and theology of Islam and criticized Islam's prophet.
"We are not criminals," Pervaiz told The Catholic Register.
"Our only crime is that we speak against their brutality. I don't have words to explain to you their barbarism towards us. How Christians are marginalized every day. No one raised this issue."
Under Pakistan's blasphemy laws, one can be sentenced to death for speaking out against Islam or its prophet Mohammed. Pervaiz has several fatwas, Islamic rulings, against him, calling for him to be killed.
Islamist parties and average Muslims, often with the consent of the government, take the law into their own hands to punish those who are even just accused, often unjustly, of having violated those laws. In 2014, in a village in Punjab province, "a local cleric told his community through the loudspeakers of his mosque to punish the couple for burning a few pages of the Koran," according to a police source.
"A mob then gathered outside the house of Shehzad Masih, 32, and his wife Shama, in her 20s, dragged them out and beat them to death, police said."
To urge Muslims to hunt down Pervaiz, mullahs in Pakistan have led demonstrations where the crowds were encouraged to chant: "There is only one punishment for insulting the Prophet. Sever the head from the body! Sever the head from the body!"
In 2019, Pervaiz's home address in Bangkok, Thailand, was revealed in a video released on social media, with calls to every Muslim to find and kill him and his family. Several mullahs also attached fatwas to the video calling on Muslims to kill him. Posters with his photograph were plastered across many cities, including outside mosques and government offices in Lahore and Pakistan's capital, Islamabad. As a result of death threats by phone and text messages, Pervais moved his family to a secret location outside Bangkok.
Meanwhile, Pakistani Islamists have placed a bounty on Pervaiz. The Tahreek-e-Labbaik political party announced the first bounty of $62,000 in 2015. The next year, a cleric doubled it to $124,000. Pervaiz told Gatestone that many Islamist parties in Pakistan have placed a bounty on him; the amount now totals $400,000.
The message is as with Salman Rushdie, who was nearly murdered, and the many people whose "crime" was to speak their minds: We will hunt you down wherever you are. You cannot escape or hide.
Pervaiz still has not found safety and is pleading for help from Western governments:
"God is merciful. Thank God we are not in Pakistan. We are seeking asylum in Thailand but have received no assistance. Even the UNHCR [UN Refugee Agency] told us to find a private sponsor for asylum. We are still looking for a country who can help us to find shelter and live peacefully."
The Islamist response in Pakistan, even to a claim of blasphemy, is abuse, threats, destruction and even death. According to the NGO Open Doors:
"In Pakistan, Christians are considered second-class citizens and are discriminated against in every aspect of public and private life....

"Pakistan's infamous blasphemy laws are increasingly being leveraged to accuse Christians and other non-Muslims of insulting the Prophet Mohammed or the Quran – punishment can be the death penalty. False accusations are often made to target Christians after an unrelated dispute, and even a false accusation can lead to mob violence.

"Christian women and girls are constantly at risk of sexual assault, abduction and forced conversion. This was brought to the world's attention in 2020 when 13-year-old Arzoo was taken from her parents by a 44-year-old Muslim man. Two days later, Arzoo's father was informed that the abductor had produced a marriage certificate stating Arzoo was 18 and had converted to Islam. A court gave custody to the 'husband'.

"Thankfully, after outcry both inside and outside Pakistan, judges ordered Arzoo's release. But many families never see their girls again, as the authorities rarely bring the perpetrators to justice.....

"Christian men are particularly vulnerable to being falsely accused under Pakistan's blasphemy laws. They are often compelled to take lower-state jobs referred to as 'chura', a derogatory word meaning 'filthy'. Church leaders can be arrested if they don't abide by the authorities' wishes, and these arrests are often intended to act as warnings to intimidate the Christian minority."
The UN and other members of the international community seriously need to reconsider their relations with the government of Pakistan. It is a systematic violator of human rights and a major supporter of Islamist terrorism. A government that treats its minorities so unjustly and inhumanely needs to be held to account.
Uzay Bulut, a Turkish journalist, a research fellow for the Philos Project, and a Distinguished Senior Fellow at Gatestone Institute.