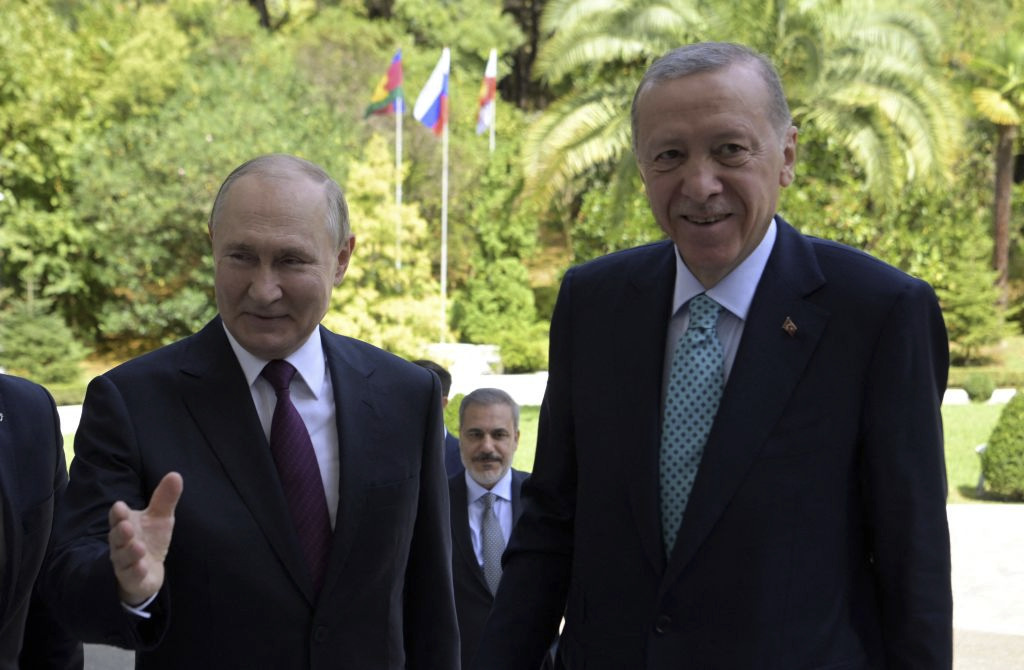 What brought the presidents of Turkey and Russia into an alliance with no name? Their geo-political opportunism was part of it, but mainly it was the inherent ideological hatred of Western civilization that eventually made the Turkish president a useful instrument in the Russian president's reckless campaign to harm the interests of the West.
Turkish President Recep Tayyip Erdoğan spent $2.5 billion of Turkish taxpayers' money to buy the Russian-made S-400 surface-to-air missiles, only to keep them unpacked at some unknown military warehouse, for fear, if he activated the system, of furthering U.S. sanctions in addition to Washington's move to kick Turkey out of the multinational F-35 fighter jet program. Since Turkey's economy is undergoing an unprecedented dive, Erdoğan needs European loans and investors.
Erdoğan seems to have a lot of wants. He wants to renegotiate Turkey's customs union accord with the European Union (EU). He wants the EU to remove visa requirements on Turkish nationals, a painful process including businessmen, academics and professionals intending to travel to Europe. And now that Turkey has been deprived of the F-35s and its air force is losing much of its firepower, he wants the US Congress to endorse the sale of F-16 Block 70 aircraft to Turkey.
What to do? Erdoğan has resorted to his old trick of launching a hoax charm offensive hoping to deceive, once again, a few naïve Western minds. Too little, too late. He has been dancing within the Russian orbit to Putin's tunes for several years so that, like a junior mafioso, he is being reminded by the capo that "once you're in, you cannot get out."
Erdoğan recently hosted Ukraine's president, Volodymyr Zelensky, in Istanbul, and told Zelensky that Ukraine's place was in NATO. Meanwhile, at the same time, Erdoğan blackmailed NATO to prevent Sweden's accession.
Erdoğan appointed a new team to run his troubled economy, and pledged a return to market-friendly policies. He invited Western bankers and investors. Putin watched. And watched.
Until one day in August Russian missiles struck the facilities of the Ukrainian aircraft and engine manufacturer Motor Sich, a company of strategic importance to Turkey as well as Ukraine. Moscow was sending a message not only to Kyiv but also to Ankara. Motor Sich has strategic ties with the Turkish aerospace industry and has been providing Turkey with engines for its helicopters, fighter jets, and armed combat drones.
Three days after the strike, at least six Turkish soldiers were killed, most likely by Russian missiles, in clashes with Kurdish fighters in northern Iraq.
"We take Russian missile attacks as a Russian warning that reflects Russia's discontent over a few Turkish initiatives," a senior Turkish diplomat told Gatestone on condition of anonymity. "We suspect Russian tolerance to the Kurdish Workers Party (PKK) may have inspired this attack... A Putin way to say, 'Hey, behave or else...'"
Not enough? Less than a week after the attack on Turkish troops, in the Black Sea, a Russian warship fired warning shots and boarded a Turkish cargo ship that Russia claimed was headed to Ukraine. "In order to inspect the bulk cargo ship, a Ka-29 helicopter with a group of Russian servicemen was hoisted from the patrol ship Vasily Bykov," according to Russia's defense ministry.
"This type of aggression being exercised so close to Istanbul went unchecked and doesn't respect Turkey's overall rights," Yörük Işık, an Istanbul-based geopolitical analyst at the Bosphorus Observer consultancy, told Reuters.
This much, for now, should suffice to keep Erdoğan's ship anchored at the Russian bay. Once again, Western optimists are misreading Erdoğan in thinking that he is "rekindling fraught relations with the West."
He just needs Western money, a few pats on the shoulder and legitimacy for his sultanship.
As some Westerners tend to believe that Erdoğan is "rekindling fraught relations with the West," the U.S. remains concerned that Turkey has become a hub for Russian sanctions evasion, including a "ghost fleet" for Russian oil and port calls for Russian vessels carrying weapons and sanctioned goods, the Wall Street Journal reported on August 18.
The Turkish company Beks Ship Management, operating dozens of aging oil tankers, participates in a "ghost fleet" of hundreds of vessels that help Russia ship out its oil despite the Western sanctions, the WSJ said.
An elephant painted in stripes does not make it a zebra. Erdoğan has never hidden his anti-Western ideology, or its depths.
Erdoğan comes from the ranks of Turkey's militant political Islamism that emerged in late 1960s under the leadership of the ideologue, Necmettin Erbakan, Turkey's first Islamist prime minister and Erdoğan's mentor. In Erbakan's rhetoric universal politics is simply about a struggle between the righteous (Islam) and a coalition of Zionists and racist imperialists -- all else is just details. In his thinking, the Zionists support Turkey's membership in the EU in order to "get Turkish Muslims to melt in a pot of Christianity."
In a 2016 speech, Erdoğan talked of European countries: "These are not just our enemies... Behind them are plans and plots and other powers." Also in 2016, he said that jihad is never terrorism. "It is resurrection.... It is to give life, to build... It is to fight the enemies of Islam."
In 2020, Erdoğan said that then French President Emmanuel Macron "needs some sort of mental treatment" because Macron vowed to crack down on radical Islamism in France, after the country was shaken by the beheading of history teacher Samuel Paty.
Also in 2020, Erdoğan wished that "God grant this nation many more happy conquests" at a celebration where he recited from the Quran, a salute to the Ottoman invasion of Christian lands. To European leaders, he said: "You are fascists in the true meaning of the world. You are veritably the link in the Nazi chain." To the Netherlands, in 2020, he revived his rant of three years ago: "You are Nazi remnants and fascists."
It is this man that some Westerners believe is "rekindling fraught relations with the West." Erdoğan's anti-Western ideology has not changed. What changes from time to time is how much Western money and favors he needs.
Burak Bekdil, one of Turkey's leading journalists, was recently fired from the country's most noted newspaper after 29 years, for writing in Gatestone what is taking place in Turkey. He is a Fellow at the Middle East Forum.