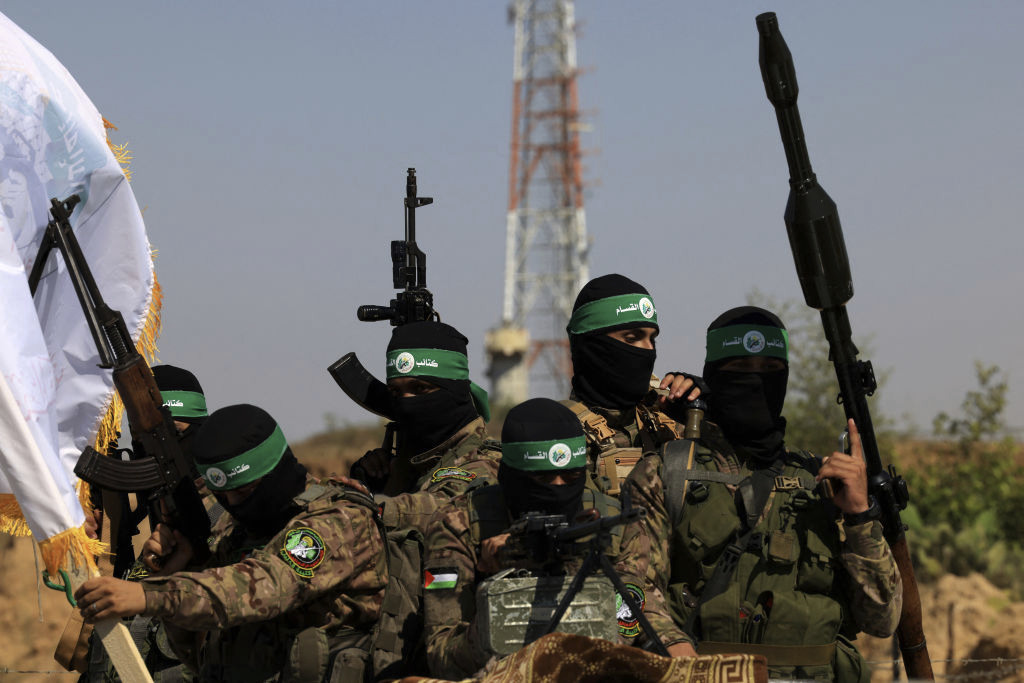 The leaders of Iran's Palestinian terror proxies, Hamas and Palestinian Islamic Jihad (PIJ), say they are "not afraid" of Israeli threats to assassinate them for their responsibility in the ongoing wave of terror attacks against Israeli soldiers and civilians.
If the Hamas and PIJ leaders are not afraid of the threats, why are they taking extreme precautionary measures to avoid being killed by Israel? If they are not afraid of the threats, why have many of them evacuated their offices and gone into hiding? Why do the terror leaders seem so nervous about the possibility that they may be killed that they are threatening to retaliate against Israel if any one of them is targeted?
The answer is: The Hamas and PIJ leaders, who encourage and dispatch Palestinians to launch terrors attacks against Israel, do not themselves want to become "martyrs." They want to sit in their offices in the Gaza Strip, Qatar, Lebanon and Turkey, and issue instructions to other Palestinians to murder Jews. These leaders do not want to send their own sons to join the Jihad (holy war) against Israel. In recent years, many Hamas and Palestinian Islamic Jihad leaders have left the Gaza Strip together with their families for a better and more safe life in Turkey, Qatar, and Lebanon.
"The Palestinians in the Gaza Strip live in extreme poverty, while their leaders enjoy a luxurious life [abroad]," observed Palestinian political analyst Luqman Al-Sheikh observed.
"Some media reports estimated the wealth of [Hamas leader] Khaled Mashaal at millions of dollars and noted that the bulk of it was invested in banks in Egypt and the Gulf states, while the rest was invested in real estate projects. He also reportedly owns a private real estate company in Doha. Most of the children of Hamas leaders do not live inside the Gaza Strip for several reasons, perhaps the most prominent of which is security concerns."
The continued wave of Hamas and Palestinian Islamic Jihad terror attacks against Israel are backed by Iran's mullahs. "Iran stands by the Palestinian people and their resistance," Ali Akbar Velayati, a senior Iranian official, told the leaders of the Palestinian terror groups on August 22. Hamas leader Ismail Haniyeh thanked Velayati for his country's support for the terror attacks against Israel.
"The victories that have been achieved are the result of the support of friendly peoples, especially Iran," Haniyeh said.
When Iran, Hamas and PIJ talk about the "resistance," they are referring to a series of terrorist attacks, including stabbings, shootings, and car-rammings that have claimed the lives of five Israelis in August alone. Most of the attacks took place inside Israel and in the West Bank.
Recently, the leaders of Hamas and Palestinian Islamic Jihad have been encouraging Palestinians in the Gaza Strip to launch protests near the border with Israel. The request came days after thousands of Palestinians took to the streets of the Gaza Strip to protest economic hardship under the rule of Hamas.
The demonstrations turned into protests against Hamas, which used its security forces and militiamen to brutally suppress the protesters. One of them, identified as Shadi, said:
"We are a generation that grew up under difficult circumstances, and we did not have a single good day. I am 24 years old and have never traveled in my life. We want to live in dignity, this is our goal. We may not achieve that through these protests, but at least we raised our voice."
By sending Palestinians to attack Israeli troops along Gaza's border with Israel, the leaders of Hamas and PIJ are seeking to divert attention from their failure to improve the living conditions of the two million residents of the Gaza Strip. Instead of heeding the calls of young Palestinians to solve the economic crisis, the Palestinian terror groups, with the help of Iran's mullahs, are sending them to attack Israeli soldiers with explosive devices and deadly stones.
Evidently, the leaders of Iran, Hamas and Palestinian Islamic Jihad do not care about the high rate of poverty and unemployment in the Gaza Strip. Why should these leaders care when they and their families are living in comfort in Qatar, Lebanon and Turkey?
They also apparently do not care about the many Palestinians from the Gaza Strip who are fleeing to Greece, Turkey and Europe. On August 31, a new batch of Palestinians from Gaza arrived at the migrant camp on the Greek island of Leros. Some of these men revealed that they had paid thousands of dollars to people-smugglers.
According to some reports, more than 340,000 Palestinians have emigrated from the Gaza Strip since Hamas seized control of the coastal enclave in 2007. In one video, a resident of the city of Khan Younis in the southern Gaza Strip is seen walking around his neighborhood, filming the different houses while naming all his neighbors who have already emigrated and those waiting for a visa to Turkey. In another video, Ibrahim, also a resident of the Hamas-controlled Gaza Strip, documented his journey emigrating to Greece through Egypt and Turkey.
Last week, Iranian Foreign Minister Hossein Amir-Abdollahian visited Lebanon, where he met with the leaders of Hamas and PIJ and assured them that Tehran's mullahs will continue to support their terrorist activities against Israel. In a statement after the meeting, the Iranian minister said that Tehran "adheres to the strategy of supporting the Palestinian people and their resistance and the cause of liberating the land. Iran will continue to support the resistance strongly."
According to Al-Mayadeen, a Hezbollah-affiliated news website, the high-level Iranian-Palestinian discussions are not protocol meetings. Instead, it said, the meeting aims to foil efforts to achieve normalization between Israel and some Arab countries, including Saudi Arabia and Libya.
So, Iran and its Palestinian terror proxies are now openly stating that their goal is not only to "liberate the land" (a euphemism for the elimination of Israel), but also to thwart efforts to normalize relations between Israel and Arab countries. To achieve their goal, the leaders of Hamas and Palestinian Islamic Jihad are ready – from their five-star hotels and villas in Qatar, Turkey and Lebanon – to sacrifice other Palestinians. Sadly, many Palestinians are likely to heed the calls of the terror leaders to murder more Jews.
In light of the Iranian-led Jihad against Israel and Arabs who seek normalization with Israel, one cannot only wonder why the Biden Administration is determined to embolden the mullahs by showering them with money. According to former White House security official Richard Goldberg, on August 15:
"At least $16 billion has now been made available to Iran without any congressional input—and more might be on the way. Another $6.7 billion is reportedly moving to Iran via the International Monetary Fund Special Drawing Rights... and reportedly... another $3 billion of regime assets frozen in Tokyo. India and China...."
There is no doubt that the funds will be used to escalate the "resistance" against Israel, fund the lavish lifestyle of Hamas and Palestinian Islamic Jihad leaders, and intimidate Arabs who seek to make peace with Israel. By doing so, the Biden Administration is giving the mullahs a green light to pursue their destabilizing schemes not only against Israel, but also against Arab states, Europe (here, here and here) and the United States (here, here, and here).
Lavishing billions in bribes to Iran's mullahs might successfully dissuade them from "rocking the boat" before the US presidential election in November 2024, but after that, if and when Iran celebrates its nuclear weapons breakout, no one will be safe, least of all the United States.
Bassam Tawil is a Muslim Arab based in the Middle East.