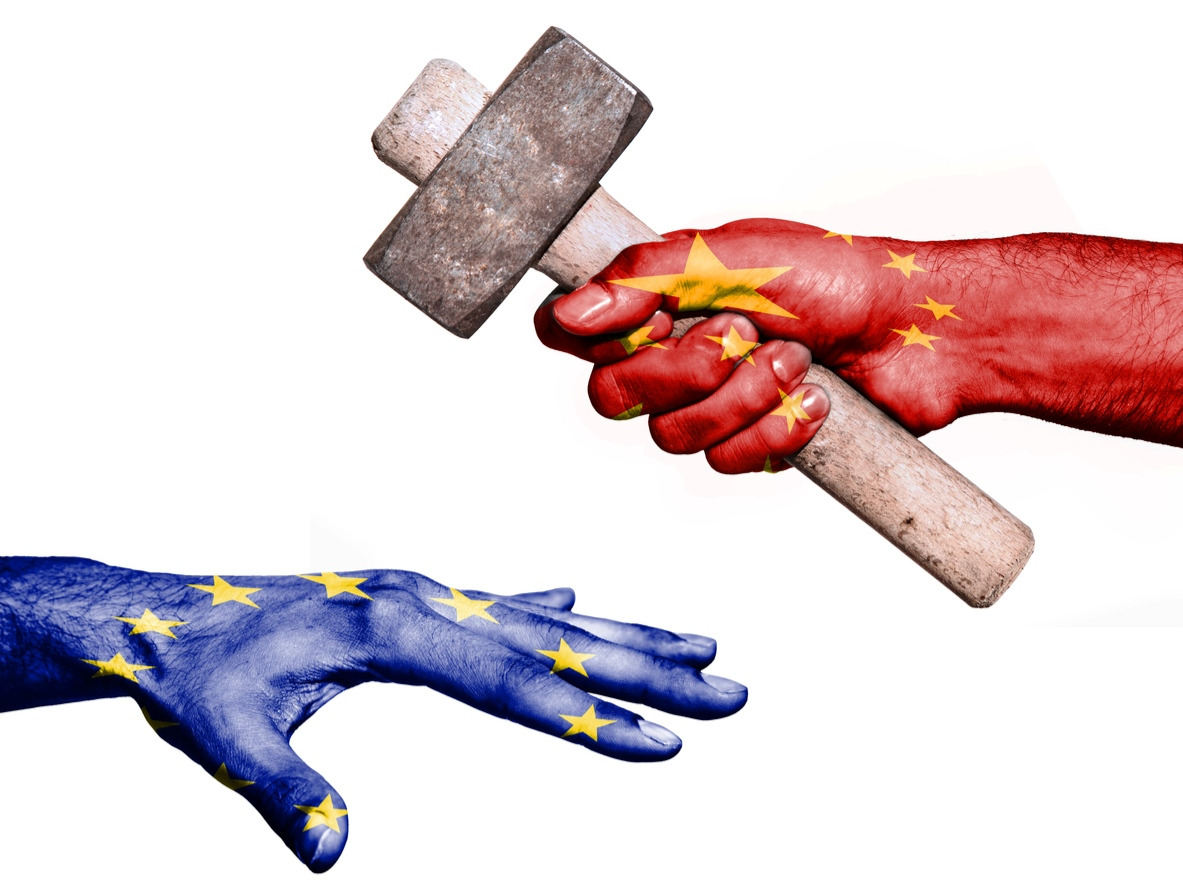 Europe is in "complete denial" as China proceeds to spread its influence on the continent. At least that is the urgent, unequivocal view of Ivana Karásková, a Czech foreign influence specialist and a special adviser to European Commission Vice President Věra Jourová.
"In some countries, awareness of [Chinese influence operations] is high because they have a history of Russian-backed action. Elsewhere, it's complete denial," she told Politico. "It's very uneven in terms of awareness. There are some countries where the discussion isn't happening at all."
Karásková was referring to what Politico calls China's "direct propaganda" and "covert funding of think tanks, academic institutions and nonprofit organizations," and she said, according to Politico, that "Beijing has long aimed propaganda at the European Union, seeking to undermine transatlantic unity and promote Beijing's outlook on world affairs."
"Asked what parts of the Continent were most in the dark about Chinese influence, she added: 'The whole of Western Europe is not looking. And yet there are cases that are so blatant.'"
A particularly blatant example of willful blindness to Chinese interference in Western Europe is Britain. In July 2023, the UK's Intelligence and Security Committee of Parliament released a comprehensive report on China's threat to the country, and how the Communist power seeks both political and economic influence.
The Committee found that China had "successfully penetrate[d] every sector of the UK's economy," and that "the Government has been so keen to take Chinese money that it has not been watching China's sleight of hand."
Astonishingly, the Committee discovered that "until recently, our Agencies did not even recognise that they had any responsibility for countering Chinese interference activity in the UK."
The chair of the Committee, Sir Julian Lewis, noted why the UK is so important to China:
"China sees almost all of its global activity in the context of what it sees as the struggle between the United States and China, and therefore it sees the United Kingdom fundamentally through that optic. China aspires to split off from the United States countries which it thinks might be detachable, and they sometimes have a sunnily optimistic view about which countries might be susceptible to that treatment. I would say that that was their single biggest issue with the United Kingdom."
The report describes China's penetration of British universities as well:
"The UK's academic institutions provide a rich feeding ground for China to achieve both political influence and economic advantage by both:
● controlling the narrative of debate about China within UK universities by exerting influence over institutions, individual UK academics and Chinese students; and
● obtaining Intellectual Property (IP) by directing or stealing UK academic research in order to build, or short-cut to, Chinese expertise."
The Committee also noted:
"Chinese students make up the largest overseas contingent of students in UK universities... it is believed that, in 2019, there were more than 120,000 Chinese students in the UK – more than in the rest of Europe combined. During this Inquiry, we were told that 'China likely seeks to exert influence over UK universities by threatening to withdraw scholarships or funding for Chinese nationals in the UK.'"
China's influence in the UK, however, is not limited to "all sectors of the economy", universities and think-tanks. Its influence reaches deep into the government, as well. Despite all the above, "the Government does not want there to be any meaningful scrutiny of sensitive investment deals [with China]," according to the report.
That is perhaps not so strange. As described by Clive Hamilton and Mareike Ohlberg in their book, Hidden Hand: Exposing How the Chinese Communist Party is shaping the World, the Chinese Communist Party (CCP) has managed to "groom" British power elites to support Chinese interests, especially through a networking group named "48 Group Club":
"No group in Britain enjoys more intimacy and trust with the CCP leadership than the 48 Group Club... [It] has built itself into the most powerful instrument of Beijing's influence and intelligence gathering in the United Kingdom. Reaching into the highest ranks of Britain's political, business, media and university elites, the club plays a decisive role in shaping British attitudes to China... enthusiastically fostering the interests of the CCP in the United Kingdom..."
Meanwhile, the UK Foreign Office reportedly told government officials not to use the term "hostile state" about China, in order not to offend the Communist country. The term, the Foreign Office said, should not be used in documents and internal messages via email and WhatsApp between advisers, civil servants and ministers.
In Europe, "the PRC's influence is significantly higher in Germany than comparable European countries," according to the China Index, an independent organization that tracks Chinese influence worldwide:
"A key concern is the high level of uncritical research cooperation between Germany and China, including in sensitive technological and military areas, which is one of the highest and among the most 'captured' globally...

"Huawei, BGI, ZTE, Hisilicon (Huawei-owned) and other Chinese companies collaborate with and fund projects at German universities and research institutions. Huawei alone has entered into at least 120 cooperation projects over the last 15 years, with annual budgets between 25,000-290,000 euros per project. The real number is unclear, as German universities sometimes cite their 'academic freedom' to refuse to answer freedom of information questions from media about controversial cooperation."
"The research suggests the PRC is trying to influence the middle class in Germany through academic and media-based linkages, perhaps as a means of influencing the wider European region," said China Index researcher Dr. Puma Shen.
There are "90 Chinese groups in Germany with direct ties to the United Front bureaucracy in China," according to China expert Didi Kirsten Tatlow.
"I identified another, nationwide, German organization with 37 affiliates... that partners with a key CCP influencing organization (thereby both facilitating and carrying out 'united front style work'... perhaps unbeknownst to its members). Add on about 80 Chinese Student and Scholar Associations, more than 20 Confucius Institutes and classrooms, a dozen united front-aligned, Chinese-language media...an as yet unknown number of 'Chinese Aid Centers... and the phenomenon is both large and complex. There are hundreds of groups working in Germany to maintain the CCP's ideology, values, language and goals to varying degrees among a relatively small Chinese diaspora, and, importantly, more broadly in society from the grassroots to the elite. Europe-wide, these groups are embedded throughout civil society – even many Chinese and non-Chinese members may be unaware of their exact nature or function – and likely number over a thousand, since they are present (with some variation) in every country."
China has influenced or co-opted elites all over Europe, according an October 2021 report by the Strategic Research Institute of France's renowned Military College (IRSEM) "Chinese Influence Operations: A Machiavellian Moment," by Paul Charon and Jean-Baptiste Jeangène Vilmer.
"The Chinese Communist Party has always forged links with politicians from countries whose positions, or at least, whose representations of China, they wished to influence. These practices were also part of the Soviet repertoire of active measures and are among United Front activities."
Charon and Vilmer described the influence of the Chinese Communist Party in both Italy and France:
"The CCP also seems very active within the Italian political class, targeting the M5S [Five Star Movement] in particular. The situation is judged even more worrying since the Italian Ministry of Foreign Affairs has little resources on China. In addition, the Minister of Foreign Affairs, Luigi Di Maio, is perceived to be fully aligned with the CCP's cause, defending its interests in Italy – although his positions seem to have evolved recently. He was notably criticized for signing a Belt and Road Initiative agreement in March 2019, when he was minister of the Economic Development, which has increased the Italian trade imbalance and eased the Chinese penetration in Italy since."
Italy, according to reports, is trying to leave the Belt and Road Initiative. "The decision to join the Silk Road was an improvised and atrocious act," Italian Defense Minister Guido Crosetto said recently. The concern now is how to leave it without damaging relations with the Chinese Communist Party.
According to Charon and Jeangène Vilmer:
"In France, as much as anywhere else, the Party has forged strong relationships with individuals enabling China to infiltrate the political sphere, defend its interests and silence critical voices. Beyond individuals punctually and diversely recruited by the Party, the construction of a Chinese network within the French elite runs through the France-China Foundation since 2013. According to its staff, the foundation's 'Young Leaders' program aims to 'promote the meeting of high potential individuals from China and France from diverse background (economic, political, cultural, media), who will play an important role in their home country or in the context of China-France relations.'"
Chinese influence also reaches into several of the formerly communist Eastern and Central European countries, according to Charon and Jeangène Vilmer.
"In the Czech Republic, another interesting European example, Chinese influence on politicians has reached new heights. MapInfluenCE described a massive penetration of Czech political networks, the Czech Social Democratic Party (ČSSD) most specifically...

"In 2015, the Chinese conglomerate CEFC Group Europe set up its European headquarters in Prague, and launched an aggressive acquisition drive that targeted numerous Czech companies: J&T Finance Group, the airline Travel Group, the multimedia group Empresa Media, and even the football club SK Slavia Prague. Jaroslav Tvrdík, who was appointed vice-president of CEFC Europe, played a key role in the majority of these acquisitions... The president and founder of CEFC, Ye Jianming was, on his part, appointed political and economic advisor to the Czech president Milos Zeman."
Robert Williams is a researcher based in the United States.