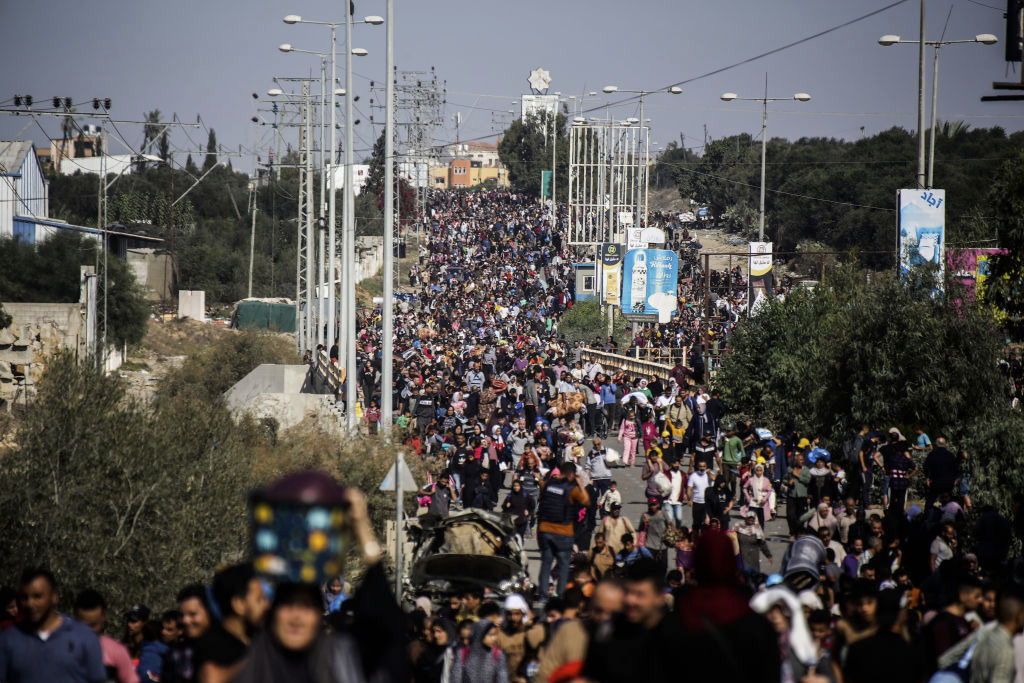 In January 2021, Iran was on the verge of economic asphyxiation, barely able to continue financing Hezbollah, Palestinian Islamic Jihad and Hamas. The Abraham Accords outlined the prospect of regional peace, and Saudi Arabia was considering joining the United Arab Emirates, Bahrain, Kosovo, Morocco and Sudan. Israel was a respected regional power.
Russia had not yet invaded Ukraine. Chinese President Xi Jinping was not threatening Taiwan.
Then came the Biden administration's withdrawal from Afghanistan; Russia's invasion of Ukraine; China's spy balloon, unstopped until it had finished collecting information over America's significant military sites for a week; the Biden administration's cancellation of the China Initiative that had been effectively combating Chinese espionage; failure to close illegal Chinese police stations throughout the US; no response to roughly 70,000 Americans each year killed by Chinese fentanyl; a US southern border overrun by seven million migrants, and reported a known 1.5 million "gotaways" who have presumably evaded announcing themselves for a reason; around 1,800 young Chinese men, in packs, with simialar clothes, haircuts and tattoos who pretend not to speak English, some of whom US border guards recognize as members of China's military; failure to prevent China buying American farmland, possibly either to grow their food or destroy America's -- especially near US military bases; a California laboratory with mice bio-engineered to carry at least 20 deadly pathogens ready to be released into the US; Confucius Institutes that had been closed down but were renamed and are now spreading from universities to high schools; China's subversion of America's children by a "Trojan Horse" named TikTok; financing Iran's nuclear weapons and terrorism programs by ignoring sanctions on Iran to enable it to profit by close to $60 billion, funding the Palestinian Authority to the tune of nearly $1 billion, unconditionally, despite its deadly pay-for-slay "jobs program," and last week, Secretary Janet Granholm inviting the Chinese and Russian officials to inspect a US nuclear testing facility.
All this has been watched by what must be a world that is stupefied. If the Free World is not alarmed, it should be. The idea of focusing only on the US and its southern border is basically abdicating its role as protector of the Free World, and abandoning the rest of the planet to the tender mercies of China, Russia and Iran, with North Korea at the back. How long do we think America would last after that?
Iran-backed Hamas's October 7 invasion of Israel and the brutalities committed there need to be viewed in that context.
Above all, to speed up the release of the Israeli hostages held in Gaza by Hamas, there must be as few "pauses" as possible, and no let-up by Israel in military pressure.
On October 7, at dawn, Hamas terrorists attacked and breached the high-tech security barrier separating Israel from the Gaza Strip. Thousands of well-trained and heavily armed terrorists invaded Israel. They tortured, mutilated, raped and murdered. They beheaded babies, burned them alive and baked one in an oven. The Gazan terrorists, in a few hours, murdered more than 1,200 people, wounded thousands more, and abducted almost 250 Israelis, who are now held as hostages in Gaza. While that was going on, Hamas terrorists from Gaza launched thousands of rockets at Israel (20,770 sq.km), a country not quite as large as New Jersey.
"This," said Israel's ambassador to the U.N., Gilad Erdan," is Israel's 9/11." Proportional to population, the attack was worse -- as if the September 11 terrorists had killed not nearly 3,000 people but 50,000. The Hamas attack also was clearly genocidal. Hamas wanted to torture, mutilate, rape, injure, kill, and kidnap as many Jews as possible only because they were Jews. If Hamas had had the means, the number of victims would have been far higher.
The October massacre of Jews was the largest and most vicious since the Holocaust.
Israeli Prime Minister Benjamin Netanyahu within days formed an emergency government. "Israel's war," he wrote, " is your war.... This is a turning point for leaders and nations. It is a time for all of us to decide if we are willing to fight for a future of hope and promise or surrender to tyranny and terror. Rest assured, Israel will fight."
European leaders also weighed in. "I strongly condemn the current terrorist attacks against Israel," French President Emmanuel Macron posted on X. "Germany condemns these attacks by Hamas and stands by Israel," German Chancellor Olaf Scholz wrote. US President Joe Biden spoke of his "unwavering commitment to Israel's security".
On October 9, Biden, Macron, Scholz, Italian Prime Minister Giorgia Meloni and British Prime Minister Rishi Sunak published a joint statement expressing support for Israel -- but, in a disingenuous attempt to put Israelis and Palestinians on an equal footing, carefully counterbalanced their support with backing for the so-called Palestinian cause:
"[A]ll of us, recognize the legitimate aspirations of the Palestinian people and support equal measure of justice and freedom for Israeli and Palestinian alike... Hamas does not represent these aspirations".
Those words came two days after a horrific massacre, after millions of Palestinians and others in the Middle East had cheerfully celebrated the massacre. Worse, saying that Hamas "does not represent" the aspirations of the Palestinian Arabs is actually not quite the whole story: on October 7 in Gaza, crowds thronged the streets to cheer the terrorists, shout "Allahu Akbar" ["Allah is greatest"], spew hatred towards the hostages and obscenely exhibit and abuse corpses of victims brought back as trophies.
In West Bank, which is governed by the the Palestinian Authority (PA), the crowds were equally enthusiastic. Palestinian polls have shown for years that in any PA election, Hamas would win in a landslide. The PA leadership, significantly, did not condemn the massacre. Fatah, the dominant force in the PA, supported it.
The worst, however, was to come.
As the Israeli military started targeted strikes in the Gaza Strip to destroy rocket launchers and other weapons, Hamas broadcast images of destroyed buildings and injured Gaza residents, the Hamas leaders in Gaza began to present themselves as the "real victims".
"Forgetting" the atrocities that had just taken place in Israel, Western European leaders started to say that Israel's response must be "proportionate". None of them, however, explained what a "proportionate response" is. What proportionality is not, is that Israelis should be permitted to kill the same number of babies and rape the same number women as the Palestinians did. It simply means that any strike has to be proportionate to a legitimate target. It is not proportionate, for instance, to use a nuclear bomb to take out a shoulder-fired anti-aircraft missile.
While it is important to try to ensure that there will be as few civilian causalities as possible, it is a war crime to use civilians as "human shields". US Senator Tom Cotton remarked,
"If Hamas uses schools, and kindergartens, and mosques for military purposes, Israel has every right under the laws of war to strike back... It is Hamas that is committing war crimes by using those civilians to create the imagery to try to put pressure on the Biden administration."
It seems, however, that no matter how many hundreds of thousands of leaflets Israel air-drops in Gaza, or how many phone calls and notifications they send, to urge Arab civilians to get out of harm's way – Israel's is the only military to take such care -– in the eyes of most of Europe's leaders, Israel's responses are never "proportionate".
While the Israelis were urging the residents of northern Gaza to move south to avoid being caught in the cross-fire, Hamas leaders were ordering Gazans not to move to safety, and shooting at them as they tried to flee -- presumably so that Hamas could have more dead bodies to show the television crews how evil the Israelis supposedly are.
Less than a week after the one of the most savage massacres in history, Israel had become transformed in the eyes of the public from a victim to a criminal.
Some Western European leaders began using the arrogant tone of the lesson-giver. French President Emmanuel Macron lectured:
"Israel, has the right to defend itself by eliminating terrorist groups, including Hamas, through targeted actions but by preserving civilian populations, because that is the duty of democracies."
Macron did not say, even though he perfectly well knows it, that Hamas use the civilian population as human shields; if he had said it, he would not have been able to do what he seemingly really wanted to do: incriminate Israel.
When US Secretary of State Antony Blinken arrived in Israel, he announced the support of the United States but added:
"We democracies distinguish ourselves from terrorists by striving for a different standard – even when it's difficult – and holding ourselves to account when we fall short".
To Blinken's credit and that of the Biden administration, however, on November 5, he rebuffed the request of Egypt and Jordan for a ceasefire, saying that "such a halt right now would only allow Palestinian militant group Hamas to regroup and attack Israel again."
In reality, controls on humanitarian aid entering Gaza from Egypt are nearly non-existent; what is in the trucks could easily be weapons or other terrorists – and even if is food, water or medicine, Hamas -- which shoots its citizens if they try to flee to safety -- will in all likelihood give it to its terrorists or hoard it.
Unfortunately, Biden announced that the US will send $100 million in additional "humanitarian aid" to Hamas and the Palestinian Authority, thereby freeing up funds to be used for further terrorist attacks. He said the money would be sent to the Palestinian people, not just the Hamas terrorists, but he omitted how that might possibly be accomplished. "Humanitarian aid" sounds virtuous, but actually violates UN Security Council Resolution 1373, which prohibits resupplying terrorists.
Israel, regrettably, evidently under US pressure, has just agreed to four-hour "humanitarian pauses." To Hamas, any pause is a gift. It can restock, move its terrorists around, and keep re-hiding the hostages. What chance is there that a terrorist group that shoots its own citizens to keep them from fleeing to safety will hand out food, water and medicine to anyone but its own members?
In fairness, Biden immediately sent Israel munitions and deployed US Navy vessels to the eastern Mediterranean, including a nuclear submarine, but, depending on the day, Israelis may well be wondering if and when Biden will look at the staged, extravagantly-funded, anti-Israel demonstrations that have sprung up, and insist that Israel end its counter-offensive.
Biden has not failed to repeat his support for a"two-state solution", even though it is now clearer than ever that the creation of a genocidal Palestinian state on what is left of Israel's small borders must be unthinkable. How would New Jersey feel surrounded by 22 Arab state that for 70 years have vowed to destroy it? In such a volatile region, what if Iran or Hamas or ISIS were to take over the new Palestinian state?
Biden then drew a parallel between Hamas and Russian President Vladimir Putin:
"Hamas and Putin represent different threats, but they share this in common: They both want to completely annihilate a neighboring democracy — completely annihilate it".
Biden admitted that "Iran is supporting Russia in Ukraine, and it's supporting Hamas and other terrorist groups in the region.... And we'll continue to hold them accountable." All true, but saying that the Biden administration has held Hamas or anyone else accountable is false.
The Biden administration has held no one accountable: not Iran, not China, not Russia, not North Korea, not Hamas, not Palestinian Islamic Jihad, not Yemen's Houthis. The only people he has held accountable have been American parents, whom he has called "domestic terrorists" for wanting to know what their children are learning in public schools, and American Catholics, whom he called "violent extremists". Biden has carefully not said a word about Iran's involvement in the atrocities committed by Hamas on October 7: Iranian weapons, planning, training and funding.
Iran's proxies have recently attacked American troops in the Middle East at least 48 times since October 17, according to Fox News, with 56 US troops wounded, some with severe traumatic brain injuries. Although the Biden administration has been issuing warnings and launched a few strikes at empty facilities, Iran, understandably, continues to escalate. If the US were to incapacitate the port Iran uses to ship oil to China, or take out a base of Iran's Islamic Revolutionary Guard Corps -- or at the very least, as retired US Army General Jack Keane has been advocating, the base Iran uses to train troops -- the war would likely be over in a minute.
Biden has a sent an "urgent budget request" to Congress. Most of the funds Biden is asking for, however, are intended for Ukraine. The Ukraine is indeed a worthy US investment: if Russia can keep the Donbass and Crimea, China's leader Xi Jinping will be encouraged to take Taiwan, perhaps the Philippines, the sea lanes in the Indo-pacific, as well as further threaten Australia and Japan.
America and its allies need to win. If they do not win, their enemies do.
Dr. Guy Millière, a professor at the University of Paris, is the author of 27 books on France and Europe.