Since 1979, agents of the Iranian regime have been linked to the killing of 162 political dissidents in Geneva, Rome, Istanbul, Paris, Berlin and Oslo, to name but a few places. Today, although Tehran's leaders are apparently still not averse to dispatching their assassins, analysts claim that an increasingly significant proportion of Iran's battle against dissidents in the West is now being fought with a campaign of slander, propaganda and disinformation. What once was murder, now takes the form of media manipulation and character assassination.
Most recently, a screenshot of an article, "Police followed serious sexual assault," was published on the website of the Young Journalists Club, an Iranian news aggregation site, which according to the New York Times, is a mouthpiece of the Iranian regime. The original article appears to have come from the South Wales Argus, a tiny local British paper with a circulation of just 23,000.
The article claims a young boy was subjected to a brutal sexual assault. The accused is a prominent figure within the Iranian diaspora, who regularly appears on a London-based -- therefore uncensored -- Persian-language television channel, which, apparently to the great irritation of Iranian authorities, has a huge following in Iran.
There are a number of problems with the Iranian version of the news article. First, much of the story is written in what seems a noble attempt at a second language: for example, "Nevertheless police released him by earnest."
Second, and more importantly, not only has the South Wales Argus never printed any such story, but the Argus journalist named as its author, Ian Craig, does not even exist. In an effort to discredit Iranian opposition figures abroad, agitators in the regime doctored a screenshot and invented a crime.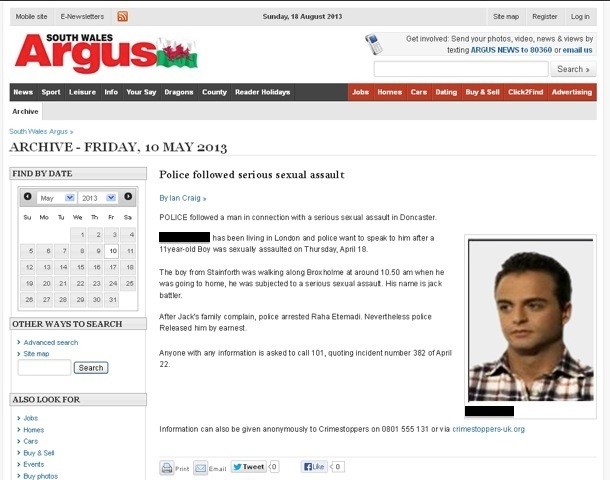 The fake South Wales Argus screenshot.
The agent provocateur behind the fabrication has also apparently produced a screenshot of an alleged CNN story confirming the story. This article, presumably to give the original deception greater legitimacy, was published -- albeit using CNN's "iReport" feature, which allows anyone to submit a story -- but has since been deleted by CNN's website moderators.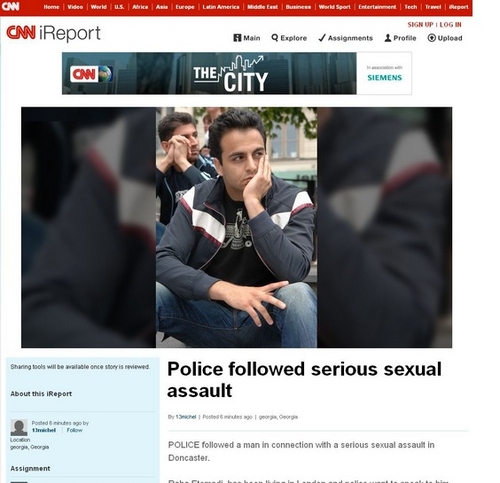 Iranian agitators take advantage of CNN's unverified "citizen journalism" initiative; the fabricated story was soon taken down.
After the September 11, 2001 attacks, the Iranian Ministry of Intelligence and National Security, according to Iranian opposition leader Mohammad Mohaddessin, "assembled a group of writers, researchers and analysts in Kayah, the largest Government-run publishing house in Iran," and placed it under the command of Hossein Shariatmadari, a brigadier-general of the Revolutionary Guards and close confidante of Ayatollah Khamenei. Shariatmadari, according to Mohaddessin, is apparently a "veteran interrogator, torturer and propagandist who has been a key player in the clerical regime's disinformation operations since the 1980s."
These Iranian agents work closely with Iranian state news agencies to manipulate international news. In September 2013, for example, Iran's official FARS news agency reprinted a Foreign Policy article on the use of chemical weapons in Syria, albeit with a considerable number of alterations. Foreign Policy journalists Uri Friedman and Katelyn Fossett noted: "they [Iranian regime-employed journalists] lopped off entire paragraphs, changed key words, and added others to turn the argument into a case for why the U.S. should not take military action in Syria -- and why the rebels, not Syrian President and Iranian ally Bashar al-Assad, have committed unspeakable atrocities."
Recently, regime agitators have expanded their endeavors beyond traditional media. In 2008, the Islamic Revolutionary Guards Corps announced that it was planning to launch ten thousand blogs that would "promote revolutionary ideas" for the Basij forces -- a mass-paramilitary organization with a variety of roles, including the brutal suppression of protestors.
In addition, in 2013, pro-regime activists established hundreds of fake social media accounts and blogs, purporting to belong to BBC journalists and their Iranian colleagues. Iranian agents even created an imitation BBC website, persianbbc.ir. The fake site mirrors the BBC's actual site in design and fonts, but includes stories such as, "Death of Bin Laden, Saddam Hussein: fabricated stories by Washington" and "BBC colluding with Israel to attack Iran." Further articles accuse the BBC and other Western press of censorship and media manipulation; blog posts within the sham website include articles by BBC journalists in which they supposedly confess to acts of sexual deviancy.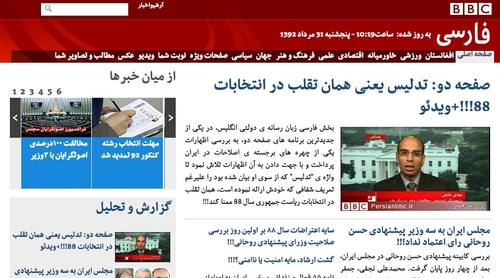 The fabricated BBC website.
Meanwhile, relatives of BBC Persia's actual staff have been arrested and threatened by Iranian intelligence agents. Anonymous callers have also accused the BBC Persian staff of being drug dealers and apostates.
On occasion, European politicians have detected Tehran's disinformation efforts. A Swedish MEP, Cecilia Malmström has revealed the extent to which Iranian agents attempted to influence parliamentarians. These efforts included mailing thousands of letters to European policy makers, which accused various opposition groups either of terrorism or of having extremist agendas. Although most of the letters contained different signatures, the text and the handwriting were all identical.
Media manipulation can occasionally go awry. Mohammad Mohaddessin notes that some propagandists have become so accustomed to the rhetoric of the official Iranian press that supposedly objective articles disseminated in the West referred to Iran's late Supreme Leader, Ruhollah Khomeini, as "Imam Khomeini," and to one opposition group as the "National Army of Hypocrites."
In 2012, Iran's official FARS news agency printed an article which claimed "the overwhelming majority of rural white Americans said they would rather vote for Iranian president Mahmoud Ahmadinejad than U.S. President Barack Obama." FARS had picked up the story, however, from the satirical news website The Onion and presented it as news.
Iranian agitators apparently do not just want an Iranian audience. One YouTube channel, "The Heritage and Destiny Channel," established by regime activists, features a video in which two British actors explain the sinister signs of "Jewish supremacy" supposedly concealed within the 2012 Olympics logo.
The main target of Iranian propaganda efforts seems to be the People's Mojahedin Organisation of Iran [PMOI], one of the largest opposition groups, and a leading member of the National Council of Resistance of Iran. Regime activists have created hundreds of websites dedicated to demonizing the PMOI. Anne Singleton, a British woman whom a U.S. government report has accused of spying for Iran, runs one such website, iran-interlink.org. In 2005, through Singleton and her husband, the Iranian regime even attempted to host a meeting in the British Parliament, to spread disinformation about the PMOI. According to a British parliamentary group, the meeting was, in the end, not permitted "because of disquiet amongst Parliamentarians."
The Iranian regime's litany of claims against the PMOI is so pervasive that one accusation -- that the PMOI assisted with the suppression of the Iraqi Kurds -- was included in a 1994 U.S. Department of State report on the PMOI. A report by Friends for a Free Iran, a European Parliamentary committee, noted that a UN investigation revealed the supporting witness to the State Department's claim to be "an agent of the Khomeini regime's Ministry of Intelligence."
In another instance, a French jurist and lawyer in the Counsel of Saddam Hussein, Emmanuel Ludot, revealed, in 2005 that the Iranian ambassador to France, Sadeq Kharrazi, had asked him to use the fallen dictator's court case to blame Saddam's mass-murder of Iraqi Kurds on the PMOI.
In May 2005, Human Rights Watch published a report into PMOI refugee camps in Iraq; it claimed the PMOI was a terror group which subjected "...dissident members to torture and prolonged solitary confinement," and that within PMOI camps there were "...two cases of death under interrogation." Friends of Free Iran have noted, however, that Human Rights Watch did not even visit the camps despite an open invitation; that the human rights organization ignored testament from a number of PMOI experts, and that it failed to speak with U.S. coalition forces who had governed the camp since 2003. Instead, Human Rights Watch's evidence relied on 12 hours of telephone interviews with 12 different witnesses, most of whom Friends of a Free Iran revealed to be closely connected with Iranian agents and government institutions.
Writing for the Gatestone Institute about the recent Iranian elections, Lawrence Franklin observed:
The Office of the Leader apparently instructed the Guardian Council to select several hard-line candidates and one with a less obnoxious public persona. This playbook guaranteed the election of the perceived more moderate candidate, Hassan Rouhani. That maneuver reduced the chances of another voters' revolt, which followed the discredited 2009 presidential results. Rouhani's victory also acted as a safety valve, releasing some of pent-up anti-regime sentiment. Some Rouhani voters believing they had scored a victory over the regime, foolishly celebrated after the results were announced. Moreover, this sordid process burnished a bit Iran's international image.
Tehran's soft power seems to subsist on the politics of duplicity. Too often, journalists and policy makers in the West forget that totalitarian regimes do not always act honestly. While the fabrication of an article from an obscure Welsh newspaper does not seem too great a threat, considering the anticipated resumption of talks over Iran's nuclear program, such deceptions are an important illustration of the tactics that fuel the Iranian machine.