Three instances of cross-border fire have occurred along Israel's frontier with Syria in the past week, reinforcing the Israel Defense Force's assessment that this border is set to present a mass of security threats in the near future.
In the most recent incident, a bomb planted by unknown attackers along the border fence, detonated as an IDF patrol passed by, damaging the vehicle. It represents just the sort of incident that, if repeated, could escalate into a potential kidnapping or deadly attack on soldiers, precipitating an Israeli response -- which in turn could lead to a wider escalation.
The IDF's Northern Command has, in fact, been preparing intensively for this scenario, training patrol units to respond quickly to attacks, and constructing a missile-proof border fence with hi-tech sensors and an early warning system to provide some cover.
The Israeli military has not yet been able to determine who carried out the recent border bombing, but foremost among the suspects are Syrian jihadi elements that form part of the armed opposition to the Assad regime.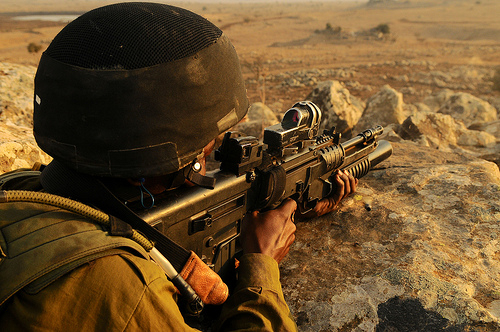 An Israeli soldier trains on the Golan Heights, near the border with Syria, Nov. 14, 2013. (Image Source: Israel Defense Forces)
Extremist jihadi factions, such as the Al Nusra Front (Al-Qaeda's official branch in Syria), and The Islamic State in Iraq and Greater Syria maintain a continuous presence in southern Syria along sections of the Israeli border, taking part in daily armed clashes with Assad loyalist forces for control of villages in the area.
The jihadis may be busy with Assad's army, but in line with their radical ideology, could still choose to strike out at Israel. Such groups are difficult to deter: they are not sovereign rulers of clearly demarcated territory, meaning that there is no clear "return address" for an Israeli retaliation, and they have not experienced Israeli counter-terrorism action.
The opposite is true of both Hezbollah in south Lebanon and Hamas in Gaza, which have their own territory and, despite being heavily armed, are, for the time being, deterred by previous Israeli operations against them.
The Syrian army too poses a danger, as demonstrated last week, when a Syrian soldier decided to open fire on Israeli paratroopers along the border. The paratroopers wasted little time in returning fire, striking their attacker. According to the IDF's evaluation, the Syrian soldier acted alone, and his decision to fire was spontaneous. But in the chaotic border region, this type of incident could also act as a spark, setting off a chain reaction of clashes that might escalate into a wider conflict.
On the same day, a mortar shell fired from Syria hurtled over the Israeli border, and exploded near the Druse town of Majdal Shams. The mortar was a stray shot fired in the midst of the Syrian civil war, but had it landed inside a populated area of the Golan Heights and caused casualties, an Israeli response would be a certainty.
Stray fire is also a possible trigger for escalation .
Israeli military planners say that the Syrian arena has become intrinsically linked to Lebanon.
With many thousands of Hezbollah operatives fighting in Syria, and with Syrian jihadi organizations branching out into Lebanon, an incident that begins as an attack on Israel from Syria could quickly end up spreading to the Lebanese border.
Counteracting the explosiveness of the situation are a few stabilizing factors. No side in Syria is keen on opening a front with Israel and facing the IDF's firepower when it is neck-deep in a fight to the death in the Syrian civil war. Additionally, localized incidents, as again demonstrated last week, can, through a careful combination of firm responses and restraint, be contained by Israel.
In today's chaotic and unpredictable regional reality, however, Israel is not relying on these factors.
Senior Israeli military commanders are telling their units to assume that war could erupt -- swiftly and unpredictably -- tomorrow, and to make all necessary preparations.