It must be most disconcerting for those promoting the Palestinian narrative of victimhood to observe the events in refugee camps -- violent protests and demonstrations, manifested by burning tires, blocked roads, and a general strike -- in the West Bank and the Gaza Strip in January 2014.
The violence resulted not from any action of Israel but rather from a strike that began on December 3, 2013 of 4,500 Palestinians who had lost their jobs at the United Nations Relief and Works Agency [UNRWA]. The organization was short of funds and had cut expenditures, thus reducing some activities and staff.
The strike led to the closing of schools, food shortages, and the disruption of social services including medical care and garbage collection. In one camp housing 15,000 people, all health services were suspended except for polio vaccinations for very young children. The Palestinian Authority [PA], so eager to proclaim a Palestinian state, appears incapable of policing its own people or ending the anarchy among them.
The unrest among the Palestinians throws an illuminating spotlight on UNRWA, an organization that should never have been established as a separate United Nations organ and that should now be eliminated. All refugees in the world, except one group of people, are assisted by a single organization, the office of the UN High Commissioner for Refugees (UNHRC), set up to protect and support refugees by UN General Assembly Resolution 319 (IV) in December 1949.
Only the Palestinian refugees have their own body, UNRWA, created by UN General Assembly Resolution 302 (IV) in December 1949. It was to be responsible for direct relief and works programs for 700,000 Palestinian refugees. Its definition of "refugees," is broader than that of UNHCR: it embraces those who were physically displaced between June 1946 -- well before Israel was established -- and May 1948, and who lost home and livelihood as a result of the 1948 Arab-Israeli conflict. The definition now also includes descendants of the original refugees, thus establishing a designation seemingly in perpetuity.
UNRWA states there are five million refugees, many of whom live in camps in the West Bank (19), Jordan (10), Gaza Strip (8), Lebanon (12), and Syria (12). It does not administer the camps, nor is it responsible for law and order, and it has no police force. It does provide education, health, relief and social services both within and outside the camps. With a general budget fund for 2013 of $675 million it is a large employer and jobs program, with a staff of 29,000, consisting mostly of the descendants of refugees, and costing $501 million. It arranges for 480,000 children to attend schools run by a staff of 22,000 people, operate 137 health clinics, and attends to the 280,000 people categorized as living in a state of poverty.
There are three fundamental problems with UNRWA. The first is the very definition of "Palestinian refugee." Although UNRWA authorities insist on the number of them as five million, only 30,000 of those who left their homes as a result of conflict are still alive. It is, however, disingenuous to include grandchildren and great grandchildren in tabulating the number of "refugees."
Second, UNRWA is, and has been since its creation, in reality a welfare organization for the Palestinians with whom it deals. UNRWA has not led to the economic development that was supposed to occur, but has, conversely, implanted a culture of permanent dependency. Funding for its budget comes from voluntary outside sources; the United States, as the largest donor, provided $250 million of the total $675 million raised for last year. The U.S. has since 1949 given $4.4 billion to fund UNRWA operations. The supposed friends of the Palestinians, the members of the Arab League, have contributed little, usually less than 2%. In 2012 they pledged 7.8% of the total budget but in fact did not honor the pledge.
Most important, politically, is that the continued existence of UNRWA diminishes the hope of ever settling the Arab-Israeli conflict for both economic and political reasons. It has failed to provide incentives for Palestinians to breaking itself of their dependency and to become economically independent. Also because of its anti-Israeli bias evident since its creation, through supporting anti-Israeli textbooks, for example, or naming facilities after terrorists, UNRWA appears unwilling to encourage Palestinians to find any peaceful solution of the conflict -- not to mention what a peaceful solution would mean to its own "job-security".
Even though UNRWA is supposed to be an objective, non-partisan organization, its official statements continually speak of the "shameful expansion of illegal Israeli settlements, and the demolition of Palestinian houses." It says nothing, however, about the Palestinian claim that all of Israel is considered "occupied" or a "settlement" -- "from the [Jordan] River to the [Mediterranean] Sea" -- and the ineptitude or corruption of Palestinian leaders or their unwillingness , because of their insistence on "preconditions, " to engage in genuine peace negotiations. Instead, it blames the stalemate of the peace process on the "incremental strategy of the Israeli occupation," rather than the repeated threat to Israel of the Palestinian "phased plan" to eliminate and displace Israel in stages. UNRWA celebrates annually the International Day of Solidarity with the Palestinian People and talks of "Occupied Palestinian territory," and "the city of East Jerusalem."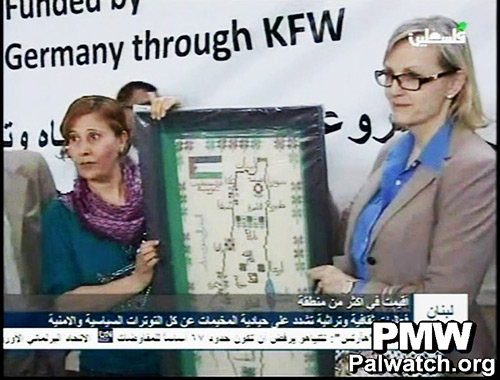 Ann Dismorr, Director of UNRWA Affairs in Lebanon, poses with a map that erases the State of Israel and presents all of it as "Palestine." (Image source: Palestinian Authority TV via Palestinian Media Watch)
Although the Italian diplomat Filippo Grandi, who left the position of Commissioner-General of UNRWA after eight years, remarked in his farewell speech on November 22, 2013 that a fundamental injustice was being perpetrated against the Palestinian refugees, he disregarded crucial factors in his address. He neglected to mention that it was the Arab invasion of the newly established State of Israel that led Palestinian Arabs to flee their homes. He failed to mention the commensurate number of Jews, estimated to number 800,000, who were forced to become refugees from Arab countries. And he said nothing about the terrorists against Israel who have continually operated from UNRWA camps.
Grandi also disregarded the biased textbooks used in the schools of UNRWA camps. Prominent in the texts are passages that call for the rejection of the State of Israel, and for the Palestinian "right of return." It is disappointing that the U.S. Department of State has done little to urge UNRWA to remove this incitement against Israel in spite of at least two requests by members of the U.S. Congress, by Senator Mark Kirk in May 2012, and by Congressman Jim Gerlach and three colleagues in September and November 2013. Both asked about the allegations, which are true, that the UNRWA textbooks were "using educational programs to promote violence, antisemitism, and religious extremism among Palestinian refugees." They received no satisfactory answer or precise information from the State Department.
UNRWA was originally conceived as a temporary organization with a limited mandate to provide relief and works programs. That mandate has been extended periodically, and the most recent is due to expire on June 30, 2014. It is in the best interests of the Palestinians themselves, as well as for peace between Arabs and Israel, that the mandate not be renewed. UNRWA has long outstayed its welcome. Its activities and its funds have not led to Palestinian economic and political development that would be conducive to bringing about a peaceful resolution of the Israeli-Palestinian conflict. Instead, the very bias of UNRWA against Israel has only perpetuated the conflict. It would be more productive for genuine peace in the region if the office of the High Commissioner for Refugees took over the function of assisting the Palestinians as it has so ably done for all other refugees.
Michael Curtis is author of "Jews, Antisemitism, and the Middle East".