Palestinian Authority President Mahmoud Abbas's recent decision to abolish religious affiliation from Palestinian ID cards has drawn sharp criticism and triggered a wave of speculation as to his true motive.
Defending the controversial decision, the Palestinian Authority Interior Ministry in the West Bank announced that the Palestinian Basic Law prohibits discrimination on the basis of religion or ethnicity.
The ministry said that Abbas has instructed the ministry to abolish religious affiliation in all ID cards issued to Palestinians.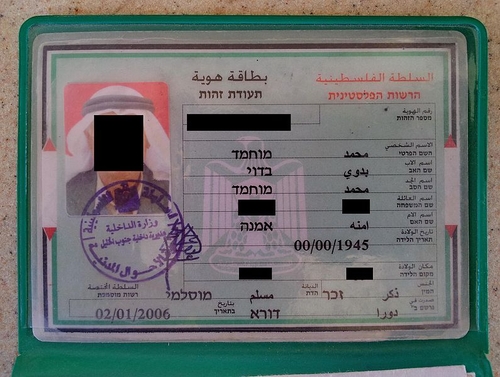 An example of a Palestinian Authority-issued ID card in its current format, which lists the bearer's religion. (Image source: Wikimedia Commons)
Hassan Alawi, a senior official with the Palestinian Interior Ministry, explained that the decision was a "move in the right direction."
He pointed out that the Palestinian Authority had sought to remove religious affiliation from the ID cards since 1995. He also denied that the decision was politically motivated.
However, the decision has been strongly condemned by Hamas and other Palestinian groups, who claim it is aimed at paving the way for the implementation of U.S. Secretary of State John Kerry's "framework agreement" between the Palestinian Authority and Israel.
Taher a-Nunu, a spokesman for the Hamas government in the Gaza Strip, claimed that the decision to abolish the religious affiliation from ID cards was in preparation for the implementation of Kerry's plan which, he said, envisages the annexation of Jewish settlements in the West Bank to Israel.
A-Nunu claimed that the move may be linked to talk about allowing Jewish settlers to stay in the West Bank and hold dual citizenship in a future Palestinian state.
"No Palestinian can agree to the presence of settlements on our land," he said.
Other Hamas officials said that Abbas's decision may be in preparation for the possibility that he would recognize Israel as a Jewish state, as demanded by the Israeli government. The officials also attacked the decision as being in violation of Islamic teachings.
Yunis al-Astal, a senior Hamas representative in the Gaza Strip, explained that the teachings of Islam require that there be "differentiation" between the followers of various religions.
Al-Astal said that differentiating between the followers of different religions would allow Muslims to deal with each group in accordance with sharia, or Islamic, law.
"The Palestinian Authority's decision to scrap religious affiliations from ID cards is unacceptable to Islam and its teachings," the Hamas official said.
Noting that Israel was demanding that Abbas recognize it as a Jewish state, al-Astal claimed that the Palestinian Authority's decision was aimed at complying with the demand. He accused Abbas of effectively recognizing that "all Palestine belongs to the Jews."
What the Hamas official is actually saying is that under Islamic rule non-Muslims receive different treatment than Muslims. He wants Jews and Christians to pay the jizya (tribute) tax levied on non-Muslims living under Islamic regimes in exchange for protection and safety.
Other Hamas officials have stated that Abbas does not have the authority to take such a decision since his term in office expired in January 2009 and he is no longer a legitimate president. They pointed out that the Palestinian Legislative Council was the only body entitled to make such changes.
Regardless of Abbas's motives behind the decision, it is clear that Hamas and other Palestinians continue to seek an Islamic state where non-Muslims would be subjected to sharia law and enjoy fewer rights.
There is no guarantee that a future Palestinian state would not fall into the hands of Hamas or other Muslim extremists one day. Those who think that any Christian or Jew would be welcomed under an Islamic regime are living in an illusion. Non-Muslims can become equal participants in an Islamic state only after they embrace the Islamic faith. Until then, they would be regarded as dhimmis (those in custody) and would have to pay a protection tax to avoid any harm.
The row that erupted following Abbas's decision shows that among Palestinians, opposition to recognition of Israel as a Jewish state remains widespread. It also shows what awaits non-Muslims in a future Palestinian state controlled by Sharia Law.