On the eve of his meeting with President Barack Obama, Palestinian Authority President Mahmoud Abbas has won the backing of the Arab League for his positions and demands.
The Arab League support is exceedingly important for Abbas: it gives him the power and energy to resist any pressure from Obama to soften or change his position.
The Arab league's announcement came after a meeting of its foreign ministers, in Cairo, attended by Palestinian Authority Foreign Minister Riad Malki, who urged his counterparts to show their support for Abbas on the eve of his meeting with Obama, scheduled to take place in Washington on March 17.
The Arab League announcement allows Abbas to turn down any request from Obama under the pretext that he is not authorized by the Arab countries to make any concessions.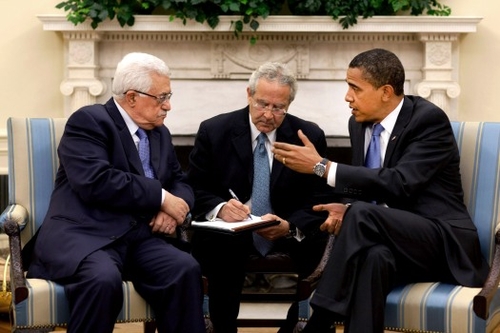 President Barack Obama meets with Palestinian Authority President Mahmoud Abbas in the Oval Office in 2009. (Image source: Official White House photo)
Obama should therefore not expect to hear anything new from Abbas, who continues to insist there will be no peace agreement until Israel and the U.S. comply with all his demands.
By requesting the backing of the Arab countries, Abbas is seeking to show Obama and U.S. Secretary of State John Kerry that there is no point in exerting pressure on him because the Arab countries will not accept any concessions to Israel.
Abbas has actually tied his own hands before the meeting as a way of avoiding pressure.
Abbas's predecessor, Yasser Arafat, resorted to the same tactic during the miscalculated Camp David summit in the summer of 2000. Then, Arafat too claimed that he did not have a mandate from the Arab and Islamic countries to make concessions to Israel and that was why he would not be able to strike a deal.
The Arab League announcement also allows Abbas to tell Obama that he is speaking not only on behalf of Palestinians, but the entire Arab world as well. However, many Palestinians would argue that Abbas does not even have a mandate from his people to negotiate, let alone sign, any peace agreement with Israel.
But the Obama Administration does not really seem to care whether Abbas, who recently entered the 10th year of his four-year term in office, is authorized by his people to sign a deal with Israel. Obama and Kerry seem to want a deal at any cost, even if it is with a president who lost his legitimacy many years ago and even if the deal will unravel the day after.
So now Abbas is going to mislead Obama into thinking that he is coming to meet with him not only as the "rightful" leader of the Palestinians, but also as a representative of the Arab world.
As Abbas's foreign minister, Riad Malki, explained following the Cairo gathering, "When President Abbas arrives in Washington, he will be talking not only on behalf of Palestine, but on behalf of all the Arab countries."
In other words, Abbas is going to pretend that the entire Arab world has authorized him to speak on its behalf during his meeting with Obama. Never mind that the Arab League, which issued the statement backing Abbas, is considered extremely inefficient and incompetent and no one in the Arab world takes it seriously.
In any event, the Arab League announcement in support of Abbas is going to make his mission to Washington even more difficult.
The announcement reiterated the Arab countries' refusal to recognize Israel as a Jewish state, insisted on a full Israeli withdrawal to the pre-1967 lines and rejected any attempt to "resettle" Palestinian refugees "outside their homeland."
Now that he has won the backing of the Arab League for his positions, Abbas will feel more confident to say no to Obama. The Arab League has in fact authorized Abbas to resist all forms of pressure from the U.S. Administration.
Yet Abbas is also full of self-confidence because he and many Palestinians are encouraged by what they perceive as increased boycotts of Israel in the international arena.
The Palestinians also do not take Obama seriously, especially in light of his failure in dealing with the crises in the Arab world and Ukraine.
Abbas believes that he can say no to Obama because the U.S. Administration will not take any retaliatory measures against the Palestinian Authority.
Palestinian officials in Ramallah pointed out the threats by the U.S. Administration to impose financial sanctions if Abbas sought unilateral recognition of a Palestinian state at the United Nations two years ago.
"President Abbas feels satisfied with the comprehensive campaign of boycotting Israel in the academic and economic fields," explained Palestinian political analyst Hani Habib. "This means that the international public opinion is today supportive of the Palestinian position."
Arab political support and anti-Israel boycott campaigns around the world have emboldened Abbas to a point where he feels that there is no need for him to make any concessions for the sake of peace.