In Libya, a descent into chaos, leading to the "disintegration of the state and its power," seems to be reaching a critical point.
"The current situation in Libya is a standing invitation for the intervention of foreign powers," according to Saudi-owned Asharq Al-Awsat's deputy editor-in-chief, Ali Ibrahim. Ibrahim writes that armed militias, who often enjoy the support of sectors of local populations, are committing abuses and violations of human rights, while radical Islamist groups are taking advantage of Libya's chaos to transform the country into a home for training camps for militants. "In other words, Libya has become a security threat, with the effects extending even beyond its borders," Ibrahim states.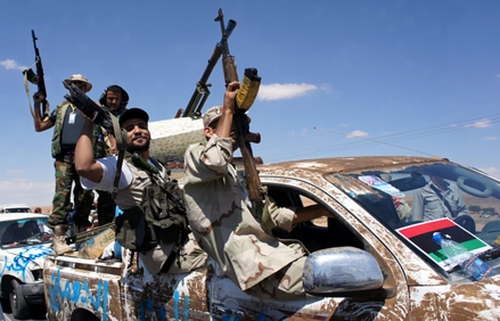 Libyan rebel fighters in 2011. (Image source: VOA/Wikimedia Commons)
Former Libyan Prime minister Ali Zeidan recently warned that Libya is in danger of becoming an Al-Qaeda terror base for attacks targeting European countries, in particular Britain, France, Italy and Spain.
According to Zeidan, who was ousted after his government failed to stop rebels from independently exporting oil, Islamist groups are sabotaging attempts to rebuild the country in order to make it a haven for extremists. "These [extremists] want Libya not to be a civil state, not to be a state of law, they want it to be just another Afghanistan," Zeidan said.
On April 24, U.S. Deputy Secretary of State William J. Burns, during a visit to Libya, stated that the U.S. recognizes the "severity" of the extremist threat. "The rising threat of violent extremism, whether it is people using violence for political purposes or the role of terrorist groups, is an enormous challenge first and foremost to the people of Libya, but also to Libya's international partners as well," Burns said. To a question referring to a possible multinational or U.S. military intervention in Libya or in some parts in Libya, he said the U.S. has no plans beyond providing assistance and training for Libya's General Purpose Force and for other parts of the military and security services.
Last February, neighboring Niger's Interior Minister Massoudou Hassoumi called on the West to intervene militarily in Libya, to deal with the Islamist threat in Libya's south. He said the countries that overthrew the Qaddafi regime need to also provide "after-sales service." He also added that it would be legitimate for NATO countries to eradicate the "terrorist threat" in the south of Libya.
France's Foreign Minister Laurent Fabius, however, rebuffed the appeal: "We have to fight terrorism everywhere. That does not mean we have to have people on the ground, it means we have to help governments that want to get rid of terrorism, which is the case with the Libyan government." Of course, if terrorists have already taken control of parts of the country that advice would not be of much help.
Libya's population, however, is apparently tired of the instability and insecurity, and getting desperate. Kidnapping is becoming a daily occurrence. Tripoli is now a place for diplomats to be kidnapped or murdered. As a result, many countries have recalled their diplomatic representatives.
For many, an international military intervention seems the only way to end chaos and violence. Political activist Salah Mahmoud al-Agouri, for instance, is among those convinced that "the only solution" for the country is international intervention. "We need an international military campaign [...] to rid us of these parasites that are now threatening the security of the entire region," he said to the media outlet Magharebia.
In the meantime, Al-Qaeda-related organizations are finding optimal growing conditions all over Libya. A group called, "Shura Council of Islamist Youth in Derna," armed with rocket-propelled grenade launchers, machine-guns and anti-aircraft guns recently, recently paraded in the eastern Libyan town of Derna. At the end of 2013, also in Derna, another Islamist group, Ansar Al-Sharia, that also advocates the implementation of strict Sharia law across Libya, opened a branch under the slogan, "a step toward building the Islamic state".
The Libyan security forces are struggling to contain the violence, but they are not large enough or strong enough.
The West is leaving Libya on in its own -- but another Afghanistan is on the way.