Three hundred and thirty two drone attacks against Al Qaida and Taliban targets on Pakistani territory since 2005 demonstrate U.S. President Barack Obama's strong resolve against terrorists that threaten the United States. Only last week, the latest wave of air strikes launched or enabled by his government against Al Qaida networks in Yemen killed 55 suspected extremists, possibly including master bomb-maker Ibrahim al-Asiri.
Of course no one expects the U.S. to send drones in reply to the news that the Palestinian Authority [PA], upon which he has lavished billions of dollars and thousands of hours of diplomacy, was going into business with Hamas, which the United States has branded a terrorist organization.
But one could hope for something more forceful from Washington than State Department spokesman Jen Psaki's weak and vacillating response in which she attempted to take the heat off Hamas and the PA by taking a gratuitous dig at Israel. "There have been unhelpful steps from both sides throughout this process," she said.
If the US response was feeble, the EU's was treacherous.
Like America and several other countries, the EU designates Hamas as a terrorist organization. Yet the spokesman for Catherine Ashton, EU foreign affairs head, actually welcomed the proposal to bring Hamas into the PA.
Though shameful, this is far from surprising. It is part of a lengthy pattern of witting or unwitting EU encouragement of Middle Eastern terrorism.
The EU has contributed its taxpayers' money to paying the salaries of convicted Palestinian terrorists via unconditional donations to the PA amounting to billions of dollars since 1994. Some of this money has also been spent on school textbooks, television programs and other PA propaganda that incite hatred and terrorism against Israel.
Ashton and the EU have called repeatedly for an end to the Israeli-Egyptian security operation on land and sea around Gaza. The operation is designed to prevent predominantly Iranian-supplied munitions and materiel for terrorism from entering the Gaza Strip, and to stop Gaza terrorists and weapons moving to attack Israeli or Egyptian targets.
At the same time, the EU, like the UN, has usually remained mute in the face of volley after volley of Iranian-supported rocket attacks from Gaza directed against the civilian population of Israel. These rockets are fired mainly by Hamas and their terrorist bedfellows, the Palestinian Islamic Jihad. Silence and inaction by such significant international bodies as the UN and the EU must, in these circumstances, add up to at least a degree of culpability.
Robert Serry, the UN Special Coordinator for the Peace Process, seems to have swallowed Abbas's suggestion to him that reconciliation with Hamas will be on the basis of "recognition of Israel, non-violence and adherence to previous agreements." On that "understanding," the UN, like the EU, apparently welcomes and even supports the prospect of a terrorist group's incorporation into the PA.
Were Hamas indeed to commit -- plausibly -- to such undertakings, then Israel could of course continue peace negotiations and cooperation with the PA on current terms. But other than Abbas's words to Serry, there is no indication of this and, in the real world, Hamas is not likely even to consider such conditions.
Prime Minister Netanyahu therefore had no choice other than to suspend the peace process. This was his obligation to the Israeli people and to the international community. How could he possibly continue to negotiate with an entity that is itself negotiating with a vicious, murderous and unrelenting terrorist group hell-bent on the destruction of Israel and outlawed around the world?
Of course Abbas knew full well when he agreed to unity with Hamas that this would end the peace negotiations. But this is only the latest in a series of steps that Abbas has taken to sabotage the peace process. He rejected U.S. Secretary of State John Kerry's framework principles last month; he has repeatedly refused to discuss PA recognition of Israel as the national homeland of the Jewish people; and at the end of March he initiated a move to join 15 international organizations, contravening an agreement to make no unilateral moves in the international arena during the period of the peace negotiations.
One of the greatest challenges in the peace process, should it be resumed at some point, is resolving Israel's security concerns in the West Bank. Since the Israel Defense Forces left Gaza in 2005, Palestinians have fired into Israel over 8,000 rockets, killing 44 Israelis and injuring more than 1,600.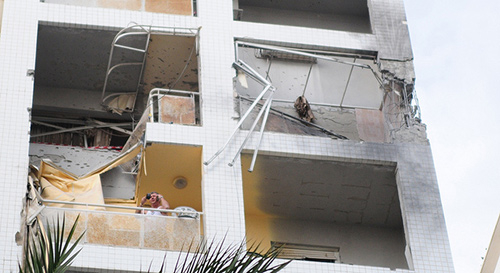 A damaged apartment building in Ashdod, following a direct hit by a rocket fired from Gaza, in November 2012. (Image source: IDF)
In addition, Gaza terrorists have seized every available opportunity for other forms of attack against Israeli soldiers and civilians including kidnappings, shootings, suicide bombs, anti-tank missiles and Improvised Explosive Devices [IEDs].
Iran, sworn to Israel's destruction, as are its Gaza-based proxies, has funded, armed, energized and directed both Hamas and Palestinian Islamic Jihad. As we saw with the Israeli interdiction of the Iranian arms shipment aboard the Klos-C only last month, Iran's sponsorship of terrorism continues unabated -- even as the international community is rehabilitating its extremist regime.
Especially in a region and among neighbours that are becoming even more unstable, violent and unpredictable, Israel must ensure that in the event a Palestinian state should ever reach fruition, the West Bank does not become a second Gaza. The bloody consequences of that for the Israeli people would be far greater than from anything Hamas could hurl out of the Strip.
Kerry has proposed international troops to provide security against attacks on Israel from the West Bank. Few Israelis believe that they could rely on such a force to protect them. There are the historical precedents for the failure of peacekeeping forces in the region and beyond, especially when the going gets tough. And in the West Bank, the going would get very tough very soon and very often.
There is the criminal failure of the international community, as both accomplice and accessory before the fact, to make any meaningful effort to prevent endless salvoes of lethal terrorist rocket attacks against Israeli civilians for over nine years.
Worse still, when Israel has been forced to respond to protect its citizens, it has been stabbed in the back by the international community, who have accused it of war crimes.
The UN's ill-conceived and deeply flawed 2009 Goldstone Report, for example, amounted to nothing less than incitement to terrorism.
And then there is the spectacle that we have witnessed over the past few days, of the pusillanimous and equivocating international response to plans for an active and violent terrorist group to join the PA.
Confronted by world leaders who lack the moral courage to face down terrorists whom even they themselves have designated as such, Israel is entirely right in its assumption that when it comes to security it can rely only on its own moral strength and its own armed forces.
Colonel Richard Kemp spent most of his 30-year career in the British Army fighting terrorism and insurgency, including in Iraq, the Balkans, South Asia, and Northern Ireland. He was Commander of British Forces in Afghanistan in 2003. He was also involved in the direction of national policy at the highest level, working at the Joint Intelligence Committee and as a member of COBRA, the UK national crisis committee. He writes regularly for The Times and speaks worldwide on terrorism, international security and other issues.